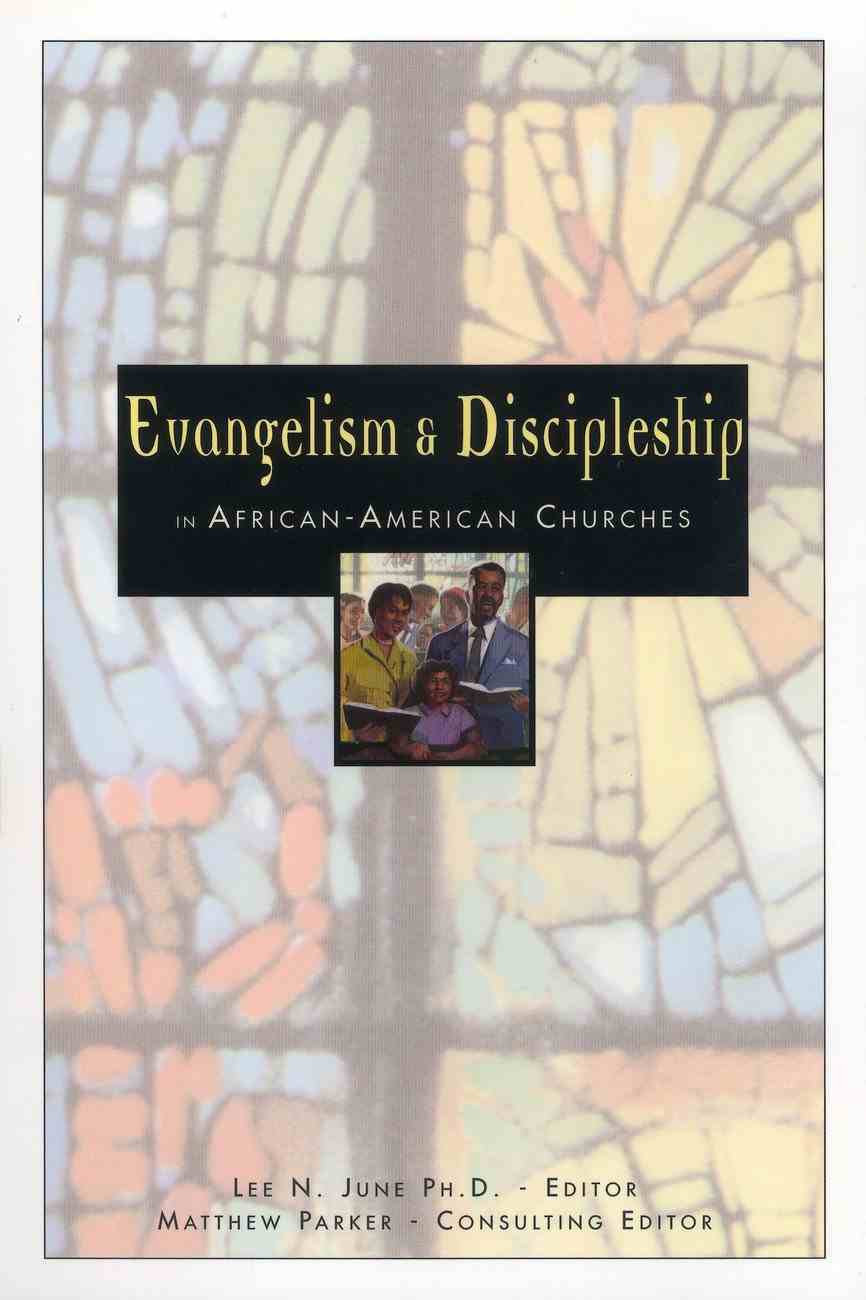 Evangelism and Discipleship in the African American Church
The church is the crucial center of the African-American community. Yet, while countless books have addressed individual aspects of church life, no comprehensive resource has existed that expertly explores the full scope of African-American church ministry. Until now. Written in...
Out of Stock
Available to Order
---
Expected to ship in 5 to 6 weeks from Australia.
---
Free Shipping
for orders over $99.
The church is the crucial center of the African-American community. Yet, while countless books have addressed individual aspects of church life, no comprehensive resource has existed that expertly explores the full scope of African-American church ministry. Until now. Written in the proven format of the Institute for Black Family Development, Evangelism and Discipleship in African-American Churches supplies a wealth of insight on winning and building disciples for Jesus Christ in the Black community. In five parts, this book covers: - history of African-American Evangelism - Taking the Lead in Evangelism and Discipleship - Training Laborers for Evangelism and Discipleship - Practicing Evangelism and Discipleship at Home and at College - Going into the Field. The contributors are all noted authorities on their topics, which range from the church's role in evangelism to Christian education to youth and college ministry to the workplace and more. Here at last is a guidebook for pastors,
-Publisher
PRODUCT DETAIL
Catalogue Code 

132700

Product Code 

0310221390

EAN 

9780310221395

UPC 

025986221393

Pages 

188

Department Academic
Category Church
Sub-Category Church Life/issues
Publisher Zondervan
Publication Date 

Aug 1999

Dimensions 

228 x 152 x 14

mm

Weight 

0.244

kg
Dr. Lee N. June is vice president for Student Affairs and Services and assistant provost for Academic Student Services and Multicultural Issues at Michigan State University in East Lansing, Michigan.
Contents
Preface By Matthew Parker
Introduction By Lee N. June
Part 1: History Of African-american Evangelism
1. A History Of African-american Evangelistic Activity
V. Simpson Turner Sr.
2. Personal Reflections On Evangelism Among African-americans
Tom Skinner
Part 2: Taking The Lead In Evangelism And Discipleship
3. The Church's Role
Willie Richardson
4. The Pastor's Role
Lloyd C. Blue
5. The Deacons' Role
Lee N. June
Part 3: Training Laborers For Evangelism And Discipleship
6. Christian Education: Making The Process Work
Roland G. Hardy Jr.
7. Youth: Doing It With Music
David Gough
Part 4: Practicing Evangelism And Discipleship At Home And At College
8. Fatherhood: The Ultimate Head Coaching Job
Michael R. Lyles
9. Wives And Mothers: Key Players In Evangelism And Discipling
Norvella Carter
10. Evangelizing And Discipling Youth And College Students
Christopher C. Mathis Jr.
Part 5: Going Into The Field
11. Help Wanted: Missionaries For The Harvest
Joseph C. Jeter Sr.
12. Evangelizing Professionals: Workers In The Field
Henry Lee (hank) Allen
Chapter 1 V. Simpson Turner sr. A History of African-American Evangelistic Activity Introduction Where did evangelism among African-Americans begin? The European slave trade began in 1444, continued for more than four hundred years, and resulted in the loss of forty million Africans from the African continent. During this period, 20 million Africans were brought to the New World as slaves, while millions more died in Africa during and after their capture or on ships or plantations (Bennett 1964). Descendants of the first slaves, Black Christians born in Spain and Portugal, were among the first settlers of the New World. Black explorers, servants, and slaves accompanied French families and Portuguese explorers in expeditions to North and South America (Bennett 1964). Twenty Blacks landed at Jamestown, Virginia, aboard a Dutch ship in 1619, and involuntary servitude, or slavery, of Africans in the New World had began. Black Evangelism in the Seventeenth Century The majority of Blacks came to America as slaves. Blacks were slaves in the thirteen colonies 113 years before the birth of George Washington and in the New World 244 years before the signing of the Emancipation Proclamation, according to historian Lerone Bennett (1964). A typical slave trader was a pious captain such as John Newton, who prior to his conversion held prayer services twice a day on the slave ship and later wrote the famous hymns 'Amazing Grace' and 'How Sweet the Name of Jesus Sounds' (Bennett 1964). Every attempt was made to demean Africans and cause them to develop a slave mentality. For example, families were separated, and they were not permitted to use their native language or practice their native religions. Men were whipped into unconsciousness and slashed with knives. Women, too, were whipped, some while obviously pregnant. Due to the continuing slave trade and births, the slave population was ever increasing. There were 50,000 slaves in the colonies in 1710, and by 1776, when the Declaration of Independence was signed, the number had jumped to 500,000. At first slave traders and slave owners rationalized the use of Africans as slaves because the Africans were not Christians, but some slaveholders who were Christian preachers began to evangelize their slaves. Thus, with slaves becoming Christians, the rationale for slavery shifted to race during the period of 1667 through 1682 by the passage of new laws. While most Blacks saw very little value in the White version of Christianity, some did respond and came into the Christian church. Through this evangelizing of slaves, God found a way to get the gospel of Jesus Christ to the greater slave population. He used illiterate slaves as preachers and exhorters to proclaim the gospel to slaves and slaveholders alike. They told slaveholders that God said to 'let My people go.' They told fellow slaves that God was not unaware of their oppression but that one day He would set His people free. They recited the story of the Hebrews in bondage and of God's sending Moses to tell Pharaoh to let His people go. They told how God followed up His message with plagues until Pharaoh agreed to let the Hebrews go. The preachers prophesied that this same God would in like manner rescue His chosen Black Israel if they would believe in Him. These illiterate exhorters were taught to read by some sympathetic Whites and Black freedmen. As soon as Blacks in both the North and South were able to read the Bible and other literature, they became greatly influenced by the Pietist movement, which had been founded by Lutheran Philip Spener (1635 -- 1705) in Germany and had spread to America. Slave preachers dedicated themselves to Bible reading and proclaimed the gospel of personal faith in Christ as well as social salvation from the bondage of economic, social, and political servitude. They also pointed out that Christians should be able to record their conversion experiences. That is why to this day in our churches people stand up and testify of the time they found the Lord and were converted. The simple gospel of faith and the gift of God's grace was attractive to Blacks. The worship services were filled with enthusiastic singing and emotional responses. James Stallings, in his book Telling the Story: Evangelism in Black Churches (1988), says that Blacks took this European-American White Christianity, baptized it in African traditional culture, and created a new African-American Christianity. Black Evangelism in the Eighteenth Century Leadership in the evangelical movement in the late 1700s was multiracial. For instance, Francis Asbury, a White Methodist bishop, was led by God to have as his traveling companion on his itinerant preaching mission an illiterate Black preacher named Harry Hosier. Hosier had more convicting power than the bishop and was marvelously used by God to lead the unconverted to Christ. Drugs, alcohol, and depravity were just as relevant to the evangelistic messengers of the late 1700s as they are today. The story is told of John Stewart, a mulatto, who was a drug and alcohol addict. There were no drug treatment centers in those days, but John Stewart wandered into a Methodist revival meeting one night just in time to hear the sermon. By the time the sermon ended, John was under conviction. He found his way to the mourners bench, and there God dealt with him. He cried out to the Lord, and the Lord heard him and delivered him on the spot from his drug and alcohol addiction and whatever else held him in bondage. Doors were open and provisions were made for Stewart to receive training in Bible and missions. He felt led by God to go to Ohio to minister to the Wyandot Indians as a missionary evangelist. God used him mightily in that work. Stewart is credited with initiating home missions in the Methodist church. If God would touch some of us today to go evangelizing around our nation and win souls for Him, what a better nation and what better communities we would have.