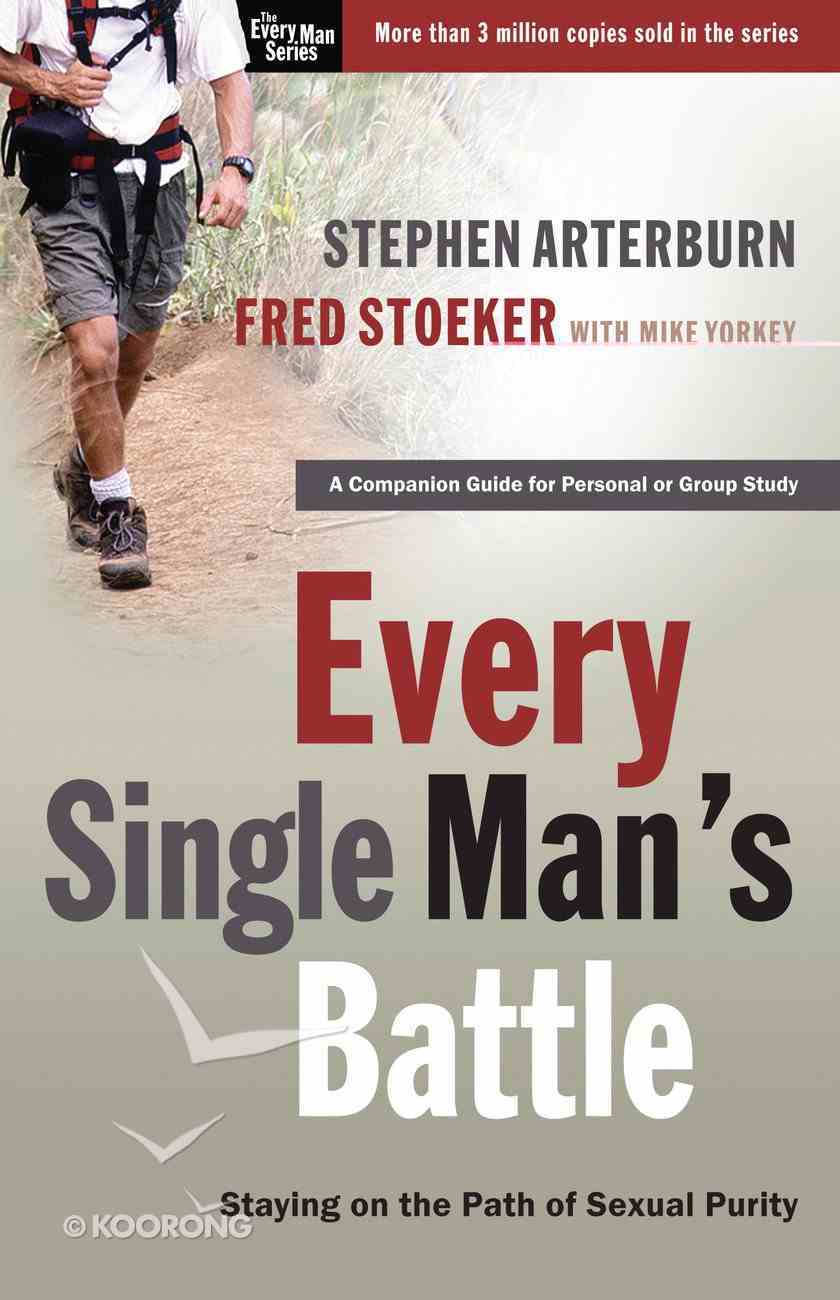 Every Single Man's Battle (Every Man Series)
As a single man, you're in a war against sexual temptation. But God has given you powerful ammunition. You're bombarded by sexual images. You're constantly battling inner urges. You want to do right - in fact, you want to meet...
---
Expected to ship tomorrow from Australia.
---
Free Shipping
for orders over $99.
As a single man, you're in a war against sexual temptation. But God has given you powerful ammunition. You're bombarded by sexual images. You're constantly battling inner urges. You want to do right - in fact, you want to meet God's standard of avoiding any hint of sexual immorality. But accomplishing that goal is a challenge.

If you are a single man struggling to remain sexually pure, you are not alone. Now there's practical, hard-hitting help from the authors of the blockbuster Every Man series. EVERY SINGLE MAN'S BATTLE WORKBOOK guides you - or your men's group - through an honest and clear exploration of God's Word. You'll undertake a personal journey into key Scriptures, wrestle with questions for reflection and examination, and discover the practical tools and Biblical strategies you need to live the pure life God is calling you to - even while living in a sexually soaked culture.

Make a frontal assault on the temptation every single man faces. This workbook provides all the resources you need.

-Publisher
Praise for Every Manas Battle and Every Young Manas Battle by Stephen Arterburn, Fred Stoeker, andMike Yorkey aThere is no more common enemy of true manhood than the diversion or the perversion of our sexual capacities. I welcome every contribution to the arsenal of resistance.a -JACKW. HAYFORD, LITTD, founding pastor of the Church on theWay and chancellor of The Kingas University aThis book will revolutionize the marriage of every man who reads it. Why? Because every man battles sexual temptations and every marriage grows stronger when these temptations are defeated. The vulnerable, honest, and insightful pages of this book reveal what every man must know.a -DRS. LES AND LESLIE PARROTT, authors of Saving Your Marriage Before It Starts aThis timely resource presents clear practical principles for sexual purity. Arterburn and Stoeker call for courage, commitment, and self-discipline as they lead men into a more successful relationship with God, family, and spouse. This book is truly for every man.a -DR. JOHN C. MAXWELL, founder of EQUIP aGod has used Steve Arterburn countless times to impact my heart and life; I am thankful for him and his investment in Every Manas Battle. I am also grateful for Fred Stoeker. Fred pours himself into this book with honesty, vulnerability, and a practical strategy to fight the good fight. He offers biblical truth and hope to anyone with ears to hear how to battle the war of sexual temptation. Read with an open heart-Every Manas Battle may save your marriage and your witness.a -DR. GARY ROSBERG, president of Americaas Family Coaches and coauthor of Guard Your Heart and The Five Love Needs of Men and Women a Every Young Manas Battle does the best job I have ever seen on the subject of sexual temptation. Once upon a time we lived in a world that didnat talk about secrets, and that world has brought us to the mess we are in today. Young men must have an honest, blunt, and unashamedly Christian look at their sexuality. This book will save thousands of future marriages.a -JIM BURNS, president of HomeWord
-Publisher
PRODUCT DETAIL
Catalogue Code 

227883

Product Code 

1400071283

EAN 

9781400071289

Pages 

192

Department General Books
Category Men
Sub-Category General
Publisher Waterbrook Press
Publication Date 

Aug 2005

Sales Rank 

8868

Dimensions 

200 x 132 x 15

mm

Weight 

0.164

kg
Fred Stoeker regularly writes and speaks to men about the subject of sexual purity. An experienced lay counselor, he lives with his wife and four children in the Des Moines, Iowa area.
Stephen Arterburn is the founder and chairman of New Life Ministries, America's largest faith-based broadcast, counselling, and treatment ministry, and is the host of New Life Live!- a daily radio program heard on more than 180 radio stations nationwide. He has been featured in publications such as The New York Times, USA Today, and TIME magazine. Arterburn is also the founder of the 'Women of Faith' conferences and has written over 60 books, including the best-selling Every Man's series.
He has been nominated for writing awards and has won three Gold Medallion awards. Arterburn is a well-known public speaker and in August 2000 was inducted into the National Speakers Association's Hall of Fame. He lives with his family in Laguna Beach, California. Some of his published works include Transformation, Finding Mr Right, Control what is controlling you, Boiling Point and NLT Every Man's Bible.
Koorong -Editorial Review.


Mike Yorkey, with thirty books to his credit, is a long-suffering San Diego Padres fan living in Encinitas, California. He most well known as the editor and author of Every Man Series
Approaching our seaside table with a lovely new acquaintance from church, I (Steve) could hear the gentle lapping of waves on the shoreline as the magnificent amber-hued sunset arched over the Pacific Ocean. Maybe life's not so bad after all, I mused as we were seated and handed leather-bound menus by the maître d'.

As we perused the elegant dining choices, my date and I engaged in meaningful small talk, sharing our hopes in raising our children and our dreams of how God would use us in the future. I gazed upon the sun as it dipped toward the horizon and felt swept up in the moment. For the first time in months, the pain of my divorce seemed light-years away, and my future—whatever it would be—looked as bright as that dazzling orb descending in the western sky.

One by one the delicious courses arrived with a flourish…a crisp, deep-fried calamari as the appetizer, followed by a sumptuous spinach salad with raspberry vinaigrette dressing, and then the main course of grilled salmon topped with hollandaise sauce. Fresh salmon heals every wound, Ichuckled to myself. Yet just as suddenly, my bite of airy tiramisu screeched to a jarring halt halfway down the hatch as my date purred demurely, "Steve, please don't get the wrong impression of me… I'm not all God, motherhood, and apple pie, you know. I love the Bible with a deep passion, but I love the Kama Sutra with another kind of passion all my own," she said, winking coyly. "I find the positions simply fascinating, and I've thrown my whole body and soul into reading my lessons. But what I really need is to get out onto the playing field once in a while for a little practice!"

I nearly spewed my dessert coffee all over the linen shrouded table. The only practice that was going to take place
was me practicing getting out of there. First, I managed to change the subject quickly, and then, a short time later, I
smiled softly and mumbled, "I really hate to run, but my food hasn't settled very well this evening. Would you mind if we called it a night?"

Perhaps you're scratching your head, wondering, What's this Kama Sutra thing? Well, it's all about sexual positions from an Eastern perspective, and books on the Kama Sutra have been a pretty hot topic out here on the Left Coast for quite some time. The publisher's description on Amazon.com calls it this way:

Kama Sutra comes to us from fourth-century India.
Written by a holy man, this "love scripture" has
become known in the West as a "bible of sex." As
such, Kama Sutra of Sexual Positions presents many
facets of sexual embrace from many cultures where
the sexual and the sacred together are the weaver of
the tapestry of life.

Perhaps now you're gasping, How can a Christian single be equally committed to the Kama Sutra? I haven't the  foggiest idea of how to answer that, but what I do know is that as I reentered the Christian single world, I was quite amazed to find two extremely common disconnections out there. My Kama Sutra story is a prime example of the first one—a disconnection from God's ways.

I've met many committed Christian singles whose faith seems to be integrated into their lives, who take a biblical approach to their work, their money, their children, whatever. But when it comes to sex, they've convinced themselves that sex is the exception to every biblical rule. They think like this:

• God understands my sexuality—He knows my needs.
• Sex is just something that naturally happens between two adults who are deeply involved.
• I know it is wrong to have sex with a married woman, but when it comes to sex between two singles, I just don't think the Bible is so cut and dried.
• Anything short of sexual intercourse is okay.
• I know premarital sex is wrong, but so what? God will forgive me—it's under the blood!
• God knows that I was married. He knows I'm so used to sex that I just have to have it now.

Such rationalizations are a deep mystery to me. After all, a rational mind—the mind of Christ—is normal for Christians.
A rational mind keeps us safely beneath God's wings of protection and blessing. But a rationalized mind seems so jarring and abnormal in a Christian, and it rips a jagged breech in our sexual defense perimeters.

Look, it's time for some straight talk. As men we have an obvious vulnerability in our sexual makeup, and that's the ability of our eyes and our mind to draw vivid sexual gratification from the sensuality in the environment around us. To put it bluntly, our eyes and mind are capable of intense foreplay…we can look and lust until our engines run so far into the red zone that we may think we'd better masturbate or we'll explode. If we want to be sexually pure, we have but one choice—we either defend against such weak spots in our sexuality or we will fall to every whim of the Enemy and our flesh.