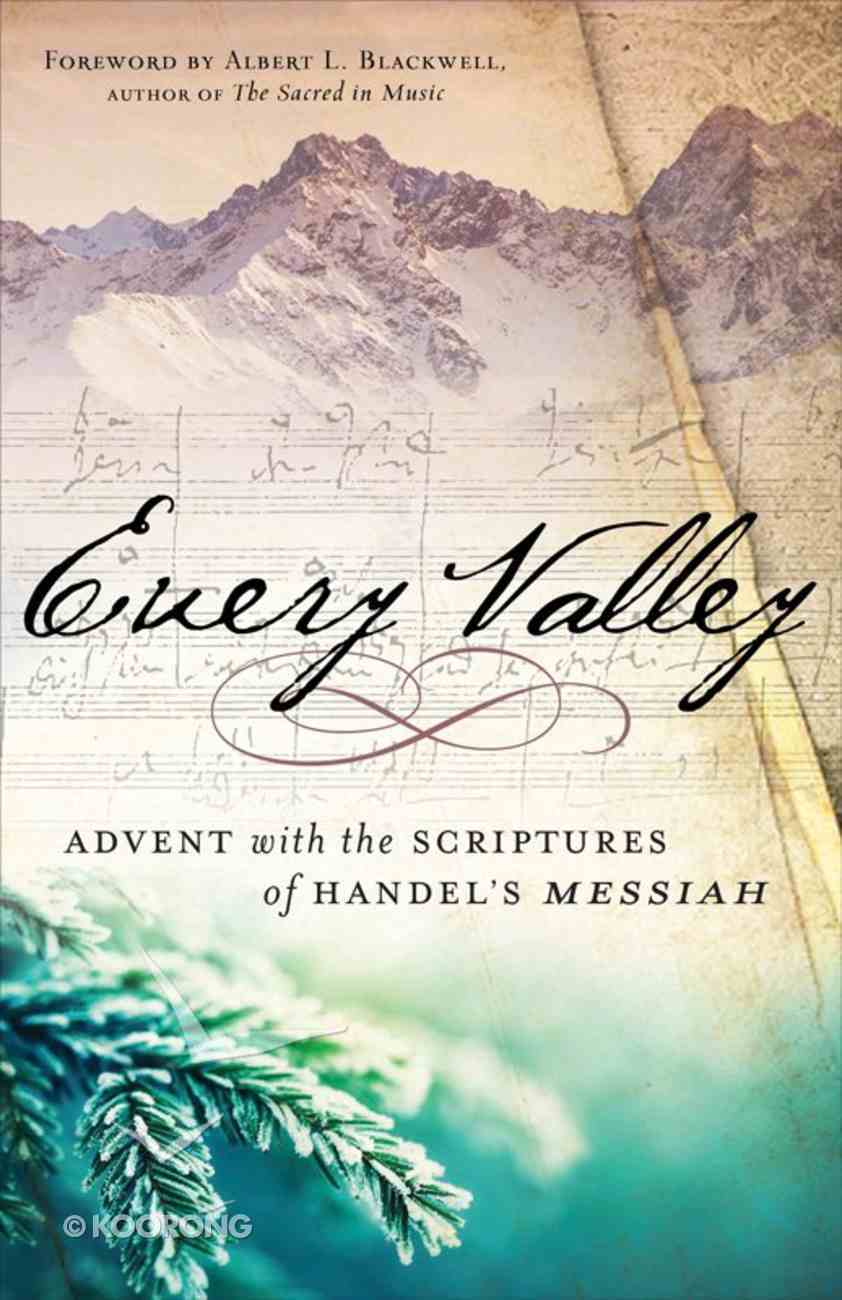 Handel's Messiah is one of the most beloved musical works of the western world, playing an especially sentimental role in many people's Christmas traditions. The libretto of the work, taken directly from the King James text of fourteen books of...
Out of Stock
Available to Order
---
Expected to ship in 4 to 5 weeks from Australia.
---
Free Shipping
for orders over $99.
Handel's Messiah is one of the most beloved musical works of the western world, playing an especially sentimental role in many people's Christmas traditions. The libretto of the work, taken directly from the King James text of fourteen books of the Bible, has turned many otherwise forgettable phrases into memorable, singable, cherished lines of Scripture.This gift-worthy book will delight and inspire classical music fans and those for whom Messiah is a beloved Christmas tradition with essays exploring the theological, historical, and pastoral implications of the Scriptures that make up Handel's Messiah. Forty reflections journey in order through the oratorio, taking the reader deeper into less-often studied texts like Malachi 3:3 and bringing new light to oft-recited passages like Luke 2:9-14. Each reflection offers the libretto from Messiah, the same passage in NRSV, and a brief commentary on the text, written by a respected scholar or pastor. Readers can peruse the book at leisure or examine one reflection per day throughout the Advent and Christmas seasons.
-Publisher
<p><b>part 1: Christ's Birth And Its Foretelling</b><br><br><p>1. Comfort Ye My People (isaiah 40:1-5) Movements 1-4 <br><br><p>2. I Will Shake All Nations (haggai 2:1-9) Movement 5 (part 1) <br><br><p>3. He Shall Come (malachi 2:13-3:1) Movement 5 (part 2) <br><br><p>4. And He Shall Purify (malachi 3:2-4)<br><br>movements 6 And 7 <br><br><p>5. God With Us (isaiah 7:10-16)<br><br>movement 8 <br><br><p>6. O Thou That Tellest Good Tidings (isaiah 40:6-9)<br><br>movement 9 (part 1) <br><br><p>7. Arise, Shine (isaiah 60:1-6)<br><br>movements 9 (part 2) And 10 <br><br><p>8. The People That Walked In Darkness (isaiah 9:1-2)<br><br>movement 11 <br><br><p>9. For Unto Us A Child Is Born (isaiah 9:3-7)<br><br>movement 12 <br><br><p>10. Keeping Watch (luke 2:8-10)<br><br>movements 13-15 (part 1) <br><br><p>11. Born This Day (luke 2:11-12)<br><br>movement 15 (part 2) <br><br><p>12. Glory To God (luke 2:13-20)<br><br>movements 16 And 17 <br><br><p>13. Rejoice Greatly (zechariah 9:9-12)<br><br>movement 18 <br><br><p>14. The Lame Shall Leap (isaiah 35:1-7)<br><br>movement 19 <br><br><p>15. He Shall Feed His Flock (isaiah 40:10-11)<br><br>movement 20 (part 1) <br><br><p>16. His Yoke Is Easy (matthew 11:16-30)<br><br>movements 20 (part 2) And 21 <br><br><p><b>part 2: Christ's Passion And Resurrection</b><br><br><p>17. Behold The Lamb (john 1:29-34)<br><br>movement 22 <br><br><p>18. He Was Despised (isaiah 52:13-53:3)<br><br>movement 23 <br><br><p>19. He Bore Our Griefs (isaiah 53:4-5, 9-12)<br><br>movements 24 And 25 <br><br><p>20. All We Like Sheep (isaiah 53:6)<br><br>movement 26 <br><br><p>21. They Laugh Him To Scorn (psalm 22:1-15)<br><br>movements 27 And 28 <br><br><p>22. There Was No One To Comfort Him (psalm 69:7-20)<br><br>movement 29 <br><br><p>23. Sorrow Like Unto His Sorrow (lamentations 1:1-12)<br><br>movement 30 <br><br><p>24. He Was Cut Off (psalm 16:9-11)<br><br>movements 31 And 32 <br><br><p>25. He Is The King Of Glory (psalm 24)<br><br>movement 33 <br><br><p>26. Let All The Angels Worship Him (hebrews 1:1-8)<br><br>movements 34 And 35 <br><br><p>27. Even From Thine Enemies (psalm 68:1-12, 17-20)<br><br>movements 36 And 37 <br><br><p>28. How Beautiful (romans 10:8-15)<br><br>movement 38 <br><br><p>29. Into All Lands (psalm 19)<br><br>movement 39 <br><br><p>30. Why Do The Nations Rage? (psalm 2:1-3, 7-8)<br><br>movements 40 And 41 <br><br><p>31. The Lord Shall Break Them (psalm 2:4-6, 9-12)<br><br>movements 42 And 43 <br><br><p>32. Hallelujah (revelation 19:6-16)<br><br>movement 44 <br><br><p><p><b>part 3: Christ's Eternal Reign</b><br><br><p>33. My Redeemer Liveth (job 19:23-27)<br><br>movement 45 (part 1) <br><br><p>34. For Now Christ Is Risen (1 Corinthians 15:12-20)<br><br>movement 45 (part 2) <br><br><p>35. All Shall Be Made Alive (1 Corinthians 15:21-22)<br><br>movement 46 <br><br><p>36. We Shall Be Changed (1 Corinthians 15:51-53)<br><br>movements 47 And 48 <br><br><p>37. Death, Where Is Thy Sting? (1 Corinthians 15:54-58)<br><br>movements 49-51 <br><br><p>38. If God Be For Us (romans 8:31-39)<br><br>movement 52 <br><br><p>39. Worthy Is The Lamb (revelation 5:11-13)<br><br>movement 53 (part 1) <br><br><p>40. Amen (revelation 5:14)<br><br>movement 53 (part 2)