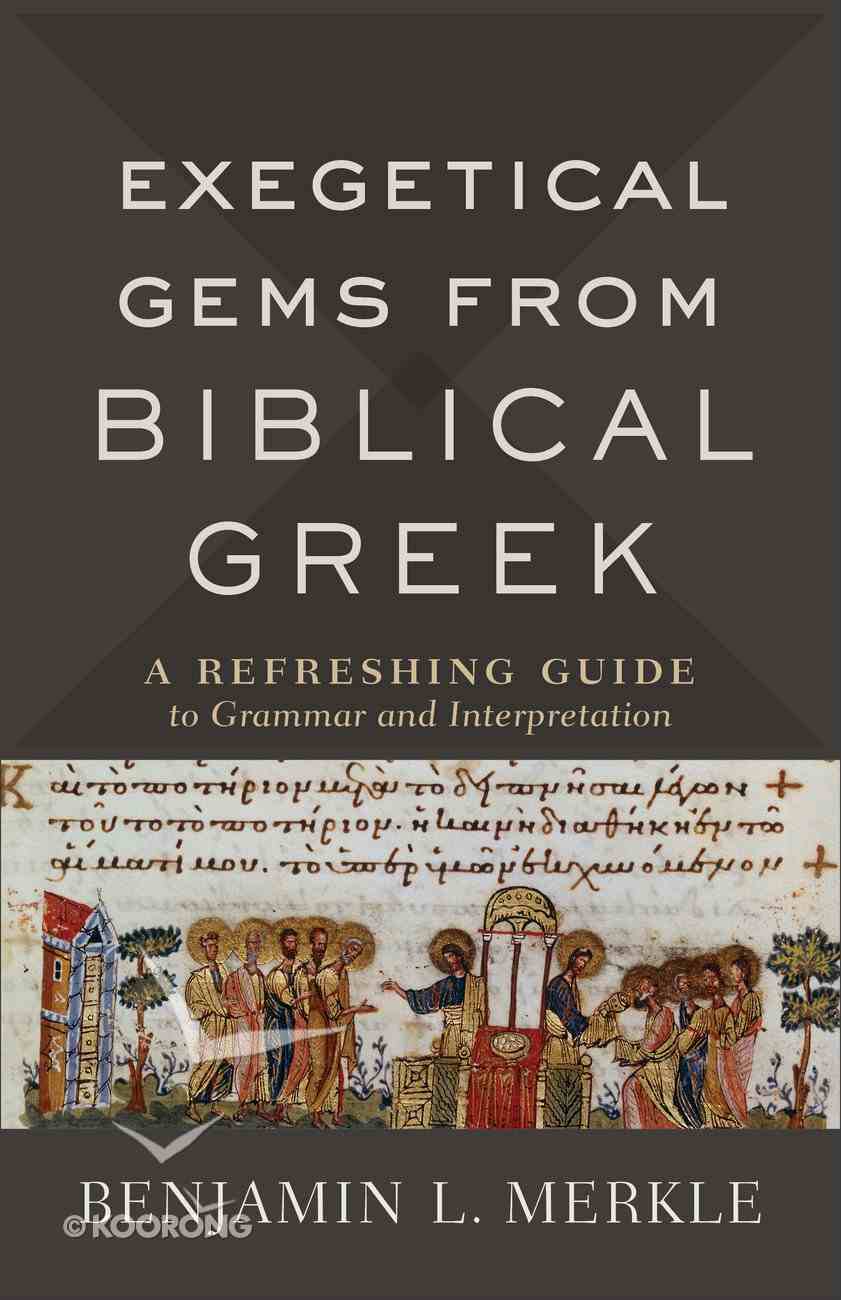 Exegetical Gems From Biblical Greek: A Refreshing Guide to Grammar and Interpretation
:Learning Greek is a difficult task, and the payoff may not be readily apparent. To demonstrate the insight that knowledge of Greek grammar can bring, Benjamin Merkle summarizes 35 key Greek grammatical issues and their significance for interpreting the New...
---
Expected to ship tomorrow from Australia.
---
Free Shipping
for orders over $99.
:Learning Greek is a difficult task, and the payoff may not be readily apparent. To demonstrate the insight that knowledge of Greek grammar can bring, Benjamin Merkle summarizes 35 key Greek grammatical issues and their significance for interpreting the New Testament. This book is perfect for students looking to apply the Greek they have worked so hard to learn as well as for past students who wish to review their Greek.
-Publisher
Benjamin L. Merkle?(Ph.D., The Southern Baptist Theological Seminary) is associate professor of New Testament and Greek at Southeastern Baptist Theological Seminary.ý
:<b>contents<br></b>introduction<br>1. Koine Greek<br><i>matthew 18:8<br></i>2. Textual Criticism<br><i>romans 5:1<br></i>3. Nominative Case<br><i>john 1:1<br></i>4. Vocative Case<br><i>ephesians 5:21-22<br></i>5. Genitive Case<br><i>1&amp;nbsp;timothy 3:6<br></i>6. Dative Case<br><i>ephesians 5:18<br></i>7. Accusative Case<br><i>romans 10:9<br></i>8. The Article<br><i>1&amp;nbsp;timothy 3:2<br></i>9. The Granville Sharp Rule<br><i>titus 2:13<br></i>10. Colwell's Canon<br><i>1&amp;nbsp;timothy 6:10<br></i>11. Adjectives<br><i>2&amp;nbsp;timothy 3:16<br></i>12. Verbal Aspect<br><i>matthew 16:24<br></i>13. Present Indicatives<br><i>1&amp;nbsp;john 3:6<br></i>14. Imperfect Indicatives<br><i>galatians 1:13<br></i>15. Future Indicatives<br><i>matthew 4:4<br></i>16. Aorist Indicatives<br><i>ephesians 4:20<br></i>17. Perfect And Pluperfect Indicatives<br><i>john 19:30<br></i>18. Subjunctive Mood<br><i>hebrews 13:5<br></i>19. Imperative Mood<br><i>matthew 6:11<br></i>20. Optative Mood<br><i>1&amp;nbsp;corinthians 6:15<br></i>21. Adverbial Participles<br><i>1&amp;nbsp;peter 5:6-7<br></i>22. Verbal Participles<br><i>matthew 28:19<br></i>23. Periphrastic Participles<br><i>matthew 18:18<br></i>24. Infinitives<br><i>1&amp;nbsp;timothy 6:17-18<br></i>25. Pronouns<br><i>luke 16:19-20<br></i>26. Prepositions<br><i>ephesians 4:12<br></i>27. Adverbs<br><i>romans 11:26<br></i>28. Conjunctions And Particles<br><i>philippians 2:12-13<br></i>29. Conditional Sentences<br><i>colossians 1:23<br></i>30. Figures Of Speech<br><i>matthew 5:13<br></i>31. Context<br><i>philippians 4:13<br></i>32. Word Studies<br><i>ephesians 1:10<br></i>33. Exegetical Fallacies<br><i>john 21:15-17<br></i>34. Discourse Analysis<br><i>hebrews 1:4-5<br></i>35. Diagramming<i><br>hebrews 6:4-6<br></i>index