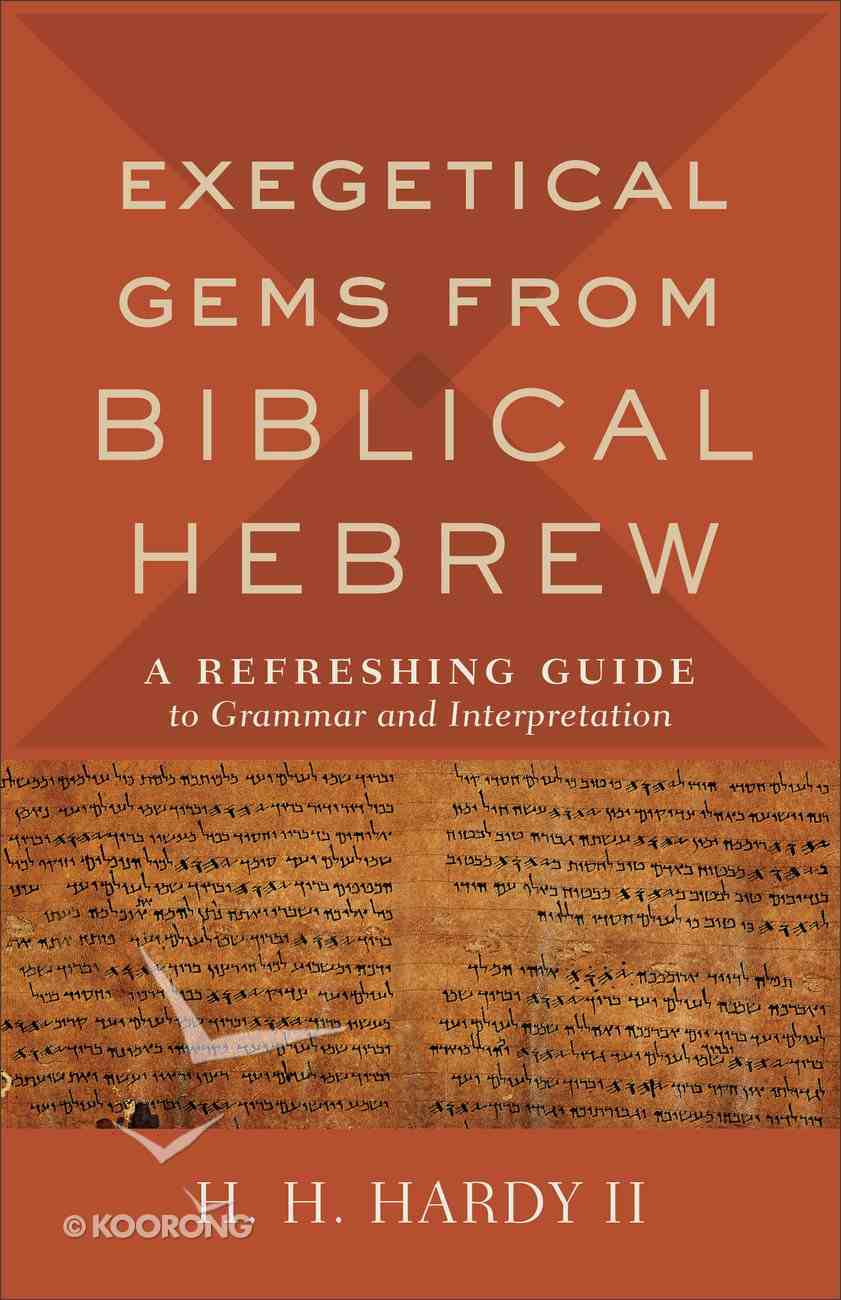 Exegetical Gems From Biblical Hebrew: A Refreshing Guide to Grammar and Interpretation
:After spending countless hours studying Hebrew vocabulary, paradigms, and grammar, students may wonder how they can begin to reap the rewards of their hard work. H. H. Hardy II presents 30 grammatical concepts and their exegetical payoff to demonstrate the...
Available Now.
5 Available
---
Expected to ship tomorrow from Australia.
---
Free Shipping
for orders over $99.
:After spending countless hours studying Hebrew vocabulary, paradigms, and grammar, students may wonder how they can begin to reap the rewards of their hard work. H. H. Hardy II presents 30 grammatical concepts and their exegetical payoff to demonstrate the importance of learning Hebrew for interpreting the Old Testament. In the process, students will realize the practical value of what they have learned. This book is perfect for students looking to apply their Hebrew and for past students who wish to review the essentials of Hebrew grammar.
-Publisher
:<b>contents<br></b>introduction<br>1. Hebrew Language And Literature<br><i>ezekiel 9:4<br></i>2. Textual Criticism<br><i>genesis 22:13<br></i>3. Word Studies<br><i>genesis 29:17a<br></i>4. Construct Phrases<br><i>genesis 29:17b<br></i>5. Definiteness<br><i>proverbs 31:1<br></i>6. Adjectives<br><i>haggai 1:4<br></i>7. Pronouns 1<br><i>2&amp;nbsp;kings 8:1b<br></i>8. Pronouns 2<br><i>2&amp;nbsp;kings 8:1a<br></i>9. Verb Conjugations 1: <i>qatal = Wayyiqtol</i><br><i>exodus 16:34-35<br></i>10. Verb Conjugations 2: <i>w&amp;#601;qatal = Yiqtol</i><br><i>leviticus 16:1-9<br></i>11. Verb Conjugations 3: Jussives<br><i>ruth 1:8<br></i>12. Verb Conjugations 4: Imperatives<br><i>leviticus 16:2<br></i>13. Verb Conjugations 5: Cohortatives<br><i>2&amp;nbsp;samuel 24:14<br></i>14. Verb Conjugations 6: Active And Passive Participles<br><i>jeremiah 20:9<br></i>15. Verb Conjugations 7: Infinitive Construct<br><i>jeremiah 27:10<br></i>16. Verb Conjugations 8: Infinitive Absolute<br><i>jeremiah 7:9-10<br></i>17. Stative And Fientive Verbs<br><i>psalm 93:1<br></i>18. Indefinite Subjects And Impersonal Verbs<br><i>1&amp;nbsp;kings 1:1<br></i>19. Verb Stems 1: Voice And Valency<br><i>genesis 12:1-3<br></i>20. Verb Stems 2: Semantics<br><i>2&amp;nbsp;samuel 7:1<br></i>21. Negations<br><i>genesis 3:4; 2:17<br></i>22. Prepositions 1: &amp;#1499;&amp;#1468;&amp;#1456;&amp;#1470;&amp;nbsp;&amp;nbsp;&amp;nbsp;&amp;nbsp;000<b><br></b><i>1&amp;nbsp;sam. 13:14<br></i>23. Prepositions 2: &amp;#1489;&amp;#1456;&amp;#1468;&amp;#1497;&amp;#1493;&amp;#1465;&amp;#1501;&amp;nbsp;&amp;nbsp;&amp;nbsp;&amp;nbsp;000<br><i>genesis 2:17<br></i>24. Directive &amp;#1492;&amp;nbsp;&amp;nbsp;&amp;nbsp;&amp;nbsp;000<b><br></b><i>exodus 13:21<br></i>25. Verbless Clauses<br><i>deuteronomy 6:4<br></i>26. Interrogatives<br><i>joshua 5:13<br></i>27. Particles: &amp;#1499;&amp;#1468;&amp;#1460;&amp;#1497;&amp;nbsp;&amp;nbsp;&amp;nbsp;&amp;nbsp;000<b><br></b><i>deuteronomy 14:24<br></i>28. Temporal Clauses<br><i>ruth 1:1<br></i>29. Relative Clauses<br><i>psalm 119:85<br></i>30. Pragmatics: &amp;#1492;&amp;#1460;&amp;#1504;&amp;#1468;&amp;#1461;&amp;#1492;&amp;nbsp;&amp;nbsp;&amp;nbsp;&amp;nbsp;000<b><br></b><i>genesis 1:31<br></i>index