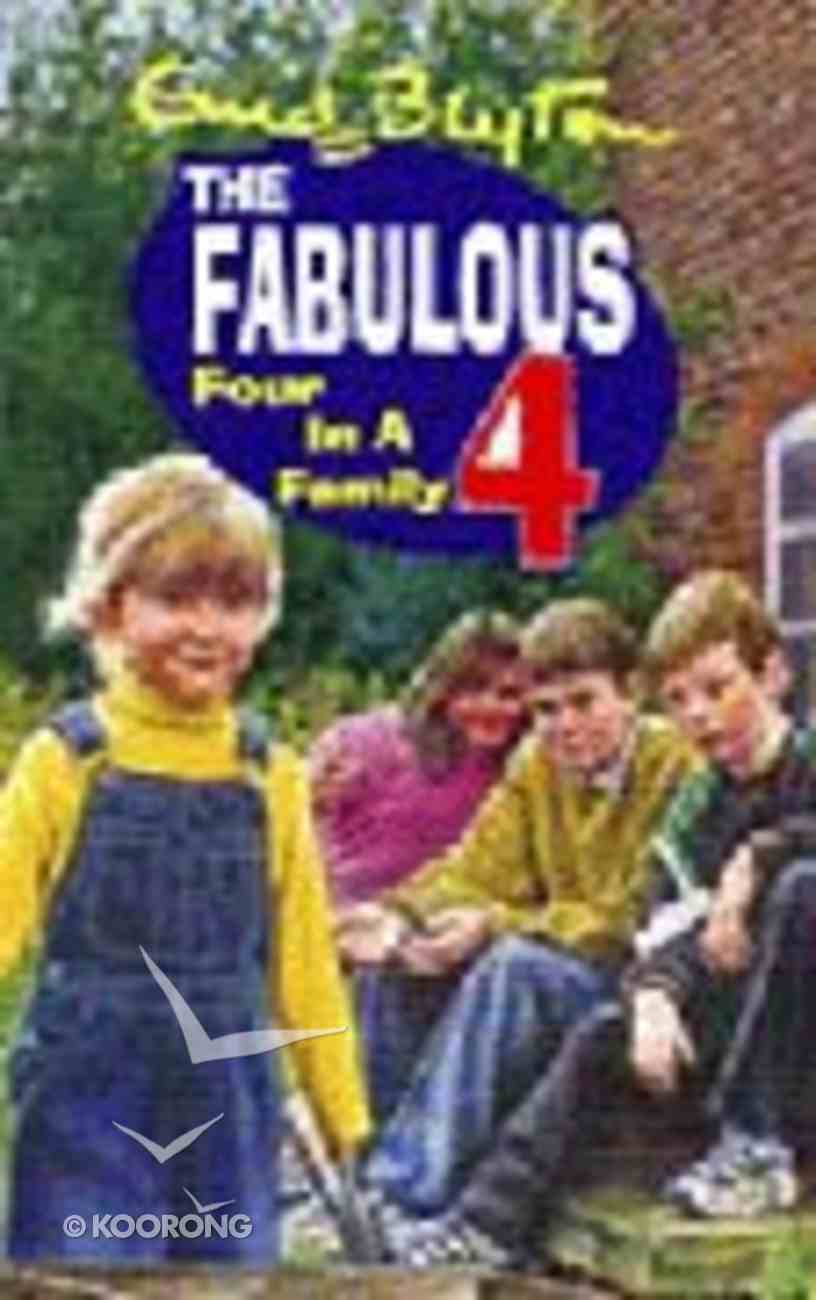 Fabulous 4: Four in a Family
Beloved author, Enid Blyton's Fabulous Four series features her usual combination of outgoing characters and adventure. Now updated for a new generation of readers, these books deal with important issues like helping people, sharing, lying, secrets and illness
---
Free Shipping
for orders over $99.
Beloved author, Enid Blyton's Fabulous Four series features her usual combination of outgoing characters and adventure. Now updated for a new generation of readers, these books deal with important issues like helping people, sharing, lying, secrets and illness
The first book in new and updated FABULOUS FOUR series for young readers. This is the first in a series with a moral edge. The books centre round John, Sarah, Sam and Rosie, who are cousins and spend nearly all their time together. John and Sarah's Dad has had a bike accident. He isn't too badly hurt, but has hit his head and will have to stay in hospital. They want to visit him and take him sweets and flowers. The only problem is they don't have any money. So they decide to earn some by weeding gardens, doing washing up, fetching people's shopping. Rosie has her own idea of a job she's going to do and for once she won't tell anybody her secret. In the meantime they help Mum out and their jobs help them see how well they can do things for her. But will they earn enough money, and what has little Rosie been up to?
-Publisher
John, Sarah, Sam and Rosie are cousins and spend nearly all their time together. They want to visit John and Sarah's dad in hospital and take him sweets, but need to earn some money. Rosie has her own idea and for once she won't tell anyone her secret.
-Publisher
Enid Blyton, 1896 - November 28, 1959 Enid Blyton was born in London in 1896. She was educated in a private school and thought that she would become a musician until she realized that writing was her passion. She attended Ipswich High School where she trained to become a kindergarten teacher and eventually opened her own school for infants. Blyton's first poem was published in 1917, entitled "Have You-" which appeared in Nash's Magazine. In 1922, her first book of verses was published, entitled "Child Whispers." In 1926 she accepted a position editing the children's magazine "Sunny Stories" as well as writing the column "Teachers World." Blyton's first full length children's book was published din 1938 and was titled "The Secret Island." After working on the column for years, Blyton quit "Teachers World" in 1945 and also ended her stint as editor of "Sunny Stories" seven years later. In 1953 she started her own children's magazine called "The Edith Blyton Magazine" which featured stories about her characters and news on the clubs formed around them. Her most famous stories were those of the "Famous Five" The Magazine closed in 1959. In the 50's and 60's Blyton was criticized for the language in her book, for being to simple, but some 300 are still in print today. Blyton has published over 600 books in the course of her career. Enid Blyton died in her sleep on November 28, 1968. She was 72 years old.
Bestsellers in Young Readers (Age 4-7)