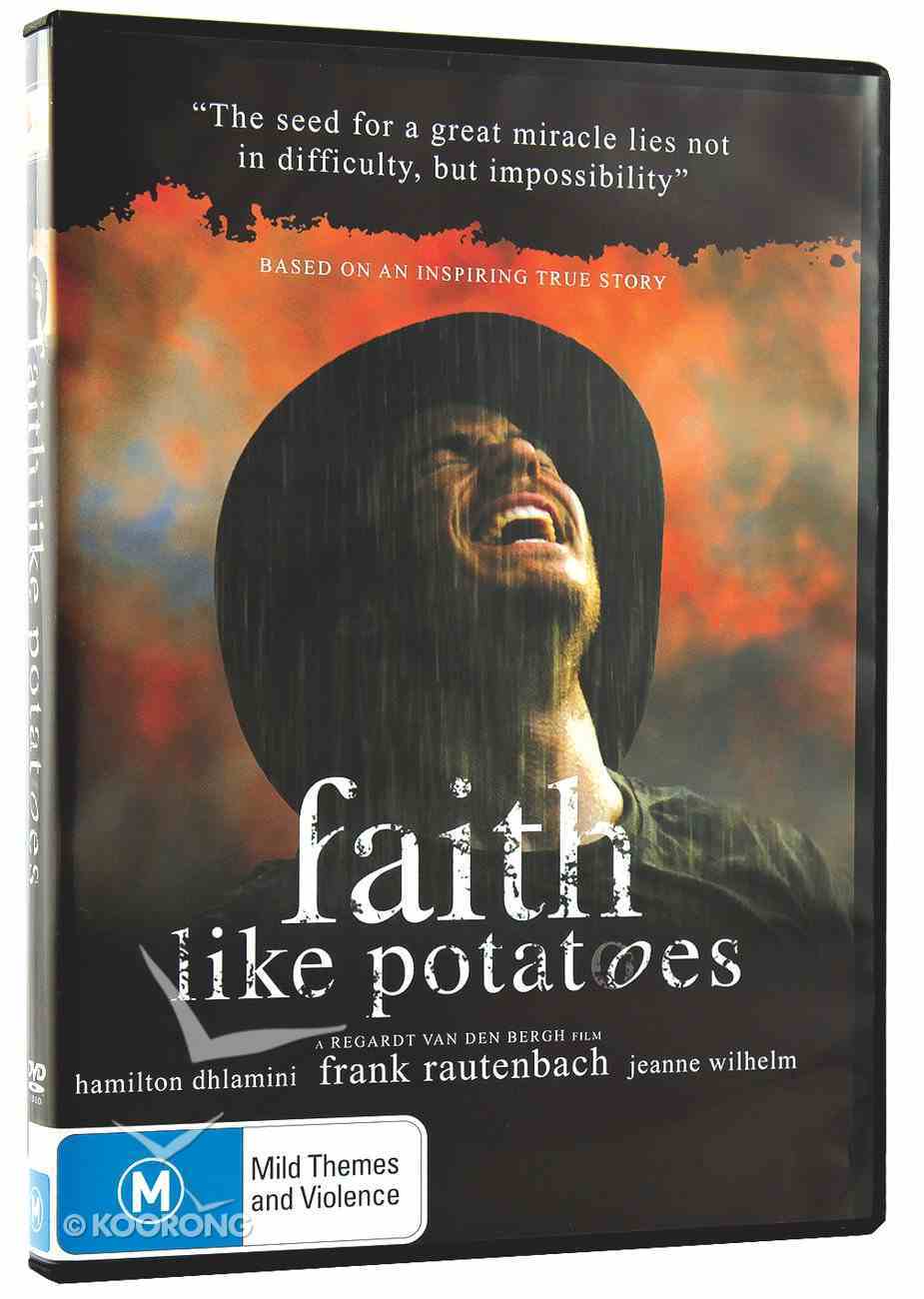 111 mins + special features M Angus Buchan was an explosive, hard-drinking South African farmer whose sudden conversion startled friends. Following the call to preach, he began a healing ministry, set up an AIDS orphanage and now travels the...
Available Now.
50+ Available
---
Expected to ship tomorrow from Australia.
---
Free Shipping
for orders over $99.
111 mins + special features M

Angus Buchan was an explosive, hard-drinking South African farmer whose sudden conversion startled friends. Following the call to preach, he began a healing ministry, set up an AIDS orphanage and now travels the world as an evangelist. This is his remarkable story.

From Global Creative Studios:

Frank Rautenbach leads a strong cast as Angus Buchan, a Zambian farmer of Scottish heritage, who leaves his farm in the midst of political unrest and racially charged land reclaims and travels south with his family to start a better life in KwaZulu Natal, South Africa.

With nothing more than a caravan on a patch of land, and help from his foreman, Simeon Bhengu, the Buchan family struggle to settle in a new country. Faced with ever mounting challenges, hardships and personal turmoil, Angus quickly spirals down into a life consumed by anger, fear and destruction.

Based on the inspiring true story by Angus Buchan the book was adapted for the big screen by award winning actor and director, Regardt van den Bergh and weaves together the moving journey of a man who, like his potatoes, grows his faith, unseen until the harvest.

Angus Buchan wrote and published the book Faith like Potatoes which continues to touch people from all age groups, social groups, background and cultures as is evident by its continued sales and the number of emails, faxes and letters Angus receives from readers on a daily basis.

Faith like Potatoes received accolades at the South African Film and Television Academy (SAFTA) awards. Global Creative Studios is very proud of Hamilton Dlamini and Ronelle Loots who won awards for "Best Supporting Actor" and "Best Editing" respectively, while the movie was also nominated for Best Movie Score and Best Cinematography.

"I have always been very impressed with the calibre of people who worked on Faith like Potatoes. It is wonderful that Hamilton and Ronelle received recognition for their superb work," says Frans Cronje. Faith like Potatoes was screened in early November at South Africa's Parliament as part of an initiative of the National Film and Video Foundation (NFVF) and the Parliamentarian Millennium Project.

The film continues to impress people, not only in South Africa but also around the world, with many new international distribution deals having been recently secured in countries like Italy, Australia and the UK. The "little film that can" which it has often been named, continues to amaze.

Official Selection, The Australian International Film Festival.

Includes moderate course language. Rated M: mild themes and violence.
This Item Is In The Following Kit
In 1976, political upheaval in Zambia forced hard-driving Angus Buchan (born 1947, Rhodesia) to sell-up his farm for a pittance and relocate with his family to South Africa. Angus' funds were so low that he couldn't afford a farm with a house on it, but with typical determination he settled on a piece of land in KwaZulu Natal and set about raising crops and livestock.

In 1977, Angus startled those who knew him with his sudden conversion to Christianity, and in 1979 he and his wife Jill committed their lives fully to Christ during a service at Greytown Methodist Church.

In his best-selling autobiography, Faith Like Potatoes, published in 1998, Angus recounts how he learned to trust that God was at work building something substantial even if he couldn't see it, much in the way a potato grows underground, out of sight. In 2006 the book was made into a film, which went on to become a huge success in South Africa and worldwide.

In 1980, the Lord gave Angus and Jill a clear vision very simply and clearly through His Word:

The Great Commission - Mark 16:15
Caring for Orphans and Widows - James 1:27
Equipping Saints for the Work of Ministry - Matthew 28:20.
This was the inspiration for Shalom Ministries, which has grown from an evangelistic outreach in Angus' own community to an Africa-wide concern. Without any formal higher education or theological training, Angus followed God's call and conducted his first preaching campaign in 1990 in Ladysmith, KwaZulu Natal. In the years since, Angus' reputation has grown to the extent that he now fills stadiums across the African continent.

Since 1995, Shalom Ministries has administered a home for AIDS orphans and a farm-school in Angus' home district of Greytown. Also, between 2003 and 2010 Shalom ran seven annual 'Mighty Men' Conferences - outdoor worship camp-outs for men and boys that grew from 40 attendees at the start to over 200,000, and have proven to be highly influential. Angus' evangelistic and worship events have been recorded live, bringing his distinctive down-to-earth teaching style to a worldwide audience. He also presents a twice-weekly Christian television program 'Grassroots', filmed mostly on his farm.

Despite the demands of his ministry as a full-time evangelist, Angus remains a man who values quiet times with God and maintains a simple, no frills lifestyle on his farm, which is now run by his two sons Andrew and Fergus. Angus and his wife Jill also have three daughters Robyn, Jilly, and Lindi.
Bestsellers in Movie Dvds