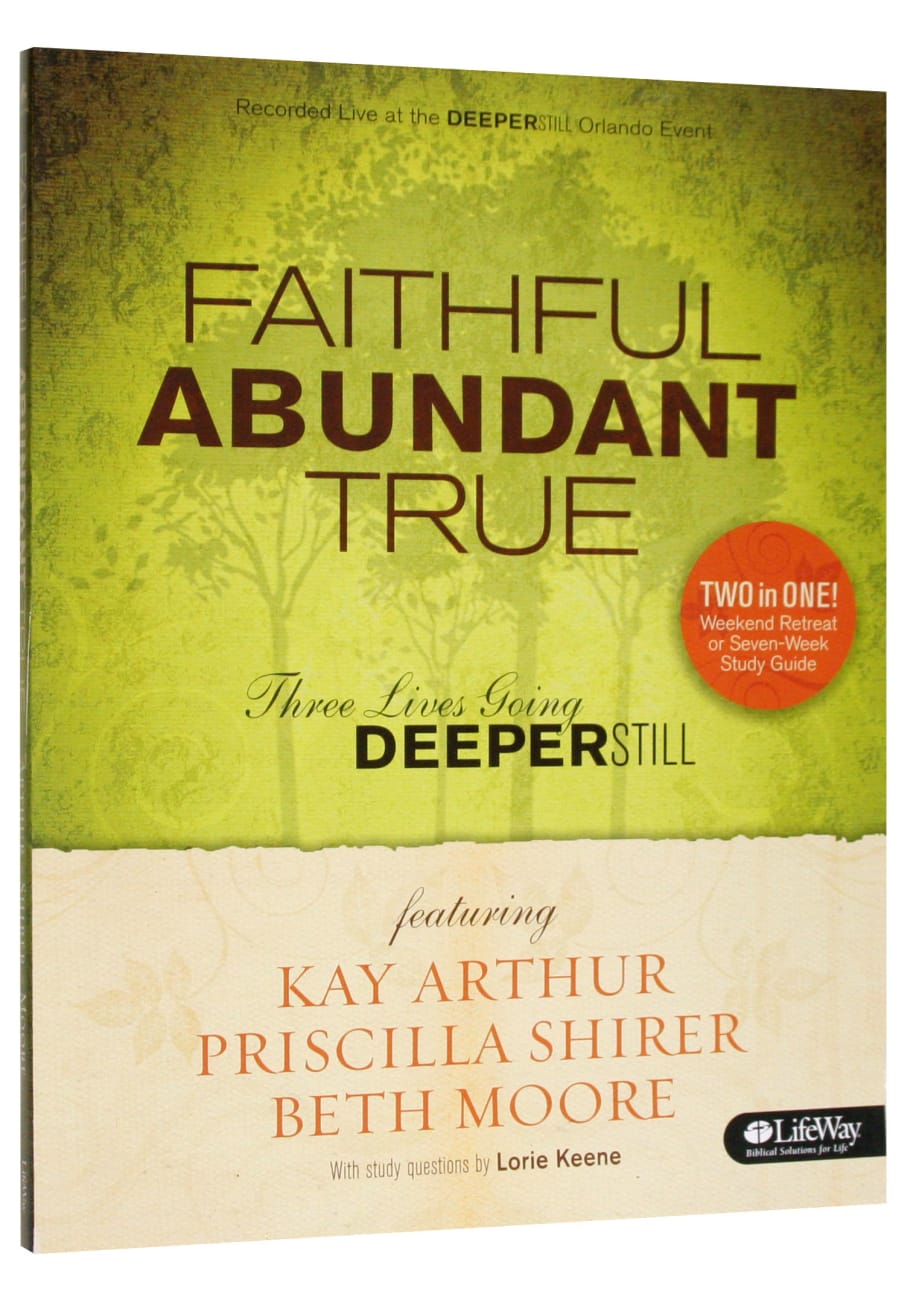 Faithful, Abundant, True : Three Lives Going Deeper Still (Member Book) (Beth Moore Bible Study Series)
To be used with the Faithful, Abundant,True DVD set (#308603). This versatile study guide features 7 weeks of guided reflections (5 per week) that require 15-30 minutes each. Ideal for today's busy woman, and for women's retreats! The aim of...
In Stock (3 left)
Limited Availability
---
Expected to ship tomorrow from Australia.
---
Free Shipping
for orders over $99.
To be used with the Faithful, Abundant,True DVD set (#308603). This versatile study guide features 7 weeks of guided reflections (5 per week) that require 15-30 minutes each. Ideal for today's busy woman, and for women's retreats! The aim of the reflections is to take women deeper into Scripture, and challenge them to develop faithfulness, abundance, and discernment in their own lives as they walk with God.

Publisher Description

Faithful, Abundant, True: Three Lives Going Deeper Still - Member Book. Join Beth Moore, Kay Arthur, and Priscilla Shirer in a women's Bible study recorded live at the Orlando Deeper Still conference. Kay Arthur teaches from basically, the entire book of Hebrews Hebrews is both an example of God's faithfulness and a challenge to believers to be faithful in difficult times. Priscilla Shirer teaches from Ephesians 3:20-21 on God's abundance. A fundamental basis for every believer is the absolute reality that God can do whatever He chooses to do. God's ability empowers our faithfulness.Beth Moore teaches on the topic of discernment. In these difficult days it is absolutely essential that we learn to trust the Holy Spirit to enable us to determine what is true and what is false.

While these three women each speak on the distinctive topic the Holy Spirit had lead them to teach, the messages result in a marvelous blend. Kay challenges us to faithfulness in difficult days. Priscilla points to the essential of trust in God's ability, and Beth teaches on how to discern truth from error in these difficult days.

The Member Book is a versatile study guide for this women's Bible study that can be used in a retreat setting or for a seven-session study. Each teacher provides two weeks of study in a brief format that will take most women 15 to 30 minutes daily. As a bonus, Faithful, Abundant, and True Member Book includes a partnership with HomeLife Magazine in which each of the three speakers' section also includes an article from HomeLife that illustrates faithfulness, abundance, and truth.

Member Book includes: 6 Weeks of Guided StudyRetreat Plan (great for a Friday evening - Saturday evening schedule)Group Leader Helps
Kay Arthur is one of America's best-known and most-beloved Bible teachers and authors. With her husband, Jack, she is the co-founder of Precept Ministries International, the leaders in inductive Bible-study resources. Kay also reaches hundreds of thousands of people internationally through her Precept upon Precept inductive Bible studies. In addition, her daily and weekly television programs air on over 900 stations in 30 countries. - Publisher.
Priscilla Shirer is a wife and a mother first. But put a Bible in her hand and a message in her heart and you'll see why thousands flock to her conferences and dive into her Bible study series each year.

Priscilla Evans was born 31 December 1974 in Dallas, Texas, the daughter of Dr Tony Evans, senior pastor of the thriving 9,500-member Oak Cliff Bible Fellowship. A graduate of Dallas Theological Seminary, Priscilla holds a Master's degree in Biblical Studies and loves nothing more than to serve her sisters in Christ through the teaching of God's Word. She considers it a privilege to serve believers from every denomination and culture by helping them to know the truths of Scripture intellectually and by encouraging them to experience these truths practically by the power of the Holy Spirit.

Priscilla's ministry work began while she was still a college freshman. Her spots on Christian radio proved to be popular, and she was invited to lead the weekly Bible study at Zig Ziglar's corporation. In 1999, Priscilla married executive Jerry Shirer, and together they founded Going Beyond Ministries. In addition to Priscilla's participation in many church and para-church conferences across the globe each year, Going Beyond Ministries hosts AWAKEN - an outreach event in their hometown designed to encourage and mobilise women locally. This free gathering brings together thousands of women from different denominations and backgrounds several times a year for an opportunity to not only hear the Word but to live it out in practical ways.

The ministry also equips believers with Bible study resources by partnering with LifeWay Christian resources. Priscilla has authored many video-based studies on biblical characters and topics including Jonah, Gideon, the Exodus, discerning God's voice and the Armor of God.

Priscilla has published numerous books including Discerning the Voice of God, God is Able, the New York Times Bestseller The Resolution for Women, and Fervent: A Woman's Battle Plan for Serious, Specific and Strategic Prayer. In 2015, she made her debut as a screen actress, starring in the role of Elizabeth Jordan in the hit faith-based film War Room.

Between studying and writing, Priscilla spends most of her time cleaning up after (and trying to satisfy the appetites of) her and Jerry's three growing sons - Jackson, Jerry Jr., and Jude. They make their home in Dallas.
Beth Moore was born Wanda Elizabeth Green in 1957, on an Army base in Green Bay, Wisconsin, the fourth of five children. She was raised in Arkadelphia, Arkansas, where her father - a retired army officer - managed the local cinema, and it was there that Beth's lifelong love for stories began. She loved to tell them, write them, and be told them. But the story that captured her heart more than any other was not told in a movie theatre. It was the story told in Sunday School, about Jesus, a Saviour who loved children and who thought she was special. A seed was planted in her young heart that would grow to a passionate love for Christ.

At the age of 18, Beth sensed God calling her to work for Him, although she couldn't yet imagine what that might involve. She graduated from Southwest Texas State University with a degree in political science, and would later receive an honorary doctorate in humanities from Howard Payne University. She married Keith Moore in 1978 and soon after the Lord added Amanda and Melissa to the family.

Beth's involvement with the Bible intensified when she took a doctrine class at her church. Her teacher was Buddy Walters, a former college football player who taught the Scriptures with tears streaming down his cheeks. She fervently prayed for such a passion for God's Word.

Beth founded Living Proof Ministries in 1994 with the purpose of teaching women how to love God's Word and put it at the centre of their lives. She has written numerous books - including Breaking Free, Believing God, The Patriarchs and James: Mercy Triumphs - that have been read by women of all ages, backgrounds, and denominations. Beth runs conferences for women across the United States annually, and has also taken her ministry to many different countries, including Ireland, England, Singapore, the Philippines, Puerto Rico, India, Angola, Kenya, and South Africa. Since 2004, Beth has conducted a radio ministry 'Living Proof with Beth Moore', and has a weekly spot on the television program LIFE Today. Ever the storyteller, Beth is known for enlivening her teaching with stories and poems written from the perspective of biblical characters. She communicates with great energy, humour, warmth, and grace.

For over a quarter of a century from the 1980s, Beth attended the First Baptist Church in Houston, Texas, transferring in 2011 to Bayou City Fellowship, where her son-in-law Curtis Jones is the founding pastor.

Beth and and her husband Keith enjoy travelling, hiking, drinking coffee on the back porch, eating Mexican food, making each other laugh, walking their dogs, and being grandparents. Both of their daughters, Amanda and Melissa, serve with Living Proof Ministries, and Amanda's husband, Curtis, serves on staff as an associate speaker/teacher.
Bestsellers in Ministry Resources