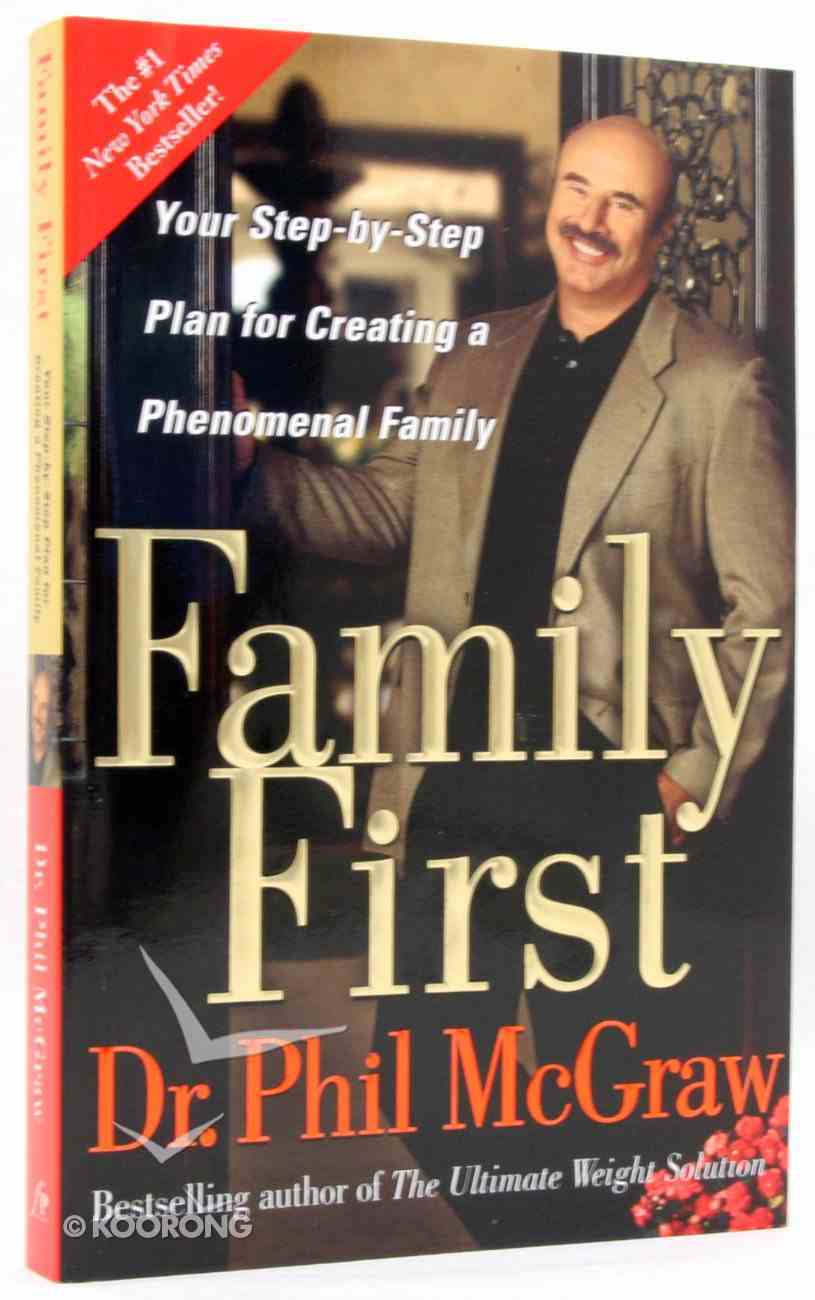 Do you feel that your family is not what it used to be, or what it has the potential to be? Do you worry that the parenting decisions you're making today may be scarring your child for life? Do you...
---
Expected to ship within 4 hours from Australia.
---
Free Shipping
for orders over $99.
Do you feel that your family is not what it used to be, or what it has the potential to be? Do you worry that the parenting decisions you're making today may be scarring your child for life? Do you sometimes feel you are in a tug-of-war with the world over who will shape your child's values and beliefs? With Family First: Your Step-by-Step Plan for Creating a Phenomenal Family, Dr. Phil offers a new classic on family life -- and gives parents real answers and a plan for being the most positive and effective parents possible. Starting right now, you can begin to make realistic choices and take day-to-day actions that can make your family phenomenal. You must decide that you will lead your family with strength and love and that peace and joy are not just for the people next door or on TV. They're for your family. In Family First, Dr. Phil gives it to parents straight: even in this fast-paced world your family should be the center of your life and your child's life. Parenting is the most important and noble act you will ever undertake, yet American families are threatened like never before from the inside as well as the outside -- many of us fight too much, don't get involved enough in our children's lives, or get bogged down in life's daily struggles instead of keeping our eye on the big picture of our family's well-being. Dr. Phil has been working with families for over twenty-five years to help them repair the fissures that have fractured their home lives. In Family First, he provides a proven action plan to help parents determine the strengths and weaknesses of their parenting style. His 7 Tools for Purposeful Parenting cover the most important elements for any parent: parenting for success -- for the purpose of raising cooperative, caring, and competent children. Exercises, scripts, assessments, solutions for specific problems, and precise directions for implementing the steps you need to take are all included in this landmark work. Dr. Phil shows parents how to make changes now -- how to put a stop to your children's tantrums; talk to them about peer pressure or self-esteem; instill values like integrity, honesty, and respect for other people; and bring order back to your house. If you want your child to have a happy, fulfilled life, you must open your eyes to the crucial role you play in his or her development. Most important, Dr. Phil's new book offers you and your family hope -- for a phenomenal home life now, and a productive, fulfilling future for your children. As Dr. Phil says, you are not just raising children, you are also raising adults, and everything you do today impacts what kind of adult your child will become. You are building the future.
-Publisher
From Dr. Phil's Letter to Parents:
I want to talk to you about family: yours and mine. I know and feel that as parents, you and I share some very important priorities. Just like you, I love my family more than anything in this world and I want us all to be safe, healthy, happy and prosperous in everything we do both within our family and as we go out into the world. Cynics will tell you that in our fast-paced society "family" is becoming obsolete, that it is just an old-fashioned, lost concept, getting buried in a busy world of "enlightened" people. I'm here to tell you that that is not right, not even close. Family is even more important today than in generations past, and its erosion is unacceptable. This is a fight we can and must win. This is a fight we will win if we just do our homework and plug in. What I intend to do in Family First is tell you with great precision what you need to stop doing and what you need to start doing to lead your family with such a pure purpose and power that the competing messages and influences are drowned out. I plan to help you define success and then take the steps to create and claim it for you and yours. Your children are the stars in your crown and it is time for them to shine; it is okay for them to shine and, if you do your job, shine they will. -- Dr. Phil


-Publisher
Phillip C. McGraw, Ph.D., is the #1 "New York Times" bestselling author of "Life Strategies, Relationship Rescue, Self Matters," and "The Ultimate Weight Solution." He is the host of the nationally syndicated, daily one-hour series "Dr. Phil." One of the world's foremost experts in the field of human functioning, Dr. McGraw is the cofounder of Courtroom Sciences, Inc., the world's leading litigation consulting firm. Dr. McGraw currently lives in Los Angeles, California, with his wife and two sons.