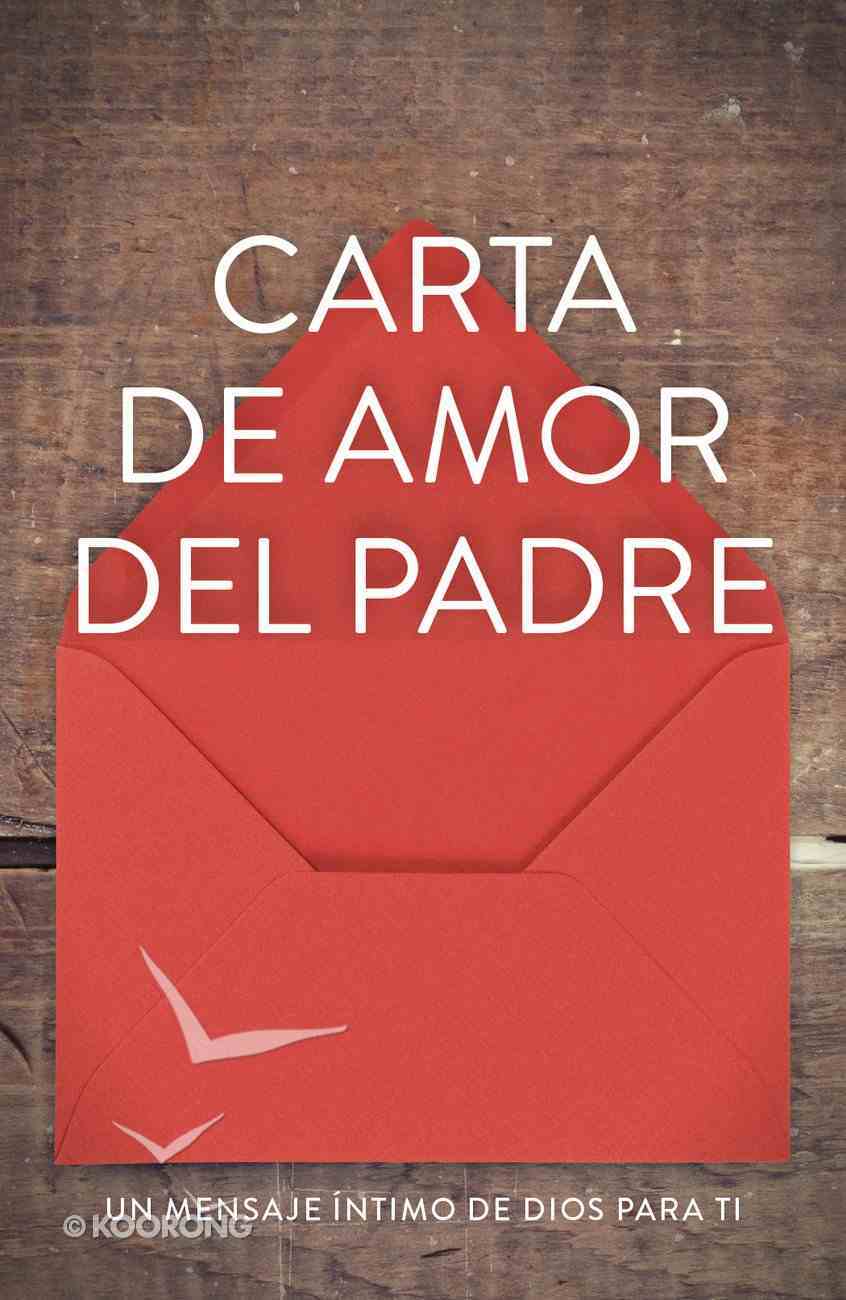 Father's Love Letter (Spanish, Pack Of 25)
: Hijo mío, Puede que tú no me conozcas, pero yo sé todo sobre ti (Sal 139:1). Sé cuando te sientas y cuando te levantas (Sal 139:2); todos tus caminos me son conocidos (Sal 139:3). Aun todos los cabellos...
Available Now.
10+ Available
---
Expected to ship within 6 hours from Australia.
---
Free Shipping
for orders over $99.
:
Hijo mío,


Puede que tú no me conozcas, pero yo sé todo sobre ti (Sal 139:1). Sé cuando te sientas y cuando te levantas (Sal 139:2); todos tus caminos me son conocidos (Sal 139:3). Aun todos los cabellos de tu cabeza están contados (Mt 10:29-31).


Tú has sido hecho a mi imagen (Gn 1:27). En mí tú vives, te mueves y eres, porque tú eres mi descendencia (Hch 17:28). Te elegí aun antes de que nacieras (Jer 1:4-5), y te escogí cuando planeé la creación (Ef 1:11-12). Tú no fuiste un error, porque todos tus días están escritos en mi libro (Sal 139:15-16). Yo determiné el tiempo exacto de tu nacimiento y dónde vivirías (Hch 17:26). Tú has sido creado de forma maravillosa (Sal 139:14). Yo te formé en el vientre de tu madre (Sal 139:13), y te saqué del vientre de tu madre el día en que naciste (Sal 71:6).


He sido mal representado por aquellos que no me conocen (Juan 8:41-44), mas no estoy enojado ni distante; soy la manifestación perfecta del amor (1 Juan 4:16), y es mi deseo prodigarte mi amor simplemente porque tú eres mi hijo y yo soy tu Padre (1 Juan 3:1). Te ofrezco mucho más de lo que tu padre terrenal podría darte (Mt 7:11), porque yo soy el Padre perfecto (Mt 5:48), y cada dádiva que recibes viene de mis manos (Stg 1:17), porque yo soy tu proveedor, quien suple tus necesidades (Mt 6:31-33).


El plan que tengo para tu futuro está siempre lleno de esperanza (Jer 29:11), porque te amo con amor eterno (Jer 31:3). Mis pensamientos sobre ti son incontables como la arena en la orilla del mar (Sal 139:17-18). Me regocijo por ti con cánticos (Sof 3:17). Nunca dejaré de hacerte el bien (Jer 32:40), porque tú eres mi tesoro más precioso (Éx 19:5).


Deseo afirmarte dándote todo mi corazón y toda mi alma (Jer 32:41), y quiero mostrarte cosas grandes y maravillosas (Jer 33:3). Si me buscas con todo tu corazón, me encontrarás (Dt 4:29). Deléitate en mí y te concederé las peticiones de tu corazón (Sal 37:4), porque yo soy el que produjo tus deseos (Fil 2:13).


Puedo hacer por ti mucho más de lo que podrías imaginar (Ef 3:20). Yo soy tu mayor alentador (2 Ts 2:16-17), y también soy el Padre que te consuela durante todos tus problemas (2 Co 1:3-4). Cuando tu corazón está quebrantado, yo estoy cerca de ti (Sal 34:18). Así como el pastor lleva un cordero, yo te llevo a ti cerca de mi corazón (Is 40:11). Un día enjugaré cada lágrima de tus ojos y quitaré todo el dolor que hayas sufrido en esta tierra (Ap 21:3-4).


Yo soy tu Padre, y te he amado como a mi hijo Jesús (Juan 17:23), porque en Jesús mi amor hacia ti ha sido revelado (Juan 17:26). Él es la representación exacta de lo que soy yo (He 1:3). Él ha venido a demostrar que yo estoy contigo, no contra ti (Ro 8:31), y también a decirte que yo no estaré contando tus pecados (2 Co 5:18-19), porque Jesús murió para que tú y yo pudiéramos ser reconciliados (2 Co 5:18-19). Su muerte ha sido la última expresión de mi amor hacia ti (1 Juan 4:10). Por mi amor hacia ti haré cualquier cosa para ganar tu amor (Ro 8:31-32).


Si recibes el regalo de mi Hijo, Jesús, me recibes a mí (1 Juan 2:23), y ninguna cosa te podrá separar otra vez de mi amor (Ro 8:38-39). Vuelve a casa y participa de la más grande fiesta celestial que nunca has visto (Lc 15:7). Siempre he sido Padre, y por siempre seré Padre (Ef 3:14-15)ú ser mi hijo? (Juan 1:12-13). Estoy esperándote (Lc 15:11-32).


Con amor, tu Padre,


(Dios Omnipotente)


-Publisher
Bestsellers in Tracts/booklets