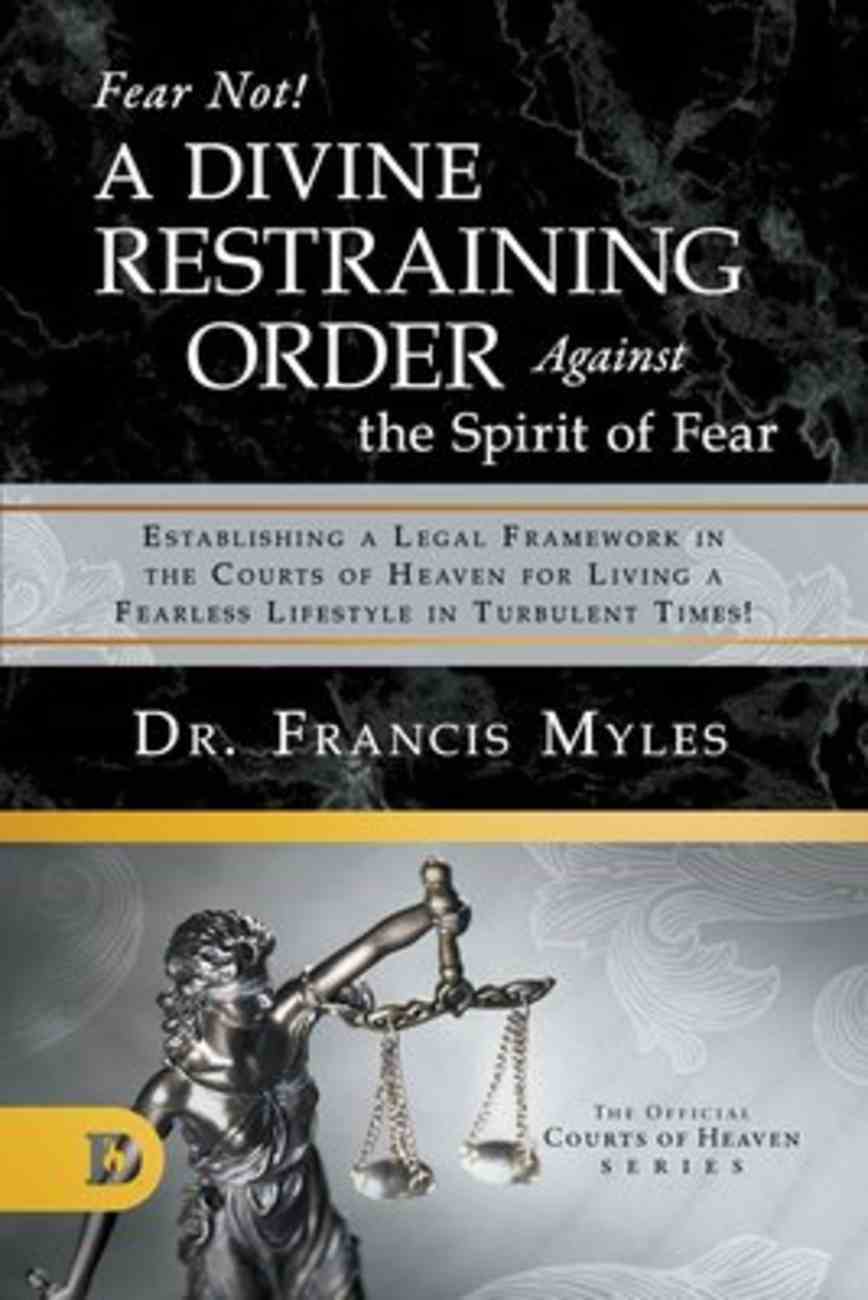 Fear Not! a Divine Restraining Order Against the Spirit of Fear: Estabilshing a Legal Framework in the Courts of Heaven For Living a Fearless Lifestyle in Turbulent Times! (Official Courts Of Heaven Series)
Stop Fear in Its Tracks! Fear is being broadcast like no other time in history and it needs to be restrained! As COVD-19 reports are coming at us from every direction, we need to know how to not let...
---
Expected to ship tomorrow from Australia.
---
Free Shipping
for orders over $99.

Stop Fear in Its Tracks!


Fear is being broadcast like no other time in history and it needs to be restrained! As COVD-19 reports are coming at us from every direction, we need to know how to not let the fear, dread, and intimidation overtake us.


There is at least 366 recorded times in the Bible where God says, "Fear Not!" God does not want His people to live in fear. The writer of Proverbs tells us that the wicked run when there is nothing chasing them. What a picture of fear! On the other hand, the righteous are as bold as a lion. Anyone who has seen a lion in its natural habitat knows, it is afraid of nothing. It walks lazily by as if it has nothing to fear. This is the picture that God wants painted on the canvas of our minds! When you are a child of God there is nothing to fear.


In this book you will discover how Satan uses "fear" to bind us in the Courts of Heaven. You will discover that the devil uses the spirit of fear to open the doors of oppression in almost all cases of demonic bondage or entrapment! Fear has a paralyzing and chilling effect.


This book contains a proven biblical model for living a fearless lifestyle.


In Fear Not! you will learn:

The anatomy of the types of fears: Fear of Death, Fear of Lack, Fear of Failure, Fear of Ghosts or Demons, even Imagined Fear. How Satan uses fear in the Courts of Heaven. How to identify Satan's legal entry points. How to prosecute the Spirit of Fear in the Courts of Heaven.
These are truly unprecedented times in history, so now is the time for you to rise up and take your stand against fear!


-Publisher
Dr. Francis Myles is an Apostle to the nations, Senior Pastor of Breakthrough City Kingdom Embassy, Businessman, and Spiritual Life coach to Movers and Shakers in the Marketplace. He was born in Zambia, before migrating to South Africa in 1994. In 1998 he received an apostolic commission to the United States by the Holy Spirit. He is the founder of Kingdom Marketplace Coalition and The Order of Melchizedek Leadership University. He is also the author of the book, The Return of the Lost Key: Tithing under the Order of Melchizedek. He is happily married to Trina Myles; and they both reside in Mc
Bestsellers in Spirit-filled Living