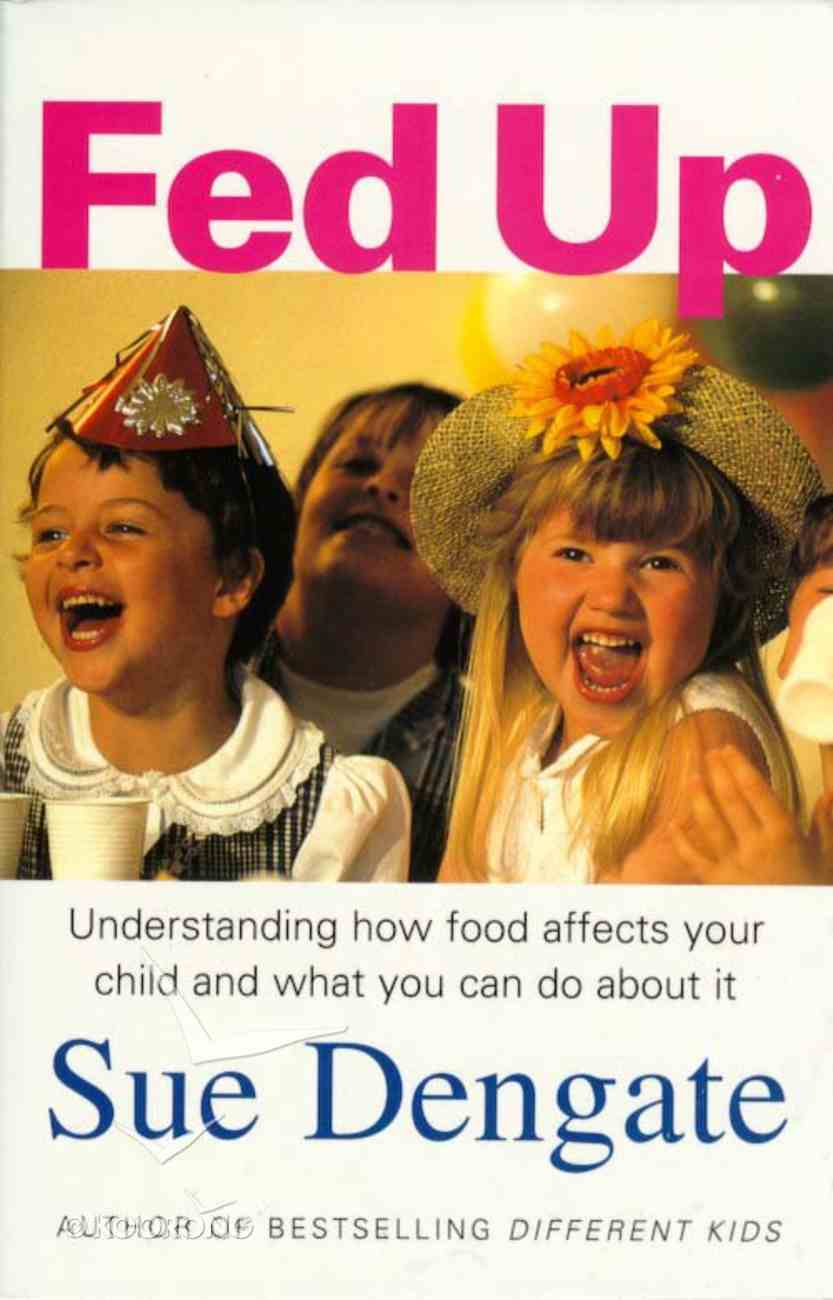 Sue Dengate is her meticulously researched response to the wide-ranging problem of food intolerance and how it effects people, from learning difficulties to behavioural problems and minor chronic illness. This handbook is an essential tool for childrearing and an indispensable...
Out of Stock
Available to Order
---
Expected to ship in 6 to 7 weeks from Australia.
---
Free Shipping
for orders over $99.
Sue Dengate is her meticulously researched response to the wide-ranging problem of food intolerance and how it effects people, from learning difficulties to behavioural problems and minor chronic illness. This handbook is an essential tool for childrearing and an indispensable guide for adults.
-Publisher
What is the connection between food intolerance and behavioural disorders? How can I use diet to help my child overcome these difficulties and start living a happier, healthier more successful life?Sue Dengate, author of Different Kids - Growing Up With Attention Deficit Disorder, in her second book, tackles these questions in relation to the broader issue of children (and adults too) who suffer from a range of behaviours which disrupt their lives and the lives of those around them. Fed Up is a response to calls for help from parents, teachers and other care-givers who are fed up; they feel isolated and they are not receiving positive, sympathetic advice from health care professionals.And Sue Dengate knows what their cries for help are about because she's experienced these problems within her own family - that tear-your-hair-out sense of desperation prompted Sue to do the research, get the facts and try the alternatives. And what she's found is that many people, particularly children, are adversely affected by chemicals in food, and that diet modification can lead directly to behaviour modification and the relief of chronic physical disorders from bed wetting to arthritis. Food chemicals, including natural ones, can cause side-effects in human beings. These side-effects range from mood disorders, to sleep disturbances, to physical symptoms like skin rashes, migraine, stomach upset and even asthma. This book is first and foremost a practical self-help guide to beating such problems, and discovering if your child (or you, or anyone else) might be suffering from the side-effects of food chemicals, and if so, how to isolate which chemicals are causing the problem. Sue provides food information, a shopping list and recipes through which these chemicals can be eliminated from your diet.'Kids have changed,' says a primary school principal with 34 years teaching experience. 'You see them arriving at school angry and unhappy. They stay like that all day. I used to think it was television, or a problem with the parents. But you have to look at food. They come to school eating junk, and when you ask "why are you eating that?" they answer, "It's my breakfast"...'My son was always complaining about headaches and stomach aches. We thought he was putting it on until we changed our food and the complaints stopped'... PRAISE FOR DIFFERENT KIDS'It's a moving and sometimes painfully honest account...you'll find this book compassionate and essential reading.'Parents Magazine'One strength of Dengate's well-researched book lies in its dissemination of vital information...Parents of attention deficit and behaviour disordered children will find Dengate's book informative, reassuring, instructive and a source of hope.'Daphne Smith, Clinical Neuropsychologist, Journal of Family Studies'...this book would be compulsory reading for any dietitian who wished to gain experience in understanding how families manage food intolerance in children...Rather than dismissing these families because of the controversy surrounding the diagnosis, treatment and diet therapy, readers of Different Kids will benefit from insights given.'Joan Breakey, Australian Journal of Nutrition and Dietetics
-Publisher
Bestsellers in Christian Living