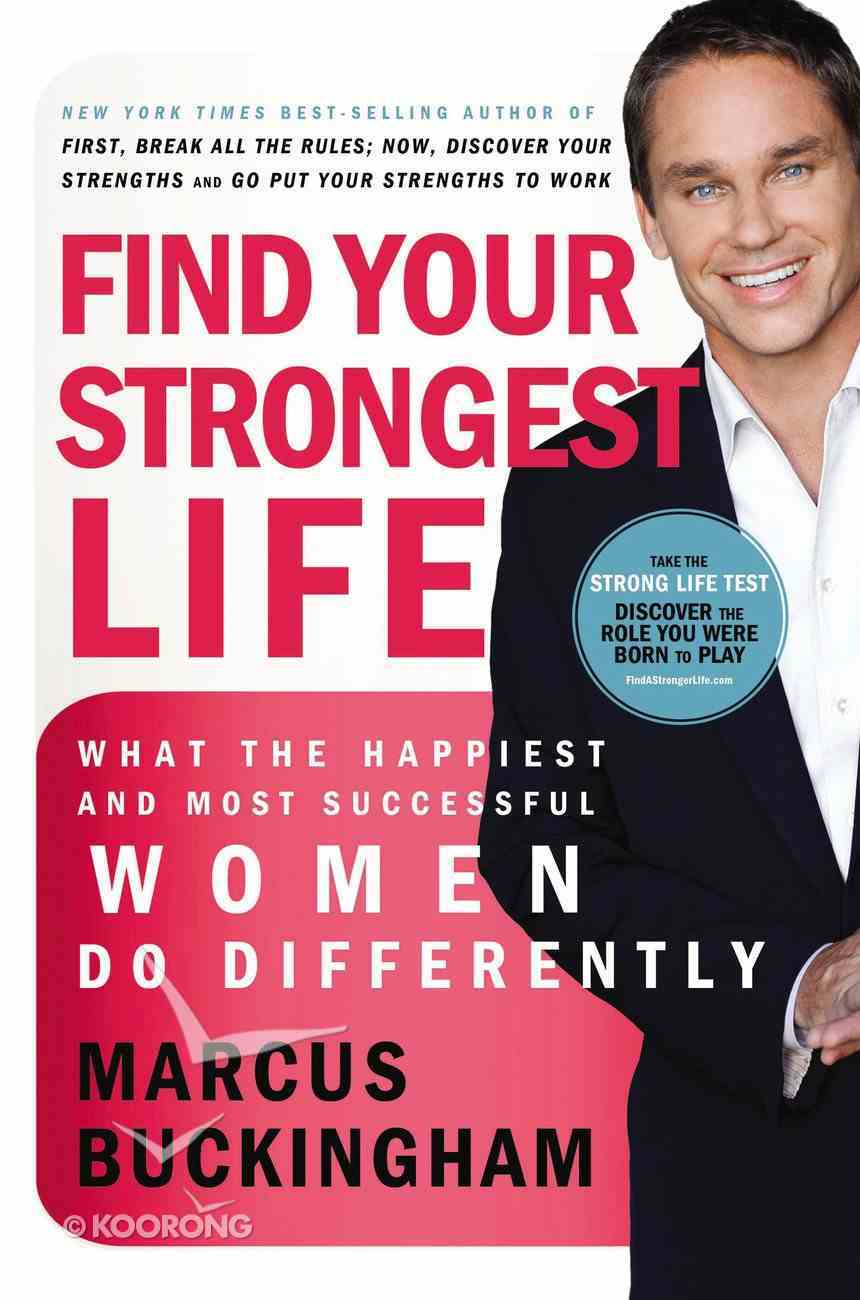 Find Your Strongest Life: What the Happiest and Most Successful Women Do Differently
In Find Your Strongest Life, Marcus Buckingham reveals the powerful key to bring fulfillment, peace, and control into a woman's life. In today's world, can a woman truly "have it all"? A fulfilling career full of passion and...
---
Free Shipping
for orders over $99.
In Find Your Strongest Life, Marcus Buckingham reveals the powerful key to bring fulfillment, peace, and control into a woman's life.

In today's world, can a woman truly "have it all"? A fulfilling career full of passion and performance? A belief that she is truly becoming the best, authentic version of herself? A happy, healthy life outside of work?

Countless women would roll their eyes at the possibility. Work is overwhelming. And for many of them, add the necessities of family and home. It all feels disconnected, out of control, and relentless.

In Find Your Strongest Life, Marcus Buckingham reveals the powerful key to help women draw enough strength from life to feel fulfilled, loved, successful, and in control. Even more, he helps women reconnect with their purpose and gives a starting point for change. A research-based message that applies to work and life, Find Your Strongest Life shows women how they really can have it all...the right kind of all.

- Publisher

Here's what one woman had to say about Marcus Buckingham's Find Your Strongest Life:


If I ever see Marcus Buckingham in person, I?m going to shake his hand and tell him thank you. Find Your Strongest Life has been one of the most eye-opening books I've read in a quite a while. Everyone always says that, don?t they? Why is this book any different? Well, for starters, if you're a woman and you've ever had questions about your career (no matter your age, your marital status, or whether you're in the workforce or at home), you should read this book. If you've ever wondered why ?juggling? your job, your family, your friends, and your own sanity seems like an impossible ideal, you should read this book?you'll find a new, revolutionary way to approach life so that you feel strong, successful, satisfied, and in control. If you are not sure what you really want to do or what you're even good at doing, you should read this book. I believe it should be mandatory reading.


The advice, the truths, and the misconceptions about women that Marcus uses research to explore can be applied to every woman in any area of life. But most importantly, the way he presents his ideas provide readers with a new way of looking at themselves, their strengths, weaknesses, and desires and helps you find the hope and confidence to find your strongest life.


The subtitle was what really got my attention: ?What the happiest and most successful women do differently.? I was prepared to read stories of the women whose lives we follow in the media?Oprah, Martha Stewart, Hillary Clinton, Michelle Obama?high-profile women. Powerful women. But the stories weren?t about those women. The stories were about us. Me. You. Women who held several jobs until they found the one that suited them best. Single mothers who struggled to make ends meet while searching for a job that didn?t drain them. Women who finally realized what their strengths were and then formed careers that they truly enjoyed.


This book was especially relevant to me because I?m struggling with my career choices and the stress is overwhelming. Not a good sign. I did all the things I thought I was supposed to do to become successful. I went to college, took an internship, and started to make connections. I took on smaller jobs until I was offered a full-time position and I continued to advance in the company.


The hours were tough, the pressure was constant, and even though I was good at my job and loved what I did initially, after a few years, it became a chore to go to work. I got tired of deadlines and difficult clients and when I felt completely burned out, I looked for another job. My only requirements were no work on weekends and no constant deadlines. I didn?t really even care what industry it was in, I just wanted out of my current situation. And I got exactly what I asked for.


I took a job in a different industry. I don?t work weekends or long hours. I don?t have deadlines. I also don?t get to be creative or interact with clients. I make more money but realize it isn?t worth it. I feel drained, stuck, and dissatisfied. The stress from dreading my job affects other areas of my life. I don?t enjoy my free time. I don?t visit my family as much. I feel useless and lost. Sounds awful, doesn?t it?


I read Your Strength for Life in one sitting (which I never do). It couldn?t have come at a more perfect time. After completing the exercises and understanding what I need in my life to feel successful, I?m really looking forward to the future. This time, I will be intentional in what I pursue, confident in my strengths, and accepting of my weaknesses.


One of the great issues Marcus talks about is defining what ?all? means to you, as in, ?Can I have it all?? A satisfying career, healthy relationships, if you're married, a strong marriage, if you're a parent, strong kids. His point is that you can have it all in life, but it has to be the right kind of all. You can?t have every possible opportunity or attain some culturally forced ideal. But you can have everything that you value and everything you long for so long as you learn to find your strongest life. This was profound for me. I had never actually defined what my ?all? was. I had made list upon list of goals I wanted to achieve in life (buy a house, make x amount of money a year, buy a bigger house, make even more money the next year), but I?d never defined what I wanted my life to actually look like.


So I did as a result of this book. And I realized my ?all? is to have a career where I feel I?m helping people and interacting with people, even if it means making less money. I want to be able to spend quality time with my family now. Which means I need to cut out many of the distractions I've been cramming into my life just to stay busy.


You might be struggling with whether to stay home with your kids or go back to work. You might know what you want to do but not be sure how to make that change. You might not know what you're really good at but know it's not what you're doing now. What risks should you take? What makes you happy? What gets in the way of your happiness? Don?t you think it's about time to find out?


These principles in this book can take you to a stronger life and help you discover what you're really passionate about. By learning what your strengths are, you can learn to build stronger relationships with your spouse, your children, your family, and your friendships. You really can find strength in your abilities and the confidence it takes to make decisions about your future. You can be successful and happy. And you can start right now.


-Publisher
PRODUCT DETAIL
Catalogue Code 

290200

Product Code 

9781400280780

ISBN 

1400280788

EAN 

9781400280780

Pages 

288

Department General Books
Category Women
Sub-Category General
Publisher Thomas Nelson Publishers
Publication Date 

Sep 2009

Sales Rank 

67990

Dimensions 

212 x 139 x 20

mm

Weight 

0.326

kg
Marcus Buckingham spreads his revolutionary strengths message as a New York Times best-selling author with more than 3.7 million books in print, a popular speaker to audiences of 250,000 each year, and founder of TMBC, a management consulting firm that specializes in strengths-based solutions for organizations worldwide. His previous bestselling books include: First, Break All the Rules, Now, Discover Your Strengths, The One Thing You Need to Know, Go Put Your Strengths To Work, and The Truth About You. He lives with his wife and two children in Los Angeles.