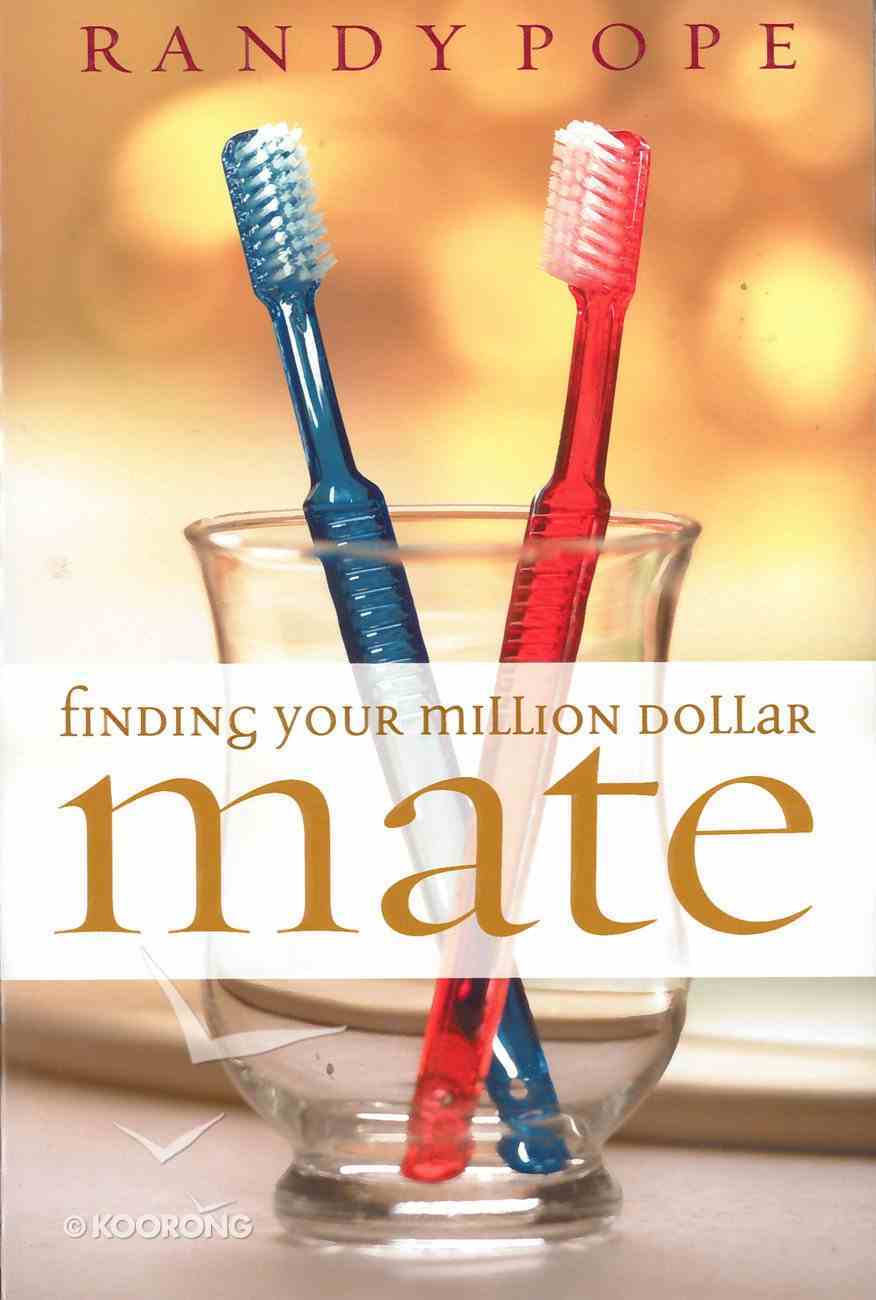 Finding Your Million Dollar Mate
This whole marriage thing is intriguing, isn't it? No matter the culture or time in history, marriage is a huge deal and ought to be treated as such. But finding the ideal mate is so difficult, especially these days. What...
Available for immediate download.
---
Read using our free app on your tablet or mobile!
---
Free Shipping
for orders over $99.

This whole marriage thing is intriguing, isn't it? No matter the culture or time in history, marriage is a huge deal and ought to be treated as such. But finding the ideal mate is so difficult, especially these days. What if you could find the perfect mate, someone you could live with the rest of your life who'd meet all your longings and expectations? That would be priceless! In this new book, Randy Pope presents the six key principles for finding your "million dollar mate." Readers will find their perceptions challenged, their standards heightened, and their hopes lifted.
^Dollar Mate

3. Two Pictures Worth a Thousand Words

4. Fatal Attractions

5. ^The Greatest Hope

6. All That Increases

7. Finding Your Million Dollar ^Mate

8. A Personal Story
This whole marriage thing is intriguing, isn't it? No matter the culture ^or time in history, marriage is a huge deal and ought to be treated as such. But ^finding the ideal mate is so difficult, especially these days. What if you could ^find the perfect mate, someone you could live with the rest of your life who'd meet ^all your longings and expectations? That would be priceless! In this new book, Randy ^Pope presents the six key principles for finding your "million dollar mate." Readers ^will find their perceptions challenged, their standards heightened, and their hopes ^lifted.

RANDY POPE is the Lead Teacher and Directional Leader of Perimeter ^Church in Duluth, Georgia, a church devoted to reaching the unchurched of North ^Atlanta and the world. Pope is a graduate of the University of Alabama and Reformed ^Theological Seminary. His vision and commitment to make and train disciples is ^known throughout the Christian community. He is the founder of Atlanta Seminary ^and Perimeter Christian Schools and recently established Life-On-Life Ministries, ^where he continues to train church leaders both in the United States and throughout ^the world. Randy is the author of three books: The Intentional Church (previously ^released as The Prevailing Church), Finding Your Million Dollar Mate, and ^The Answer. Randy and his wife, Carol, have four children and live in Alpharetta, ^Georgia.


Finding the ideal mate is an enormous challenge. To make the quest ^easier, Randy Pope presents six key principles for finding your "million dollar ^mate."



Not long after I had settled the issues of my master and mission, I started ^praying for my future mate. I assumed I had not yet met her. Still, I felt compelled ^to bring her before the Lord each night in prayer. That prayer time became a tender ^routine. Before bed I would pray, "Lord, I don't know who she is or whether I've ^even met her. But I ask You to bless her and to protect her. I ask You to take care ^of her, provide for her, and keep her pure. Thank you, Lord. Amen."



"...Ideal for singles who are not interested in simply getting married, ^but who desire a growing marriage that will last a lifetime..."
-Dr. Gary Chapman, ^author, The Five Love Languages



-Publisher

This whole marriage thing is intriguing, isn't it? No matter the culture or time in history, marriage is a huge deal and ought to be treated as such. But finding the ideal mate is so difficult, especially these days. What if you could find the perfect mate, someone you could live with the rest of your life who'd meet all your longings and expectations? That would be priceless! In this new book, Randy Pope presents the six key principles for finding your "million dollar mate." Readers will find their perceptions challenged, their standards heightened, and their hopes lifted.

-Publisher
RANDY POPE is the senior pastor of Perimeter Church in Duluth, Georgia. Under his leadership Perimeter Church has founded over twenty churches and also provides urban ministry to the under-resourced of Atlanta. Randy is a frequent speaker for Campus Outreach and Campus Crusade for Christ conferences, and served for ten years as chaplain on the ATP Tennis Tour. His commitment to training disciples has led to the founding of Atlanta Seminary and Perimeter Christian Schools. Randy and his wife, Carol, have four children and live in Alpharetta, Georgia. ýc.2006ý

Bestsellers in Relationships