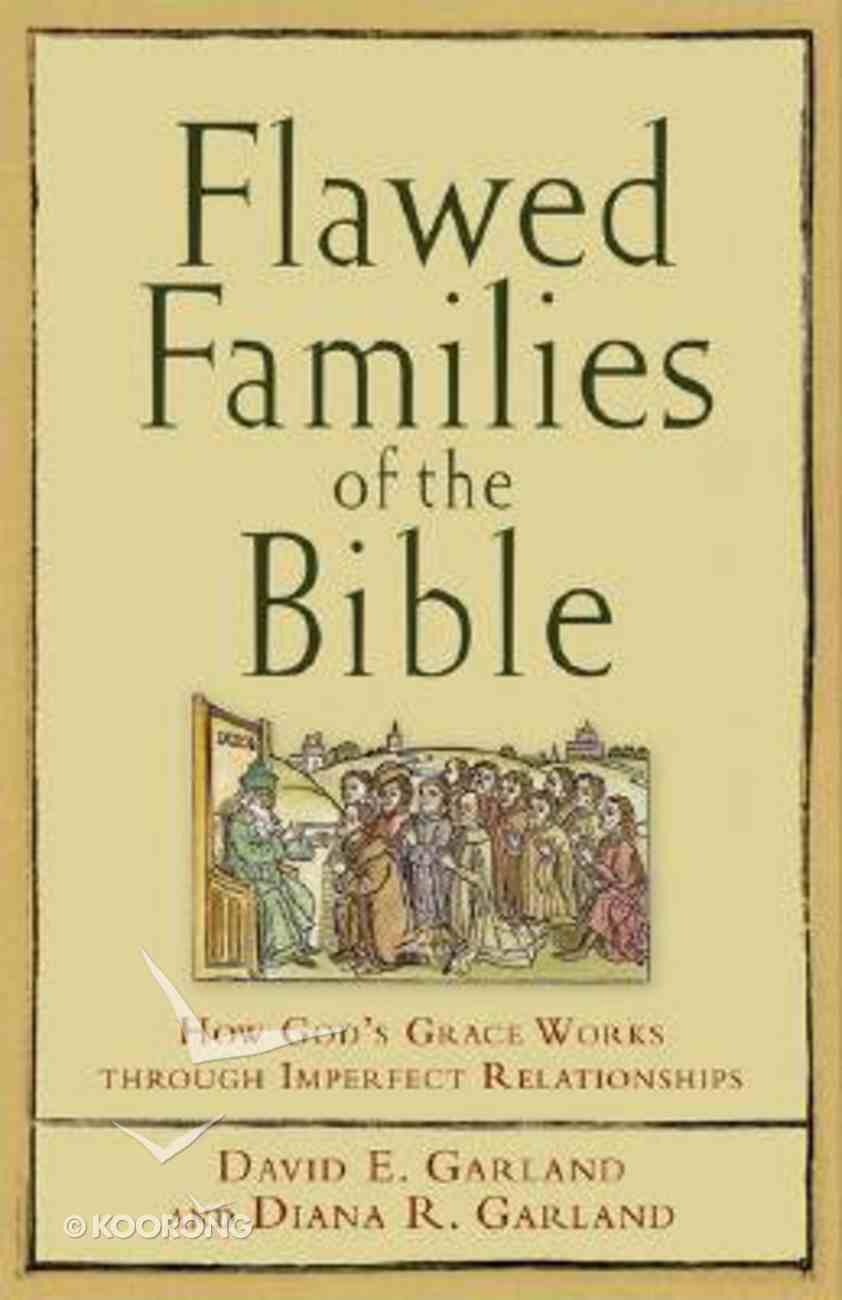 Flawed Families of the Bible
Take a close look at family life in the Old Testament and you will find the same dysfunctions that plague families today--betrayal, jealousy, physical and emotional violence, infidelity, and mean-spiritedness. In Flawed Families of the Bible , David Garland and...
Out of Stock
Available to Order
---
Expected to ship in 5 to 6 weeks from Australia.
---
Free Shipping
for orders over $99.
Take a close look at family life in the Old Testament and you will find the same dysfunctions that plague families today--betrayal, jealousy, physical and emotional violence, infidelity, and mean-spiritedness. In Flawed Families of the Bible, David Garland and Diana Garland offer an honest and careful reading of scripture, showing that the families of the Bible were not so different from imperfect families today. Even so, God worked through those imperfections to reveal hope and grace to families then, just as he does today.

This book's message is crucial for contemporary families. Everyone--those in the church and those outside of the church--struggles to sift through the dysfunction and build healthy and close families. The Garlands combine their expertise in scripture study and family life to unpack issues like feeling unloved by your spouse, family shame, betrayal of family members, abuse, and loss.

Flawed Families of the Bible will be valuable to pastors and counselors, as well as anyone looking for encouragement in family issues.
-Publisher.


Contents Introduction 1. Sarah's And Hagar's Stories 2. Leah's Story 3. Dinah's Story 4. Tamar's Story 5. Michal's Story 6. Bathsheba's Story 7. The Stories Of Jephthah's Daughter And David's Daughter Tamar 8. The Ethiopian Eunuch
-Publisher
Most Christians believe that the Bible holds the answers to their questions about daily living, and that reading the Scriptures will show them good examples to follow for their own lives. Think for a moment and try to list a few examples of healthy families in the Bible who are ideals worth emulating. Having trouble? The families of the Bible were far from perfect, and not so different in that regard from our imperfect families today.

In Flawed Families of the Bible, a New Testament scholar (David) and a professor of social work (Diana) take a real and close look at the actual families of the Bible. This honest book will inspire and encourage readers with its focus on the overarching theme of hope and grace for families, showing that it is in the "imperfect places" that we can catch a glimpse of grace. Perfect for pastors, counselors, and anyone in a flawed family.
-Publisher
"And you thought that your family was messed up! For all you abusers and abused, addicted, raped, codependents, and control freaks, Good News. God loves to work with families like yours and mine. Here are 'family values' God's way--a messy assortment of marriages and families that only God could love. And God does."--William H. Willimon, coauthor of Resident Aliens: Life in the Christian Colony"With astute scholarship, with feet planted firmly in both the world of the Bible and our own, with eyes of faith and hope, the Garlands have created a profound reflection on how God relates to, works with, and loves families whatever their circumstances, whatever their particular assemblages of strengths and weaknesses. They escort us on a tour of some of God's more interesting biblical families, always with an eye to exposing their fully flawed humanity. Readers will have some familiarity with these families but perhaps have never thought of them as they really were. This book will challenge and change the way many read the Bible--not because it focuses on failures and difficulties, but because it shows that our true greatness is not so much of our doing, but of the God who is much more that we deserve. The book flows like a tempestuous river through the rocky terrain of families yesterday and today. It's a perfect antidote to those who think God loves only perfect families."--David M. Thomas, codirector, The Bethany Family Institute, UK and USA "Diana and David Garland have pooled their combined expertise in scripture studies and family ministry to create a wonderful, wise book. Flawed Families of the Bible challenges all our pious platitudes about the life of faith and the 'perfect' family, opening us up to a radical transforming vision of real redemption experienced in the midst of confusion, failure, and pain. If you ever thought the Good News was too good to be true; if you thought you couldn't measure up to the high standards of Bible; if you ever shied away from a church door because your family didn't seem to fit there, then read Flawed Families of the Bible. This gracious and grace-filled book surprises us into seeing God and our family lives anew."--Wendy M. Wright, author of Seasons of a Family's Life: Cultivating the Contemplative Spirit at Home"What does the Bible say about families? What is a 'normal' family? Let two of the wisest guides around help you explore these questions with insight and care. Be warned, however, as it is with most things biblical, the truth will both enlighten and disturb you. Flawed Families of the Bible opens wide our eyes--and our hearts even more--as we see both the pain and the promise of family life. Most of all, we catch a glimpse of how large God's grace is and what it means for all of us. This book is a work of love."--J. Bradley Wigger, author of The Power of God at Home and Together We Pray: A Prayer Book for Families
-Publisher
David Garland, Ph.D. (Southern Baptist Theological Seminary) is William B. Hinson professor of Christian Scriptures and associate dean for academic affairs at George W. Truett Seminary, Baylor University. He is the New Testament editor for the revised Expositor's Bible Commentary and the Zondervan Exegetical Commentary of which he is writing the inaugural volume on The Gospel of Luke. He is the author of various books and commentaries, including Mark (an award winner) and Colossians/Philemon in the NIV Application Commentary, the article on Mark in the Zondervan Illustrated Bible Backgrounds Commentary, 2 Corinthians in the New American Commentary, 1 Corinthians in the Baker Exegetical Commentary of the New Testament which was highly awarded. He and his wife, Diana, with whom he has co-authored a number of titles on family and ministry, reside in Waco, Texas.
Diana R. Garland (Ph.D., University of Louisville) is Dean of the School of Social Work at Baylor University in Waco, Texas. Her books include Family Ministry, Sacred Stories of Ordinary Families, Church Social Work and with David Garland, Beyond Companionship: Christians in Marriage and Flawed families of the Bible: How Gods grace works through imperfect relationships.
Introduction &#9;<br>1. Sarah's And Hagar's Stories: Hope Versus Hopelessness &#9;<br>2. Leah's Story: When Your Spouse Loves Another And You Feel Unloved And Left Out &#9;<br>3. Dinah's Story: The Horror Of Rape And Living Through Family Shame &#9;<br>4. Tamar's Story: Commitment To Family Against All Odds &#9;<br>5. Michal's Story: With A Family Like This, Who Needs Enemies? &#9;<br>6. Bathsheba's Story: Surviving Abuse And Devastating Loss &#9;<br>7. The Stories Of Jephthah's Daughter And David's Daughter Tamar: When Parents Fail &#9;<br>8. The Ethiopian Eunuch: God's Message Of Good News
Bestsellers in Relationships