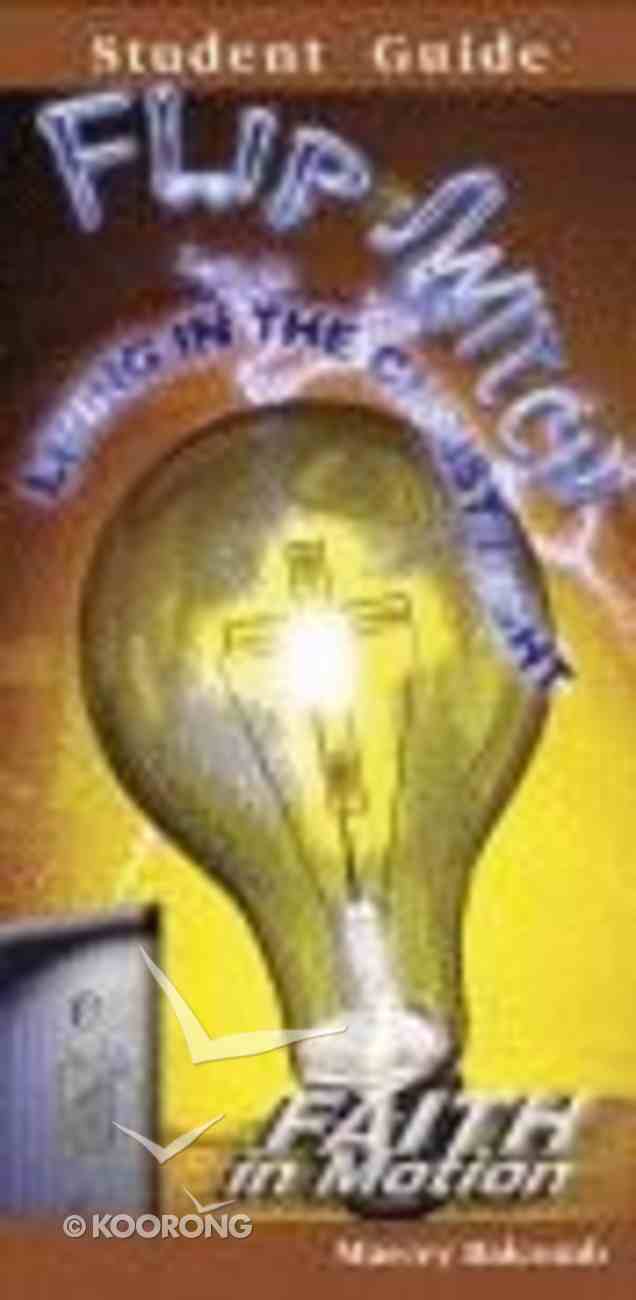 Flip the Switch (Student Book) (Faith In Motion Series)
Session Titles Include: Truth Or Lie Work It Out What Have You Got To Lose? Watch Those Words Lighten The Load On The Outs Don't Mention It
---
Free Shipping
for orders over $99.
Session Titles Include: Truth Or Lie Work It Out What Have You Got To Lose? Watch Those Words Lighten The Load On The Outs Don't Mention It
-Publisher
Sunday School WITH A KICK!Faith in MotionThe High-Energy Alternative A LARGE & DIVERSE RANGE OF TEEN ISSUESCurrent Teen TopicsFaith in Motion offers relevant and timely Bible answers to the tough real-life problems today's teens face.A few samples of Faith in Motion lesson topics include -__ Pop Culture __ Friends & Family __ Saying No __ Making an Impact __ Sports __ 7 Deadly Sins __ School __ Pressure __ Decision-MakingA Vast SelectionFaith in Motion now offers 140 Sunday School lessons, covering 20 relevant teen themes, with 7 lessons under each topic. Faith in Motion gives you 3 years of curriculum for your Early Teens (Grades 6 - 8).ENGAGING CONTENT & DESIGNHigh-Intensity ActivitiesFaith in Motion class activities capture teen attention by confronting them with thorny dilemmas & serious questions ... ... and helps find solutions in the Bible.High-Energy GraphicsFaith in Motion full-color student materials are produced in a unique slimline format, designed to appeal to teens accustomed to cutting-edge creativity in TV, Internet & video game graphics. REACHES OUTSIDE THE CLASSROOMFaith in Motion is more than class curriculum. Accompanying activities outside the classroom can help build a youth program. With each 7-week series theme, Faith in Motion includes outside activity plans that tie in to the topic -Theme-Based RetreatsTheme-Based Youth WorshipTheme-Based Field TripsTheme-Based Service Projects CLASSROOM-TESTED WITH RAVE REVIEWSFaith in Motion has been tested and used by Sunday School teachers across the country who give this teen curriculum high marks for -Modern GraphicsEase of TeachingClear Life-Application MessagesYouth Interest & EnjoymentFLIP THE SWITCHLiving in the Christ Light Repentance literally means to turn around and walk in the other direction. It's like flipping a switch, and walking in the light. "Flipping the switch" and living a life of faith can represent an unusual and radical path for a teenager...but it is a step that can shed light for all the world to see. Session Titles Include:Truth or LieWork It OutWhat Have You Got to Lose?Watch Those WordsLighten the LoadOn the OutsDon't Mention It
-Publisher
Themes include: Truth of Lie?; Work It Out!; What Have You Got to Lose?; Watch Those Words: Lighten the Load; On the Outs; and Don't Mention It.
-Publisher
MARCEY BALCOMB, a 30-year veteran in youth ministry, is Director of Common Cup Youth Ministry in Portland, Oregon. She began creating this cooperative ministry with four youth, from four churches, working with fewer than ten teens in a familiar setting. She is co-author of "Twists of Faith: Ministry With You at the Turning Points of Their Lives. She has also written "Filp the Switch: Living in the Christ Light for "Faith in Motion mid-high curriculum series.
Bestsellers in Youth Ministry