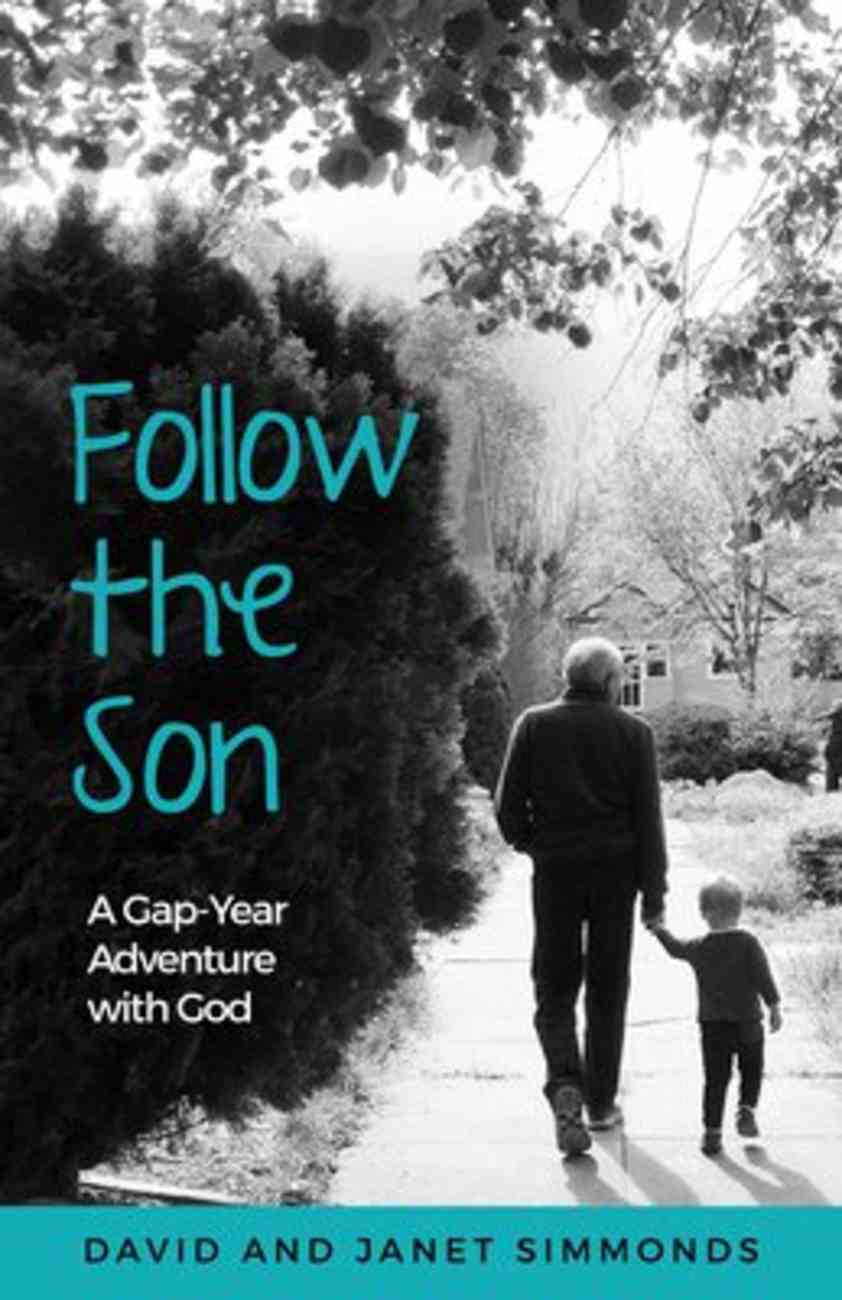 Follow the Son: A Gap-Year Adventure With God
David and Janet Simmonds love to travel. Following God's calling, they planned an around-the-world adventure. During the trip, they met people from many countries of the world. Follow the Son is their travel story written after they returned. It summarises...
---
Expected to ship tomorrow from Australia.
---
Free Shipping
for orders over $99.
David and Janet Simmonds love to travel. Following God's calling, they planned an around-the-world adventure. During the trip, they met people from many countries of the world. Follow the Son is their travel story written after they returned. It summarises the places they visited, the people they met, and the things that God taught them along the way. In every place they stayed, David and Janet connected with the local people. They stayed in their houses, worshipped in their churches, and got involved in their lives. As members of Healing Rooms, an international ministry, they were able to witness at first-hand the healing power of Jesus. Follow the Son is full of encouraging stories which demonstrate how God is working all over the globe. It will open your eyes to a new perspective of Christianity that you may never have considered before.
-Publisher
INTRODUCTION It all began as an idea about ten years beforehand, when David was daydreaming about exploring more of this wonderful world of ours. The idea grew and started to take shape as he studied maps of possible routes, read books by other intrepid travellers and sought advice from experts and organizations. David shared his dream with Janet, and she liked the idea. We had a friend, a single lady, who had travelled around the world on her own. She inspired us with her courage and exciting tales. We became enthusiastic about all the possibilities and opportunities, but we knew we would have to wait until we retired to have the time and money such a trip would require. We love to travel. We get excited by new sights and sounds, the jarring and the unfamiliar. We actively seek out oddities. Strange and unusual events are attractive to us. We find novel and weird food appealing – we like to savour the flavour. We forgo the normal in favour of the unknown. We love to take risks and embrace the adventure of the extraordinary. We prefer to go on a local bus rather than jump in a taxi. Where possible, we reject the temptation to compare what we are being presented with, to what we are used to. Even with our considerable resilience, our adaptability and flexibility were tested to the limit during our year-long adventure. It was a round-the-world trip of a lifetime. We were conscious of all that we would have to leave behind – our family and friends, our home and garden, our church and, not least, our cat. Of course, we could make practical arrangements, but we knew there would be losses that we would have to face and potential difficulties on our return. Eventually, the dream won and we were determined to make it happen. It is important not only to hold onto a dream, but to live in expectation until its fulfilment. Habakkuk 2:3 reminds us "for the vision is yet for an appointed time. Though it tarries, wait for it". NKJV. To be grounded in the reality of the vision is as important as being delighted in its hope. We knew we would have to do a lot of planning, but equally we were resolute in keeping the details of the trip to a minimum. Then came the time when we needed to check it out with our family, our good friends and our church leaders. We knew that we weren't going to be tourists but travellers, not holidaymakers but explorers. It is central in our Christian lives to submit our major decisions to those we trust, in order to receive their advice and insight. Most importantly, we prayed and asked God whether this was His will and purpose for our lives. Everyone, including God, said, "Yes! Go for it!"