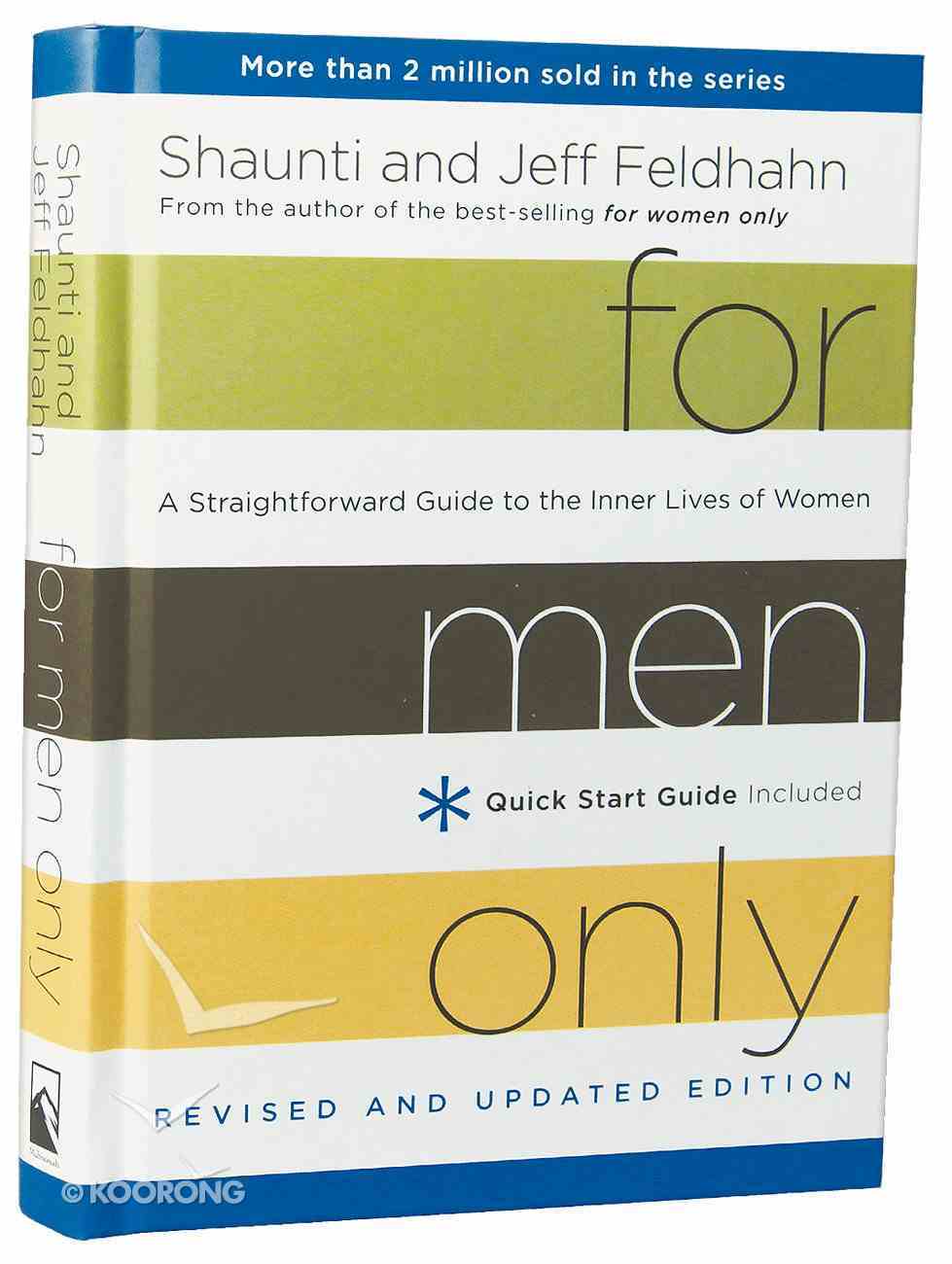 For Men Only (And Edition)
If you're like most men, you've burned up lots of energy trying to figure out just what makes a woman tick and how you can make her happy. Don't keep guessing. In For Men Only , Shaunti and Jeff Feldhahn...
---
Expected to ship tomorrow from Australia.
---
Free Shipping
for orders over $99.
If you're like most men, you've burned up lots of energy trying to figure out just what makes a woman tick and how you can make her happy. Don't keep guessing. In For Men Only, Shaunti and Jeff Feldhahn reveal the eye-opening truths and simple acts that will radically improve your relationship with the woman you love.
Now updated with the latest scientific research to explain the fabulous female brain plus an all-new chapter that shows how to decode her most baffling behavior, For Men Only is your roadmap to making her happy.
Finally—You Can Understand Her!

Women: Complicated and impossible to understand? Do you love and want to please the woman in your life, but just can't seem to figure her out? That was before For Men Only. Now at your fingertips is the tool that will unlock the secret to her mysterious ways. Through hundreds of interviews and the results of a scientific national survey of women, this book demonstrates that women are actually not random and that they really can be systematized and "mapped." In fact, much to men's delight, this book shows that women are actually quite easy to understand and please—as long as you know what it is they need. This simple map will guide you to loving your wife or girlfriend in the way she needs to be loved.

The bestselling author of For Women Onlyteams with her husband to offer men the key to unlocking the mysterious ways of women. Through Shaunti and Jeff Feldhahn 's national scientific survey and hundreds of interviews, For Men Only reveals what you can do today to improve your relationship. And believe it or not, as Jeff assures men, "It's not splitting the atom."

And for every guy who rarely reads a manual: Quick-Start Guide Included!

"When we featured Shaunti's book For Women Only on FamilyLife Today, the phone rang off the hook! When Shaunti and Jeff come back on our broadcast, I'm buying some more phones. This is fresh and relevant—good stuff for every marriage. Read it!"
-Dennis Rainey, President, FamilyLife

Story Behind the Book

"As I was writing For Women Only to help women understand the inner lives of men, over and over I heard that men wished there was a way to understand their wives, but they felt it was probably impossible. I heard from them, 'You are writing this little slim volume about men, but if it was about understanding women, it would have to be the size of an encyclopedia! Women are random and complicated!' These men were surprised and encouraged when I assured them that women are neither random nor complicated, and we can be understood. Men just want to love their wives well, and For Men Only will help them do that."
—Shaunti Feldhahn
-Publisher
PRODUCT DETAIL
Catalogue Code 

366821

Product Code 

9781601424457

ISBN 

1601424450

EAN 

9781601424457

Pages 

208

Department General Books
Category Men
Sub-Category General
Publisher Waterbrook Press
Publication Date 

Mar 2013

Sales Rank 

5584

Dimensions 

185 x 132 x 19

mm

Weight 

0.260

kg
Shaunti Feldhahn is a popular speaker, best-selling author, and groundbreaking social researcher. Her findings have been featured in media as diverse as Focus on the Family, FamilyLife Today, the New York Times and Cosmo. With a master s degree from Harvard University, Shaunti has worked on Wall Street and Capitol Hill. Now she applies her analytical skills to illuminating surprising truths about relationships. She and her husband, Jeff, live in Atlanta with their two children.
Rethinking Random

Why you need a new map of the female universe

Like some guys I know, you might be tempted to skip this introduction and jump right to the sex chapter. And if you're chuckling right now, it probably means you already did it. Or were about to. It's not a bad choice, actually. Just a little selfdefeating. If you've been in a committed relationship with a woman for more than, say, a day, you know that going just for what you want isn't actually going to get you what you want for very long.

A week, maybe?

But let's be honest—one of the main reasons you're looking at this book is because you are trying to get something you want. Not sex (well, not just sex), but a more fulfilling, harmonious relationship with your wife, one that isn't quite so hard or confusing. And the back cover gave you the wild idea that understanding her might actually be possible.

Either that or for some reason the woman in question just handed you this book.

Hmm.

Well, either way, take a look at the revelations we've uncovered. We think you'll be convinced. Each chapter explains things about the woman you love that may have often left you feeling helpless, confused, or just plain angry. Each chapter points out simple, doable solutions. The only genius required is that you make a decision up-front that you're willing to think differently. This is a short book, but if you read it cover to cover, you'll walk away with your eyes opened to things you may have never before understood about your wife or girlfriend.

Each chapter points out simple, doable solutions.

That's what happened with me—Jeff. And I'm just your average, semi-confused guy. (Actually, sometimes totally confused is more accurate.) And since we average, semi-confused guys have to stick together, that's why, even though Shaunti and I are both authoring this book, I'll be the one doing the talking.

First, Some Background

In 2004 Shaunti published For Women Only: What You Need to Know About the Inner Lives of Men, which quickly became a bestseller. Based on nationally representative surveys, focus groups, personal interviews, and other research with thousands of men, it opened women's eyes to things that most of us guys had always wished our wife or girlfriend knew. Things like most of us need to feel respected even more than loved. Or that men, besides just getting enough sex, also have a huge need to feel sexually desired by their wives.

I'm not sure exactly why, but women everywhere were shocked. And by the flood of letters from around the country—
from both women and their grateful husbands—Shaunti and I have seen how much good can come when the opposite sex finally has their eyes opened to things they simply didn't understand about us guys before.

In this book, the shock is on the other foot. Now it's their turn to exclaim to us, "I can't believe you didn't already know that!"

When Shaunti's publisher first approached us about doing a companion book to For Women Only to help men understand women, I had two major concerns. First, I didn't think guys would read a "relationship" book. For most of us, the last relationship book we read was in premarital counseling—and only because we were forced to. But more to the point, I doubted that women could ever be understood. Compared to other complex matters—like the tides, say, or how to figure a baseball pitcher's ERA—women seemed unknowable. Random even.

I'm not sure exactly why, but women everywhere were shocked by how men thought.

I explained my skepticism to one early focus group of women:

Jeff: Guys tend to think that women are random. We think, I pulled this lever last week and got a certain reaction. But when I pulled that same lever this week, I got a totally different reaction. That's random!

Woman in group: But we aren't random! If you pull the lever and get a different reaction, either you're pulling a different lever or you're pulling it in a different way.

Shaunti: What men need is a sort of map to their wives or girlfriends. Because we can be mapped. We can be known and understood—firm ground.

Jeff: Uh, no. See, guys think of a woman as a swamp. You can't see where you're stepping, and sooner or later you
just know you're going to get stuck in quicksand. And the more you struggle to get free, the deeper you get sucked in. So every guy on the planet knows that the best thing to do is just shut down and not struggle and hope somebody comes along to rescue you.

When I came to, Shaunti and the other women in the focus group assured me—and I have since seen for myself—that guys don't have to live in a swamp. That realization led us to the eventual subtitle of this book: A Straightforward Guide to the Inner Lives of Women.

We have been astounded and humbled at the reaction to these simple, eyeopening truths. In fact, the book you are holding is actually the second edition of this book—which is needed because there was clearly a desire for this ongoing research.

Both For Women Only and For Men Only sparked a huge wave of encouragement and hope among ordinary men and
women just like me and Shaunti, selling more than 1.5 million copies in twenty-two languages. We were flooded with e-mails and comments from men and women at our marriage conferences, saying things like "This saved my marriage" and "After ten years together, I finally know how to make my wife happy" and even "Jeff, I owe you one, buddy."

But since we've continued to learn new things, we also wanted to keep the book current. For this new edition, we have
included some fascinating new findings, including the brain science behind why women sometimes think as they do. Plus we've added a new chapter—"She's Not Making Sense"—that decodes those unpredictable reactions that she thinks of as, uh, normal. After seeing the impact of this research, I realize that we really did uncover life-changing insights. Surprising truths that average guys like me need to hear from an average guy and be encouraged that if someone like me can learn it and do it, they can too.