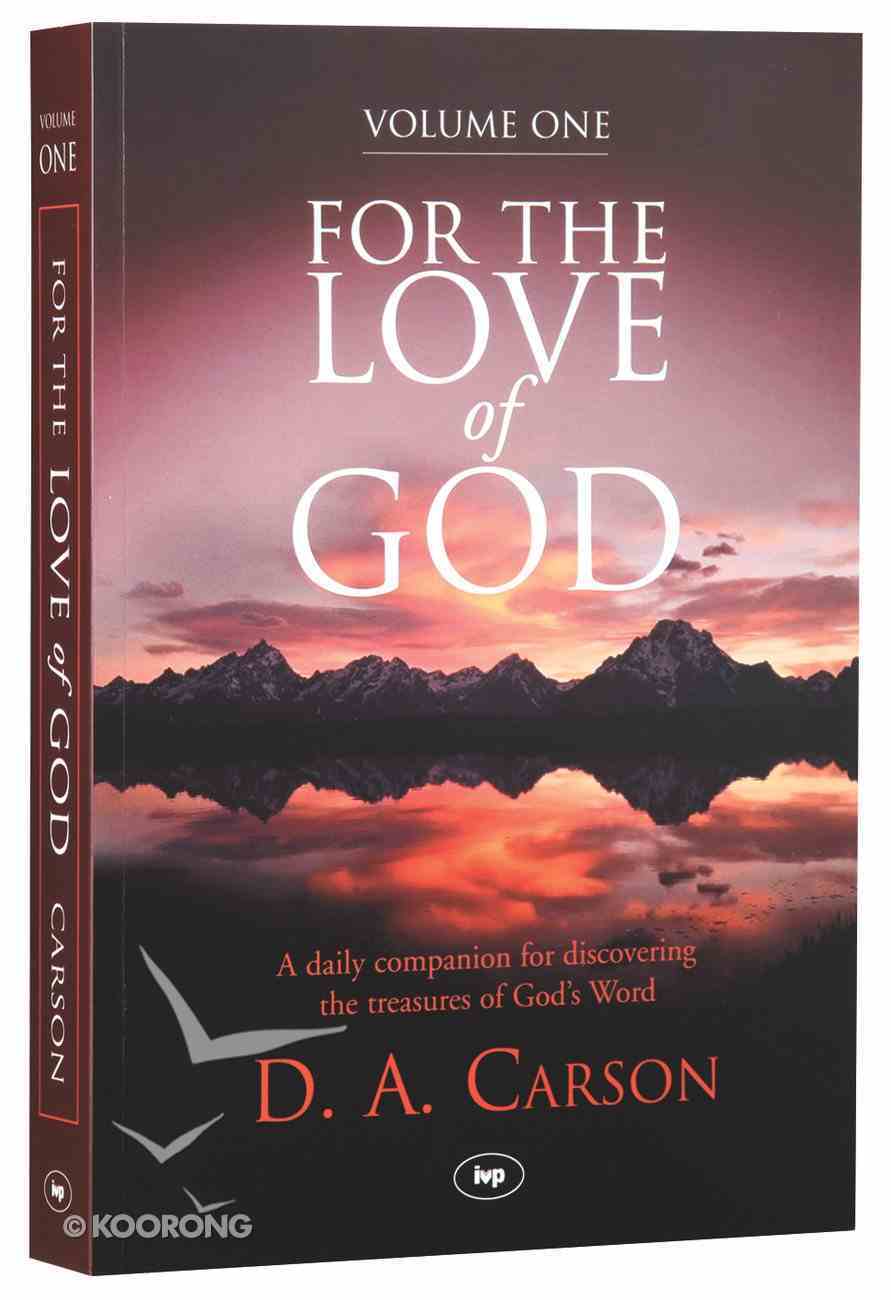 For the Love of God (Vol 1)
Let gifted Bible teacher Don Carson guide you through the New Testament and Psalms twice, and the Old Testament once in the course of 365 days. A page of exposition and devotional comments is provided for each day.
---
Free Shipping
for orders over $99.
Let gifted Bible teacher Don Carson guide you through the New Testament and Psalms twice, and the Old Testament once in the course of 365 days. A page of exposition and devotional comments is provided for each day.
Oh, how I love your law ... Your statutes are my heritage for ever; they are the joy of my heart ... ' Psalm 119:97, 111 'At their best,' writes Don Carson, 'Christians have saturated themselves in the Word of God ... The means by which God sanctifies men and women, setting them apart as his own people, is the Word of truth.' Many people, however, would admit that they have allowed the pressures of life to crowd out serious and thoughtful reading of the Bible. Also, in a culture that has moved away from a Christian worldview, the Bible's unwavering proclamations and fantastic stories seem ever stranger. The big picture of the Bible is gradually fading from view. For the Love of God encourages us to face these challenges. Now, more then ever, the need to read the Bible and to grasp its relevance for our lives is critical. This devotional guide follows Robert Murray M'Cheyne's Bible-reading plan, taking you through the New Testament and Psalms twice and the Old Testament once. Don Carson has written thought-provoking comments and reflections to accompany one of each day's scriptural passages. And, most uniquely, he offers a perspective that places each reading into the larger framework of history and God's eternal plan, in order to deepen our understanding of his sovereignty and the unity and power of his Word.
-Publisher
This Item Is In The Following Kit
Dr Don (D. A.) Carson is currently Research Professor of New Testament at Trinity Evangelical Divinity School in Deerfield, Illinois. His areas of expertise include biblical theology, the historical Jesus, postmodernism, pluralism, Greek grammar, Johannine theology, Pauline theology, and questions of suffering and evil. Carson has written prolifically and profoundly on all these subjects.

Carson has written or edited 57 books - as well as numerous journal articles - ranging from New Testament commentaries to topical studies on the state of the contemporary church and its wider cultural context. His work is characterised by brilliant theological insight, thorough scholarship, and an uncompromising commitment to the essentials of Reformed doctrine.

Carson's landmark book, The Gagging of God: Christianity Confronts Pluralism won the 1997 Evangelical Christian Publishers Association Gold Medallion Award. Other works that examine the interaction of church and culture include The Inclusive Language Debate (1998), Becoming Conversant With the Emerging Church (2005), Christ and Culture Revisited (2008) and The Intolerance of Tolerance (2012).

Carson's exegetical works include volumes on individual New Testament books in the Revised Expositor's Bible Commentary, Pillar New Testament Commentary, Baker Exegetical Commentary, and New International Greek Testament Commentary. In Exegetical Fallacies (1984, 1996, 2nd ed.), Carson is at his incisive best, analysing the root causes of errors in biblical interpretation. He has also notably edited the New Testament Commentary Survey up to its 7th edition (2013), as well as the Zondervan Study Bible (2015).

Donald Arthur Carson was born in Montreal, Canada, in 1946. His undergraduate degree majored in mathematics and chemistry. He went on to undertake a Master of Divinity with a Baptist seminary and earned his PhD in New Testament from Cambridge University in 1975, the same year he married his wife Joy. In 1978, Carson joined the faculty of Trinity Evangelical Divinity School, where he has worked ever since. In 2005 with Tim Keller, Carson founded The Gospel Coalition (TGC) - a network of Reformed churches dedicated to engaging and transforming the wider culture through speaking events, online advocacy, and publication. He continues to be an active guest lecturer in church and academic settings around the world.

Carson lives with his family in Liberty, Illinois. In his spare time he enjoys reading, hiking, and woodworking.