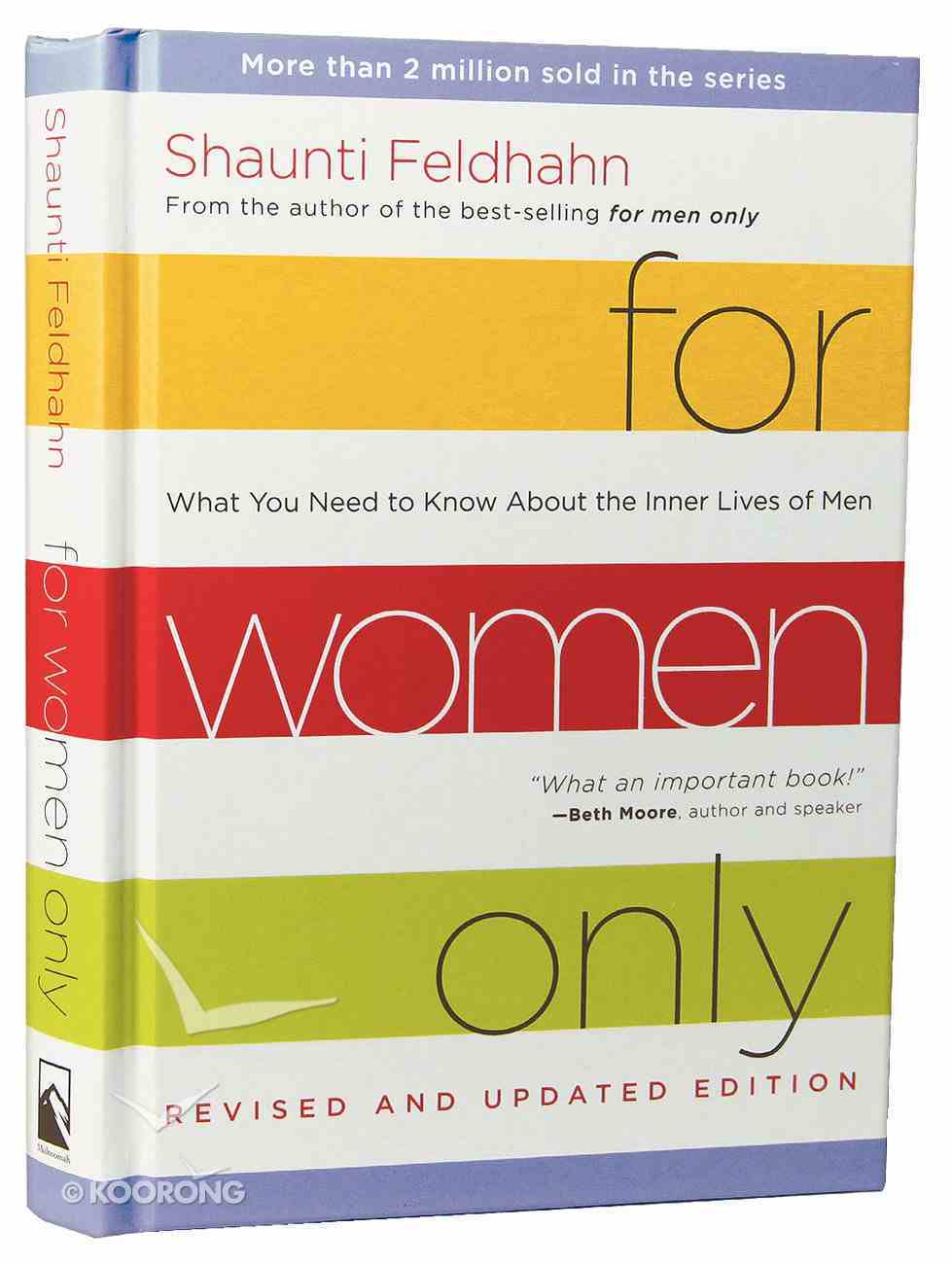 For Women Only (And Edition)
Can't figure out why men behave the way they do? Feldhahn's groundbreaking research reveals what the men in your life - boyfriends, brothers, husbands, sons, and fathers - are really thinking and feeling. Learn how to provide the loving support...
---
Expected to ship within 7 hours from Australia.
---
Free Shipping
for orders over $99.
Can't figure out why men behave the way they do? Feldhahn's groundbreaking research reveals what the men in your life - boyfriends, brothers, husbands, sons, and fathers - are really thinking and feeling. Learn how to provide the loving support they want and need - but are reluctant to ask for. Updated edition includes a brand-new chapter on male emotions.
What's going on in a man's mind? From their early days, every woman has struggled to understand why males behave the way they do. Even long-married women who think they understand men have only scratched the surface. Beneath a man's rugged exterior is an even more rugged, unmapped terrain. What bestselling author Shaunti Feldhahn's research reveals about the inner lives of men will open women's eyes to what the men in their life—boyfriends, brothers, husbands, and sons—are really thinking and feeling. Men want to be understood, but they're afraid to "freak out" the women they love by confessing what is happening inside their heads. This book will guide women in how to provide the loving support that modern men want and need.

The Truth About His Inner Life He Desperately Wants You to Know

What's going on in there? Ever been totally confused by something your man has said or done? Want to understand his secret desires and fears, his daily battles that you know nothing about?

In a woman-to-woman conversation you'll never forget, Shaunti Feldhahn takes you beneath the surface into the inner lives of men. This book is about the things we just don't 'get' about guys. With findings from a groundbreaking national survey and personal interviews of over one thousand men, For Women Only is full of eye-opening revelations you need to not only understand the man in your life, but to support and love him in the way he needs to be loved. Grounded in biblical hope, you will discover how to love your man for who he really is—not who you think he is.

Story Behind the Book

I had no idea how clueless I was about men until I interviewed a bunch of them for my last novel. Initially, I just wanted a little insight so I could write my main (male) character. But pretty soon I found myself astonished, over and over again blurting out, "That's what you're thinking?" So I did more interviews. After the novel hit shelves, dozens of women told me they also had been astonished by what I included. Clearly I wasn't the only one who needed more insight on this!

To lay the groundwork for this nonfiction book, I wrote out the half-dozen things from these interviews that had most surprised me—things that appeared to be universal to most men—that women desperately needed to know. I conducted a professional national survey of men to test my findings. Yep—the survey substantiated every single one. These findings are fascinating—and they have already changed my life and marriage. I can't wait to share them!
-Publisher
PRODUCT DETAIL
Catalogue Code 

366820

Product Code 

9781601424440

ISBN 

1601424442

EAN 

9781601424440

Pages 

224

Department General Books
Category Women
Sub-Category General
Publisher Waterbrook Press
Publication Date 

Mar 2013

Sales Rank 

2351

Dimensions 

185 x 132 x 19

mm

Weight 

0.266

kg
Shaunti Feldhahn is a popular speaker, best-selling author, and groundbreaking social researcher. Her findings have been featured in media as diverse as Focus on the Family, FamilyLife Today, the New York Times and Cosmo. With a master s degree from Harvard University, Shaunti has worked on Wall Street and Capitol Hill. Now she applies her analytical skills to illuminating surprising truths about relationships. She and her husband, Jeff, live in Atlanta with their two children.
Light Bulb On!

How I Woke Up to What I Didn't Know About Men

The other half of the people on the planet already know what you're going to read in this book.

As newlyweds, my husband and I lived in Manhattan, and like all New Yorkers, we walked everywhere. But I quickly noticed something strange. Quite often we'd be strolling hand in hand and Jeff would abruptly jerk his head up and away. We'd be watching in-line skaters in Central Park or waiting to cross the street in a crowd, and he would suddenly stare at the sky. I started to wonder, Is something going on at the tops of these buildings?

Turns out, something was going on, but it wasn't up in the buildings.

Have you ever been totally confused by something the man in your life has said or done? Looking at your boyfriend's rapidly departing back, have you ever wondered, Why did that make him so angry? Have you ever been perplexed by your husband's defensiveness when you asked him to stop working so much? Yeah? Me too.

But now, after interviewing and surveying thousands of men, I can tell you that the answers to those and dozens of other common perplexities are all related to what is going on in your man's inner life. Most are things he wishes you knew but doesn't know how to tell you. In many cases, they're things he has no idea you don't know. This book will share those interviews and those answers. But be careful. You might be slapping your forehead a lot!

I can tell you that the answers to dozens of common perplexities are related to what is going on in your man's inner life.

How It All Started

Let me tell you how I got here. It all started with the research for my second novel, The Lights of Tenth Street. One of my main characters was a devoted husband and father. Because I had to put thoughts in his head, but had no idea what a guy would be thinking in a given situation, I interviewed my husband, Jeff, and many other male friends and colleagues. ("What would you be thinking if you were the character in this scene?") It took me a while to figure out how to handle what I found.

You see, in many cases, what I heard stunned me. Not just because what the men were thinking was so surprising but because it was so foundational. These weren't feelings that popped up every few months but were deep fundamental needs, fears, doubts, and thought patterns that occur in men every single day. It didn't matter whether the man I was talking to was old or young; what his racial or cultural background was; whether he was married or single, a churchgoer or an atheist, a corporate executive or a factory line worker—I kept hearing similar things.

The character in my novel was a good guy who loved his wife and kids, was a devoted churchgoer and godly man, and a successful businessman. But he struggled with his thought life, especially the visual temptations that beckoned from every corner, from the secret traps of the Internet to the overt appeal of the miniskirt walking down the street. So, in short—and this is what shocked me—I discovered that instead of being unusual, my character was like almost every man on the planet. Including the faithful husbands I was interviewing.

That revelation led to a host of others, and following those trails led me to the thousands of personal and written interviews with men—including several professional, nationally representative surveys—that form the core of this book. I interviewed close friends over dinner and strangers in the grocery store, married fathers at church and the single student sitting next to me on the airplane. I talked to CEOs, attorneys, pastors, technology geeks, business managers, the security guard at Costco, and the guys behind the counter at Starbucks. I even interviewed a  professional opera singer, a household-name movie star, and a former NFL offensive tackle with a Super Bowl ring. No one was safe.