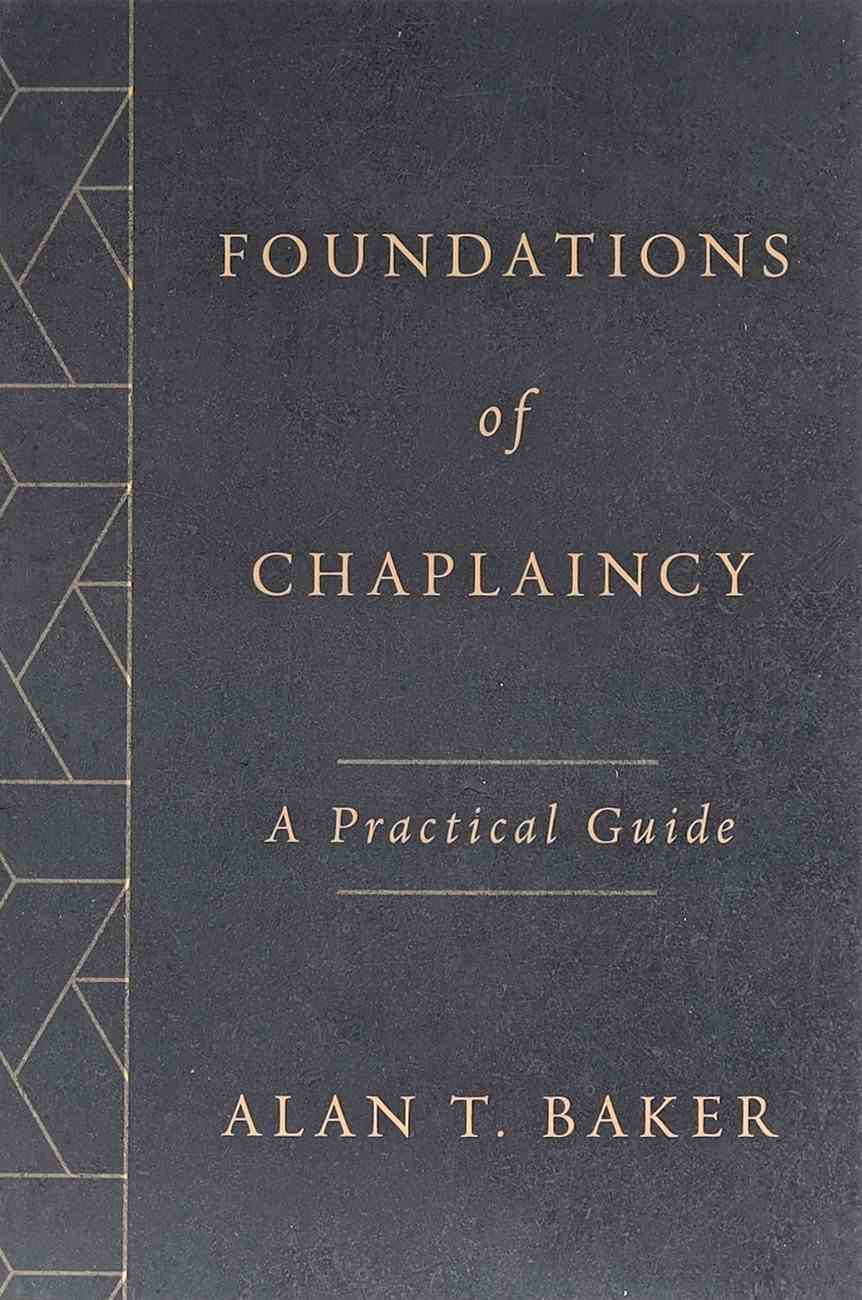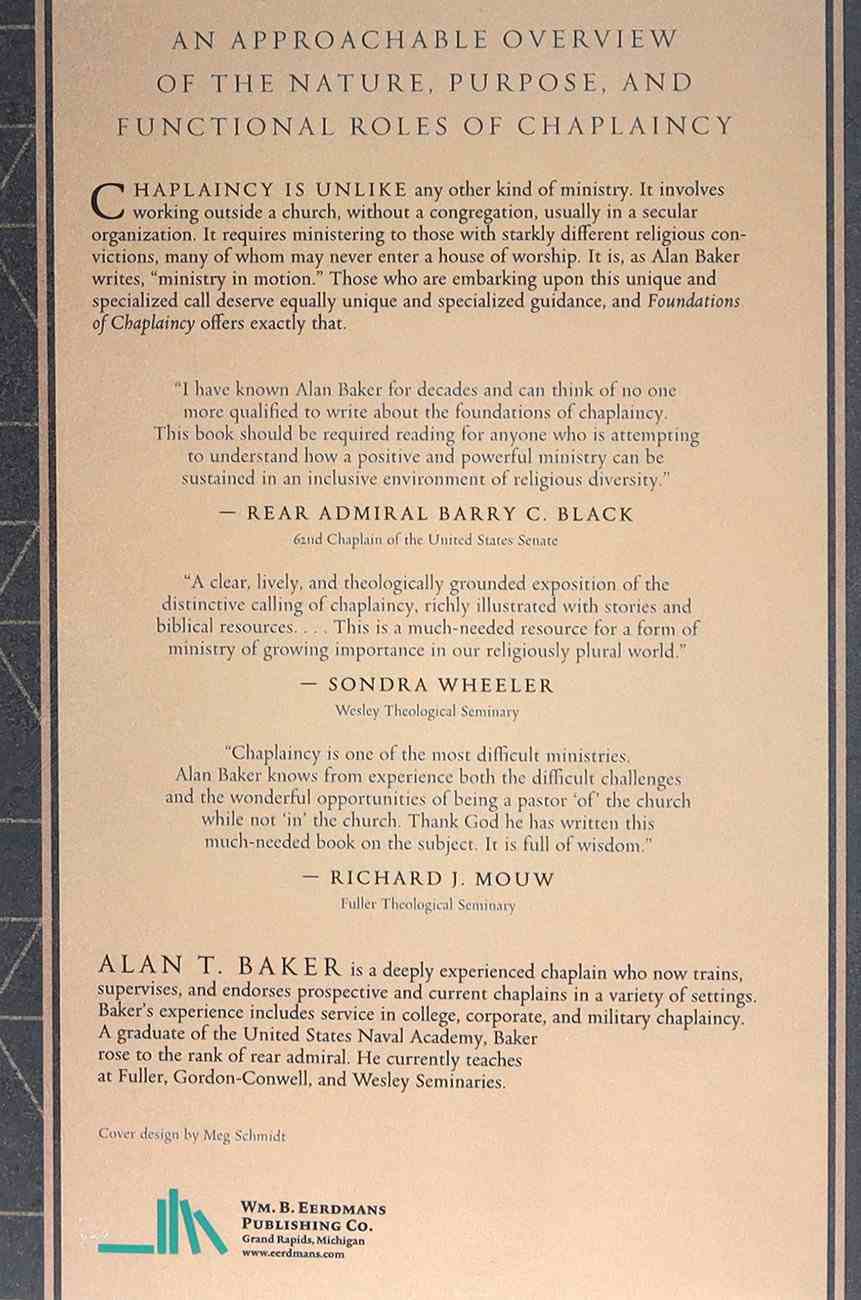 Foundations of Chaplaincy: A Practical Guide
: An approachable overview of the nature, purpose, and functional roles of chaplaincy Chaplaincy is unlike any other kind of ministry. It involves working outside a church, without a congregation, usually in a secular organization. It requires ministering to...
---
Expected to ship tomorrow from Australia.
---
Free Shipping
for orders over $99.
:
An approachable overview of the nature, purpose, and functional roles of chaplaincy


Chaplaincy is unlike any other kind of ministry. It involves working outside a church, without a congregation, usually in a secular organization. It requires ministering to those with starkly different religious convictions, many of whom may never enter a house of worship. It is, as Alan Baker writes, "ministry in motion." Those who are embarking upon this unique and specialized call deserve equally unique and specialized guidance, and Foundations of Chaplaincy offers exactly that.


Baker surveys the biblical and theological foundations of chaplaincy before enumerating four specific responsibilities and skills that define chaplaincy's "ministry of presence": providing, facilitating, caring, and advising. Baker's thorough guidance on these matters is supplemented in sidebars with practical advice and anecdotes from over thirty chaplains currently serving in a variety of settings and organizations.


Chaplains who serve in healthcare, the military, correctional institutions, police and fire departments, sports teams, college campuses, and corporations have essential roles to play in their respective organizations, but theirs is rarely an easy calling. With Foundations of Chaplaincy as an introduction and an ongoing reference, those called to this important vocation may be assured of having the tools they need to cultivate a strong, mission-driven pastoral identity rooted in their own theological tradition while simultaneously participating in a multi-faith team.


-Publisher
:<p><b>table Of Contents</b></p><p>introduction<br /> 1. The Foundations Of Chaplaincy<br /> The Call To Ministry And The Call Of Chaplaincy<br /> Biblical Basis For Chaplaincy<br /> Characteristics, Advantages, And Challenges Of Institutional Ministry<br /> Five Ministry Tasks And Competencies<br /> Four Chaplain Functional Capabilities<br /> 2. The Chaplain As Provider<br /> Definition Of Provide And Perform<br /> Incarnational Ministry And The Center Set<br /> Tribes And The Context Of Ministry For Chaplains<br /> Institutional Duality Of Chaplaincy<br /> Ecclesiastical Environment In The Institution<br /> 3. The Chaplain As Facilitator<br /> Definition Of Facilitate And Facilitation<br /> Religious Accommodation<br /> The Constitutional Foundation For Governmental Chaplaincy<br /> Cooperative Pluralism And Practice Of Access<br /> 4. The Chaplain As Caregiver<br /> Definition Of Care And Caregiving<br /> Pastoral Counseling In Chaplaincy<br /> Eight Quick Counseling Questions<br /> Special Counseling Observations<br /> Cognitive Focused Counseling And Distorted Thinking<br /> Suicide Awareness And Prevention<br /> Confidentiality And Privileged Communication<br /> Clinical Pastoral Education (cpe)<br /> 5. The Chaplain As Adviser<br /> Prophetic Voice Of Chaplain To The Institution<br /> Definition Of Advisement And Adviser<br /> Public Prayer: Worship Service And Civic Ceremony<br /> 6. Bringing It All Together<br /> Integration<br /> Self-care<br /> Final Thoughts<br /> Appendixes<br /> Organizations And Settings Typically Served By Chaplains<br /> Scenarios And Case Studies<br /> Sample Clinical Pastoral Education Verbatim<br /> Checklist For New Chaplains: Moving From Parish Ministry To Chaplaincy<br /> Helping Churches And Employers Understand The Difference Between Chaplains And Pastors<br /> Glossary</p>