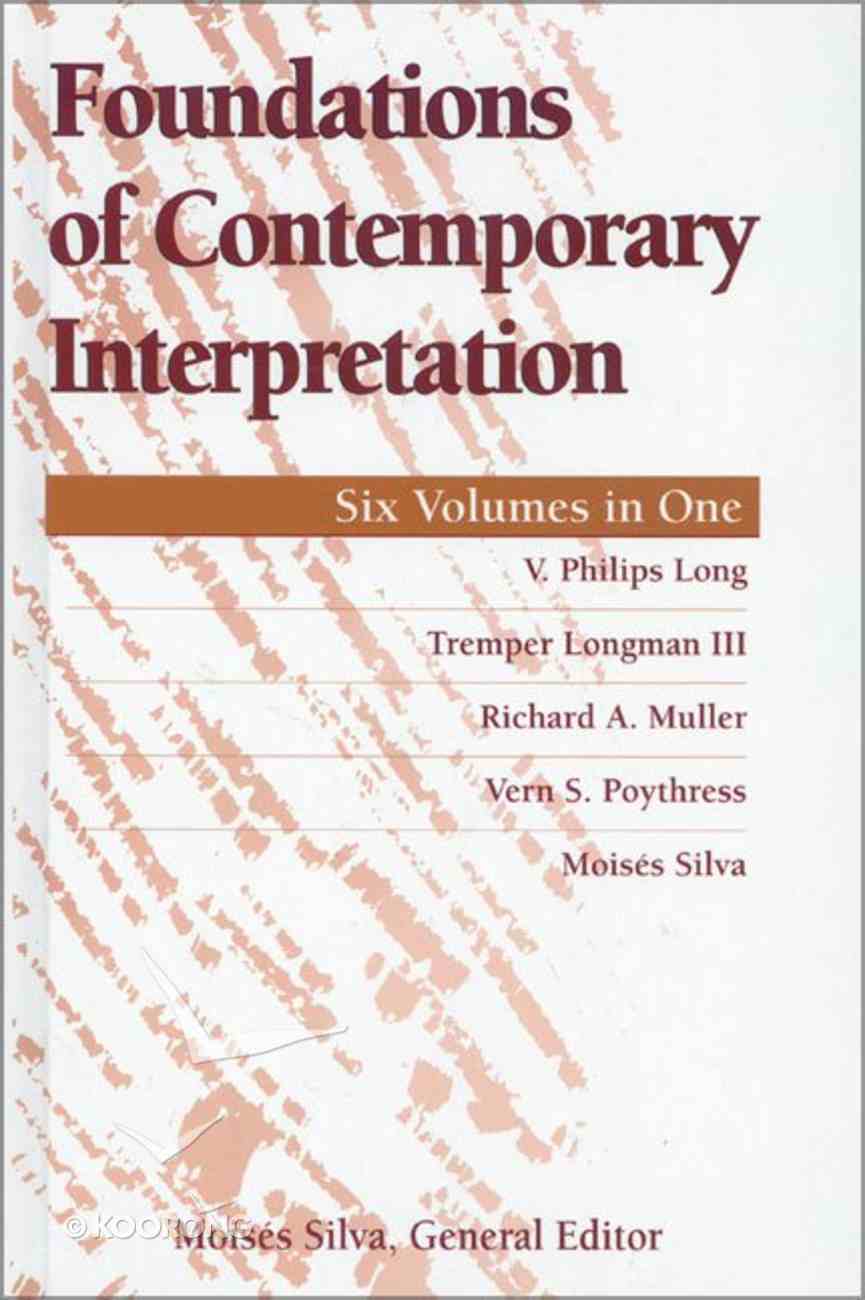 Foundations of Contemporary Interpretation (6 Volume in 1) (Foundations Of Contemporary Interpretation Series)
Foundations of Contemporary Interpretation seeks to identify and clarify the basic problems of interpretation that affect our reading of the Bible today. This unique volume provides a comprehensive and systematic coverage of the field of general hermeneutics. Foundations of Contemporary...
Out of Stock
Available to Order
---
Expected to ship in 5 to 6 weeks from Australia.
---
Free Shipping
for orders over $99.
Foundations of Contemporary Interpretation seeks to identify and clarify the basic problems of interpretation that affect our reading of the Bible today. This unique volume provides a comprehensive and systematic coverage of the field of general hermeneutics. Foundations of Contemporary Interpretation examines the impact of specific academic disciplines on the interpretation of the Bible. Previously published as separate volumes, its various sections explore the interface between hermeneutics and literary criticism, linguistics, history, science, and theology. Included in Foundations of Contemporary Interpretation, each with its own separate table of contents, are: -Has the Church Misread the Bible? -- Moises Silva -Literary Approaches to Biblical Interpretation -- Tremper Longman III -God, Language, and Scripture -- Moises Silva -The Art of Biblical History -- V. Philips Long -Science and Hermeneutics -- Vern S. Poythress -The Study of Theology -- Richard A. Muller. These six section
-Publisher
PRODUCT DETAIL
Catalogue Code 

97868

Product Code 

0310208289

EAN 

9780310208280

UPC 

025986208288

Pages 

690

Department Academic
Category Scripture
Sub-Category Hermeneutics
Publisher Zondervan
Publication Date 

Aug 1996

Sales Rank 

29749

Dimensions 

237 x 163 x 50

mm

Weight 

0.916

kg
Abbreviations
Has The Church Misread The Bible?
Moises Silva
Preface
1. Today's Hermeneutical Challenge
2. Obstacles In The Study Of The History Of Interpretation
3. Literal Or Figurative?
4. Clear Or Obscure?
5. Relative Or Absolute?
Epilogue
For Further Reading
Literary Approaches To Biblical Interpretation
Tremper Longman Iii
Editor's Preface
Acknowledgments
Introduction
Section One: Theory
1. A Historical Survey
2. An Appraisal Of The Literary Approach
3. Basic Principles
Section Two: Application
4. The Analysis Of Prose Passages
5. Examples Of Prose Analysis
6. The Analysis Of Poetic Passages
7. Examples Of Poetic Analysis
Epilogue
For Further Reading
God, Language And Scripture
Moises Silva
Preface
1. Introduction
2. Biblical Perspectives On Language
3. The Scientific Study Of Language
4. The Historical Dimension
5. Describing The Biblical Languages (i)
6. Describing The Biblical Languages (ii)
7. Epilogue---passing It On
Appendix: The Biblical Languages In Theological Education
For Further Reading
The Art Of Biblical History
V. Philips Long
Editor's Preface
Author's Preface
Introduction
1. History And The Genre(s) Of The Bible: Is The Bible A History Book?
2. History And Fiction: What Is History?
3. History And Truth: Is Historicity Important?
4. History And Modern Scholarship: Why Do Scholars Disagree?
5. History And Hermeneutics: How Then Should We Read The Bible 'historically'?
6. An Extended Example: The Rise Of Saul
Epilogue
For Further Reading
Science And Hermeneutics
Vern S. Poythress
Editor's Preface
1. How Should We Interpret The Bible?
2. The Influence Of Natural Science On Biblical Interpretation
3. Thomas Kuhn And Contemporary Discussions Of Scientific Discovery
4. Implications Of Kuhn's Theory For Biblical Interpretation
5. Differences Between Biblical Interpretation And Science
6. Disciplinary Matrices In Biblical Interpretation
7. Models In Science And In Biblical Interpretation
8. Analogies As Perspectives
9. Lessons To Be Learned From The Contextual Character Of Knowledge
10. Using Perspectives
11. Biblical Interpretation Reorganized Using Different Perspectives
12. Prospects For Deepening Our Understanding Of The Bible
Appendix: Interpretive Method And Other Fields Of Research
The Study Of Theology
Richard A. Muller
Editor's Preface
Introduction
1. The Study Of Theology: Issues And Problems
2. The Theological Disciplines: Biblical And Historical Foundations
3. The Theological Disciplines: Contemporary Statement And Practice
4. The Unity Of Theological Discourse
Epilogue: The Study Of Theology As An Exercise In Christian Culture
For Further Reading
Index Of Biblical Passages
Index Of Modern Authors And Titles
Index Of Subjects
Chapter one Today's Hermeneutical Challenge The radio speaker that Sunday morning was a successful minister in one of the major Protestant denominations. His text was Acts 5. His topic was 'power.' He spoke eloquently of the many ways in which most of us misuse our authority. Parents abuse their children by their negativism. Government leaders show insensitivity to the pains of those in need. We destroy by our criticism when we should build up with our praise. As he approached the last part of his radio message, the preacher finally came to his text. In the narrative of Acts he found a dramatic example of the misuse of power. Ananias and Sapphira, weak Christians who had just given in to their temptations, were in need of reassurance and upbuilding. The apostle Peter, in an ugly display of arrogance, abused his authority and denounced their conduct with awful threats. Terror consumed each of them in turn, and they died on the spot under Peter's unbearable invective. Most readers of this book will no doubt shake their heads in unbelief at such an example of biblical interpretation. But how can we account for it? This preacher was not an ignoramus but a very well-educated minister serving a sophisticated middle-class parish in a Philadelphia suburb. The exegetical tools he was given during his theological training were probably not significantly different from those of most other seminarians. Most disturbing of all, the very process going on in his mind as he arrived at an interpretation of Acts 5 was basically the same process all of us use--not only in interpreting Scripture but also in our understanding of a social conversation, the morning paper, or the evening news. The history of the Christian church, like the history of society generally, has been characterized by repeated conflicts regarding the interpretation of evidence. Precisely because Christians place enormous significance on the Bible, disagreements regarding biblical evidence can have serious consequences. In our day, however, 'the hermeneutical issue' has surfaced with a vengeance. Only a generation ago, conservative Christians enjoyed a sense of unity in their interpretation of the Bible. They knew, of course, that differences existed among various denominations and that some of these differences touched on matters of considerable importance, such as the meaning and practice of baptism, the proper understanding of sanctification, expectations regarding the end times, and so on. Relatively few people, however, seemed to appreciate the implications of this state of affairs; and no one was arguing that Evangelicals were faced with a hermeneutical crisis. There must be some way to account for that period of innocence. Perhaps it is simply that a conservative Methodist could listen to a conservative Baptist and agree with 99 percent of what he or she heard. A sermon on the parable of the Prodigal Son would sound basically the same, whether it came from a Pentecostal evangelist or from a Presbyterian theologian. With so much obvious agreement, who would stop to worry about differences in interpretation? But things have changed. As many have pointed out, one can no longer assume that an individual who professes an evangelical faith will hold 'the party line' on key social and ethical issues such as capital punishment, abortion, nuclear armament, divorce, premarital sex, or homosexuality. Contemporary evangelicals are finding it difficult to achieve anything like a consensus on each succeeding theological topic they address. Moreover, they seem stymied in any effort toward unity, unable to agree on a collective interpretive strategy for moving beyond their current impasse.... If evangelicals cannot discover a way to move more effectively toward theological consensus, can they still maintain in good conscience their claim to Biblical authority as a hallmark? Gone are the days when one could predict where a biblical scholar would come down on the date of the Exodus, the authorship of Isaiah, and comparable critical questions. As if to dramatize the depth of the hermeneutical disarray, conservatives could not even agree on how to handle the publication, in 1982, of a commentary by a prominent evangelical scholar who argued that many events related in the Gospel of Matthew are not to be interpreted as fully historical. Already in the late 1970s, members of the International Council for Biblical Inerrancy recognized the need to address hermeneutical principles if their claims for biblical authority were to mean anything and, as a result, held the ICBI Summit II in 1982. Sixteen papers, covering a wide range of topics in the area of hermeneutics, were presented and discussed at this meeting and then published in a hefty volume. The participants represented the conservative wing of Evangelicalism and thus from the start agreed on some very basic issues. Moreover, they reached the necessary consensus to produce a significant document, 'The Chicago Statement on Biblical Hermeneutics.' And yet all was not well. A reviewer of HIB commented, 'I was left with a nagging question: if, as the participants affirm, the meaning in each biblical text is 'single, definite and fixed' and applies to all cultural contexts, and the Holy Spirit alone enables believers to apply the scripture to their lives, to what purpose are these nine hundred pages of argument?' Although this objection reveals a failure to grasp the intent of the participants, the Chicago Statement nevertheless makes biblical interpretation sound easier than it often is. The very discussions at the summit show that the participants, when dealing with a number of crucial interpretive issues, found oneness of mind to be a very distant hope indeed. One attempt to deal with this hermeneutical crisis has been to argue that the doctrine of inerrancy entails certain interpretive positions. In the face of turmoil, this approach is very tempting because it appears to eliminate, with one stroke, a variety of undesirable viewpoints. Such a move, however, has desperation written all over it, and it undermines the very task of interpretation. The truth of scriptural authority does not automatically tell us what a given passage means: it does assure us that, once we have correctly identified the biblical teaching (in other words, proper interpretation is assumed), that teaching may be trusted unequivocally. At any rate, the very events that have led to the present crisis show rather clearly--unpleasant as this may sound--that a sincere and intelligent commitment to the classical doctrine of biblical inerrancy in no way guarantees that an individual will adopt expected interpretations.