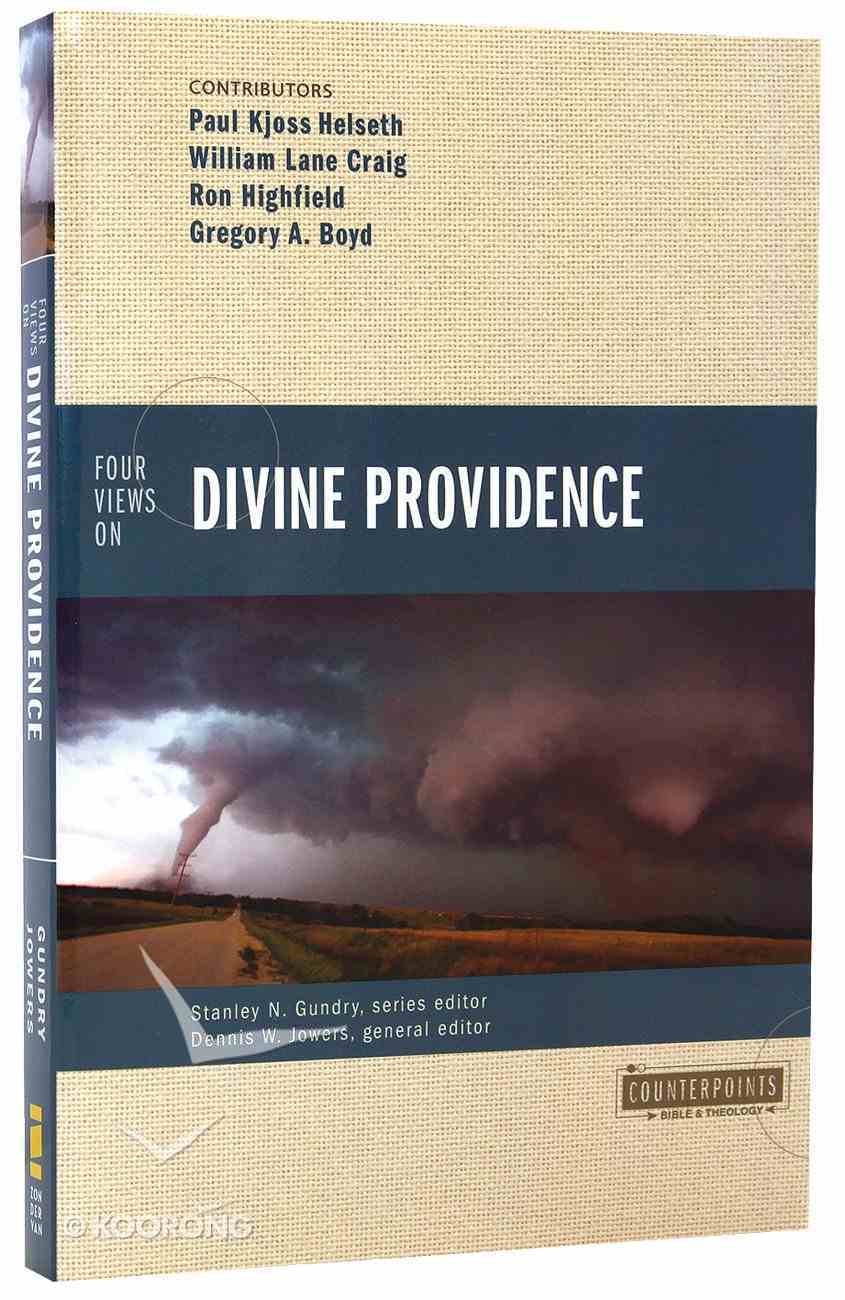 Four Views on Divine Providence (Counterpoints Series)
This book guides students, pastors, and lay learners to consider and evaluate various ways of understanding God's involvement in the world, especially in relation to views on predestination and the extent of the atonement. Four different scholars present their positions...
Out of Stock
Available to Order
---
Expected to ship February 2021.
---
Free Shipping
for orders over $99.
This book guides students, pastors, and lay learners to consider and evaluate various ways of understanding God's involvement in the world, especially in relation to views on predestination and the extent of the atonement. Four different scholars present their positions in point-counterpoint style, and the editor's introduction and conclusion frame the discussion.
^^^Questions about divine providence have preoccupied Christians for generations:

Are people elected to salvation? For whom did Jesus die? This book introduces readers to four prevailing views on divine providence, with particular attention to the question of who Jesus died to save (the extent of the atonement) and if or how God determines who will be saved (predestination).
But this book does not merely answer readers' questions. Four Views on Divine Providence helps readers think theologically about all the issues involved in exploring this doctrine. The point-counterpoint format reveals the assumptions and considerations that drive equally learned and sincere theologians to sharp disagreement. It unearths the genuinely decisive issues beneath an often superficial debate. Volume contributors are:

Paul Helseth (God causes every creaturely event that occurs); William Lane Craig (through his "middle knowledge," God controls the course of worldly affairs without predetermining any creatures' free decisions); Ron Highfield (God controls creatures by liberating their decision-making); Gregory Boyd (human decisions can be free only if God neither determines nor knows what they will be). Introductory and closing essays by Dennis Jowers give relevant background and guide readers toward their own informed beliefs about divine providence.
-Publisher
.Gregory A. Boyd is the founder and senior pastor of Woodland Hills Church in St. Paul, Minn., and founder and president of Christus Victor Ministries. He was a professor of theology at Bethel College in Minnesota for sixteen years. Greg is a graduate of the University of Minnesota (BA), Yale Divinity School (M.Div), and Princeton Theological Seminary (PhD). He is a national and international speaker at churches, colleges, conferences, and retreats, and has appeared on numerous radio and television shows. He has also authored and coauthored eighteen books prior to Present Perfect, including The Myth of a Christian Religion, The Myth of a Christian Nation, and his international bestseller Letters from a Skeptic. Learn more at www.gregboyd.org Gregory A. Boyd es pastor y fundador de la iglesia Woodland Hills en St. Paul, MN y ademas fundador y presidente del ministerio 'Christus Victor'. Greg tiene una licenciatura de la Universidad de Minnesota, una maestria en Divinidad de la escuela Yale Divinity y un doctorado del Seminario Teologico de Princeton. Ademas, sirvio como profesor de teologia en la Facultad Bethel de Minnesota por dieciseis anos. el es invitado con frecuencia a dictar conferencias en iglesias, retiros y universidades nacionales e internacionales y aprecio en numerosos programas de television y radio. Greg es autor y coautor de varios libros, entre ellos, Dios de lo posible y su exito de ventas, Cartas de un esceptico. Visite www.gregboyd.org para mas informacion.
-Publisher