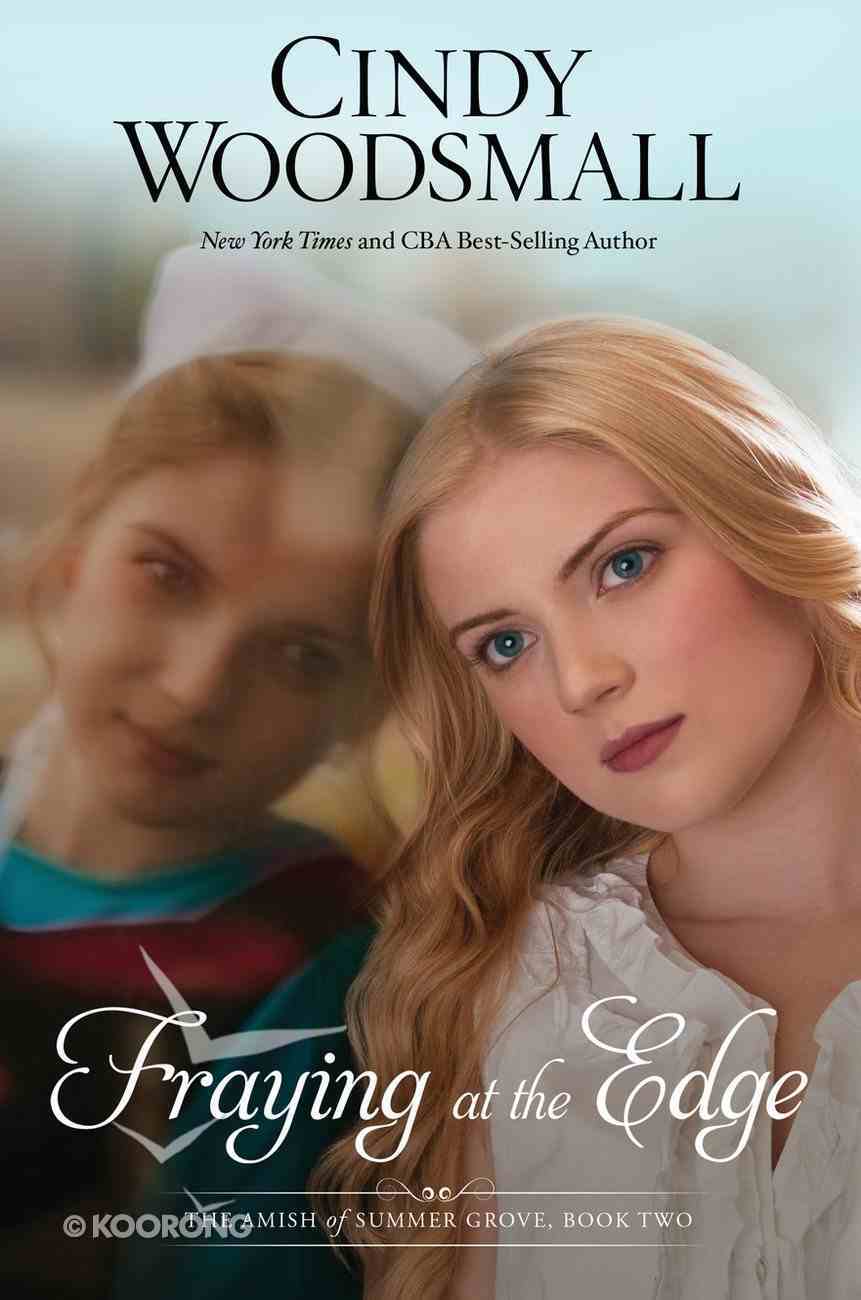 Fraying At the Edge (#02 in Amish Of Summer Grove Series)
:The Amish of Summer Grove series continues as Old Order Amish Ariana and troubled college student Skylar face the reality that nothing about their lives is what they thought to be true. The second book in the Amish of...
Out of Stock
Available to Order
---
Expected to ship in 4 to 5 weeks from Australia.
---
Free Shipping
for orders over $99.
:The Amish of Summer Grove series continues as Old Order Amish Ariana and troubled college student Skylar face the reality that nothing about their lives is what they thought to be true.

The second book in the Amish of Summer Grove series explores the changes in the Brenneman family as Skylar joins them and Ariana navigates the foreign and undesirable Englischer world. Can she help the Nashes learn about the God she loves?
-Publisher
PRODUCT DETAIL
Catalogue Code 

440940

Product Code 

9781601427014

ISBN 

1601427018

EAN 

9781601427014

Pages 

352

Department General Books
Category Fiction
Sub-Category General
Publisher Waterbrook Press
Publication Date 

Sep 2016

Sales Rank 

29200

Dimensions 

208 x 137 x 22

mm

Weight 

0.308

kg
CINDY WOODSMALL is the New York Times and CBA best-selling author of twenty works of fiction and a non-fiction book. She's been featured in national media outlets such as ABC's Nightline and the front page of Wall Street Journal. Cindy has won numerous awards and has been a finalist for the prestigious Christy, Rita, and Carol Awards. She lives outside Atlanta with her husband, just a short distance from her children and grandchildren.
:Summer Grove, Pennsylvania

The dark shadows lying across the living room floor were eerie, seemingly coming out of hiding as Lovina remained kneeling in front of the couch, her Bible open. The pale moonlight only intensified the darkness that surrounded her, as if the blackness were a picture of what was happening to her family. To her daughters.

She tightened her interlaced fingers. Her knees ached from the hours she had quietly sought God for the kind of help only He could give.

The daughter she'd thought she had given birth to two decades ago was gone, spending her first night with strangers in an Englisch home that by all accounts was worldly and in disarray. From what little she knew, that home was dysfunctional at best. She was terrified for the daughter she'd raised, the one who had none of her DNA.

Until recently Lovina hadn't realized that even God's faithful ones endured the kind of terror that had now entrenched itself in her heart. But maybe the truth was Lovina hadn't been faithful, not truly.

"God, please don't let Ariana or Skylar pay the price for my sin."

How would Ariana—Lovina's sweet, wide-eyed girl—survive for a year outside the Amish community she loved with her whole heart?

The daughter Lovina had actually given birth to was upstairs, sharing a bedroom with her sisters for the first time in her twenty-year life. The image of meeting Skylar yesterday for the first time made Lovina break into fresh sobs. Her daughter had black nails that matched the dyed-black streak in her blond hair. And she wore jewelry, makeup, and revealing clothes. But none of that had twisted Lovina's heart in a knot like the hard­ness she saw in Skylar, as if bitterness had already destroyed her belief in life and humanity. The young woman wasn't hopeless. She had dreams but no apparent understanding that life and people were valuable. Even with all that, the most painful part of yesterday was when Skylar's driver, Quill Schlabach, handed Lovina the luggage and suggested she thoroughly inspect it to verify Skylar hadn't brought any drugs with her.

Lovina had set the luggage aside for a while and tried to connect with Skylar about little things—her hobbies, schooling, and such. Later, when the two of them were alone, Lovina went through the suitcase as Skylar sat on the bed, calmly and apathetically assuring her that she'd only popped a few pills on occasion and that a random drug test happened to catch her right after one such rare event. Lovina found no drugs, but Skylar's calm, detached behavior toward meeting her family, having a twin, and the drug search was disconcerting.

"Father in heaven, please strengthen Skylar to overcome all desire for pills—occasional or otherwise."

It was her fault Skylar was in this predicament. Just as it was her fault Ariana had been forced to leave here and go to a dysfunctional home. Would Lovina spend the rest of her life carrying this unbearable sense of blame?

When the floor creaked, Lovina lifted her forehead from her folded hands. Her husband stood in the doorway between the kitchen and the living room, bathed in shadows and dressed in yesterday's pants with sus­penders pulled over a white T-shirt.

He eased toward her, knelt, and put an arm around her shoulders. "God, help my Lovina," he whispered, and then he kissed her temple. "It'll be okay. It will."

Lovina didn't need or want false words of hope, but maybe God had spoken to Isaac. Maybe He hadn't. She wouldn't ask.

Skylar had spent a lifetime being indoctrinated in ways Lovina had little knowledge of. In fact, she would be in rehab right now were it not for these crazy circumstances.

Lovina's need to confess her sin to her husband weighed heavily. "The unbearable part is I did this."

"Shh." He held her tight, probably trying to ease her trembling. "No, my love. This isn't—"

"But it is. Please, I have to say it aloud to someone . . . at least once."

He nodded. "Then say it a thousand times if it will help."

Lovina wiped her tears. "When I doubted that we had the right new­born, I didn't push hard enough to get answers."

"But Rachel dismissed your fears."

"Rachel meant well, but as a midwife she didn't have a mother's heart. I should've pushed harder for answers then." She sobbed. "And twenty years later when I discovered the truth about the girls being swapped, I pushed too hard, too fast. Quill tried to warn me, telling me I needed to slow down. But I forged ahead, thinking Skylar needed the faith we could offer her. But we're in over our heads with that one. I see that now. I've upended both girls' lives. Ariana is there, and . . ." She broke into fresh tears. "I'm a horrible person, Isaac."

He wrapped her in his arms and held her tight. "God will forgive us."

Even he couldn't muster another denial of their guilt. This nightmare was Lovina's fault, and no matter how it played out, her daughters—yes, she considered both of them her daughters—would pay the price. Who knew how high a price? All the regret of her past failures and all the fear of her daughters' futures weighed on her mother's heart, squeezing and press­ing until she didn't think she could take any more.

As much as she believed in forgiveness and redemption, she wasn't sure any existed for her. God could forgive her, and He could redeem her from eternal damnation. But that wouldn't undo or erase two decades of planting and harvesting in Skylar's life.

Clarity came to her like dawn dispelling night, and she knew why the burden of her sin was so very heavy tonight. Darkness was stretching to­ward Ariana, and Lovina needed to pray fervently, because her sweet girl would soon be in a fight for her sanity.