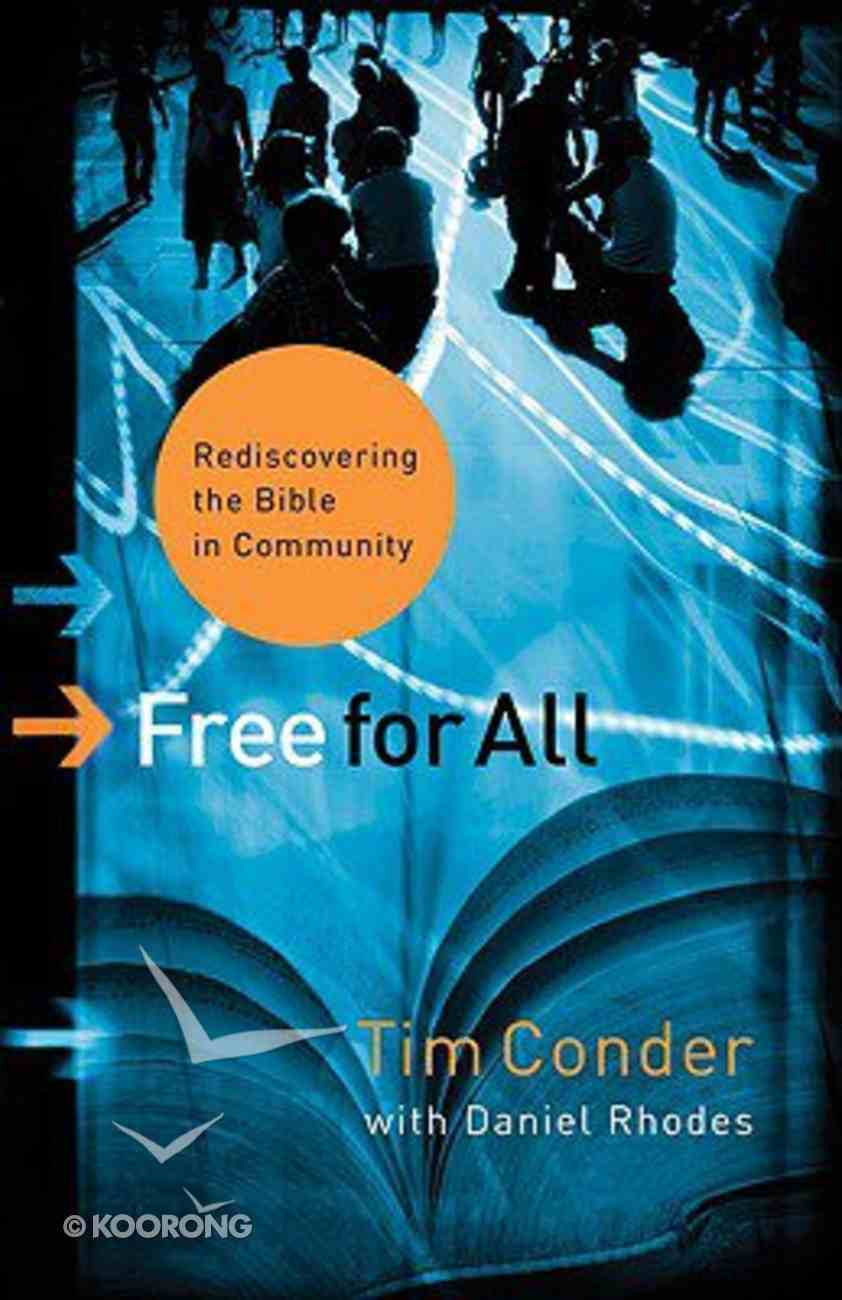 Is our study of the Bible as pure as we think it is? In Free for All, Tim Conder and Daniel Rhodes show how the way we read the Bible is held captive by the dominant culture in which we...
---
Free Shipping
for orders over $99.
Is our study of the Bible as pure as we think it is? In Free for All, Tim Conder and Daniel Rhodes show how the way we read the Bible is held captive by the dominant culture in which we find ourselves. They aim to expose the cultural authorities that influence our understanding of the Bible and provide a way for communities to encounter the text as communities. This journey into community interpretation of the Bible not only honors the text and liberates its voice, but also catalyzes transformative practices of proclamation, hospitality, ethics, mission, and imagination. Church leaders, pastors, small group leaders, and those interested in the emerging church conversation will find Free for All an energizing resource to infuse their study of God's Word with new life.
-Publisher
"This is as clear and thought provoking a statement as I have seen yet of a theology of Scripture for emergence Christianity. Conversational in tone, these pages are filled with the practical implications of the possibilities and ideas being presented. As cofounders of Emmaus Way, Conder and Rhodes speak with the authority of lived experience as well as out of their own deep faith."--Phyllis Tickle, author, The Great Emergence"The Bible is the product of the believing community, and it is meant to be read in community. Solitary reading of Scripture has gotten us into all manner of difficulties. Now Tim Conder and Dan Rhodes discover the fruitfulness of reading the Bible together. This book is a wonderful exercise in biblical hermeneutics by two of the best representatives of a younger generation of pastor-scholars. Weaving in popular culture, well-informed Christian theological insight, and excitement for the Bible as uniquely revelatory, Conder and Rhodes lead us into a fresh new encounter with Scripture--the church's book--speaking anew to the church for the salvation of the world."Will Willimon, bishop, the North Alabama conference of the United Methodist Church; author, Conversations with Barth on Preaching"With profound pastoral care, sensitivity, and wisdom, Conder and Rhodes disclose a communal hermeneutic that arises out of the real-life struggles of reading Scripture in the midst of the Emmaus Way community. In this rich and suggestive book, we are called beyond the culture of ideological, political, and spiritual fear, and beyond a homogenizing and dogmatically absolutistic biblical interpretation into the liberated imagination of the counterstory of Jesus. There is, in this book, good news for those of us who are passionate about Scripture, deeply committed to community, and longing to experience the power of both with candor and openness in the midst of our pain, confusions, and disappointments. Never falling to the temptation of writing a how-to book, Conder and Rhodes simply bear witness to their experience of creative reading and living of Scripture in a particular communal context. And they do so with generosity and grace."--Brian J. Walsh, coauthor of Colossians Remixed and Beyond Homelessness"It's not easy to make the familiar odd, but Conder and Rhodes accomplish that feat by helping us recover what it means to read Scripture in communion. This is not another book that recommends a communal interpretation of Scripture, but it is a book that exhibits such readings by close analysis of texts. This book will be widely read in congregations and classrooms."--Stanley Hauerwas, Gilbert T. Rowe Professor of Theological Ethics, Duke Divinity School"This is an excellent guide to recovering the place of the Bible in the life of Christian communities. In a lively and informative way, it reminds us that biblical interpretation is not the province of a few who tell the rest of us what the Bible means, but it is instead a profoundly interactive communal activity that involves everyone. Following the wisdom found in these pages can help unleash the transforming power of the Bible in the church and in the lives of those who read it."--John R. Franke, Clemens Professor of Missional Theology, Biblical Seminary
-Publisher
Tim Conder (MDiv - Gordon-Conwell Seminary) has served as a pastor and an elder at the Chapel Hill Bible Church in Chapel Hill, NC for the past fifteen years. He now pastors Emmaus Way, an intentional missional community in nearby Durham while remaining a standing elder at Chapel Hill Bible Church. He is the author of The Church in Transition. He also serves on the leadership team of Emergent and on the Board of Directors for Mars Hill Graduate School. He and his wife, Mimi, have two kids, Keenan and Kendall.
Tim Conder is a founding member of Emergent Village, the founding pastor of emerging church plant Emmaus Way in Raleigh/Durham, and the author of The Church in Transition. Conder lives in Durham, North Carolina.Daniel Rhodes is a pastor at Emmaus Way and a ThD student at Duke Divinity School. Rhodes lives in Durham, North Carolina.
Bestsellers in Christian Living