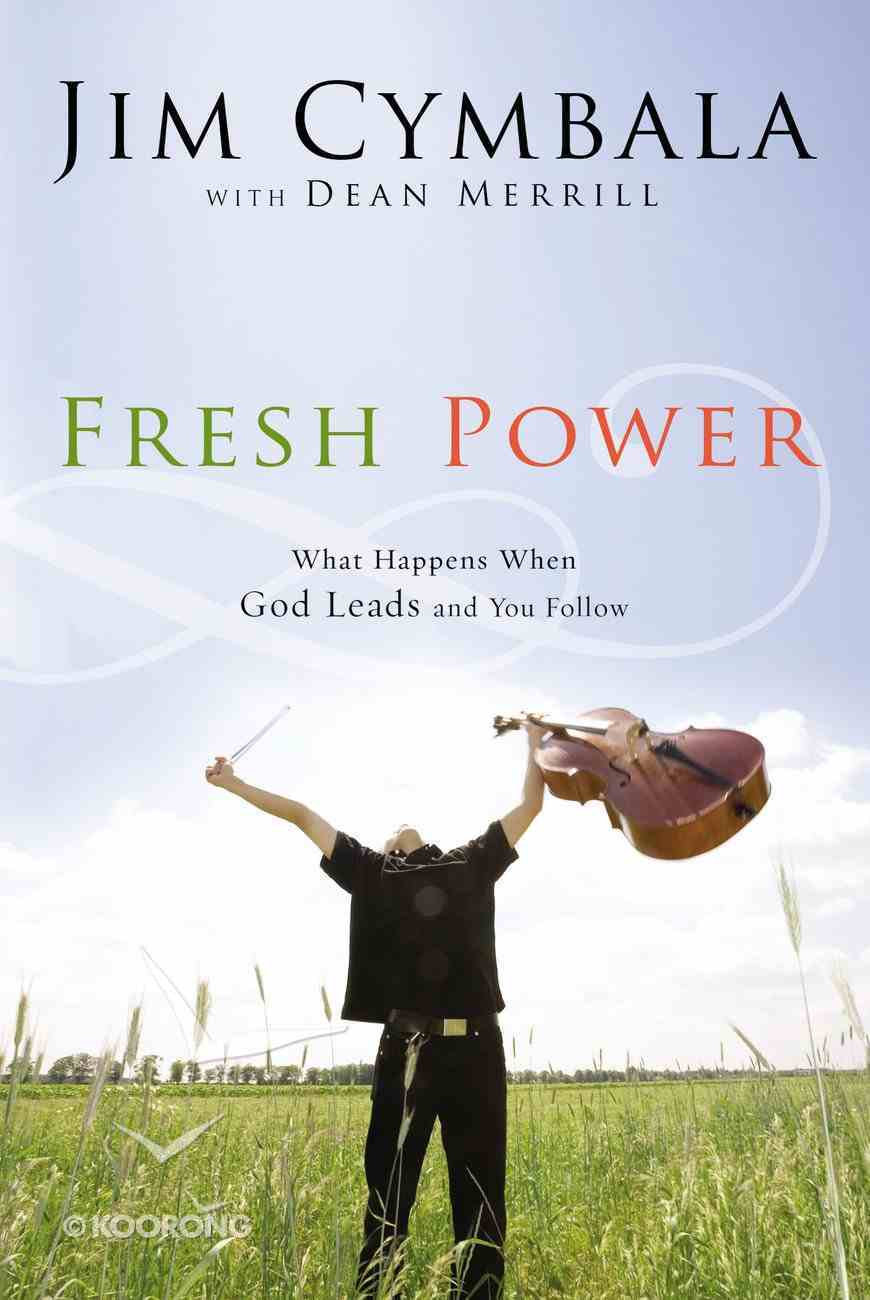 The sequel to Cymbala's best-selling Fresh Wind, Fresh Fire and Fresh Faith reveals what it means to be constantly transformed by the Holy Spirit. Dramatic stories from the Bible and the life of the Brooklyn Tabernacle fill each page. This...
---
Expected to ship within 11 hours from Australia.
---
Free Shipping
for orders over $99.
The sequel to Cymbala's best-selling Fresh Wind, Fresh Fire and Fresh Faith reveals what it means to be constantly transformed by the Holy Spirit. Dramatic stories from the Bible and the life of the Brooklyn Tabernacle fill each page. This softcover edition includes a study guide.
-Publisher
We Need God's Power Drawing examples from the Bible and from the sidewalks of New York City, Fresh Power shows what happens when the Spirit of God moves in our midst. He longs to reveal the mind of God to us and to release heaven's limitless resources to meet the desperate needs around us. Fresh Power will expand your vision for what God can and will do, and inspire you to pray like never before for God's power in your church-and in you.
-Publisher
PRODUCT DETAIL
Catalogue Code 

195427

Product Code 

0310251540

EAN 

9780310251545

UPC 

025986251543

Pages 

224

Department General Books
Category Christian Living
Sub-Category General
Publisher Zondervan
Publication Date 

Mar 2003

Sales Rank 

16771

Dimensions 

203 x 132 x 14

mm

Weight 

0.240

kg
Jim Cymbala has been the pastor of The Brooklyn Tabernacle for more than twenty-five years.
He is also the author of the bestselling titles Fresh Wind, Fresh Fire; Fresh Faith; Fresh Power; Breakthrough Prayer; The Life God Blesses; The Church God Blesses; The Promise of God's Power and most recently When Gods Spirit Moves.


He lives in New York City with his wife, Carol, who directs the Grammy Award-winning Brooklyn Tabernacle Choir.


Long Night in Indianapolis In the fall of 1994 I was invited to speak at a Christian music gathering in Indianapolis. I had visited once before, so I knew that some 10,000 people came mainly to hear great gospel singing. Yes, there was a speaker each morning and also a number of workshops throughout the day, but the drawing card of the event was the musical praise and worship. I arrived on a Thursday, and that evening I still wasn't sure what I should speak about the next morning. I was leaning toward a simple message of encouragement---one I had preached before. I thought it would go well in this festive setting. I certainly didn't want to do anything controversial or get in anybody's face about anything. On this, my first chance to speak to this large gathering, my human nature wanted to be liked and accepted. I went to part of the evening concert with my daughter and son-in-law, Chrissy and Al Toledo, but left around eight o'clock to return to my hotel room. There I began to seek the Lord about my message for the next morning. I knew that out of the thousands of good Bible verses a preacher could profitably use, there must be one passage that the Lord specifically had in mind for that occasion and that audience. Over the years I've tried to pray along these lines before speaking, asking God not only for his anointing but also for a confirmation of the subject for each occasion. I reviewed my sermon outline and then went to prayer. After all, I knew I needed his help for this message to prove a blessing to the people. Off Track The longer I prayed, the more this nice, familiar sermon idea went dead inside of me. There was no stirring in my heart. The outline was biblical enough, to be sure, and no doubt the people would be helped by it. But I knew it wasn't the right fit. Something else was waiting in the wings for me. And to be honest, I didn't really want to find out what it was. I kept praying. In time I felt drawn toward the text 'My house will be called a house of prayer' (Mark 11:17), a message I had preached not long before at the Brooklyn Tabernacle. It's a very direct message. It deals with Jesus' cleaning the merchants out of the temple and pointedly calls the audience to what the church is really for, as opposed to all the misuses we make of it. (This message later became part of my first book as a chapter entitled 'The Day Jesus Got Mad.') I began to argue with the Lord. A sermon on cleaning merchants out of the house of God---at a music festival? Surely not! 'God, I'm not a regular speaker at this gathering. I have no right to stand up and confront these people. They'll be sitting there thinking, Who does he think he is---some New York City wise guy? This is starting to sound like a revival service. They didn't invite me here to stir up controversy. If I tell them that today's church has become prayerless and is in danger of Jesus coming in judgment ... well, this is hardly the way to win friends and influence people.' It was getting late. I had no notes for that message anyway. I could remember only parts and pieces of what I had preached at home. Surely I wasn't going to get up in front of 10,000 people and just 'wing it.' Yet the Holy Spirit seemed to persistently whisper to my heart, This is why I brought you here. This is what I want you to preach. Are you going to do my will, or are you just going to go out there tomorrow morning and 'perform'? I kept struggling in prayer. This whole situation was getting messy. If I didn't get my act together soon and get some sleep, I was headed for a big embarrassment. Why couldn't I just follow through on what I had planned? On the other hand, if I went against what God wanted me to do, I would fail the Lord who called me into the ministry. Finally, after an hour or two, I relented. I opened my Bible to the passage in Mark as I said, 'God, help me. If you want to use this to speak to the people tomorrow morning, all right. Show me how to reconstruct this sermon.' Around midnight something very unusual happened. I'm normally not a timid person, but on this night I was attacked by a tremendous feeling of fear and insecurity. I began to imagine the audience turning against me. Something or someone kept whispering to me that this 'prophetic' message wasn't going to fit the setting at all. It seemed as if I was battling against forces intent on disrupting this message I now felt so strongly. My heart began to pound. I started pacing around the room. Before long, I was crying. 'O God, now that you've shown me your will, and I'm willing to do it---give me the courage, the power, the wisdom to preach this message for your glory.' I turned out the light and tried to get some sleep, but couldn't. Soon I was back up again, pacing and praying. I kept battling an ominous sense that this whole thing was going to be a disaster. Finally, around three---thirty I fell asleep out of sheer exhaustion. The sun had just come up that Friday morning when the telephone rang. It wasn't my wake-up call from the hotel desk; it was my wife, Carol, back in New York. 'Jim, are you okay?' she asked with a worried tone. 'Yes, I think so,' I answered groggily. 'What's going on there with you?' she persisted. 'Well, the truth is, I'm in a battle,' I admitted. 'I have to speak in a couple of hours, and the Lord's been dealing with me about a message that's not easy to preach. I'm really struggling.' 'I knew something was wrong,' she replied. 'I couldn't sleep last night. I woke up and had to intercede for you. I didn't know what was going on, but somehow I was really burdened for you.' She then began praying for me right there on the phone. When she finished, she added, 'God's going to help you, Jim. Just depend on the Holy Spirit to help you, and let it go.
Bestsellers in Christian Living