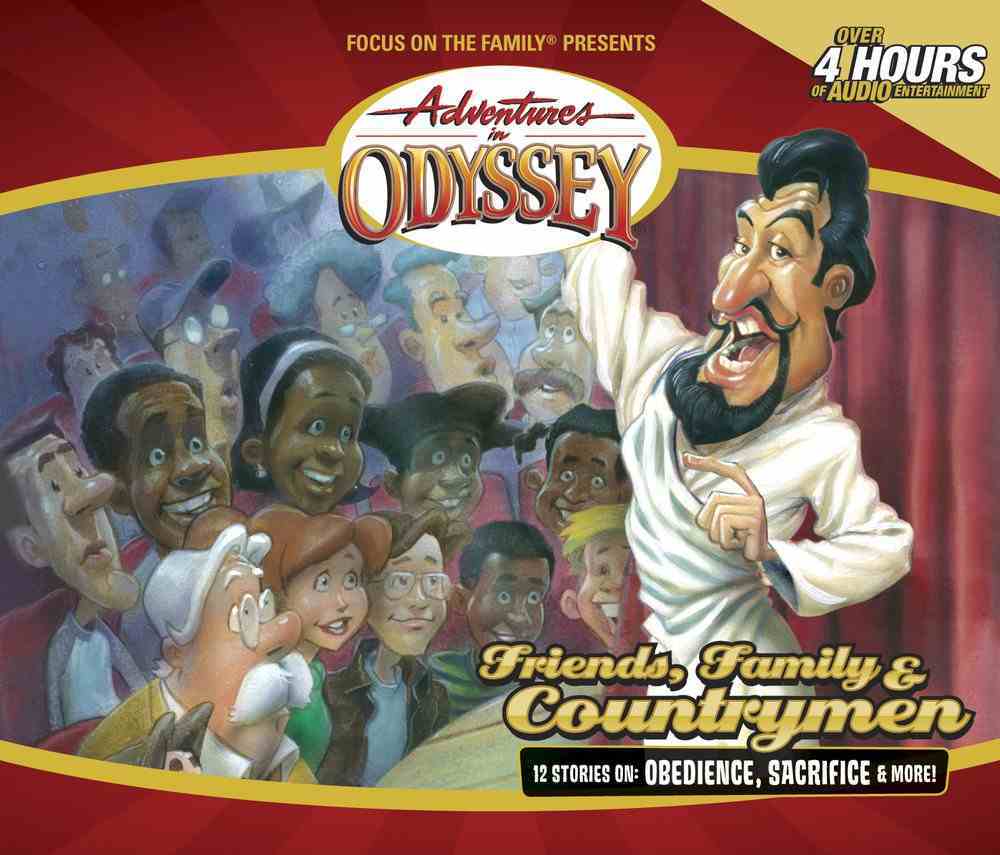 Friends, Family and Countrymen (#39 in Adventures In Odyssey Audio Series)
Things never slow down around Odyssey. Alex is hoping to survive a long weekend with his grandparents, but things get interesting when he sees his grandfather dig up a strange wooden box in the woods. More adventure unfolds as Marvin...
---
Expected to ship tomorrow from Australia.
---
Free Shipping
for orders over $99.
Things never slow down around Odyssey. Alex is hoping to survive a long weekend with his grandparents, but things get interesting when he sees his grandfather dig up a strange wooden box in the woods. More adventure unfolds as Marvin Washington takes his first trip back in time on the Imagination Station and lands in the middle of the American Revolutionary War.
"Between You and Me" putting God first
"Aubrey's Bathrobe" using our ability to serve God
"The Popsicle Kid" uniqueness
"The Toy Man" sacrifice, making tough choices
"For Trying Out Loud" finding your place
"Benefit of the Doubt" doing what's right
"The American Revelation, I" American history
"The American Revelation, II" American history
"BTV: Obedience" obedience
"Relatively Annoying" getting along with people
"The Pact, I" living with an eternal perspective
"The Pact, II" living with an eternal perspective
Another great Adventure in Odyssey is underway. After the roller-coaster ride of the Novacom saga, "Friends, Family, Countrymen" is a return to "Normal" life in Odyssey (depending of course on how you define "normal"). In this album, our favorite characters learn lessons about serving God, making tough choices, obedience and more. And, we meet the newest citizens of Odyssey (the Washingtons)--a fun-loving family that harkens back to the Barclay clan Odyssey fans have missed for so many years.
-Publisher
Things never slow down around Odyssey. Alex is hoping to survive a long weekend with his grandparents, but things get interesting when he sees his grandfather dig up a strange wooden box in the woods. More adventure unfolds as Marvin Washington takes his first trip back in time on the Imagination Station and lands in the middle of the American Revolutionary War. ^What are all the mysteries surrounding Agnes' misplaced memory and the odd change in Aubrey's old friend? Will Colby and Mitch ever survive the Novacom aftermath? Will Connie lose Mitch again because of the FBI? Find out what's going on with everyone in these 12 exciting episodes ^Volume 39 contains the following stories (and themes): Between You and Me (putting God first) Aubrey's Bathrobe (using our abilities to serve God) The Popsicle Kid (uniqueness) The Toy Man (sacrifice) For Trying Out Loud (finding your place) The Benefit of the Doubt (discrimination) The American Revolution, 1 & 2 (American history) Obedience (ob
-Publisher
4 CDs
-Publisher
Bestsellers in Childrens Audio