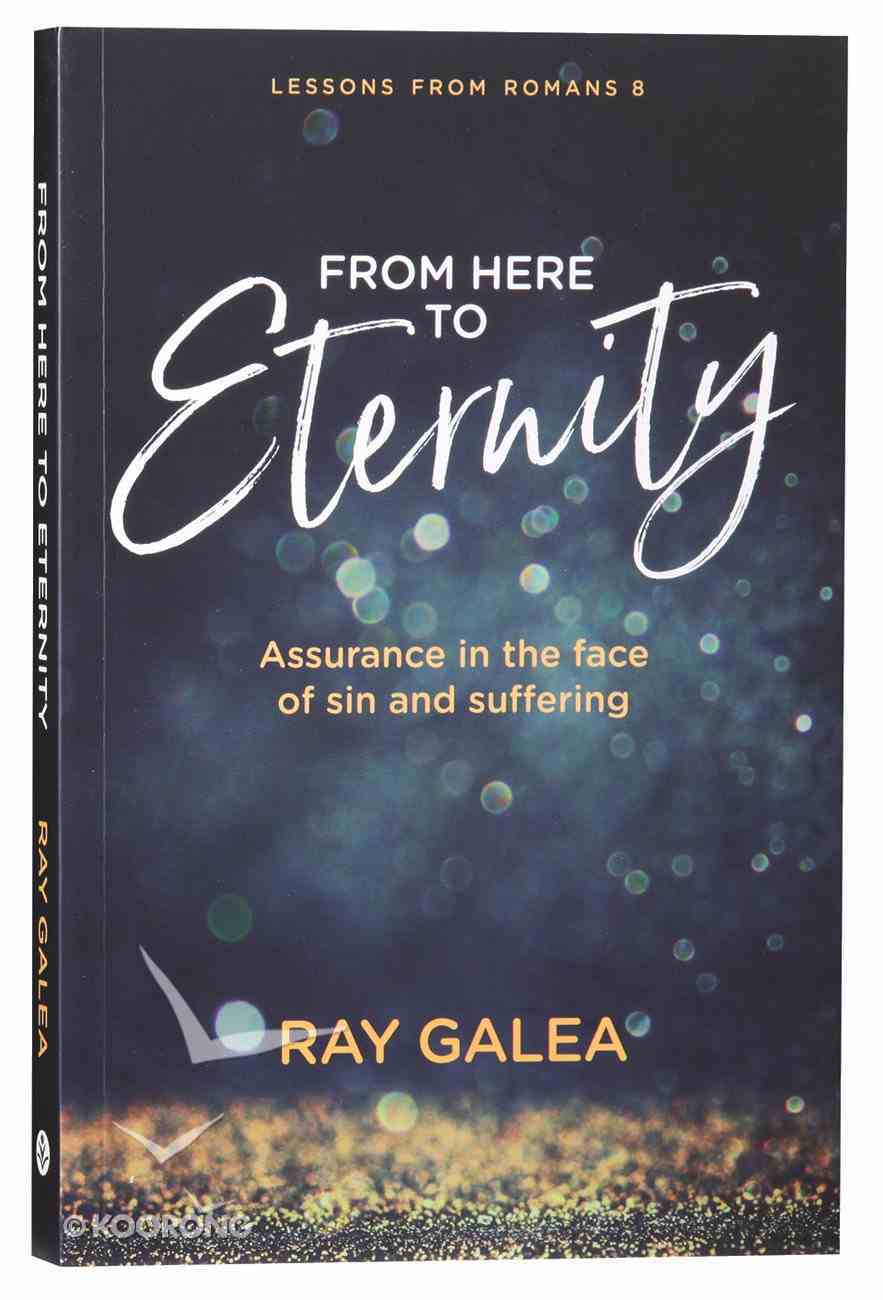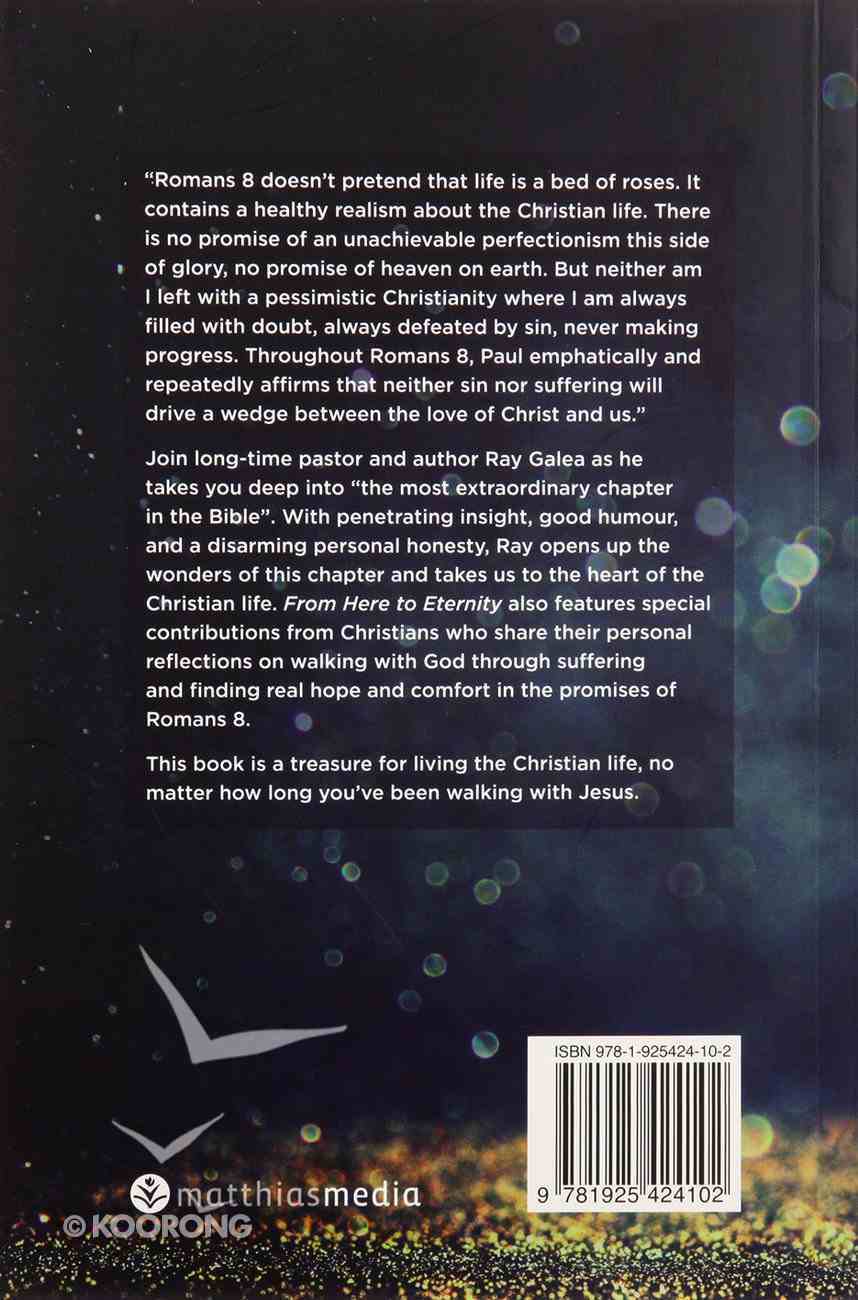 From Here to Eternity: Assurance in the Face of Sin and Suffering, Lessons From Romans 8
Romans 8 doesn't pretend that life is a bed of roses. It contains a healthy realism about the Christian life. There is no promise of an unachievable perfectionism this side of glory, no promise of heaven on earth. But neither...
---
Expected to ship tomorrow from Australia.
---
Free Shipping
for orders over $99.
Romans 8 doesn't pretend that life is a bed of roses. It contains a healthy realism about the Christian life. There is no promise of an unachievable perfectionism this side of glory, no promise of heaven on earth. But neither am I left with a pessimistic Christianity where I am always filled with doubt, always defeated by sin, never making progress. Throughout Romans 8, Paul emphatically and repeatedly affirms that neither sin nor suffering will drive a wedge between the love of Christ and us." Join long-time pastor and author Ray Galea as he takes you deep into "the most extraordinary chapter in the Bible". With penetrating insight, good humour, and a disarming personal honesty, Ray opens up the wonders of this chapter and takes us to the heart of the Christian life. From Here to Eternity also features special contributions from Christians who share their personal reflections on walking with God through suffering and finding real hope and comfort in the promises of Romans 8. This book is a treasure for living the Christian life, no matter how long you've been walking with Jesus.

"This is a very good book. It is good because it is the work of a pastor-theologian who knows how to think his way through a passage of Scripture -- in this case, Romans 8 -- and get it right. It is good because Ray Galea, the pastor-theologian in question, knows how to write simply and compellingly. It is good because it ably addresses some of the crucial pastoral challenges of our age without sliding into utopianism on the one hand or nothing but grim determination on the other. And finally, it is a good book because the Appendices, especially two of the five, are worth the price of the entire work: what Ray says about predestination is gold, and so is Phillip Jensen's reflection on the death of his grandson."
- D A Carson, Research Professor of New Testament, Trinity Evangelical Divinity School

"Few preachers make the transition from sermon to book successfully, but Ray Galea does it. Here is a book as fresh, insightful, down to earth and powerfully applied, as Ray's weekly sermons at Rooty Hill. These are worthy expositions of the truths which they expound!"
- David Cook, former Principal, Sydney Missionary and Bible College, Australia

"What do you get when you take a chapter full of significance and treasure (Romans 8) and have it taught by a pastor full of grace and honesty (Ray Galea)? You get this terrific book that will benefit everyone who is seeking answers and assurance. God has impacted so many through Ray's ministry and He will surely help many more through this wise and loving book. It breathes pastoral reality and comfort."
- Simon Manchester, Senior Minister, St Thomas' Anglican Church North Sydney, Australia
Ray Galea (Senior Minister) of St Alban's Multicultural Bible Ministry (St Alban's MBM) a growing multicultural church in the west of Sydney. Our church is home to people from all cultures, styles and walks of life. We're united together as one big family, through a loving personal relationship with God.
Prior to attending Moore College, Sydney, Ray worked as a Social Worker in Wollongong for three years, specialising in Marriage and Family Counseling. Ray sees himself as having a special brief to work cross culturally among second generation Mediterranean and Middle Eastern people in the west of Sydney. He is the author of Nothing in my hand in Bring a response to Catholicism by one who grew up in a Catholic home, and God is Enough


Bestsellers in Spiritual Growth