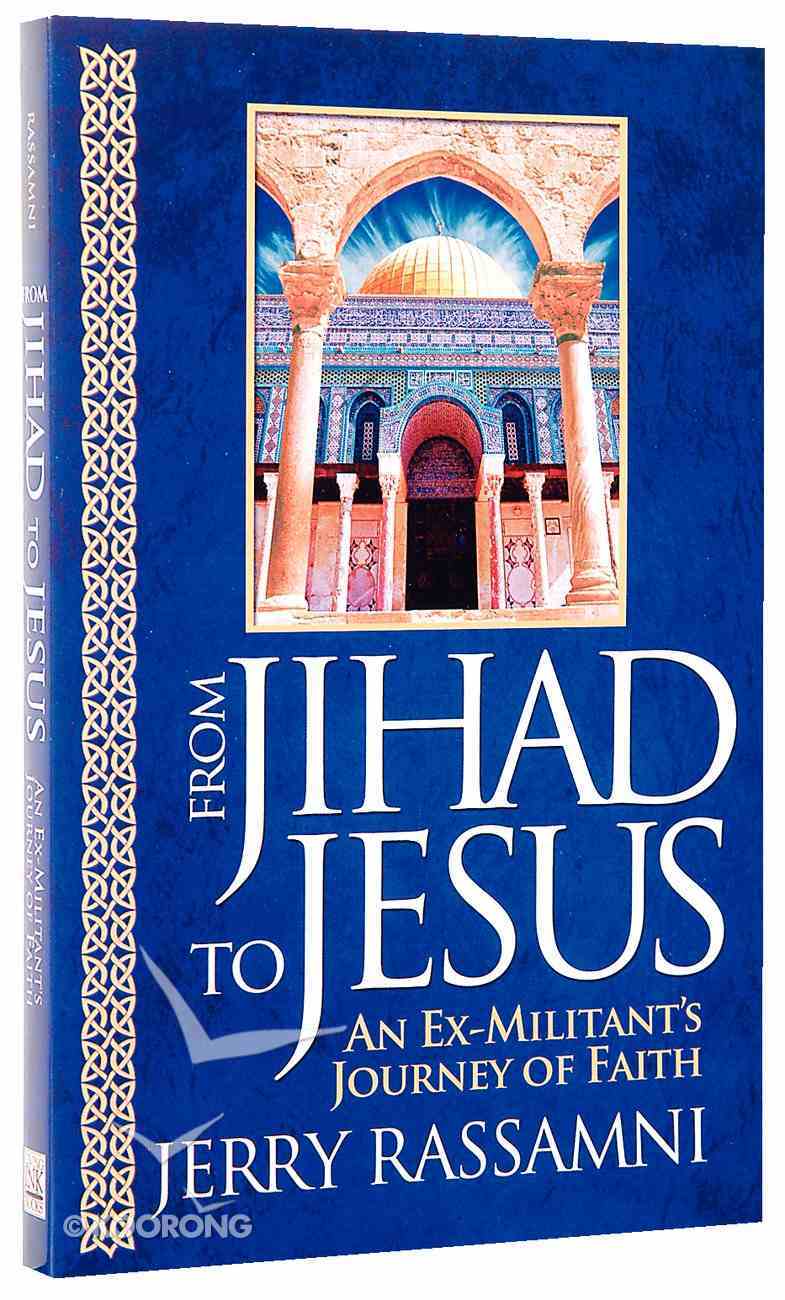 Jerry Rassamni was a militant Muslim who hated Christians and warred against them. After immigrating to the US, Jerry's life shifted to his "personal Jihad,"attempting to refute Christianity. This attempt led him to a personal encounter with Jesus Christ. ...
Available Now.
4 Available
---
Expected to ship tomorrow from Australia.
---
Free Shipping
for orders over $99.
Jerry Rassamni was a militant Muslim who hated Christians and warred against them. After immigrating to the US, Jerry's life shifted to his "personal Jihad,"attempting to refute Christianity. This attempt led him to a personal encounter with Jesus Christ.

This ex-militant Muslim shares the evidence that compelled him to abandon Islam. In the same way that Islam boasts of five pillars of the faith, Jerry points out "five exposition pillars" that undrape and expose the skeletons of Islam:

* Allah, is he the eternal God of the Bible?
* The Qur'an, is it the true word of God?
* The prophet Muhammad, was he a Biblical prophet?
* Man, is he born in fitrah (pure state)?
* Ahadith (Muslim customs and beliefs,) are they from God?

This book offers a forceful and compelling evangelistic tool in a careful apologetic approach. It dismantles Islam by embodying the whole of the debate in a systematic and intuitive structure.

-Publisher
Jerry Rassamni was born a Muslim and grew up in Lebanon during its bloody Civil War. He became a militia fighter at a young age. His heart burned with hatred toward his blood enemies the secular Catholic militias whom he fought during the war. Upon examining the scripture, Jerry was convicted of his sin, and had a personal encounter with the Lord Jesus Christ. Jerry is multilingual and is a popular evangelical speaker. He currently resides in Texas with his wife Jennifer and their three children.
-Publisher


What caused an ex-militant Muslim who fought Christians during the Lebanese Civil War to leave his baggage of hatred behind and learn to love his enemies?


AN EX-ISLAMIC MILITANT'S JOURNEY OF FAITH



Jerry Rassamni's story begins with his "physical Jihad" (physical struggle) against Christians during the bloody Lebanese  Civil War. After recounting his gripping early years, the narrative briskly shifts to Jerry's "personal Jihad" (spiritual struggle into enlightenment) as he attempted to refute the Bible. This book reveals the gripping evidence that led Jerry to abandon Islam and embrace Christ at his Lord and Savior.


While describing his search for the truth, Jerry exposes the pagan roots of the Muslim god and the feet of clay of its founder, while providing a careful apologetic for Christianity, Jerry shares the evidence the evidence that compelled him to abandon Islam and undrapes the "Five pillars" to expose the skeletons of Islam:


* Allah, is he the eternal God of the Bible?



* The Qur'an, it is the true word of God?



* The prophet Muhammad, was he a Biblical prophet?



* Man, is he born in fitrab (pure state)?



* Abadith (Muslim customs & beliefs), are they from God?



 



-Publisher
Jerry Rassamni was born a Muslim and grew up in Lebanon during its bloody Civil War. He became a militia fighter at a young age. His heart burned with hatred toward his blood enemies the secular Catholic militias whom he fought during the war. Upon examining the scripture, Jerry was convicted of his sin, and had a personal encounter with the Lord Jesus Christ. Jerry is multilingual and is a popular evangelical speaker. He currently resides in Texas with his wife Jennifer and their three children. A
Bestsellers in World Religions