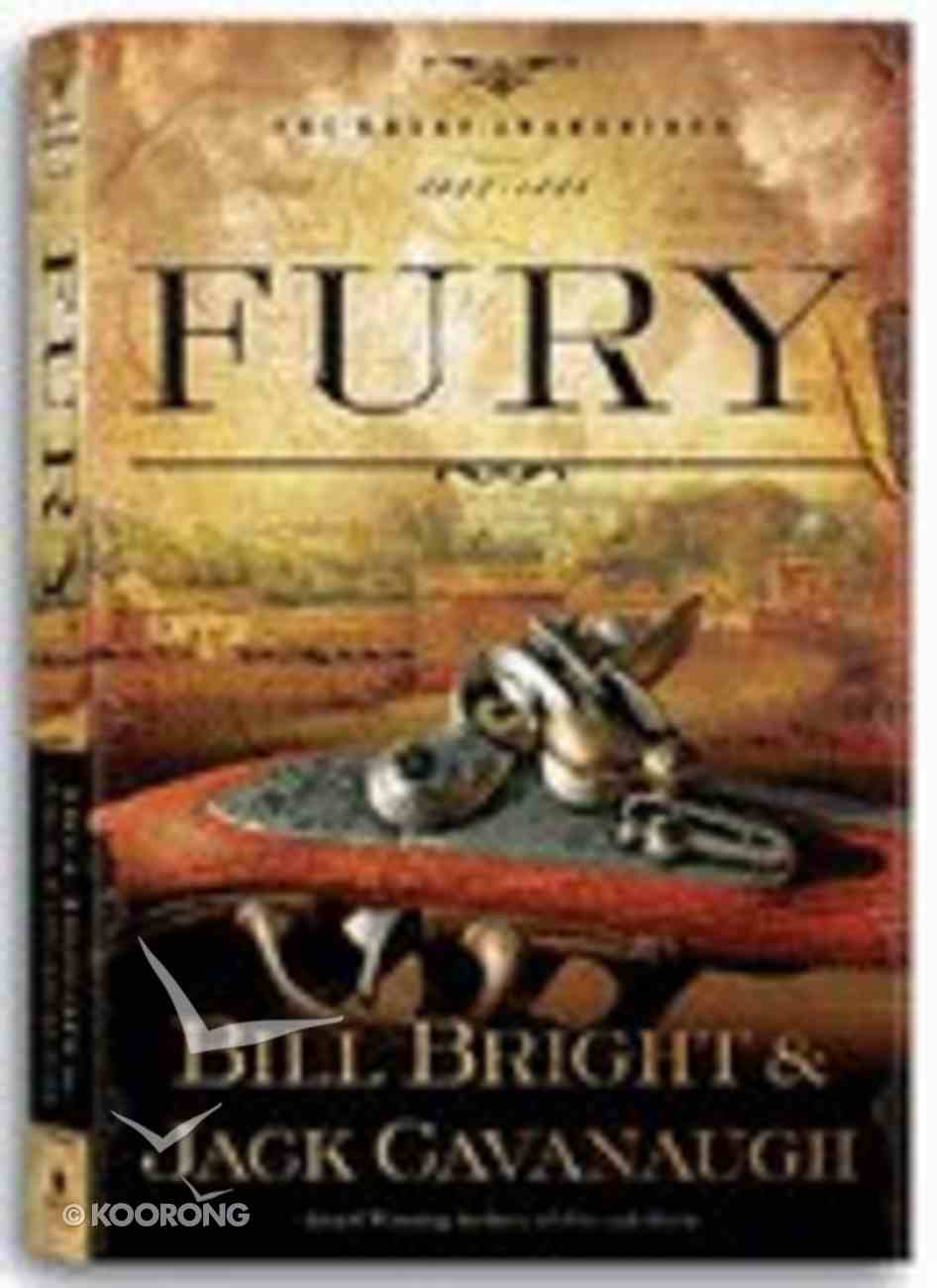 Fury (#04 in Great Awakenings Series)
Chapter One Once again his best friend had betrayed him. Sixteen-year-old Daniel Cooper sat sulking, hunched against the winter night, atop a wooden barrel behind Gregg's casket shop. A shaft of moonlight sliced the blind alley into two halves. Daniel...
Out of Stock
Available to Order
---
Expected to ship in 6 to 7 weeks from Australia.
---
Free Shipping
for orders over $99.
Chapter One Once again his best friend had betrayed him. Sixteen-year-old Daniel Cooper sat sulking, hunched against the winter night, atop a wooden barrel behind Gregg's casket shop. A shaft of moonlight sliced the blind alley into two halves. Daniel sat in the dark half, in a dark mood. He wanted only two things in life: to play his music, and to be left alone. Was that asking too much? Yet every time he played, someone showed up, drawn to the music like flies to honey. "Why can't they just leave me alone?" He stared at Judas, his black recorder. He used to call the woodwind Faithful Friend because it understood him. It never judged. And it always reflected his mood. Lately, however, he'd renamed it Judas for obvious reasons. Even so, it was a sweet betrayal. If a soul could sing, Daniel's soul would be mistaken for a recorder -- a lone, haunting voice that did not belong to this world. Most people he knew preferred a lively fiddle or a foot-stomping banjo. Not Daniel. When he played the recorder, his very being vibrated with matching pitch. Clutched in his hand, the instrument was silent now. So was the street, which wasn't surprising at this late hour. "Dare we try again, old friend?" He lifted the mouthpiece to his lips. Closed his eyes. And played. The alley came alive with music. A mournful tune that wafted from wall to wall to wall, surrounding him, penetrating him. Daniel's soul sighed with pleasure. He'd played less than a minute when a discordant animal noise slashed the melody. Frowning, Daniel lowered the recorder and listened. The night lay under silent stars. Daniel was certain he'd heard something. Possibly a complaining cat. He cocked an ear in the direction of the street. Whatever it was, it was gone. Once again the recorder touched his lower lip, but before it uttered a note, the noise repeated itself. A painful moan. A wounded cry. There was a scuffle on the cobblestones, then another moan. Daniel's heart seized. This time it didn't sound like an animal. Just then a man stumbled into the mouth of the alley and collapsed. He whimpered. Tried to get up. Collapsed again. Startled, Daniel's first impulse was to flee. But brick walls on three sides blocked his escape. The man in the alley lay facedown, his breathing ragged and labored. He obviously needed help, though Daniel was at a loss as to what to do. Setting the recorder aside, he slid off the barrel. Two cautious steps and he pulled back, stopped short by an unseen, high-pitched voice. Like a child playing a game. Only it wasn't a child. And if this was a game, Daniel didn't want to play. "Come out, come out! Where are you?" The man on the ground heard the voice. It stirred him to life. Whimpering, the man's hands clutched at the icy cobblestones. He dragged himself deeper into the alley. "Come out, come out!" sang the voice. Daniel reversed his direction and dove behind a stack of barrels. Then, scrambling to the balls of his feet, he crouched, ready to explode out of the alley like a ball shot from a cannon. It was at that moment that Daniel realized he'd left his recorder sitting in plain sight atop the barrel. He rose up to reach it, then stopped. At the mouth of the alley, the voice had taken shape. A silhouette stood against the streaking moonlight. Broad-rimmed hat. Shoulder-length hair. Knee-length travel coat. And in the man's right hand -- a knife large enough to gut a bear. "Asa, he's gone." Camilla Rush stood, one hand worrying the other, in the doorway of the study. "Did you look in the -- " "I think I scared him off." Her voice quivered as she spoke. Her eyes, normally a portrait of compassion, revealed a tender soul that was as attractive to Asa Rush now as it had been two decades ago, when he first fell in love with her. "When I went to slop the hogs," she continued, "I thought I heard somebody behind the barn. I stopped a
-Publisher
He just witnessed a murder...and now the killer is on his trail.
But no one will believe him!


Ever since his parents drowned while crossing the Atlantic after a revival, Daniel Cooper has felt as if the world is out to get him. For the past year he's had to live with his Uncle Asa and Aunt Camilla -- and all their rules. One night, deciding he's had enough, Daniel sneaks out his bedroom window and flees to the alley behind his employer's casket shop. What he sees there shocks him to the core.


Pursued by two men, Daniel embarks on an agonizing journey...through deceit and betrayal. A journey that will test his physical stamina and challenge his understanding of God and friendship. A journey that may well change his life...if it doesn't kill him first.


-Publisher
Bill Bright was the founder and president of Campus Crusade for Christ International, the world's largest Christian ministry. In 1956 he wrote the The Four Spiritual Laws which has been printed in 200 languages and distributed to 2.5 billion people. In 1979 he commissioned the Jesus film which has been viewed by more than 5.1 billion people. In 1996 Bright was presented with the prestigious Templeton Prize for Progress in Religion and donated all of his prize money to causes promoting the spiritual benefits of fasting and prayer. He was the author of more than 50 books, including Come Help Change the World, and The Coming Revival. Bright died in 2003 and is survived by his wife Vonette, who assisted him in founding Campus Crusade for Christ; a sister Florence Skinner; a brother Forest Bright; his son Zachary, who is pastor of Divine Savior Presbyterian Church in California; son Brad, who is on staff with Campus Crusade; and four grandchildren.- Publisher.
Jack Cavanaugh is a veteran sportswriter whose work has appeJack Cavanaugh is a veteran sportswriter whose work has appeared most notably on the sports pages of The New York Times,ared most notably on the sports pages of The New York Times, for which he has covered hundreds of assignments. He is the for which he has covered hundreds of assignments. He is the author of Giants Among Men (2008) and Tunney (2006), which author of Giants Among Men (2008) and Tunney (2006), which was nominated for a Pulitzer Prize in biography. In additionwas nominated for a Pulitzer Prize in biography. In additionC