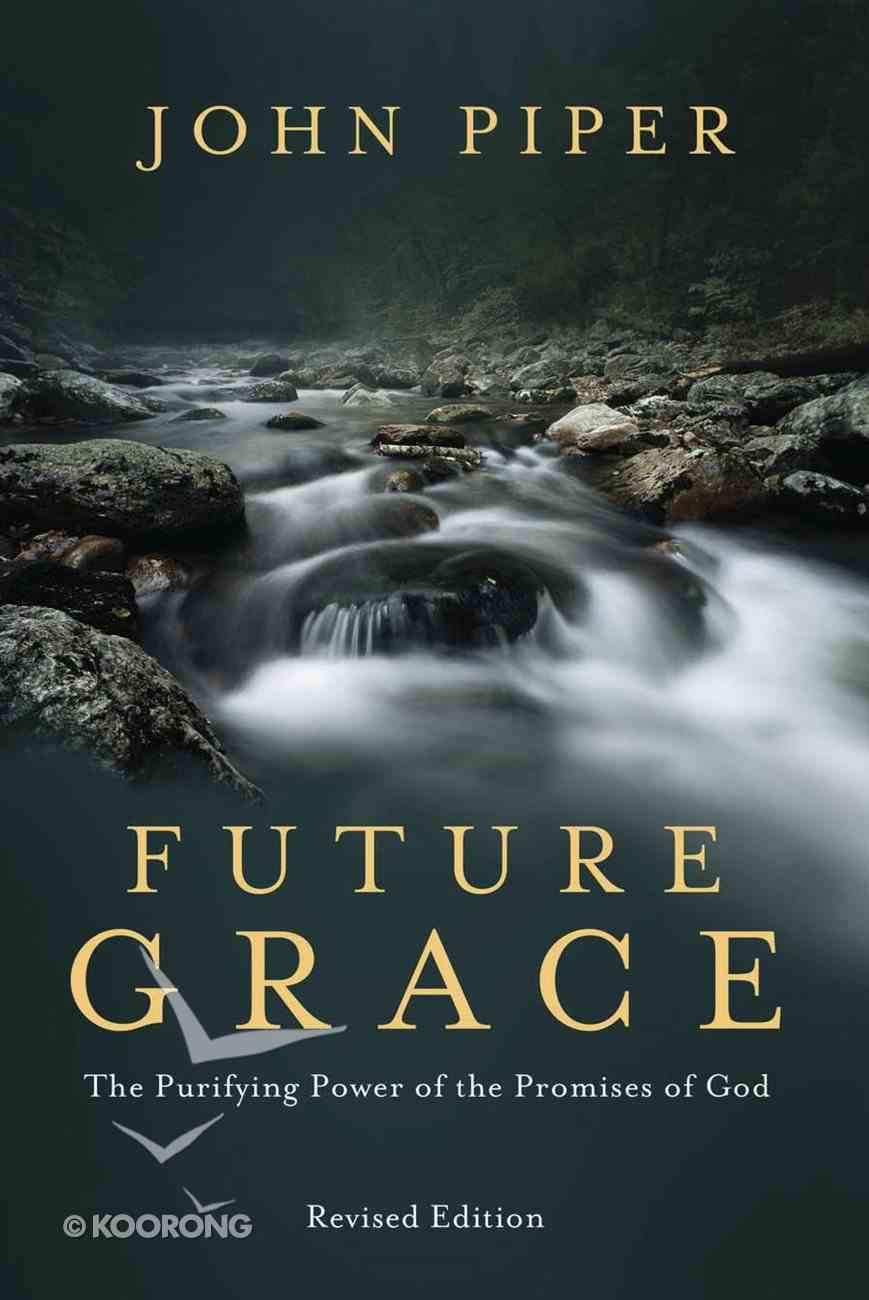 In Future Grace, author John Piper helps readers discover the key to overcoming sin and living a life that honors God. Many men and women attempt to walk upright out of gratitude for what Christ did in the past, but...
---
Expected to ship tomorrow from Australia.
---
Free Shipping
for orders over $99.
In Future Grace, author John Piper helps readers discover the key to overcoming sin and living a life that honors God. Many men and women attempt to walk upright out of gratitude for what Christ did in the past, but Piper encourages believers to look ahead to the grace God provides for us on a day-by-day, moment-by-moment basis--putting faith into action by laying hold of God's promises for the challenges we face.
Sever the Root of Sin
No one sins out of duty. We sin because we "want "to. Sin promises happiness, and we buy the lie. So how can the root of sin be severed in our lives? The "penalty" of sin must be paid by the righteous blood of Christ. And the "power" of sin must be broken by banking on the promises of Christ.
John Piper's meditations are rooted in rock-solid biblical reflection. Chapter by chapter--one for each day of the month--he reveals how, by cherishing the promises of God, you can break the power of anxiety, despondency, covetousness, lust, bitterness, impatience, pride, misplaced shame, and more.
-Publisher

Explore this stunning quality of God's grace:  It never ends!

In this revision of a foundational work, John Piper reveals how grace is not only God's undeserved gift to us in the past, but also God's power to make good happen for us today, tomorrow, and forever. 

True life for the follower of Jesus really is a moment-by-moment trust that God is dependable and fulfills his promises.  This is living by faith in future grace, which provides God's mercy, provision, and wisdom—everything we need—to accomplish his good plans for us.  

In Future Grace, chapter by chapter—one for each day of the month—Piper reveals how cherishing the promises of God helps break the power of persistent sin issues like anxiety, despondency, greed, lust, bitterness, impatience, pride, misplaced shame, and more.

Ultimate joy, peace, and hope in life and death are found in a confident, continual awareness of the reality of future grace.


-Publisher
John Stephen Piper was born 11 January 1946 in Chattanooga, Tennessee, to Bill and Ruth Piper. The Pipers soon moved to Greenville, South Carolina, where John spent his growing-up years. His father was an itinerant evangelist who also ministered through international radio and Bible courses. John has written a tribute to his mother, who died in 1974, in the booklet, What's the Difference (Crossway Books, 1990) which is also chapter one of the book, Recovering Biblical Manhood and Womanhood (Crossway Books, 1991).

At Wheaton College (1964-68), John majored in Literature and minored in Philosophy. Studying Romantic Literature with Clyde Kilby stimulated the poetic side of his nature and today he regularly writes poems to celebrate special family occasions and rich, biblical truths. At Wheaton John also met Noel Henry whom he married in 1968.

Following college, John completed a Bachelor of Divinity degree at Fuller Theological Seminary in Pasadena, California (1968-71). While at Fuller, John discovered the writings of Jonathan Edwards.

John did his doctoral work in New Testament Studies at the University of Munich, Munich, West Germany (1971-74). His dissertation, Love Your Enemies, was published by Cambridge University Press and Baker Book House (and is now available through Crossway). Upon completion of his doctorate, he went on to teach Biblical Studies at Bethel College in St. Paul, Minnesota for six years (1974-80).

In 1980, sensing an irresistible call to preach, John became the senior pastor of Bethlehem Baptist Church in Minneapolis, Minnesota, where he ministered for 33 years, until 2013. Together with his people, John was dedicated to spreading a passion for the supremacy of God in all things for the joy of all peoples through Jesus Christ - a mission he continues now for the wider church through the ministry of desiringGod.org. John says of his ministry:
"The ministry of preaching is the central labor of my life. My prayer is that through that ministry and everything else I do the great glory of our God and Savior Jesus Christ would be magnified as more and more people come to live out the obedience of faith more and more deeply."

John is the author of over 50 books and now frequently travels to speak, and writes regularly, through Desiring God.

John and Noel have four sons, a daughter, and twelve grandchildren.
What Is Gratitude?
     Like most precious things, gratitude is vulnerable. We easily forget that gratitude exists because sometimes things come to us "gratis"—without price or payment. When that happens, we should feel a pleasant sense of the worth of what we've received and the goodwill behind it. This pleasant sense is what we call gratitude. Then, spontaneously rising from this pleasant sense, come expressions of delight. We feel constrained with joy to acknowledge the gift and the goodwill behind it, and to express how good we feel about the gift and the heart of the giver.
     Gratitude corresponds to grace ("gratis"). This is true even when we feel thankful for something we have paid for. We sense that what we bought might have been disappointing in spite of our having enough money to buy it. It might not have been in such good condition; or it might not have been the exact one we wanted; or someone might have bought it before we did; or the transaction might have been harsh; or the timing might have been wrong for our intended use; or the price might have gone up just after we bought it. In other words, gratitude is not the feeling that we have been shrewd in the way we get things. It is the emotion that rises joyfully in response to something "gratis," even in our purchases.

The Birthplace of the Debtor's Ethic
     But right at this point there lurks a danger. There is an impulse in the fallen human heart—all our hearts—to forget that gratitude is a spontaneous response of joy to receiving something over and above what we paid for. When we forget this, what happens is that gratitude starts to be misused and distorted as an impulse to pay for the very thing that came to us "gratis." This terrible moment is the birthplace of the "debtor's ethic."
     The debtor's ethic says, "Because you have done something good for me, I feel indebted to do something good for you." This impulse is not what gratitude was designed to produce. God meant gratitude to be a spontaneous
expression of pleasure in the gift and the good will of another. He did not mean it to be an impulse to return favors. If gratitude is twisted into a sense of debt, it gives birth to the debtor's ethic—and the effect is to nullify grace.
Don't misunderstand me. Gratitude itself does not nullify grace. It exults in grace. It was created by God to echo grace. Even the thought that it can be twisted to serve evil shocks some people and makes them shrink back. Make no mistake, I exalt gratitude as a central biblical response of the heart to the grace of God. The Bible commands gratitude to God as one of our highest duties. "Enter his gates with thanksgiving, and his courts with praise! Give thanks to him; bless his name!" (Psalm 100:4). God says that gratitude glorifies him: "The one who offers thanksgiving as his sacrifice glorifies me" (Psalm 50:23). In spite of being vulnerable to misuse in the
debtor's ethic, gratitude is not guilty.
     We all know what the debtor's ethic is, even if we've never called it this. Suppose you invite me over for dinner. It is certainly right for me to feel gratitude. But O, how easily we distort this spontaneous response of joy into an impulse to pay back. You gave me an invitation and now I owe you one. When our virtue—toward other people, or toward God—is born out of this sense of "paying back," we are in the grip of the debtor's ethic. What's gone wrong? It's not wrong to feel gratitude when someone gives us a gift. The trouble starts with the impulse that now we owe a "gift." What this feeling does is turn gifts into legal currency. Subtly the gift is no longer a gift but a business transaction. And what was offered as free grace is nullified by distorted gratitude.

Should We Pay God Back?
     It is remarkable how widespread and durable the debtor's ethic is among Christians. Recently I heard a well-known evangelical leader deliver a powerful message about the need for Americans to recover the call of duty and devotion to Christ. He used a compelling illustration about self-sacrifice. But his explanation of the spiritual dynamics of the sacrifice focused entirely on gratitude for what Christ had done. I sat there longing to hear a strong word about the essential role of hope as the sustaining power of laying your life down. But it didn't come.
     This way of motivating duty and devotion seems harmless, even noble. Its appeal is strong. It speaks in words that are almost above criticism. For example, it might say, "God has done so much for you; now what will you do for him?" Or: "He gave you his very life; now how much will you give to him?" The refrain of Frances Havergal's old hymn "I Gave My Life for Thee" is hazardous language. In it Christ says, "I gave, I gave My life for thee, what hast thou given for Me?" And: "I bring, I bring rich gifts to thee, what hast thou brought to Me?" I don't mean that sentences like these must express the debtor's ethic. I only mean that they easily can, and often do.
     In the debtor's ethic, the Christian life is pictured as an effort to pay back the debt we owe to God. Usually the concession is made that we can never fully pay it off. But "gratitude" demands that we work at it. Good deeds and religious acts are the installment payments we make on the unending debt we owe God. This debtor's ethic often lies, perhaps unintentionally, beneath the words, "We should obey Christ out of gratitude."
     This appeal to gratitude as a way of motivating Christians is so common it may come as a shock when I question whether it has much biblical support. But consider this for a moment. How many places in the Bible can you think of where gratitude or thankfulness is explicitly made the motive of moral behavior? I mean behaviors like treating people with love, and doing your business with integrity, and taking risks in the obedience of missions. Does the Bible tell us that these things are to be done "out of gratitude," or "in the power of thankfulness," or "because we owe Jesus so much"?
      This is not nitpicking or incidental; it is amazing. If you ask Christians today, "What is the biblical motive for Christian obedience?" great numbers would say, "Gratitude to God." And yet this way of thinking seems almost
totally lacking in the Bible. The Bible rarely, if ever, explicitly makes gratitude the impulse of moral behavior, or ingratitude the explanation of immorality. This is stunning when you let it sink in. This most common way of talking
about motivating Christian obedience is scarcely mentioned in the Bible. This fact comes like a punch in the belly; it takes your breath away. Is this really so? You will need to search for yourself to be completely sure.

Was Ingratitude the Problem?
     In the Old Testament the people of God often sinned against him despite all the good things he had done for them. But the reason given for this sin is not their ingratitude but, for example, their lack of faith: "How long will they not believe in me, in spite of all the signs that I have done among them?" (Numbers 14:11). The ethical problem troubling Moses is not ingratitude. What troubles him is that God's past grace did not move the people to trust in
God's future grace. Faith in future grace, not gratitude, is the missing ethical power to overcome rebellion and motivate obedience.
      Just when today's Christian would probably say the problem is lack of gratitude, the biblical writers again and again say that the problem is a lack of faith in God's future grace. Moses rebukes the people, "You have seen how
the Lord your God carried you, as a man carries his son.… Yet in spite of this word you did not believe the Lord your God" (Deuteronomy 1:31–32). The psalmist gives the same reason for why God's people sinned in spite of all his blessings: although God "split rocks in the wilderness and gave them drink abundantly…yet they sinned still more against him…because they did not believe in God and did not trust his saving power" (Psalm 78:15, 17, 22).
     It's true that the disobedient people must have lacked gratitude. But that's not how the Bible explains their rebellion and disobedience. Repeatedly the explanation given is lack of faith in God's future grace. The missing
channel of motivating power between past grace and today's obedience was not gratitude but faith. You will read the Old Testament in vain for texts that make gratitude the explicit motive or power for obedience.

The Fear of the Lord and Faith in Future Grace
      There are other Old Testament motives for obedience, such as love to God and fear of the Lord. We will deal in coming chapters with the relationship between faith in future grace and love for God.1 But this is a good place to
say a word about the fear of the Lord and its relationship to obedience and to faith in future grace.
     Moses taught Israel that the fear of the Lord would give rise to obedience: "Fear the Lord your God…by keeping all his statutes and his commandments" (Deuteronomy 6:2). Solomon summed up his own teaching in Ecclesiastes, "The end of the matter; all has been heard. Fear God and keep his commandments" (Ecclesiastes 12:13). Nehemiah told the nobles and rulers in Jerusalem to "walk in the fear of our God" (Nehemiah 5:9). And Proverbs 23:17 says, "Continue in the fear of the Lord all the day." Right "walking" and right living flow from fearing God. But to my knowledge there are no expressions corresponding to these that link gratitude and obedience in the same way.
     And even these expressions about fearing the Lord are probably the flip side of trusting the Lord's future grace.2 In other words, "fear the Lord" means "fear the terrible insult it would be to God if you do not trust his gracious promises of power and wisdom on your behalf." That's probably why Psalm 115:11 says, "You who fear the Lord, trust in the Lord! He is their help and their shield." In other words, if fear is not mingled with trust, it will not be pleasing to the Lord. "Without faith it is impossible to please [God]" (Hebrews 11:6). The obedience that comes from fearing God without faith in his future grace will not be free, but servile.
     The interconnectedness of fear and faith is probably why people looked at the grace given to David in distress, and felt fear and trust rising side by side in their hearts. "He put a new song in my mouth, a song of praise to our God. Many will see and fear, and put their trust in the Lord" (Psalm 40:3). The same thing had happened at the Red Sea. "Israel saw the great power that the Lord used against the Egyptians, so the people feared the Lord, and they believed in the Lord" (Exodus 14:31). Fear and faith happen together in response to God's mighty power and his promise of future grace.
     To fear the Lord is to tremble at the awareness of what a terrible insult it is to a holy God if we do not have faith in his future grace after all the signs and wonders he has performed to win our obedient trust. It's this faith in
future grace that channels the power of God into obedience. We search the Old Testament in vain for the explicit teaching that gratitude is a channel of this power.
Bestsellers in Christian Living