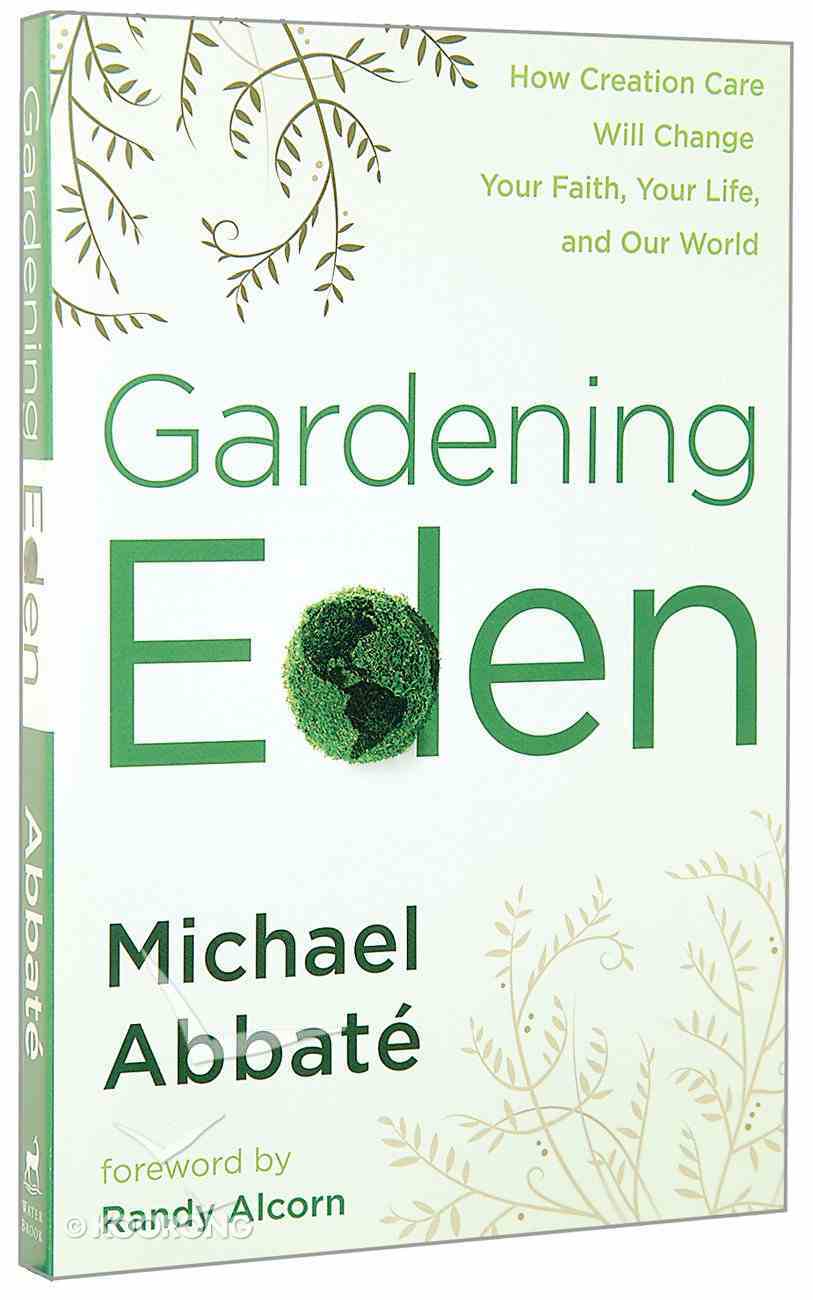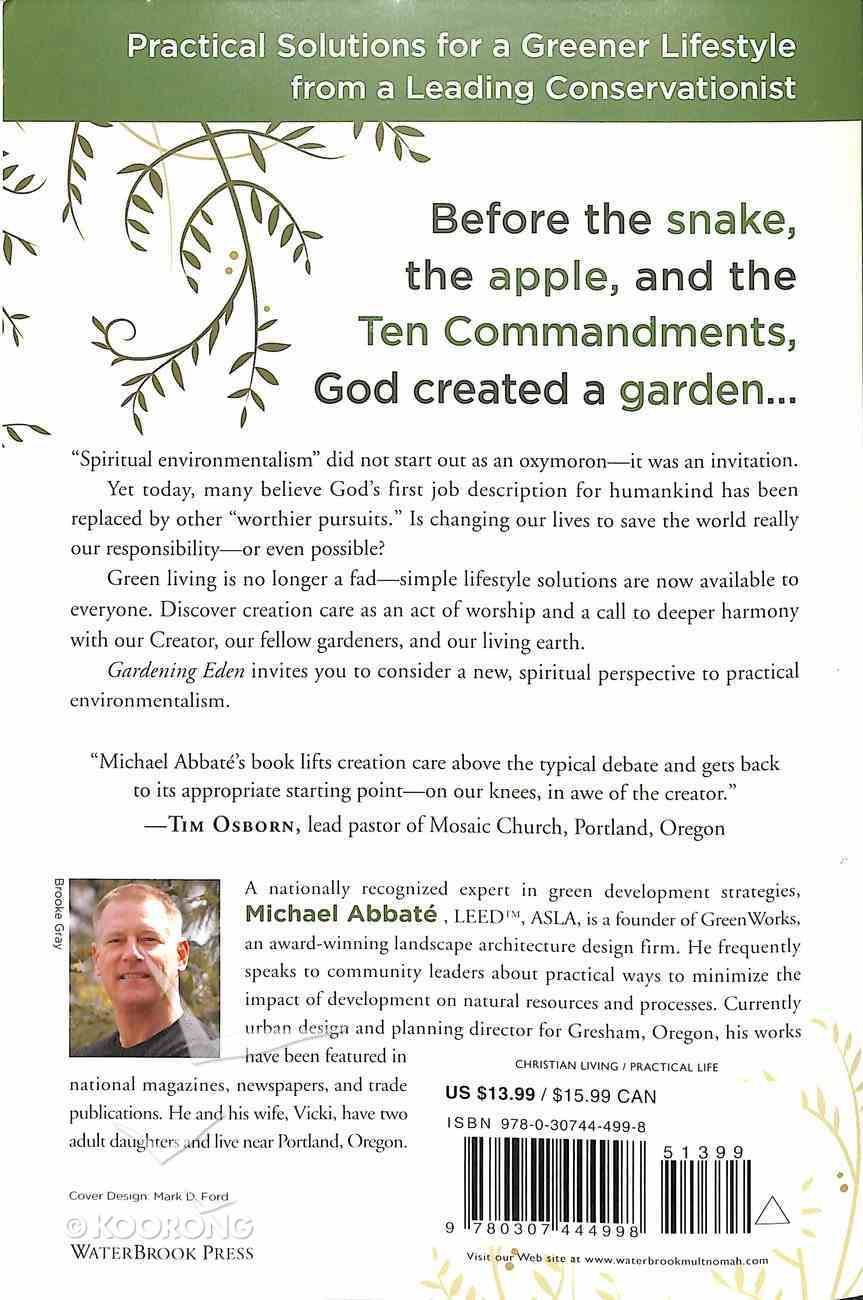 "Before the snake, the apple, and the Ten Commandments, God created a garden..." "Spiritual environmentalism" did not start out as an oxymoron - it was an invitation. Yet today, many believe God's first job description for humankind has been...
---
Free Shipping
for orders over $99.
"Before the snake,
the apple,
and the Ten Commandments,
God created a garden..."

"Spiritual environmentalism" did not start out as an oxymoron - it was an invitation. Yet today, many believe God's first job description for humankind has been replaced by other "worthier pursuits." Why has this simple instruction become so controversial? How does one sort through all the mixed messages? Is changing our lives to save the world really our responsibility, or even possible?

Gardening Eden invites you to consider a new, spiritual perspective to practical environmentalism. The question is not whether our souls find expression and inspiration in our incredible planet, but how best to preserve that fundamental connection.

Green living is no longer a fad - simple lifestyle solutions are now available to everyone. Discover creation care as an act of worship and a call to deeper harmony with our Creator, our fellow gardeners, and our living Earth.


-Publisher
A nationally recognized expert in green development strategies, Michael Abbate is a founder of GreenWorks, an award-winning landscape architecture design firm. He frequently speaks to students and leaders about practical ways to minimize the impact of building and landscape design on natural resources. His works have been featured in national magazines, newspapers, and trade publications. He and his wife, Vicki, have two adult daughters and live near Portland, Oregon.
ON THE ROAD
By the toe of my boot, a pebble of quartz,
one drop of the earth's milk, dirty and cold.
I held it to the light and could almost see through it into the grand explanation.
Put it back, something told me, put it back and keep walking.
—TED KOOSER, U.S. Poet Laureate,
Delights & Shadows

It's remarkable the things people will tell you when they consider you a stranger. I suppose we all bring our preconceptions when we meet someone, assuming they think just like we do.


Recently I was invited to speak at a university in the Midwest on the topic of designing campuses and communities.The people who invited me were curious about some of the projects our firm had been involved with on the West Coast. They hoped to learn lessons they could apply locally.


It was February, and after arriving in the frigid subarctic temperature, I set about getting my bearings and willing my blood to thicken. In the three days leading up to my talk, a guide toured me around the university, the city, and the surrounding rural area. She was a wonderfully energetic and passionate biology professor, and she hoped my talk could be a catalyst for change in the community. Her commitment to protecting the earth was deep, and she longed for others to catch a vision of ways the community could be transformed into one that cared about "proper ecological stewardship."


As we visited snow-covered parks and natural areas, the frozen winter air invading my lungs, I became aware of the shortcomings of my wardrobe. Hailing from the Pacific Northwest, I had Gore-Tex, but not enough woolen padding for the bright, crystalline world in which I found myself. We warmed up in local restaurants, where I was honored to meet many of her academic friends who shared her passion for improving their community and flattered me with their excited attention.


I soon found that my professor friend's passions for ecology transcended the physical world and extended to the spiritual as well. She felt that the religion of Christianity—indeed, Christians themselves— were responsible for the vast majority of environmental degradation worldwide. She ridiculed believers, the four Christian colleges in her city, and the churches and denominational headquarters located there.


"They deny global warming," she said. "They do not care about species going extinct. They're more concerned with their own comfort than they are with clean water and air for future generations." These were her decided conclusions.


On the third morning, she exclaimed, "I'm a recovering Southern Baptist." I looked at her, waiting for the explanation or the punch line. "I was a dyed-in-the-wool creationist until my fourth year of college, when I finally saw the evolutionary light." Evolutionary light.This was her phrase. And then she launched into another attack on the hypocrites who claim to love one another but refuse to support efforts to protect the environment. The complaints were not new to me, and they certainly were not without foundation. In fact, the very same convictions have been pivotal in prodding me along on my own ecological-spiritual journey.


Each of her comments jabbedmy psyche. I was weary of the diatribes and wanted to say, "The choice between faith and the environment is a false dichotomy. You don't have to choose secularism to care about creation."
But I held my tongue. I barely knew her, and I reminded myself that one person's strong opinions aren't generally improved by another's.


As we rode in her Subaru through downtown neighborhoods, past buildings and parks, it became clear that she assumed I shared her deep convictions about the irreconcilable difference between ecological concerns and Christian faith. To her, my silence was assent.


The day of my presentation arrived and, with it, the university community awaiting my thoughts. The auditorium began to fill with students thirty minutes early, but I was surprised by the number of community leaders, city staff, and local professionals who gathered as well. The room was soon filled to capacity, with people standing in the rear and along the sides.


I began with self-evident truths. There are many reasons why it makes sense to plan, design, and build in ways that are compatible with the natural systems of the planet. All of these reasons—protecting the earth for our descendants, alleviating suffering, ensuring species continuance, helping the economy—are appropriate reasons to respond to living in harmony with our environment.


However, I said, these same concerns can arise from two quite distinct worldviews.

Secular humanists believe that we must not do anything to disrupt the natural evolutionary process already taking place all around us.We must ensure that we do not harm the earth's ability to support all living things in the future.

E.O.Wilson, the Pulitzer Prize–winning biologist, is a compelling advocate of this worldview:


Earth provides a self-regulating bubble that sustains us indefinitely without any thought or contrivance on our own. This protective shield is the biosphere.…Upon its delicate health we depend for every moment of our lives.1 In fact, Wilson recognizes the important link between faith and conservation, though he isn't a Christian. "We will not reach our full potential without understanding the origin and hence meaning of the aesthetic and religious qualities that make us ineffably human."


The second worldview, I explained, comes from the first book of the Bible. Up flashed these words on the screen: "The LORD God took the man and put him in the Garden of Eden to work it and take care of it" (Genesis 2:15).


I mentioned that this initial directive has not been a topic of much emphasis in Christian circles, nor in any of the other major world religions, for that matter. For much of the last century, religious institutions have missed—or ignored—our responsibility as stewards of the creation and to the Creator. However, people of faith have long relished the grimy pleasures of gardening. The process of nurturing life brings contentment and a sense of wholeness in the accomplishment. We instinctively understand that we were designed to be gentle gardeners.
We just haven't realized that the entire planet is our garden.


I went on to share some of my ideas for conservation and sustainability, and following my talk, a number of people came forward to tell me that they had never heard faith mentioned as a reason for environmental
stewardship. I explained that, in fact, it was the original reason, and the Christians among them were appreciative. As people filed out, I looked around for my passionate friend. She was nowhere in sight. I
hoped she wasn't deeply offended. She was to be my ride back to the airport.


Everywhere we go, we see and hear of impending ecological catastrophe. Global climate change, holes in the ozone layer, extinction of species, hurricanes, deforestation, and starvation caused by drought and pollution all compete for our attention.What do we make of this situation? Are our lives impacting, even causing these global issues? Surely we are not responsible for the dodo birds and the woolly mammoths, are we?


Sometimes it's a matter of our survival to dismiss these distressing headlines.We're just trying to get through another day. Still, we know there's more to life than survival.


When the shift came for me, I was in the process of getting through my hitch in the navy. I had my whole life ahead of me. My concerns were with figuring out who to live life with, what I was going to do for a living, what type of education I would need, and where I would live. My definition of "the future" encompassed just under five years.


But an amazing thing happened to me on my way to the future. My wife and I created another human being. Brooke, the first of our two daughters, arrived on the scene announcing that a change in our outlook was in store. In an instant, time was redefined. The future suddenly extended beyond me and my immediate needs. Three years later, her sister, Maryn, joined the refrain, and these two new lives initiated a chorus demanding profound change in me. Suddenly, "the future" stretched far beyond five years. In fact, I was able to see ahead
a generation, to the time when my daughters were my age. I noticed that along withmy new expansive power, a new realization of weakness grabbed at my heel.What sort of world am I leaving for their inheritance?


My worries about one-dollar gas prices vaporized and were replaced by images of a smog-choked, barren landscape where most elements of life—air, water, land—were irrevocably damaged. The future felt suddenly close. It mattered. Where the world seemed headed was not a place I wanted my girls to be.When you wrap yourarms around an infant, maybe you can see this way too. What lies ahead for him or her?


As I sit here today, nearly half a century has migrated from the future into the past for me. And once again, I notice that the passing of time only expands our vision of the future. Grandchildren are coming, and terrifyingly, great-grandchildren are imaginable. Now, instead of seeing only twenty years ahead, I am wondering about half a century. This is quite a disconcerting paradox; the older I get, the further into the future I can see.


And the future takes on new meaning. I find myself less concerned about my life today and more anxious about tomorrow for those I love. Today's headlines become more ominous, not because I will be affected, but because they will be. A new reality has gripped me and, perhaps, you as well: our daily stewardship of this planet is our down payment for our children's children's children. Anyone with more potent time-traveling powers than I had at twenty might draw the same conclusions.


After my talk, I grabbed my luggage and waited in the lobby. In a few minutes, the biology professor pulled up and jumped out to help me load the car for our ride to the airport. "That was a wonderful talk," she stated flatly as we drove along. Realizing the wall she'd been building between us for the past few days, she began to knock it down, brick by brick. She shared more about her background and the thoughts she'd been having about the link between faith and stewardship, and then she looked at me with new eyes. "You know, our university chaplain has asked me to come and talk about protecting the environment." She nodded and added, a bit more enthusiastically, "I really enjoyed your perspective on bringing together the spiritual and the physical."


"Thank you. That's wonderful," I said, meaning it.


Another benefit of age: the older I get, the more I appreciate life's surprises. It occurred to me we had a lot more in common than either of us realized. Later, as I considered our final conversation more, I realized she had helped me discover a bridge across the divide between faith and environmentalism. And for that I was more than grateful.
Bestsellers in Christian Living