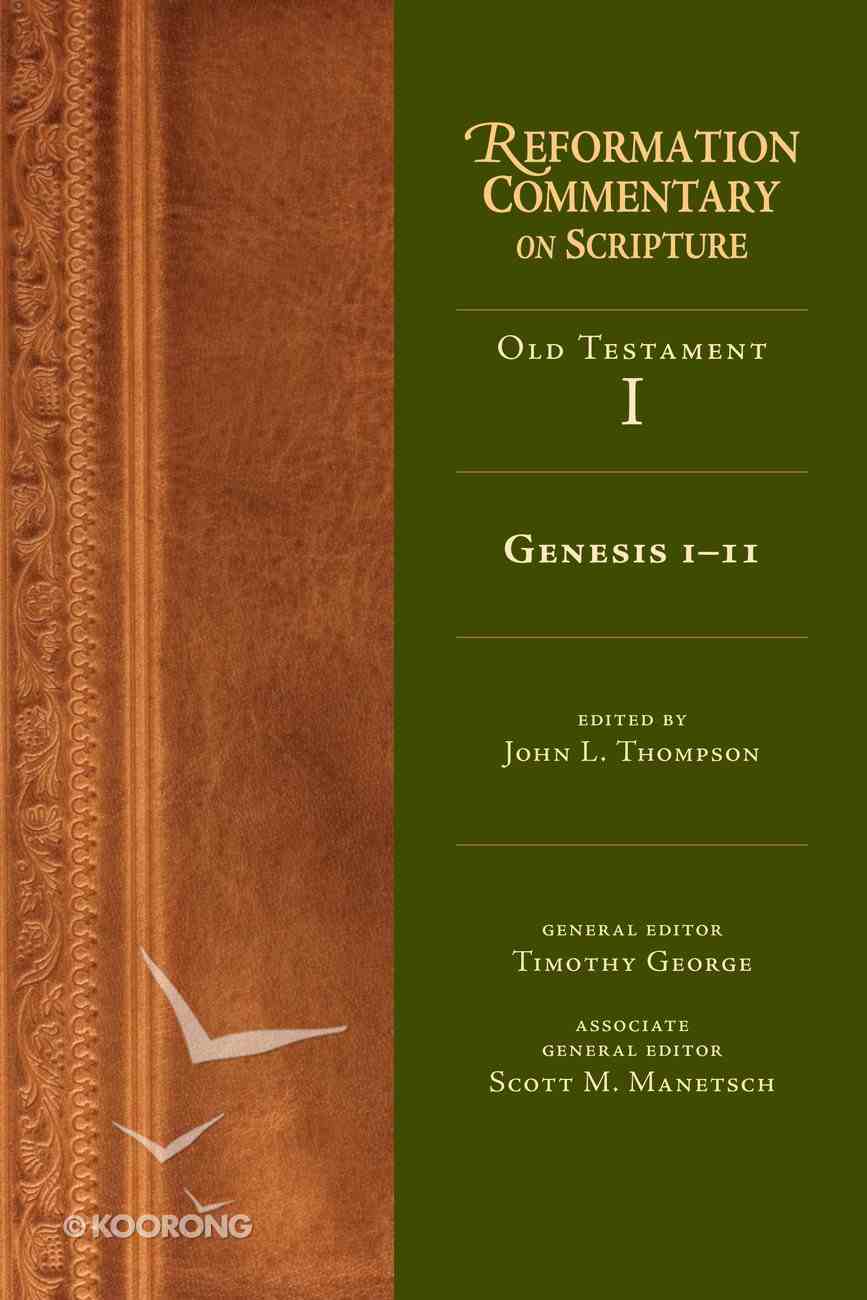 Genesis 1-11 (Reformation Commentary On Scripture Series)
The first chapters of Genesis are the bedrock of the Jewish and Christian traditions. In these inaugural pages of the canon, the creation of the world, the fall of the human creature, the promise of redemption and the beginning of...
Available for immediate download.
---
Read using our free app on your tablet or mobile!
---
Free Shipping
for orders over $99.
The first chapters of Genesis are the bedrock of the Jewish and Christian traditions. In these inaugural pages of the canon, the creation of the world, the fall of the human creature, the promise of redemption and the beginning of salvation history are found. Interwoven in the text are memorable stories of the ancient biblical patriarchs and matriarchs.Throughout the history of commentary, interpreters have lavished attention on the rich passages recounting the six days of creation, the tragic fall of God's creature--from the expulsion of the first parents to Cain's fratricide and the catastrophe of the Flood--as well as the allegorical sign of hope in the ark of Noah. Commentators in the Reformation continued this venerable tradition of detailed focus on these primordial stories, finding themselves and their era deeply connected to the tragedies and promises, the genealogies and marvels of God's providential election and governance. Above all, Reformation-era interpreters found anchor for their teaching, preaching and hope in the promise of Christ running through these first chapters, from creation to the calling of Abraham.While following the precedent of patristic and medieval commentators on Scripture, as well as Rabbinic midrash, the Reformers provide insightful and startling fresh readings of familiar passages, inviting readers to see the ancient text with new eyes. This volume collects the comments of not only the monumental thinkers like Luther, Calvin and Melancthon, but also many important figures of the time who are lesser-known today. Here we find rich fare from Johannes Brenz, Wolfgang Capito, Hans Denck, Wolfgang Musculus, Johannes Oecolampadius and Peter Martyr Vermigli.Readers will encounter comments from a wide array of perspectives, from the magisterial Reformers to radical Protestants like Balthasar Hubmaier, Menno Simons, Pilgram Marpeck and Dirk Philips, as well as some Catholic thinkers, such as Desiderius Erasmus and Cardinal Cajetan. Important contributions from female voices, like Katharina Sch tz Zell and Anna Maria van Schurman are included also. The wealth of Reformation interpretation is brought together here for study and reflection, much appearing in English for the first time.
-Publisher
The First Chapters Of Genesis Are The Bedrock Of The Jewish And Christian Traditions. In These Inaugural Pages Of The Canon, The Creation Of The World, The Fall Of The Human Creature, The Promise Of Redemption And The Beginning Of Salvation History Are Found. Interwoven In The Text Are Memorable Stories Of The Ancient Biblical Patriarchs And Matriarchs.throughout The History Of Commentary, Interpreters Have Lavished Attention On The Rich Passages Recounting The Six Days Of Creation, The Tragic Fall Of God's Creature--from The Expulsion Of The First Parents To Cain's Fratricide And The Catastrophe Of The Flood--as Well As The Allegorical Sign Of Hope In The Ark Of Noah. Commentators In The Reformation Continued This Venerable Tradition Of Detailed Focus On These Primordial Stories, Finding Themselves And Their Era Deeply Connected To The Tragedies And Promises, The Genealogies And Marvels Of God's Providential Election And Governance. Above All, Reformation-era Interpreters Found Anchor For Their Teaching, Preaching And Hope In The Promise Of Christ Running Through These First Chapters, From Creation To The Calling Of Abraham.while Following The Precedent Of Patristic And Medieval Commentators On Scripture, As Well As Rabbinic Midrash, The Reformers Provide Insightful And Startling Fresh Readings Of Familiar Passages, Inviting Readers To See The Ancient Text With New Eyes. This Volume Collects The Comments Of Not Only The Monumental Thinkers Like Luther, Calvin And Melancthon, But Also Many Important Figures Of The Time Who Are Lesser-known Today. Here We Find Rich Fare From Johannes Brenz, Wolfgang Capito, Hans Denck, Wolfgang Musculus, Johannes Oecolampadius And Peter Martyr Vermigli.readers Will Encounter Comments From A Wide Array Of Perspectives, From The Magisterial Reformers To Radical Protestants Like Balthasar Hubmaier, Menno Simons, Pilgram Marpeck And Dirk Philips, As Well As Some Catholic Thinkers, Such As Desiderius Erasmus And Cardinal Cajetan. Important Contributions From Female Voices, Like Katharina Sch Tz Zell And Anna Maria Van Schurman Are Included Also. The Wealth Of Reformation Interpretation Is Brought Together Here For Study And Reflection, Much Appearing In English For The First Time.
A Guide To Using This Commentary
Introduction To Genesis 1--11
Commentary On Genesis 1--11
Appendix
Map Of The Reformation
Timeline Of The Reformation
Biographical Sketches Of Reformation Era Figures
Bibliography Of Works In Original Languages
Bibliography Of Works In English Translations
Author/writings Index
Scripture Index
Bestsellers in Old Testament Commentaries