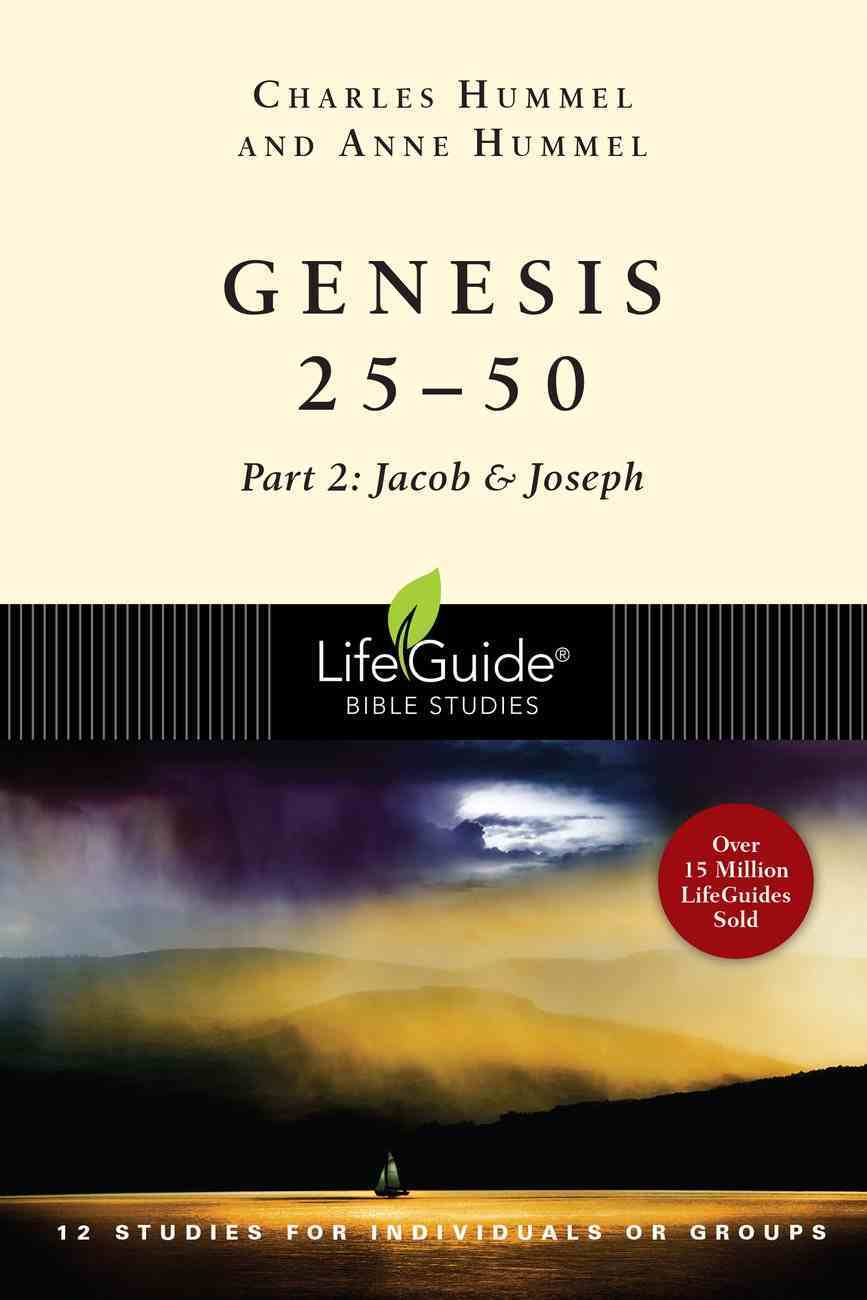 Genesis 25-50 (Lifeguide Bible Study Series)
Do you struggle to know and follow God's call for you in the world? In this twelve session LifeGuide® Bible Study on Genesis tells us that even the giants of faith-Abraham, Isaac, Jacob and Joseph-struggled to obey their Creator....
Instant download
---
Expected to ship tomorrow from Australia.
---
Free Shipping
for orders over $99.
Do you struggle to know and follow God's call for you in the world? In this twelve session LifeGuide® Bible Study on Genesis tells us that even the giants of faith-Abraham, Isaac, Jacob and Joseph-struggled to obey their Creator. But Genesis also reveals the amazing truth that the God who called a world and a nation into being also calls each of us to serve him. For over three decades LifeGuide Bible Studies have provided solid biblical content and raised thought-provoking questions-making for a one-of-a-kind Bible study experience for individuals and groups. This series has more than 130 titles on Old and New Testament books, character studies, and topical studies. PDF download with a single-user license; available from InterVarsity Press and other resellers.^New features of the revised LifeGuides include special options for group activities, additional questions for personal reflection, a "Now or Later" section with practical follow-up activities for use after the study or between sessions, expanded and improved leaders' notes and an attractive, redesigned format for easier reading.^Beginning with the new guides Miracles and Pleasing God (released in February 1999), all new LifeGuides will be presented in the new format. In addition more existing volumes will be revised every year to ensure that all our LifeGuides continue to be effective Bible study resources for the twenty-first century.^Genesis tells us that even the giants of faith -- Abraham, Isaac, Jacob and Joseph -- struggled to obey their Creator. But Genesis also reveals the amazing truth that the God who called the world into being also calls each of us to serve him.
-Publisher
Do you struggle to know and follow God's call for you in the world? In this twelve session LifeGuide® Bible Study on Genesis tells us that even the giants of faith-Abraham, Isaac, Jacob and Joseph-struggled to obey their Creator. But Genesis also reveals the amazing truth that the God who called a world and a nation into being also calls each of us to serve him. For over three decades LifeGuide Bible Studies have provided solid biblical content and raised thought-provoking questions-making for a one-of-a-kind Bible study experience for individuals and groups. This series has more than 130 titles on Old and New Testament books, character studies, and topical studies. PDF download with a single-user license; available from InterVarsity Press and other resellers.
-Publisher
PRODUCT DETAIL
Catalogue Code 

562542

Product Code 

9780830862269

ISBN 

0830862269

EAN 

9780830862269

Department Ministry
Category Studies
Sub-Category General
Publisher Intervarsity Press Usa
Publication Date 

Oct 2011

Sales Rank 

64005

Size 

0.29 MB (PDF)
Before his passing in August 2004, Charles Hummel was formerBefore his passing in August 2004, Charles Hummel was formerly director of faculty ministries for InterVarsity Christianly director of faculty ministries for InterVarsity Christian Fellowship and president of Barrington College in Rhode Isl Fellowship and president of Barrington College in Rhode Island. He was the author of fifteen books and Bible studies, iand. He was the author of fifteen books and Bible studies, including The Galileo Connection, Fire in the Fireplace, Genencluding The Galileo Connection, Fire in the Fireplace, GeneC
Before his passing in August 2004, Charles Hummel was formerBefore his passing in August 2004, Charles Hummel was formerly director of faculty ministries for InterVarsity Christianly director of faculty ministries for InterVarsity Christian Fellowship and president of Barrington College in Rhode Isl Fellowship and president of Barrington College in Rhode Island. He was the author of fifteen books and Bible studies, iand. He was the author of fifteen books and Bible studies, including The Galileo Connection, Fire in the Fireplace, Genencluding The Galileo Connection, Fire in the Fireplace, GeneC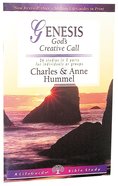 Do You Struggle To Know And Follow God's Call For You In The World? In This Twelve Session Lifeguide<sup>&reg;</sup> Bible Study On Genesis Tells Us That Even The Giants Of Faith-abraham, Isaac, Jacob And Joseph-struggled To Obey Their Creator. But Genesis Also Reveals The Amazing Truth That The God Who Called A World And A Nation Into Being Also Calls Each Of Us To Serve Him. For Over Three Decades Lifeguide Bible Studies Have Provided Solid Biblical Content And Raised Thought-provoking Questions-making For A One-of-a-kind Bible Study Experience For Individuals And Groups. This Series Has More Than 130 Titles On Old And New Testament Books, Character Studies, And Topical Studies. <strong>pdf Download With A Single-user License; Available From Intervarsity Press And Other Resellers.</strong>
<strong>part 1: Creation &amp; Primeval History</strong> - <em>genesis 1--11</em>
1. The Creation - <em>genesis 1:1--2:3</em>
2. Adam &amp; Eve - <em>genesis 2:4-25</em>
3. The First Sin - <em>genesis 3</em>
4. Cain &amp; Abel - <em>genesis 4--5</em>
5. The Flood - <em>genesis 6--7</em>
6. The Rainbow - <em>genesis 8:1--9:17</em>
7. The Tower Of Babel - <em>genesis 9:18--11:32</em>
<strong>part 2: Abraham, Isaac &amp; Jacob--the Emergence Of Israel</strong>
8. Abram's Call - <em>genesis 12--13</em>
9. Conflict &amp; Covenant - <em>genesis 14--15</em>
10. Ishmael &amp; Isaac - <em>genesis 16--17</em>
11. Sodom &amp; Gomorrah - <em>genesis 18--19</em>
12. Political &amp; Family Crises - <em>genesis 20--21</em>
13. The Sacrifice Of Isaac - <em>genesis 22--23</em>
14. A Wife For Isaac - <em>genesis 24:1--25:11</em>
15. Jacob &amp; Esau - <em>genesis 25:12--27:40</em>
16. Jacob In Exile - <em>genesis 27:41--30:24</em>
17. Jacob Versus Laban - <em>genesis 30:25--31:55</em>
18. Jacob Meets Esau - <em>genesis 32--33</em>
19. Jacob's Compromise &amp; Commitment - <em>genesis 34--36</em>
<strong>part 3: Joseph--the Migration To Egypt</strong>
20. Joseph &amp; His Brothers - <em>genesis 37--38</em>
21. Slave &amp; Prisoner - <em>genesis 39--40</em>
22. Joseph Governs Egypt - <em>genesis 41--42</em>
23. Family Reconciliation - <em>genesis 43:1--45:15</em>
24. Jacob In Egypt - <em>genesis 45:16--47:31</em>
25. Jacob's Blessing - <em>genesis 48--49</em>
26. Joseph's Final Years - <em>genesis 50</em>
Leader's Notes