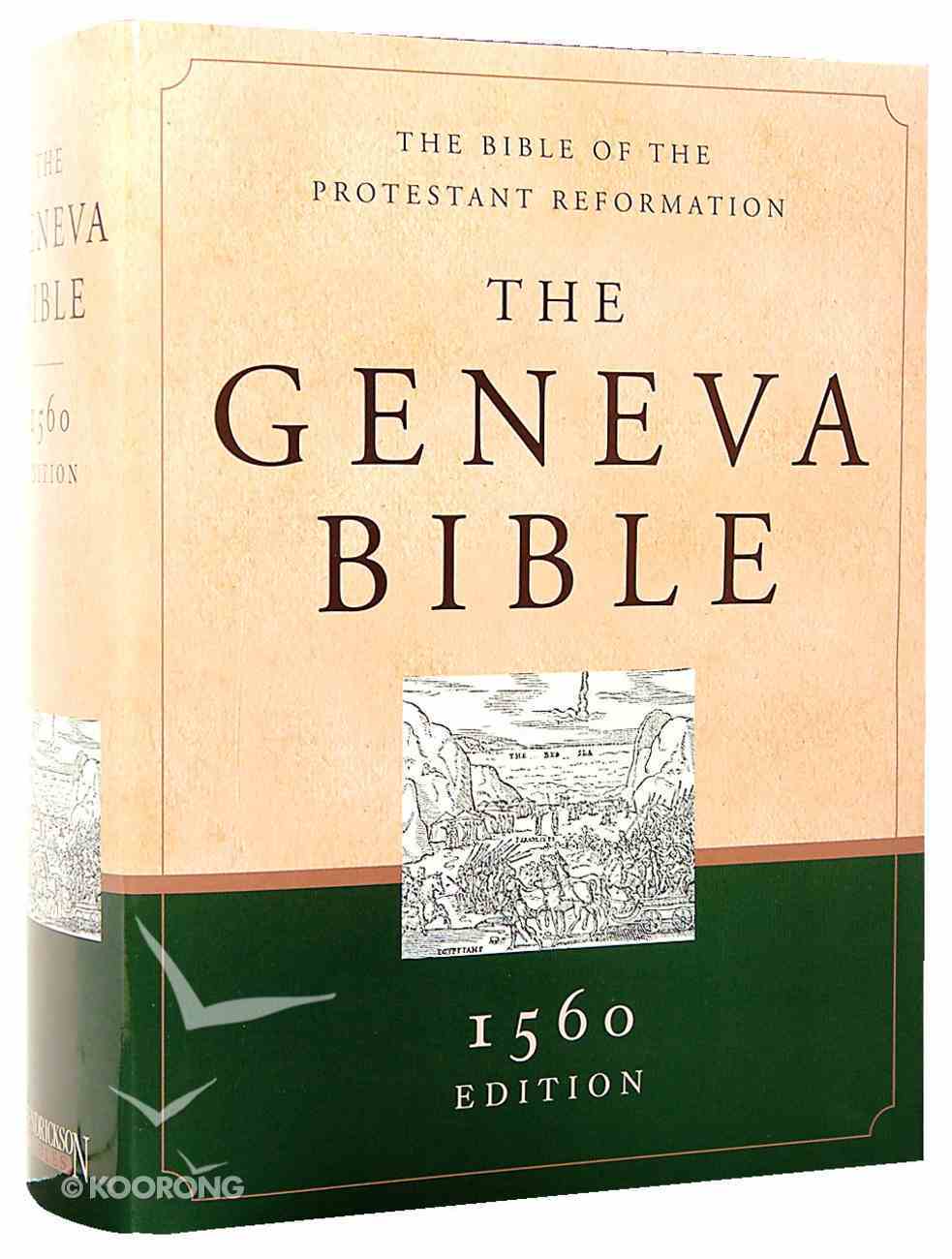 Geneva Bible 1560 Edition Green/Sand
The Bible of the Protestant Reformation Sixteenth century English Protestant scholars were determined to make the scriptures understandable to common people, so that, as William Tyndale famously put it, "the boy that driveth the plough should know more of...
Available Now.
7 Available
---
Expected to ship tomorrow from Australia.
---
Free Shipping
for orders over $99.
The Bible of the Protestant Reformation

Sixteenth century English Protestant scholars were determined to make the scriptures understandable to common people, so that, as William Tyndale famously put it, "the boy that driveth the plough should know more of the scriptures" than the educated man.

However, Queen Mary's (1553-1558) persecution of her Protestant subjects caused many to flee to the continent to avoid imprisonment or execution. Geneva, Switzerland soon became a center for Protestant biblical scholarship. It was there that a group of the movement's leading lights gathered to undertake a fresh translation of the scriptures into English, beginning in 1556.

Published in 1560, the Geneva Bible's popularity kept it in print until 1644long after the advent of the Authorized Version (a.k.a. King James Version). It was an English Bible that met the needs of both clergy and laity. Perhaps the Geneva Bible's greatest contribution was its commentary, which under girded the emerging practice of sermonizing and helped foster scripture literacy. The Geneva Bible was the first to feature many innovations in the field of Bible publishing: Text printed in readable roman type; 7 pt. type Division of the text into numbered verses Italic type used for words not in the original languages Marks placed over the accented syllables to aid in pronouncing proper names Extensive textual and explanatory commentary placed in the margins Words/phrases displayed at the heads of pages to promote scripture memorization Maps and woodcuts illustrating biblical scenes included Sold in a variety of sizes so many people could afford a household Bible The Geneva Bible accompanied English settlers voyaging to the new world. It is probable that the Geneva Bible came to America in 1607 and was used in the Jamestown colony. Thirteen years later the Pilgrims brought it with them on the Mayflower's perilous voyage to religious freedom. The Geneva Bible stands as a landmark in the history of English Bible translation. Hendrickson's facsimile reproduces one of the finest existing copies of the 1560 Geneva Bible. Using quality materials and crafted to last, Bible collectors and anyone interested in the history of the English Bible will treasure this volume. FAQ Q. Does the Geneva Bible come with the Apochrypha?
A. Yes, like most Bibles printed before 1800, the Geneva Bible comes with the Apocrypha. Q. Will it come with a concordance using Strong's numbers?
A. Hendrickson's 1560 Geneva Bible is a facsimile of an original copy of the book. Therefore it will not include "modern" features such as a concordance with Strong's numbers.
-Publisher
"Johannes Gutenberg's invention of the moveable type printing press in the mid-Fifteenth Century made possible the explosion of new Bible translations in the Sixteenth Century. Among others William Tyndale, Miles Coverdale and Thomas Matthew sought to cast the scriptures in the common peoples' language so that, as Tyndale put it, "the boy that driveth the plough should know more of [them]" than the educated man." "But translating the Word of God into the vernacular was a risky occupation: ecclesiastically-charged word choices made for the English text and the nature of the commentary that often accompanied it had the potential of challenging the authority of royalty and clerics alike." "An adherent to Catholicism, Henry's daughter Queen Mary actively persecuted the Protestant Church when she took the throne. Many Protestant leaders fled to continental Europe to avoid imprisonment or execution as a result of this turmoil and Geneva, Switzerland became a center for biblical textual scholarship by the 1550's. It was there that a number of the leading lights in Protestantism gathered to undertake a fresh translation of the scriptures into English, beginning in 1556." "The Genevans referred to a wide range of resources during the course of their translation work. They availed themselves of modern Bibles in English (particularly Coverdale's 1539 revision of Matthew, popularly known as the "Great Bible") and French (Pierre Robert Olivetans and Robert Estienne's translations). The scholars also consulted recent editions of the scriptures in Hebrew, Greek and Latin that were themselves the products of Protestant refugees living in Geneva." "The first fruit of the Geneva translators was an edition of the Book of Psalms (published in February, 1559) celebrating Queen Elizabeth's accession to the throne of England the previous November. Elizabeth's rule ended persecution of the Protestants. Catholic bishops were deprived of their sees, the Church of England was restored and Edward VI's decree that a Bible should be placed in every church was reinstated. Many Protestants returned from exile as a consequence of these welcome measures." "The Book of Psalms had important features that would be emblematic of the Geneva Bible as well. Among these were text printed in readable roman type, italic type for words not in the original Hebrew and marks placed over the accented syllables to aid in pronouncing Hebrew proper names." "The Geneva Bible itself, appearing in April or May 1560, boasted further innovations that expanded its utility. These included division of the text into numbered verses, the placement of textual and explanatory commentary in the margins, maps, woodcuts illustrating biblical scenes and words or phrases at the heads of pages to promote scripture memorization." "Now there was an English Bible that met the needs of both clergy and laity. It can be argued that the Geneva Bible's greatest contribution was its ancillary commentary, which undergirded the emerging practice of sermonizing and helped foster scripture literacy." "From 1575 until 1618 at least one new edition of the Geneva Bible appeared each year. Unlike earlier Bibles that were only available in unwieldy folio volumes, the Geneva Bible was printed in a range of smaller sizes that made the Bible more portable and affordable to a greater audience. And while the Authorized Version of 1611 (King James Version) would eventually supplant the Geneva Bible in popularity, it is estimated that material from the latter accounted for nineteen per cent of the finished text of the AV." "English settlers that voyaged to the New World favored the Geneva Bible. It is probable that the Geneva Bible came to America in 1607 and was used in the Jamestown colony. Thirteen years later the Pilgrims brought it with them on the Mayflower's perilous voyage to religious freedom."--BOOK JACKET.
-Publisher
PRODUCT DETAIL
Catalogue Code 

266498

Product Code 

9781598562125

ISBN 

1598562126

EAN 

9781598562125

Pages 

1280

Department Bibles
Category Other Versions
Sub-Category Specialty
Publisher Hendrickson Publishers
Publication Date 

Nov 2007

Sales Rank 

14331

Dimensions 

234 x 177 x 57

mm

Weight 

1.787

kg
Bestsellers in Other Versions