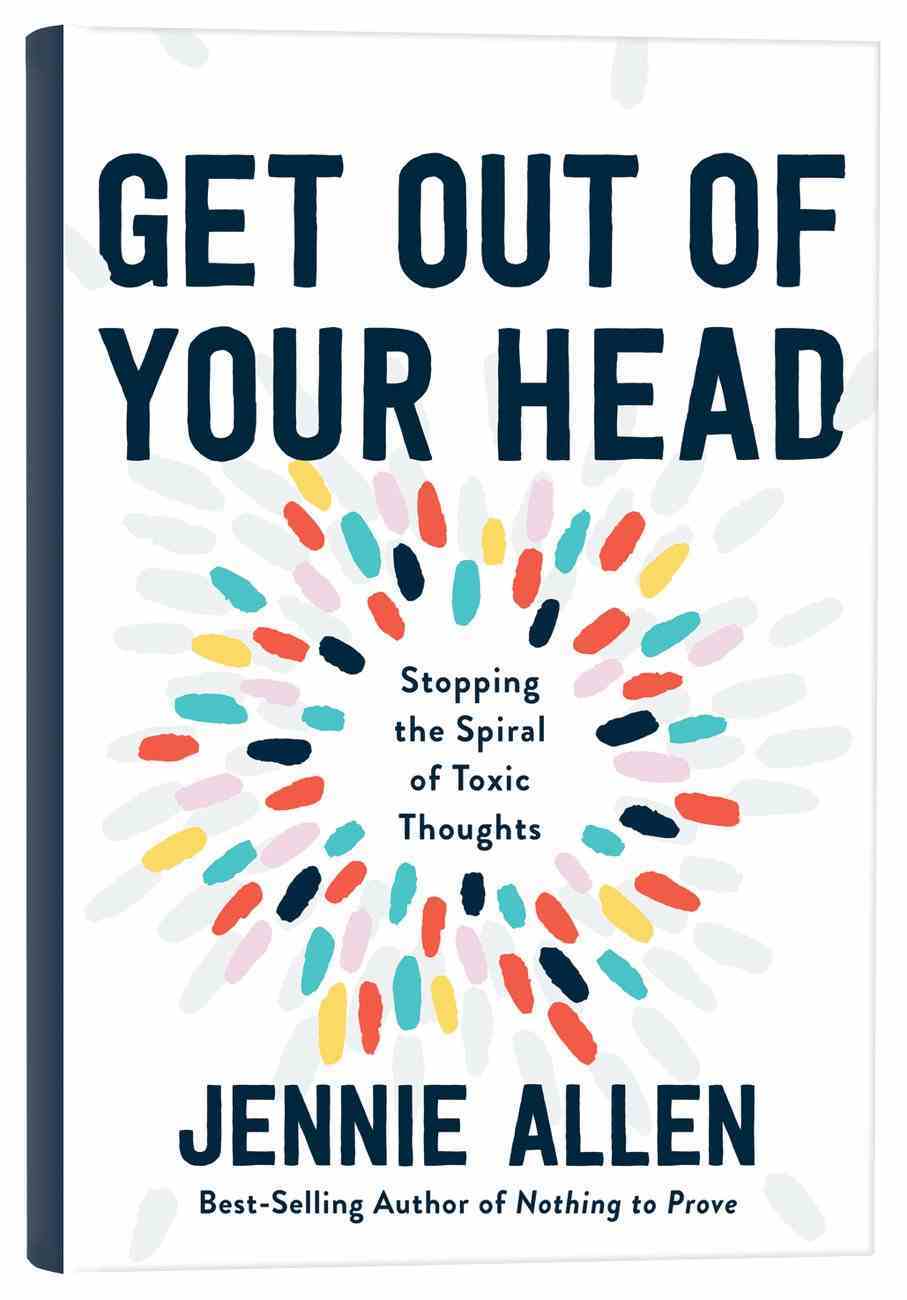 Get Out of Your Head: Stopping the Spiral of Toxic Thoughts
Are your thoughts holding you captive? I'll never be good enough. Other people's lives are better than mine. God can't really love me. This book challenges you to end the spiral of negativity, submit your mind to Christ, and allow...
---
Expected to ship within 8 hours from Australia.
---
Free Shipping
for orders over $99.
Are your thoughts holding you captive? I'll never be good enough. Other people's lives are better than mine. God can't really love me. This book challenges you to end the spiral of negativity, submit your mind to Christ, and allow God's promises and goodness to flood your life in remarkable ways.
:NEW YORK TIMES AND USA TODAY BESTSELLER • The visionary behind the million-strong IF:Gathering challenges Christian women to transform their outlook and their lives by interrupting their spiraling thoughts and realizing their God-given power to think differently.

"A must-have resource for anyone looking to get control of their thoughts."-Lysa TerKeurst, #1 New York Times best-selling author and president of Proverbs 31 Ministries

Are your thoughts holding you captive? I'll never be good enough. Other people have better lives than I do. God couldn't really love me. Jennie Allen knows what it's like to swirl in a spiral of destructive thoughts, but she also knows we don't have to stay stuck in toxic thinking patterns.

As she discovered in her own life, God built a way for us to escape that downward spiral. Freedom comes when we refuse to be victims to our thoughts and realize we have already been equipped with power from God to fight and win the war for our minds.

In Get Out of Your Head, Jennie inspires and equips us to transform our emotions, our outlook, and even our circumstances by taking control of our thoughts. Our enemy is determined to get in our heads to make us feel helpless, overwhelmed, and incapable of making a difference for the kingdom of God. But when we submit our minds to Christ, the promises and goodness of God flood our lives in remarkable ways.

It starts in your head. And from there, the possibilities are endless.
-Publisher
PRODUCT DETAIL
Catalogue Code 

564548

Product Code 

9781601429643

ISBN 

1601429649

EAN 

9781601429643

Pages 

256

Department General Books
Category Women
Sub-Category General
Publisher Waterbrook Press
Publication Date 

Jan 2020

Sales Rank 

265

Dimensions 

216 x 146 x 21

mm

Weight 

0.453

kg
Features In Catalogues
Jennie Allen is the founder and visionary behind IF:Gathering, an organization that equips women to know God more deeply and to disciple others in their own lives. Through simulcasts and live events, IF has reached more than one million women in nearly two hundred countries and has seven thousand women leading in-person gatherings around the world. A popular podcaster and sought-after speaker, Jennie has taught at Women of Faith, Catalyst, Q Conference, and Send (North American Mission Board), as well as some of the largest churches in North America. She is the author of several books and study guides, including Restless, Anything, and Nothing to Prove. Jennie has a master's degree in biblical studies from Dallas Theological Seminary. She and her husband, Zac, live in Dallas, Texas, with their children.
:
Part One


All the Thoughts


1


Thinking About Thinking


"Take every thought captive." They say authors write books for two reasons: either the author is an expert on the subject, or the subject makes the author desperate enough to spend years finding the answers. The latter most definitely describes me.


This morning I woke up intending to write to you. But first, I thought, I need to spend time with God. So what did I do? I picked up my phone. I noticed an email about something I was working on, in which the sender was "constructively" critical of my work. Just as I decided to set my phone down, something else stole my attention…and the next thing I knew, I was on Instagram, noticing others' wins and glories contrasted with my work in process that seemed to not be measuring up. In minutes with my phone, I decided that I was an inadequate writer, I was spending my life chasing things that mean nothing because I am nothing, I have nothing to say. I was spiraling fast into discouragement.


Then my husband, Zac, came in happy, having just met with God, and I snapped at him. My spiral began to spin faster and more chaotically. In less than an hour, I had diminished myself, criticized all my work, decided to quit ministry, ignored God, and pushed away my greatest advocate and friend.


Wow. Brilliant, Jennie. And that was only this morning? And now you want to try to help me with my chaotic thoughts?


Well, I hear you. And I imagine all my life I will be in process with this. But because of the discoveries I get to share with you here, instead of my spiral stealing a day, a week, a few years…just an hour into it, there was a shift in my thinking.


I did not stay paralyzed. I am free and joyful and writing to you.


I want you to know that you do not have to stay stuck either. God built a way for us to escape the downward spiral. But we rarely take it. We have bought the lie that we are victims of our thoughts rather than warriors equipped to fight on the front lines of the greatest battle of our generation: the battle for our minds.


The apostle Paul understood the war that takes place in our thoughts, how our circumstances and imaginations can become weapons that undermine our faith and hope. The Bible records his bold declaration that we are to "take every thought captive to obey Christ."


Take every thought captive? Is that possible? Have you ever tried?


Once a bird flew into our tiny house and wouldn't fly out. It took more than an hour for our whole family working together to catch that silly little sparrow. Shooting the bird with a BB gun? Easy. But capturing the wild sparrow flailing through our house was an altogether-different task, a nearly impossible one.


How much more impossible to capture a wild thought on the fly? Yet the book I build my life on is telling me to captureall my thoughts, every one of them?


Is God serious?


Is this even possible? Because honestly my thoughts run wilder than that hyperactive sparrow.


And yours do too. I see the same wild chaos in your eyes and those of nearly every woman I meet. Like the young woman in so much pain who sat across from me this week, drowning in anxiety she has been fighting for two years. She looked at me, pleading, "Help. Tell me what to do!"


"I don't want to live anxious," she said. "I'm in counseling. I'm in Bible study. I'm willing to take medicine. I want to trust God. Why can't I change? Why do I feel so stuck in this?"


Goodness, I relate and have fought the same thing.


It's incredible, if you think about it: How can something we can't see control so much of who we are, determine what we feel and what we do and what we say or don't, dictate how we move or sleep, and inform what we want, what we hate, and what we love?


How can the thing that houses all those thoughts—just a bunch of folded tissue—contain so much of what makes us who we are?


Learning to capture our thoughts matters. Because how we think shapes how we live.


The Patterns That Keep Us Stuck


The subject of neuroscience has captivated me for years now, ever since one of my brilliant daughters began educating me on the science of the brain. When Kate, now a junior in high school, was in the seventh grade, she came home from school one afternoon and announced to the rest of us—her two brothers, her sister, my husband, Zac, and me—that she was going to cure Alzheimer's disease someday.


We smiled, but years later she still is reading books and articles on the subject, listening to every TED Talk on the brain, sharing research with me. Things like…


Did you know that more has been discovered about our minds in the last twenty years than in all the time before that?


Did you know that an estimated 60 to 80 percent of visits to primary-care physicians have a stress-related component?


Did you know that research shows that "75 to 98 percent of mental, physical, and behavioral illness comes from one's thought life"?


Did you know that, with what we know about the brain today, when Scripture is talking about the heart, it really could be talking about the mind and the emotions we experience in our brains?


Well, no, Kate, I did not. But that's very interesting.


The truth is, it is very interesting to me.


Somewhere along the way, Kate's fascination became mine too. Because she taught me that what she is learning in science is also scattered throughout my Bible and many of the truths in the Bible concerning our thought lives have been backed up by science. This all became increasingly important to me as I became gripped by the idea that taking control of our minds could be the key to finding peace in the other parts of our lives.


For several years I'd been in deep running IF:Gathering, the organization I believe God prompted me to start to disciple women and equip them to go disciple others. I loved our community, our gatherings, and the impact we seemed to be having, but over time I noticed a troubling trend among the women I loved and served every day.


Women would feel conviction at an event or as they worked through our discipleship resources, and they were surrendering their lives more fully to Jesus. They would soar on the wings of that resolve for a week, a month, sometimes a year or even two. But inevitably at some point they'd slip back into old habits, old patterns of doing life. Maybe you know exactly what I mean.


Maybe right now you're thinking of that toxic relationship you finally got out of but then, in a weak moment, resumed.


Or you finally found peace about a less-than-desirable season of your life—but now your emotions have spiraled downward again, and all you do is complain.


Or you were convicted about your porn habit and stopped, only to slip back into the habit weeks later.


Or you recognized a pattern of being critical of your spouse, surrendered it, and truly started to change…just before you circled back to where you began.


Why, I wondered, don't the changes so many women desperately want to make stick over the long haul?


And why did I still struggle with some of the same fears, negative patterns, and other sins that I had been fighting for years?


Even as I observed this boomerang effect at a broad level, I was also in relationship with dear friends, women I knew well, who seemed to battle the same issues year after year. Each time we'd get together, I'd hear the same song, five hundredth verse.


What prevented them from thriving? Why couldn't they get unstuck? Kate's discoveries as she continued to study the brain suggested one strong possibility:


It's all in our heads.


Breaking the Spiral


There is much we don't know about the brain. What's also true: we've learned more about the brain in the past twenty years than we knew for the previous two thousand. We once thought of the mind as an immutable thing. The brain you were born with and the way it worked—or didn't—were just "how it was"; no sense fretting over what can't be changed. We now know thatthe brain is constantly changing, whether or not we intend for it to.


In hopes of discovering how women can break free from our problematic patterns, I started picking up heady books about the mind and about neuroscience and about how real change occurs. I watched TED Talks that Kate pointed me toward about our brain's plasticity.


I listened to brainy podcasts.


I watched brainy documentaries.


I talked to brainy people.


I began to see a pattern at work in many of us. Our emotions were leading us to thoughts, and those thoughts were dictating our decisions, and our decisions were determining behaviors, and then the behaviors were shaping our relationships, all of which would take us back to either healthy or unhealthy thoughts.


Round and round and round we go, spinning down, seemingly out of control, our lives becoming defined by this endless cycle:


Emotion • Thought • Behavior • Relationships • Consequence


Depressing.


Unless. Unless there is a way to interrupt it.