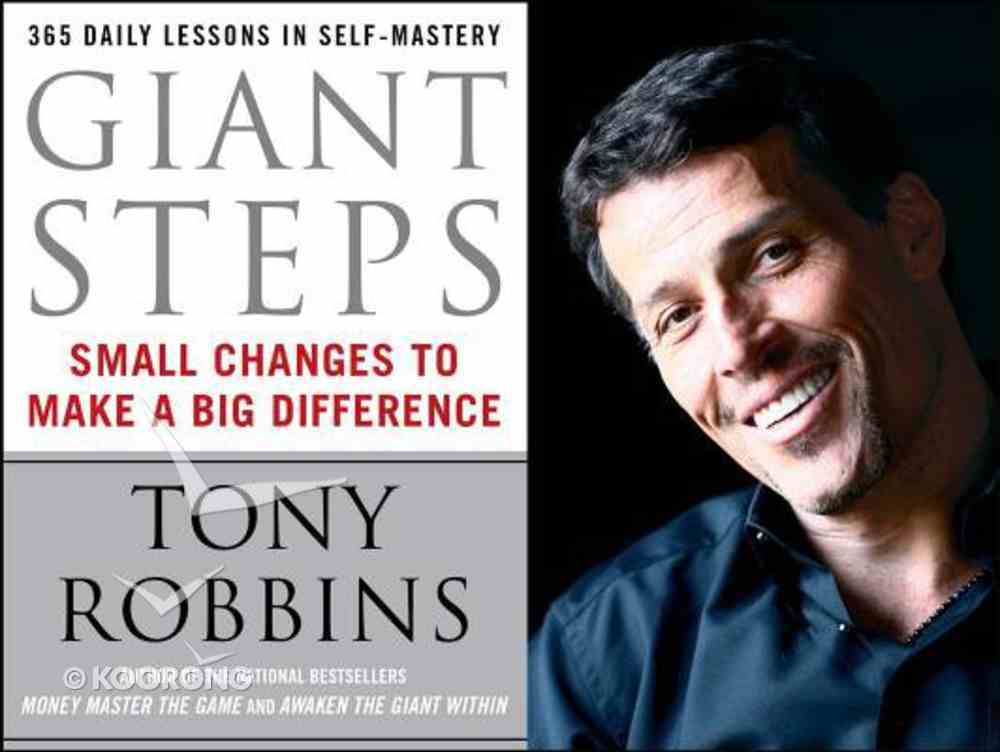 Chapter 1 DREAMS OF DESTINY DECISIONS AND GOAL SETTING "Nothing happens unless first a dream." CARL SANDBURG 1 We all have dreams....We all want to believe deep down in our souls that we have a special gift, that we can...
Out of Stock
Available to Order
---
Expected to ship in 7 to 8 weeks from Australia.
---
Free Shipping
for orders over $99.
Chapter 1 DREAMS OF DESTINY DECISIONS AND GOAL SETTING "Nothing happens unless first a dream." CARL SANDBURG 1 We all have dreams....We all want to believe deep down in our souls that we have a special gift, that we can make a difference, that we can touch others in a special way, and that we can make the world a better place. What's one of your aspirations?Maybe it's a dream you've forgotten or have begun to relinquish. If that vision were alive today, what would your life be like? Take a moment now just to dream and to think about what you really want for your life. 2 It's not what we do once in a whilethat counts, but our consistent actions. And what is the father of all action? What ultimately determines who we become and where we go in life? The answer is ourdecisions.It's in these moments that our destiny is shaped. More than anything else, I believeour decisions -- not the conditions of our lives -- determine our destiny. 3 Who would have thoughtthat the conviction of a quiet, unassuming man -- a lawyer by trade and a pacifist by principle -- would have the power to topple a vast empire? Yet Mahatma Gandhi's decision, his belief in nonviolence as a means to helping India's people regain control of their country, set in motion an unexpected chain of events. Realize the power of a single decision acted upon immediately and with utter conviction.The secret is to make a public commitment, one so forceful you cannot turn back from it. While many thought that his was an impossible dream, Gandhi's consistent commitment to his decision made it an undeniable reality. What could you, too, accomplish if you invoked a similar level of passion, conviction, and action to create unstoppable momentum? 4 Each of us is endowedwith innate resources that enable us to achieve all we've ever dreamed of -- and more.The floodgates can be opened by one decision, bringing us joy or sorrow, prosperity or poverty, companionship or solitude, long life or early death. I challenge you to make a decision today that can immediately change or improve the quality of your life. Do something you've been putting off...master a new set of skills...treat people with newfound respect and compassion...call someone you haven't spoken to in years. Just know thatalldecisions have consequences. Even making no decision at all is a decision in its own way. What decisions have you made or failed to make in the past that powerfully influence your life today? 5 In 1955, Rosa Parks madea decision to defy an unjust law that discriminated against her on the basis of her race. Her refusal to give up her seat on the bus had consequences far beyond those she may have been aware of at the moment. Had she intended to change the structure of a society?No matter what her intent, her commitment to a higher standard compelled her to act. What far-reaching effects could be set in motion by raising the standards you hold for your life and making a true decision to live up to them today? 6 We've all heard about peoplewho've exploded beyond the limitations of their conditions to become examples of the unlimited power of the human spirit. You and I can make our lives one of these legendary inspirations, as well, simply by having courage and the awareness that we can control whatever happens in our lives.Although we cannot always control the events in our lives, we can always control ourresponseto them, and the actions we take as a result. If there's anything you're not happy about -- in your relationships, in your health, in your career --make a decision right now about how you're going to change it immediately. 7 The more decisions you make,the better you'll beco
-Publisher
WHAT GOOD IS INSPIRATION IF IT'S NOT BACKED UP BY ACTION?
Based on the finest tools, techniques, principles, and strategies offered in Awaken the Giant Within, best-selling author and peak performance consultant Anthony Robbins offers daily inspirations and small actions -- exercises -- that will compel you to take giant steps forward in the quality of your life.


From the simple power of decision-making to the more specific tools that can redefine the quality of your relationships, finances, health, and emotions, Robbins shows you how to get maximum results with a minimum investment of time.


-Publisher
Anthony Robbins studies the strategies of the most successful people in the world and conveys them to the average person in Unlimited Power, Awaken the Giant Within, and Giant Steps. He also developed Personal Power, an audio series.