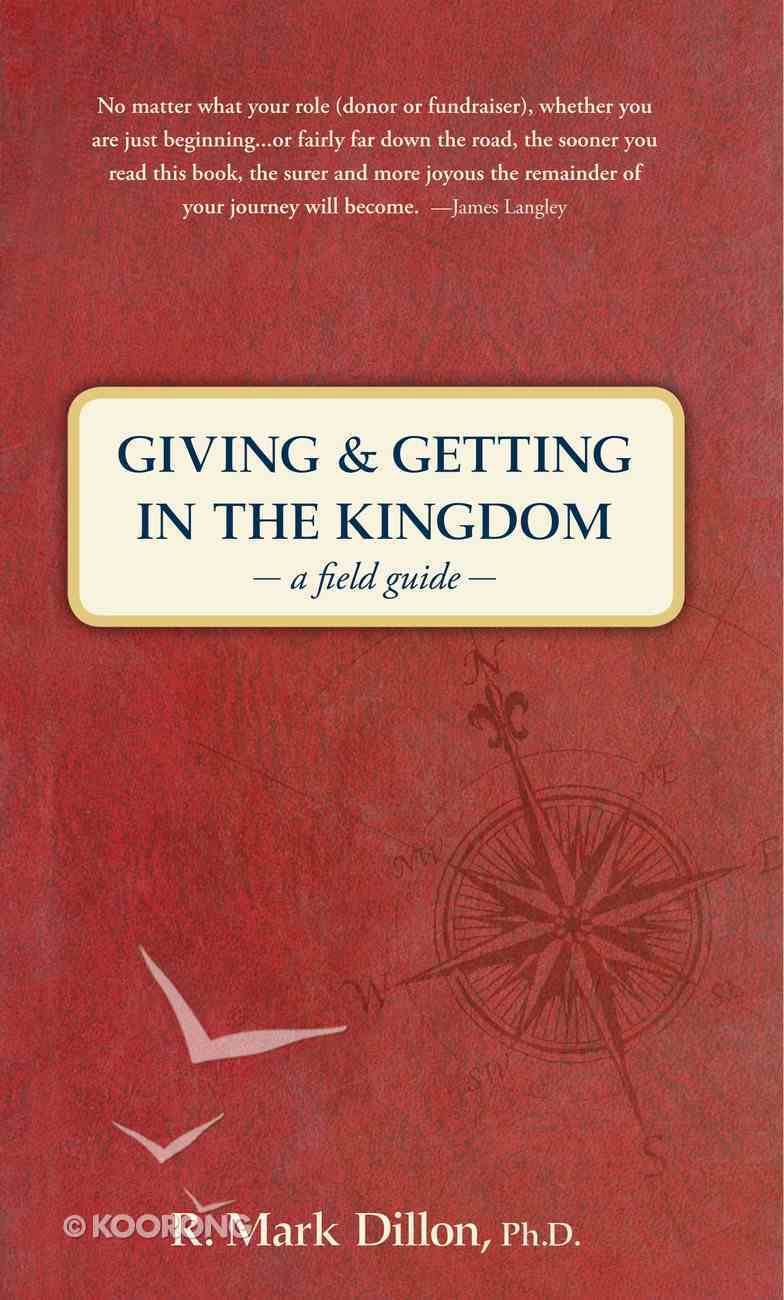 Giving and Getting in the Kingdom
Fundraising for an organization or ministry is not merely an important task, it's a noble one. Successful leaders must possess the theological vision to recognize the necessity of asking, the joy of giving, and the beautifully collaborative nature of...
Instant download
---
Expected to ship tomorrow from Australia.
---
Read using our free app on your tablet or mobile!
---
Free Shipping
for orders over $99.


Fundraising for an organization or ministry is not merely an important task, it's a noble one. Successful leaders must possess the theological vision to recognize the necessity of asking, the joy of giving, and the beautifully collaborative nature of advancing the kingdom. It should come as no surprise that the literal translation of the word philanthropy is "love of mankind"- and Christian philanthropy enables us to love God through loving man.


Mark Dillon has spent his career interacting with hundreds of thoughtful Christian stewards, and reframing the discussion on giving. He challenges leaders to ensure their organizations and ministries are worthy of the gifts they receive. Highly practical and refreshingly candid, Giving and Getting in the Kingdom delivers much-needed perspective on the eternal significance of our earthly transactions.


^and . . . funds.


Fundraising for an organization or ministry is not merely ^an important task, it's a noble one. Successful leaders must possess the theological ^vision to recognize the necessity of asking, the joy of giving, and the beautifully ^collaborative nature of advancing the kingdom. It should come as no surprise that ^the literal translation of the word philanthropy is "love of mankind"- and ^Christian philanthropy enables us to love God through loving man.


Mark ^Dillon has spent his career interacting with hundreds of thoughtful Christian stewards, ^and reframing the discussion on giving. He challenges leaders to ensure their organizations ^and ministries are worthy of the gifts they receive. Highly practical and refreshingly ^candid, Giving and Getting in the Kingdom delivers much-needed perspective ^on the eternal significance of our earthly transactions.


Inside Back ^Flap


 


Dr. R. Mark Dillon is Vice President ^for Advancement at Wheaton College. He has consulted with numerous colleges, universities, ^and seminaries in North America as well as local churches and nonprofit ministries. ^For more than 25 years the author has led development professionals, first at Trinity ^Evangelical Divinity School/Trinity College, and now at Wheaton College.


 


He ^is the author of Advancing Advancement: A Study of Fundraising Effectiveness ^among Protestant Seminaries in the U.S., and serves as Chair of the Chief Institutional ^Advancement Officers (CIAO) Commission of the Council for Christian Colleges and ^Universities.


 


Dr. Dillon and his wife, Susan, live in Wheaton, ^Illinois.


 


Back Cover


A blueprint ^for strategic fundraising which serves the body of Christ and advancing the kingdom ^of God.


 


 


"Read this and you will ^agree that Giving and Getting in the Kingdom will become the gold standard ^for all of us who are called to the high calling of gathering for the advancement ^of the work of Christ."


Joseph Stowell, president, Cornerstone University


 


"No ^matter what your role, whether you are just beginning to fundraise or fairly far ^down the road, the sooner you read this book, the surer and more joyous the remainder ^of your journey will become. This book gives us the gift of knowing what this field ^is, or can be, at its very, very best."


                ^James M. Langley, president, Langley Innovations


 


"Giving ^and Getting in the Kingdom is a powerful resource that will recharge your passion ^for stewardship!"


Dan Busby, president, ECFA


 


"Follow ^his advice and you will achieve best practices for your church or parachurch organization."


Phil ^Hubbard, president, Hubbard Management Group, LLC Chairman, English Language Institute/China ^(ELIC)


 


"There is no better voice to bring clarity ^to the calling of advancing Christ's kingdom than my friend Mark Dillon."


Dan ^Coats, United States Senator


 


"I highly commend ^his thoughtful and practical book for those interested in serving givers well and ^resourcing causes abundantly."


Todd Harper, president, Generous ^Giving


DR. R. MARK DILLON is Vice President for Advancement at Wheaton ^College, Wheaton, Illinois. He has consulted with numerous colleges, universities, ^and seminaries in North America as well as a number of local churches and nonprofit ^ministries. For over 25 years the author has led a team of development professionals, ^first at Trinity Evangelical Divinity School/Trinity College and for the past 17 ^years at Wheaton College, Wheaton, IL. He has engaged with hundreds of thoughtful ^Christian stewards and ministry leaders. Dr. Dillon and his wife, Susan, live in ^Wheaton and are the proud parents of three children, Daniel, Joel, and Laura Grace, ^and grandparents to five precious grandchildren.


Fundraising for an organization or ministry is not merely an important ^task, it's a noble one. Successful leaders must possess the theological vision to ^recognize the necessity of asking, the joy of giving, and the beautifully collaborative ^nature of advancing the kingdom. It should come as no surprise that the literal ^translation of the word philanthropy is "love of mankind"- and Christian ^philanthropy enables us to love God through loving man.


Mark Dillon ^has spent his career interacting with hundreds of thoughtful Christian stewards, ^and reframing the discussion on giving. He challenges leaders to ensure their organizations ^and ministries are worthy of the gifts they receive. Highly practical and refreshingly ^candid, Giving and Getting in the Kingdom delivers much-needed perspective ^on the eternal significance of our earthly transactions.




Fundraising for an organization or ministry is not merely an important ^task, it's a noble one. Successful leaders must possess the theological vision to ^recognize the necessity of asking, the joy of giving, and the beautifully collaborative ^nature of advancing the kingdom. It should come as no surprise that the literal ^translation of the word philanthropy is "love of mankind"- and Christian ^philanthropy enables us to love God through loving man.


Mark Dillon ^has spent his career interacting with hundreds of thoughtful Christian stewards, ^and reframing the discussion on giving. He challenges leaders to ensure their organizations ^and ministries are worthy of the gifts they receive. Highly practical and refreshingly ^candid, Giving and Getting in the Kingdom delivers much-needed perspective ^on the eternal significance of our earthly transactions.




Foreword


Introduction


Part I. Giving in the Kingdom: A Way ^of THinking


1. God Created Us to Give


2. Philanthropy and the Kingdom


3. ^Philanthropy, Rooted in Christ, Is Eternally Significant


4. The Mind of the ^Giver


5. How Money Flows


Part II. Getting: A Way of Being


6. The ^Messenger Matters


7. The Message Matters


8. The Donor/Investor Matters ^Most


Part III. Fundraising: A Way of Doing


9. The Hallmarks of a Strong ^Program


10. Three Gift Types, and Why Your Organization Needs All Three


11. ^Getting the Word Out


12. The Capital Campaign


13. Beyond Campaigns


14. ^The Unique Challenge of Fundraising in the Church


15. Hard Topics for the ^Christian Fundraiser


Afterword


Notes


Acknowledgements



-Publisher
Bestsellers in Christian Living