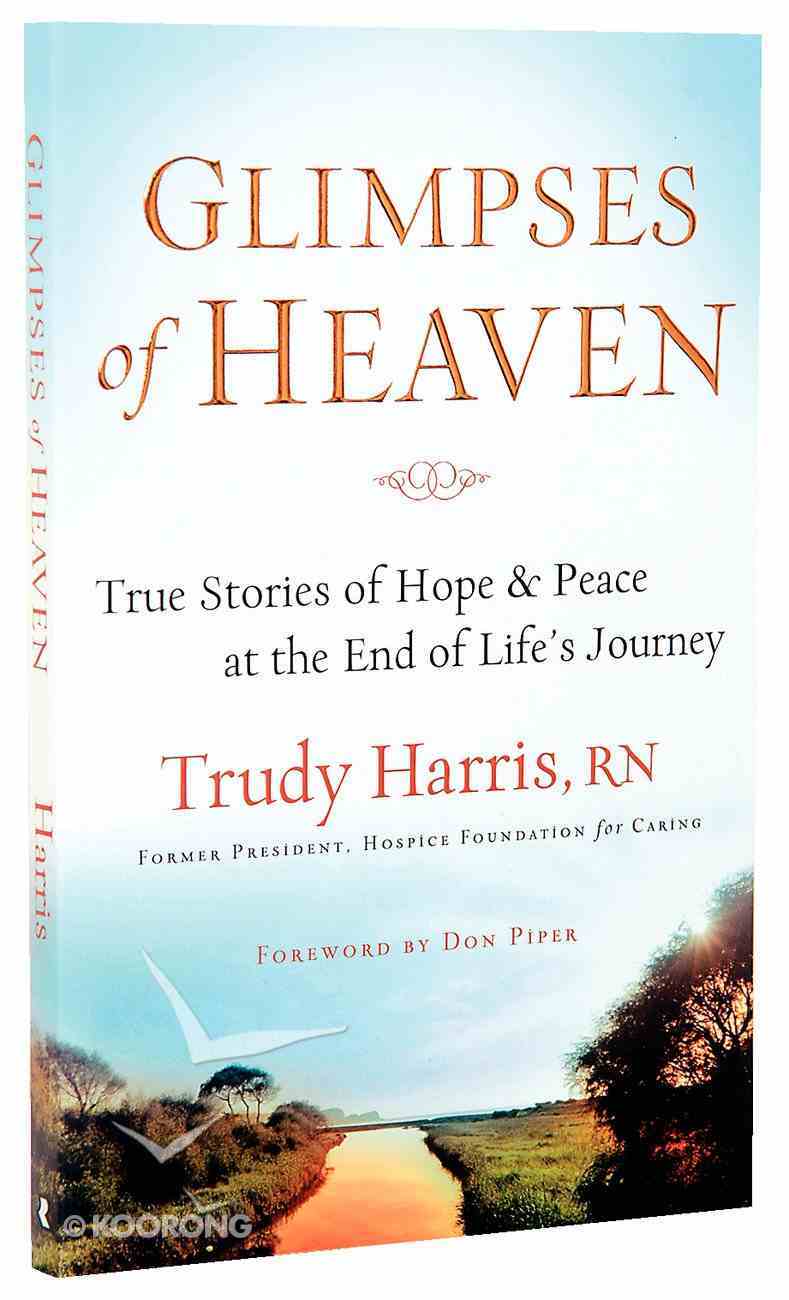 Glimpses of Heaven: True Stories of Hope & Peace At the End of Life's Journey
Tender, heart-breaking, and eye-opening, this book offers readers a window into life after death. Trudy Harris RN shares over 40 true stories - drawn from her three decades of nursing experience - in which dying patients describe the world beyond...
---
Free Shipping
for orders over $99.
Tender, heart-breaking, and eye-opening, this book offers readers a window into life after death. Trudy Harris RN shares over 40 true stories - drawn from her three decades of nursing experience - in which dying patients describe the world beyond our mortality.
Trudy Harris began her career with Hospice in 1981, eventually becoming the president of the Hospice Foundation for Caring. This collection of more than forty true stories of Harris??'s patients offers readers an incredible glimpse at what lies beyond and what the living can learn from the dying. Her patients have described to her visions of angels and loved ones who have gone on before, the sounds of ethereal music, colors that did not exist on earth. She has been with hundreds of patients as they took their last breaths and knows the kinds of questions that both the dying and the loved ones they are leaving behind ask. ??? What do you say to a loved one who is dying? ??? What happens when we die? ??? How can you make a dying friend feel safe? ??? Does a dying person really see angels, hear music, or see friends and family members who have already died? Tender, heartbreaking, and eye-opening, Glimpses of Heaven offers a window into the world beyond and life after death.
-Publisher
"As part of my work I read many books, but Trudy Harris's description of the spiritual experiences of the dying was something that I could not put down. She is clearly loving and compassionate in sharing how the dying prepare for traveling on to the next life. Trudy has written a beautiful work, helping us know what might happen in our own journey as she gives us courage, hope, and faith in realizing that dying is the path to new life."--Francis MacNutt, PhD, co-founding director, Christian Healing Ministries; author, Healing "It was my privilege to meet Trudy Harris when she began her remarkable and intentional journey of supporting life at its ending. I encouraged her to pursue formal training as a hospice nurse to amplify her innate gift of compassion and ability to provide support and comfort to both terminally ill people and their family members. Her book is a significant addition to the literature in its emphasis on the spiritual dimensions of living each day fully all the way to life's ending. The stories presented reflect the very real communication that occurs at the end of life between the dying person and those who care for them."--Paul Brenner, MDiv; CEO of Hospice Programs in Florida, Maryland, and New York City; consultant for the Healing Project, San Francisco, California"As I read this book, I cried, I laughed, and I thought . . . of my own mortality. This collection of stories transcends generations and time. These stories have tremendous pathos and show tremendous faith and courage. They reaffirmed my faith that whether or not I'm able to say good-bye to those I love at the end, God will be looking out for me and taking me under his wing. What wonderful stories Trudy has given us and what a wonderful gift to those who will read this book."--Bob Losure, former CNN Headline News anchor "In nursing school, Trudy Harris was advised by a treasured mentor to focus her skills at the bedside of her patients. As a pioneer in a fledgling hospice program in northeast Florida, she did just that. Her stories from a nearly three-decade career as a dedicated caregiver--much of it helping terminally people to die well and their families to cope with grief and loss--are detailed on these pages with compassion and hope. Anyone who has experienced death or is facing the loss of a loved one will gain strength from the simple yet powerful truths contained in this book. They reflect death not as an ending but merely as an extension of life. Through the stories of real people told here, we will better understand and take comfort in that passage."--Melody Simmons, journalist"Glimpses of Heaven brings home in so many moving and deeply inspiring ways the reality of life after death--a life filled with the abundance of God's love and the joy of those we loved dearly in this world. We are truly indebted to Trudy Harris for sharing these experiences with many who need to be reassured that the best part is ahead."--Most Reverend John J. Snyder, former Bishop of Saint Augustine"This collection of powerful and poignant stories offers us a window into the minds and hearts of those who are approaching the end of life. This book is for everyone--from health care providers to social workers to clergy, and all of us who will one day find ourselves saying good-bye to someone we love. Trudy's honest glimpses of the last moments of life reveal years of personal experience and countless acts of compassion. Her accounts of family relationships, faith, doubts, fears, expressions of love and forgiveness, and moments of pure tenderness give us a glimpse into what is really important, in death and in life. Glimpses of Heaven goes where few people venture--into a sacred space that is worth exploring."--Paul Malley, president, Aging with Dignity
-Publisher
A kindergarten teacher, author Trudy Harris based this story on an incident in her own childhood.


Bestsellers in Grief, Comfort & Consolation