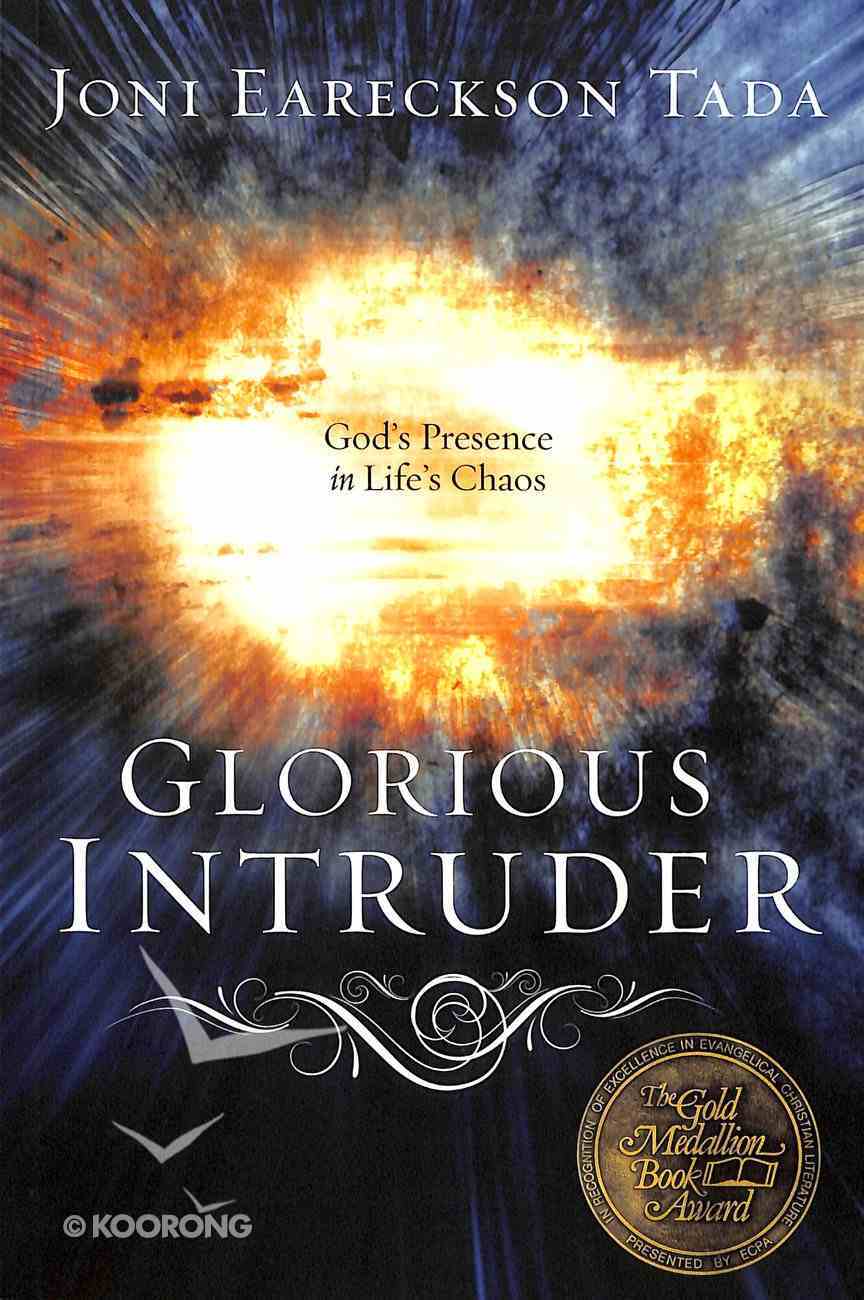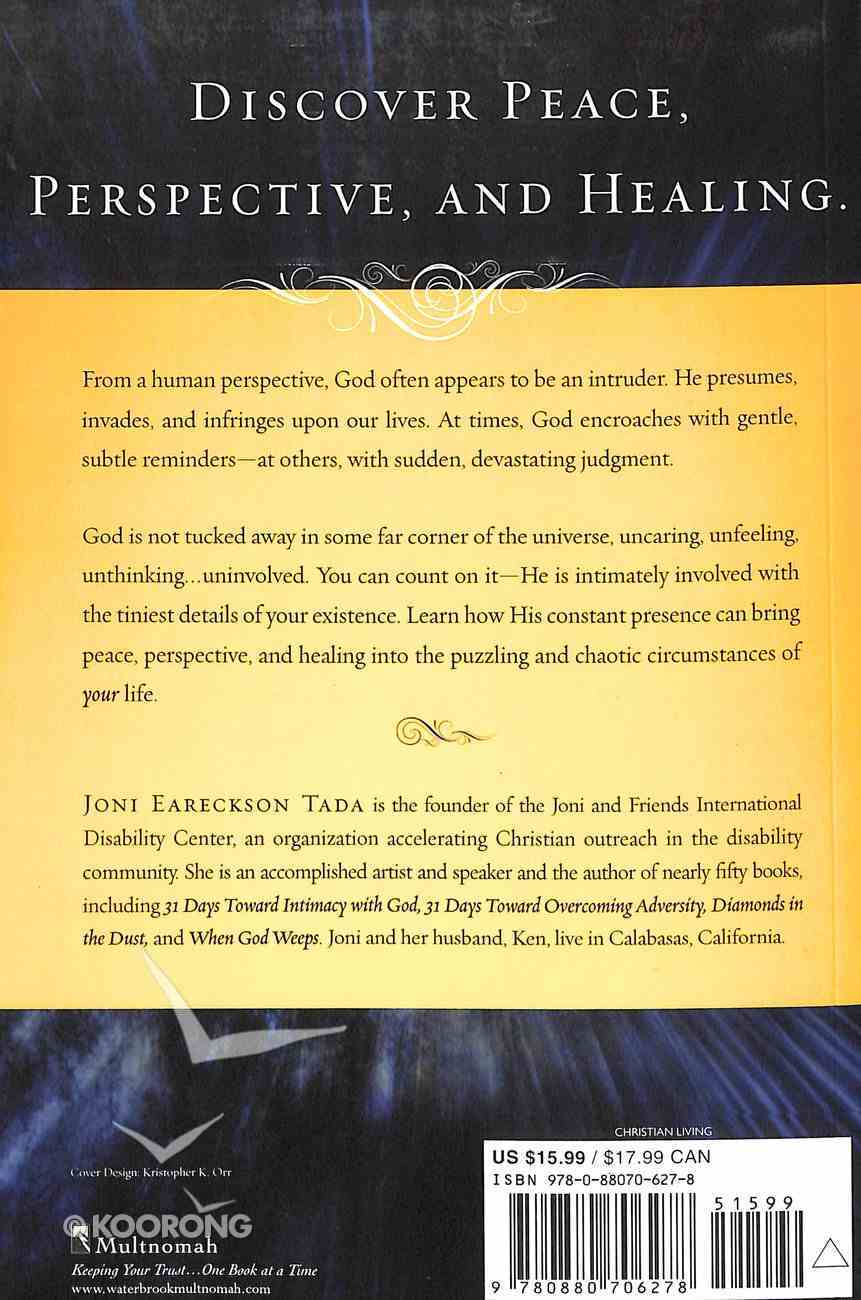 GLORIOUS INTRUDERJoni Eareckson TadaThrough devotional insights Joni tells us how Jesus has intruded intoher life. She shows how His constant presence can bring peace,perspective and healing into the puzzling, even chaotic circumstancesof your life. 270 pages, from Multnomah.
Out of Stock
Available to Order
---
Expected to ship in 4 to 5 weeks from Australia.
---
Free Shipping
for orders over $99.
GLORIOUS INTRUDERJoni Eareckson TadaThrough devotional insights Joni tells us how Jesus has intruded intoher life. She shows how His constant presence can bring peace,perspective and healing into the puzzling, even chaotic circumstancesof your life. 270 pages, from Multnomah.
-Publisher
Offering delightfully sensitive, yet penetrating, insights on God's intimate involvement in our lives, Joni reveals how His constant presence can bring peace, perspective, and healing.
-Publisher
God is intimately involved with the tiniest details of your existence. So learn how his constant pre-sence can bring peace, perspective, and healing into the puzzling and chaotic circumstances of your life, through these powerful devotional insights.
-Publisher
Joni Eareckson Tada has known the grace of God for 30 years after being paralysed from the neck down in a diving accident. Joni is president of JAF Ministries, an organization that accelerates Christian ministry among people with disabilities. She is also host of 'Joni and Friends', a daily radio program in the USA operating out of the International Disability Centre and a sought after conference speaker.


She is the author of more than 30 books, including the bestsellers Diamonds in the Dust, Heaven, and More Precious Than Silver.


In 2003 she was given the Gold Medallion Award for her book When God Weeps and in 2004 for co-authoring Hymns for a Kid's Heart, Volume 1. Her award winning and best-selling autobiography, Joni, was adapted as a full-length feature film. Tada also serves in an advisory capacity to many Institutes concerned with disability, writing and evangelism worldwide. She has been given many awards and holds several honourary doctorates. Joni and her husband, Ken, live in Southern California.


:Introduction

God is an intruder. He encroaches, presumes, invades, and infringes. He crashes the party. Tears aside curtains. Throws open locked doors. Hits the light switch in a dark room. God pulls the fire alarm in stuffy, sacrosanct hallways.

He intruded primeval chaos and brought forth light, beauty, order, and life.

He presumed upon the life of a middle-aged man in the town of Ur, and brought forth a nation.

He trespassed on the cozy security of the Canaanites, smug behind their walls of stone.

He advanced upon the lofty chambers of kings with fingerwagging, feisty old prophets who called down judgment.

He was the unwelcome guest at Belshazzar's feast, writing doom on the wall while the revelers gagged on their wine.

God intruded the womb of a virgin. He stormed Satan's kingdom on a Christmas night in Bethlehem. He talked out of turn in Judah and Galilee with words that "no man spoke before." He crashed the temple courtyards, overturning tables and kicking commerce out the door with a strong arm and a whip of cords.

God overstepped the realm of death itself, stealing its banner and crushing its lord. And in the Most Holy Place of the temple, He audaciously tore the veil from top to bottom.

And in the end, He will once again intervene in history, judging the nations, banishing sin and death, and setting His throne upon earth even as He rules heaven.

God is a glorious intruder in my life, my thoughts, my pain, sorrow, and brokenness.

The Spirit of the Lord even invades me, taking up residence in my very body. His Word is a razor-edged sword, piercing my complacency and dividing my soul and spirit. He boldly intrudes into my sin, brashly calling it what it is, challenging me to leave it behind.

What can we do but marvel in speechless wonder at our powerful and Almighty God—who, incidentally, has every right to intrude? After all, can the owner of the house really "intrude" when he sets foot inside his own door? Can a king be tabbed "interfering" when he visits the subjects of his own realm? Can a craftsman be thought a "trespasser" when he wraps his fingers around his own stick of wood?

God, an intruder? From His perspective, never. From our point of view? It happens all the time. Whether He encroaches with a gentle, subtle reminder or in sudden, devastating judgment.

And that's why I've written this book—so that you may see more of how God intrudes upon your life every day. So you can wonder at it, revel in it, and be gloriously blessed by the fact that your God cares enough to step into your life . . . sometimes when you least expect it.

We dare not think that God is absent or daydreaming. The donothing God. He's not tucked away in some far corner of the universe, uncaring, unfeeling, unthinking . . . uninvolved. Count on it—God intrudes in glorious and myriad ways.

And thank His holy Name He does!

Waiting
Trusting a God Who Lives Beyond Time

God, are you there?

Silence.

Are you listening?

More silence.

Ummm…am I getting the idea that You're asking me to wait? Is that what I'm supposed to do? Just—sit here and WAIT?

A very long silence.

Why is it, God, that when I want to charge ahead, You insist I wait? And at other times—when I feel like waiting—You push me forward?

Deafening silence.

You had hoped God wouldn't do this. Not now, not at this time, not in this situation. But He has. And it's exasperating. He replies to your questions with long, drawn-out periods of silence. No answers, no directions, no warm fuzzies, no road sign pointing, "This is the way, walk ye in it." Just…waiting.

Okay. If I have to sit here and wait, then I'll…I'll…

Before you know it, you've created your own noise, activity, and excitement—anything but that grating stillness which seems to rub against the grain of your soul.

It's a common problem. We frantically crowd our time with more frenzy, hoping to satisfy our soul's longings. We do spiritual frog-hops from one activity to the next….
sign up for an extra committee at church…
agree to accept the chairman position…
volunteer in the nursery…
arrange for the Bible study's potluck dinner…
count the offering after every worship service…
offer to help with the junior Sunday school class…

And what does all this get us? Spiritual exhaustion. Mental burnout. Physical drain. And even a few more irksome feelings about God.

Oswald Chambers has observed, "When we are in an unhealthy state physically or emotionally, we always want thrills. And in the spiritual domain, if we insist on getting thrills, on mounting up with wings, it will end in the destruction of spirituality.''

But I'm tired of waiting! you say.

Ah, the Spirit of Christ hasn't forgotten you. He's listening. Finally you heave a deep sigh. I'm at the end of my rope. I yield to You, Lord.

The Spirit is working.

Ignoring your frenzy, bypassing your busyness, the Glorious Intruder quietly elbows His way into your activity, whispering, "Be still and know that I am God."

Even though you have a hard time believing that any worthwhile activity can exist in stillness, God begins to do His hushed work in your heart. He gives you His inexplicable calm as you wait by the hospital bed of your husband. He gives you patience as you wait for the letter of acceptance from college. Peace as you wait for the job opportunity. And more than that, He gives you Himself, His intimacy, as you search for an answer to your deepest longings. It dawns on you that rush is wrong nearly every time.

It's a command; it's a charge: "Keep silence before Me…and let the people renew their strength" (Isaiah 41:1, KJV).

It's a bidding, a mandate: "Be silent, all mankind, before the LORD" (Zechariah 2:13, TLB).

When we do, when we are—wonder of wonders!—we hear "a still, small voice." God's answer comes only through waiting.