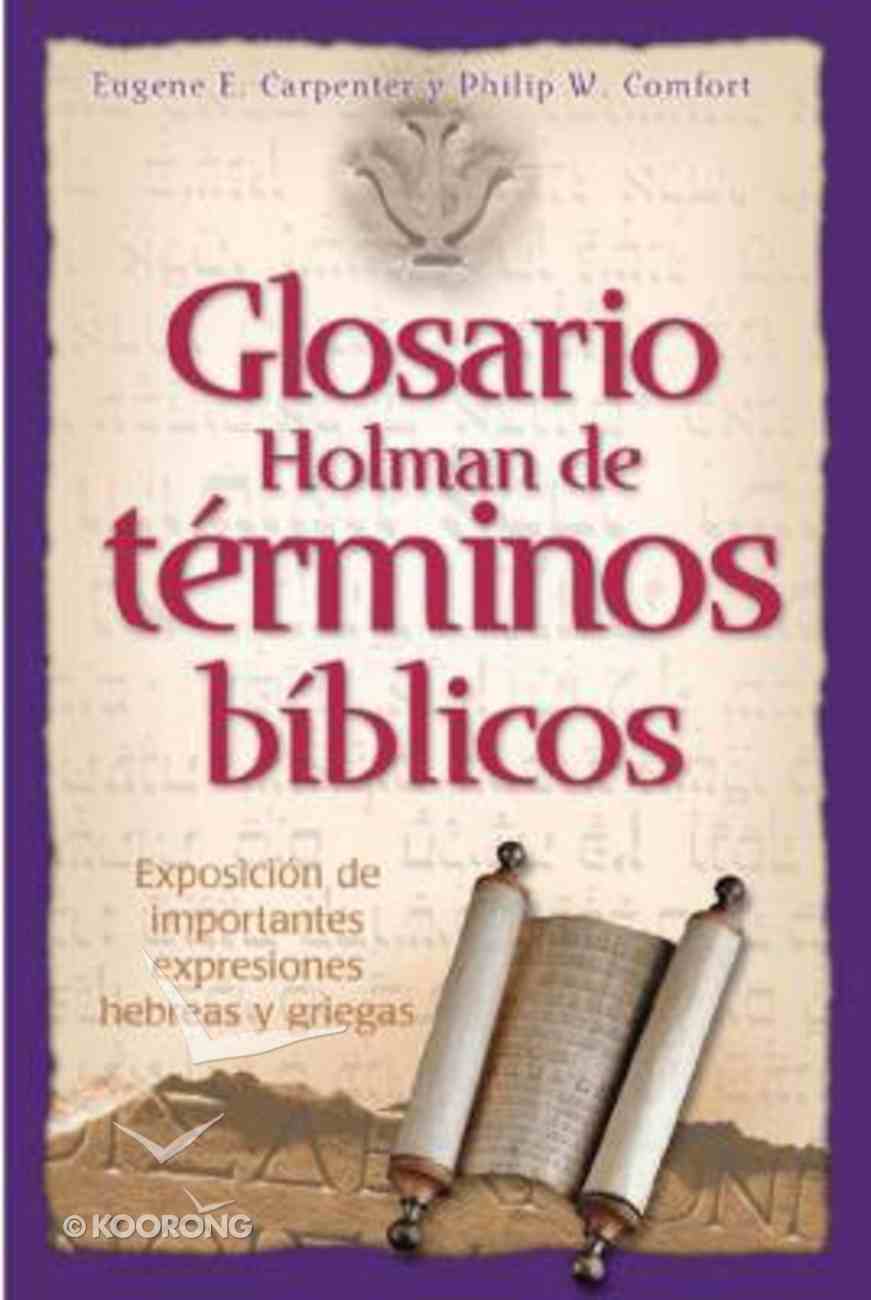 Glossario Holman De Terminos Biblicos (Holman Treasury Key Bible Words)
The Holman Treasury of Key Bible Words has a clearly written explanation of 400 key Bible words.
Order now to secure your copy when our stock arrives.
0 Available. Expected to ship in 6 to 7 weeks from Australia.
---
Expected to ship in 6 to 7 weeks from Australia.
---
Free Shipping
for orders over $99.
The Holman Treasury of Key Bible Words has a clearly written explanation of 400 key Bible words.
-Publisher
Puritan writer John Robinson said, ""As the waters are most pure and sweet in the fountain, so are the Scriptures in their original languages."" Unfortunately, most Christians don't have access to the original languages and many have difficulty making use of Vine's and Strong's. The Glosario Holman de terminos de biblicos has a clearly written explanation of 400 key Bible words. Each word study includes: - The Spanish translation of the key Hebrew or Greek word - The transliteration of the word of The associated Strong's numbers - A succinct definition of the word - Representative examples of how the word is used throughout Scripture - A list of key Bible passages where the word can be found.
-Publisher
En lengua griega, "Biblia" significa "los libros". La Biblia reune una gran diversidad de textos tales como plegarias, rituales, revelaciones, mitos, preceptos eticos y narraciones historicas. Al comienzo estos contenidos se transmitian en forma oral de una generacion a otra y luego comenzaron a ser fijados por escrito. En el transcurso del tiempo cada comunidad comenzo a desarrollar su propia interpretacion. Sin duda, la mejor aproximacion a cualquier texto es en su lenguaje original. Sin embargo, en el caso de la Biblia son pocas las personas que pueden leer los textos en hebreo o en griego. Para facilitar su comprension e interpretacion, este libro incluye 400 terminos fundamentales, incluyendo su traduccion del hebreo y del griego al espanol, ejemplos de su uso en diferentes contextos y un listado de aquellos pasajes biblicos donde aparece.
-Publisher
Dr. Eugene Carpenter (Ph.D., Fuller Theological Seminary) is Scholar in Residence at Bethel College, and Professor of Old Testament, Biblical Theology and Hebrew. He has authored or contributed as editor-author to eight books. His latest books include: a commentary on the Book of Daniel (Cornerstone Biblical Commentary), a commentary on the Book of Exodus; a Bible Dictionary (2246 pp.), The Complete Word Study Dictionary of the Old Testament (AMG), and most recently Deuteronomy (New Illustrated Bible Background Commentary)
. He is currently involved in translation projects where he is translating the books of Exodus and Numbers from the ancient Greek translation, The Septuagint.
Koorong -Editorial Review.


Philip W. Comfort (PhD. in Theology from Fairfax University, D. Litt.et Phil in Literary Studies from the University of South Africa) has taught classes at a number of colleges, including Wheaton College, Trinity Episcopal Seminary, Columbia International University, and Coastal Carolina University. He is currently senior editor of Bible reference at Tyndale and served as New Testament editor for the New Living Translation.
He has contributed a number of books to the Tyndale collection, both as author and editor. Among these are The New Greek-English Interlinear New Testament, The Origin of the Bible, The Tyndale Bible Dictionary, Essential Guide to Bible Versions, The Text of the Earliest New Testament Greek Manuscripts (with D. Barrett), Who's Who in Christian History--and recently Philippians, 1 and 2 Thessalonians, 1 John in the Cornerstone Biblical Commentary and The Many Gospels of Jesus with Jason Driesbach.


Bestsellers in Global Language