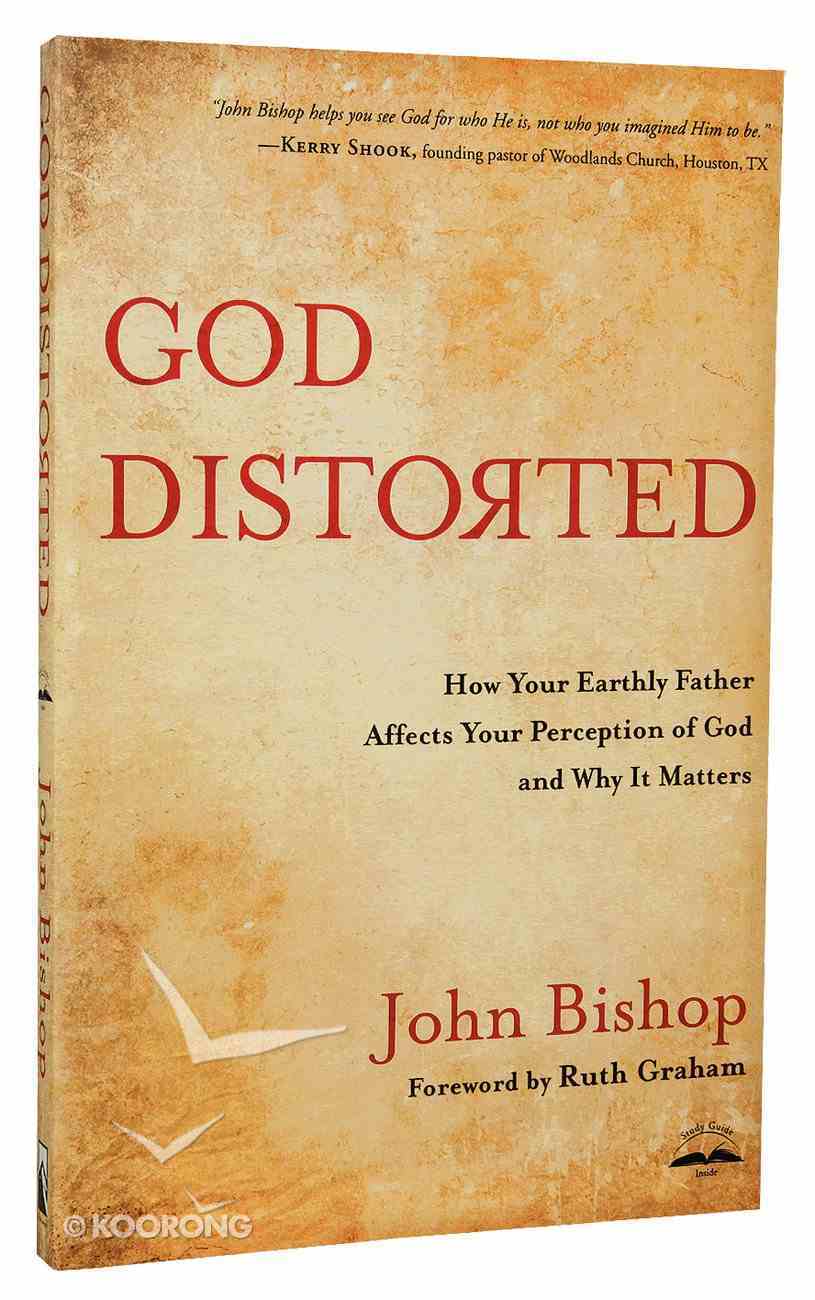 Our view of God is inevitably shaped by how our earthly fathers have related to us. John Bishop helps you discover that God is not just like your dad. Instead, God is the Father revealed in Scripture, a father who...
---
Free Shipping
for orders over $99.
Our view of God is inevitably shaped by how our earthly fathers have related to us. John Bishop helps you discover that God is not just like your dad. Instead, God is the Father revealed in Scripture, a father who is always there, up close and personal, fully pleased, in complete control, and completely safe!
God is not a bigger version of your earthly father.
 
When you hear the work "father," do you think of someone who is loving…or angry? Someone who is pleased with you…or constantly disappointed? Someone who is always available…or someone who is too busy, preoccupied, or distant? When you think of "Father God," what images come to mind?
 
Regardless of the type of father you grew up with—or without—it is likely that your view of God is influenced by the relationship you had with your father. Author John Bishop wants to help you discover that God is not just like your dad. Instead, God is the Father revealed in Scripture, where the truth is clear. God is a father who is:
 
•  always there
•  up close and personal
•  fully pleased
•  in complete control
•  completely safe
 
Filled with biblical insight and practical tools for reflection, healing, and restoration, God Distorted will enable you to break free from the lies of the enemy and see your Heavenly Father as He truly is.
-Publisher
John Bishop is the Senior Pastor and cofounder of Living Hope Church, one of the fastest growing churches in America with campuses in the northwestern United States, Hawaii, and New Zealand. He earned a Masters of Arts in Evangelism and Transformational Leadership from Western Seminary in Portland, Oregon. He and his wife, Michelle, live in Vancouver, Washington with their children David, Katie, and Hannah.
I am broken, just like many of you who by God's grace are reading this book about dads, children, and God. As much as I knew my earthly dads (yes, plural), I have learned to know God even better. By no stretch of the imagination or résumé am I an expert on parenting, or on the role of fathers in the lives of their children, or on the character of God as the perfect Father. However, having had four very different earthly fathers, being the father of three very different kids, and serving as a pastor for over twenty years, I at least have a broad, varied, and hopefully helpful perspective in being both child and father. I was the child dreaming of the perfect father, and I finally found him in the God who I now know was always there.

Writing this book has been an experience full of irony that isn't lost on me. Take today, for example. This morning I got a Father's Day card from my daughter Katie and son-in-law Jordan. I am sitting here staring at a card that says so much and ends with "I love you, Daddy. Forever and always—Katie Lee." But just moments ago I hung up the phone with my son, David, who is currently incarcerated at our local county jail. He had to end our call abruptly because he was being put in lockdown. Talk about emotional whiplash! Honestly, God. Really?

To hear David's voice and his words, "Dad, I love you and will call you when I can." Yeah, those words break the heart of a daddy. That's when the irony hurts. Who am I to write about fathers when I am mad at myself as a dad, aggravated by the residual issues from the fathers I had, and frustrated with God and others? I know David has made
wrong choices. Lots of them. I get it in my head, but I really have a hard time being okay with it in my heart. But then God lets me know that this is exactly why He wants me to write this book. He has me right where I need to be, learning exactly what I need to learn, in order to share what He wants me to share.

In life—not just as a pastor, but as a dad—I have heard more stories than I can count about brokenness, pain, anger, resentment, and insecurity that are directly related to dysfunctional father relationships. I have plenty of my own! I don't have all the answers, but I have learned some things that have helped me both cope and become better at being a dad.

I can't explain every situation, but I can empathize with most. Whether you are fifteen or seventy-five, you are still the child of your dad. The wounds of a dad, admitted or not, can bring so much pain and confusion to the heart of a child.

I cannot change your past, but I am praying about your today and am hoping that the words in this book will help you walk toward a new future. Have you been broken and hurt? I have too. Have you felt controlled, abandoned, ignored, or rejected? I have too. I get it. I don't necessarily know more than anyone else, but I am willing to share with you my journey to healing, in the hopes it may benefit you in some way.

I am a child who was abused, abandoned, and left. I am a father who is trying to be a better father. But most importantly, I am a child of God who has learned to be healed and be a healer of others.

Why This Book? Why Now? Why Me?

It is my life's passion to help people meet the God who loves them so much He died for them. But often we have to begin by tearing down a wall of preconceived ideas and distorted images of God that have been created by the images projected by our earthly fathers.

I am a confessed accidental pastor who somehow by God's grace has been blessed to be part of a church that has seen over eight thousand people baptized in eight years and has seen tens of thousands changed by grace and for the glory of only God. We are in a part of America where people don't really want to go to church. In my life personally and in our lives corporately, God has been distorted into something that isn't right. The God distortion needs to be changed. It needs to be different for our generation—a generation that has been broken by dad issues and needs to be restored and reclaimed by God. Fathers—and the lack of them—have in many cases tainted our view of God and prevented relationship with Him. I have dedicated my life as a pastor to knowing God and making Him known. I don't care what struggle you have or what God looks like in your mind, but I can say without hesitation that the God I have come to know is the answer to the deepest longing of your heart.

My intent is not to make fathers feel or look bad, but to help us as children identify the fears and insecurities we still carry as scars from our childhood. I have been challenged as a father while writing this book, and I am now determined—passionate, even—to do better as a result of what I have learned.

What Is This Book?

This book is split into three parts. In the first part, we identify eight different types of fathers. You are probably going to recognize yourself and your family members somewhere in here. It's not always easy reading about what goes on in the home, how children develop emotionally and relationally, and what impact that has on their God-image. Some of the stories are extreme examples, and you may see your father as a milder version of the one described. Or you may even see Dad as a combination of more than one description.

In part 2, we begin a journey of discovering who our heavenly Father truly is, as defined in God's Word. What aspect of His character specifically speaks to the wounds of our past? What does God promise that can heal the deep fears that drive our dysfunctional behaviors and steal our joy? This is where you meet a God who loves you more than anyone ever has, could, or will, in spite of the things you might hate about yourself.

Part 3 is where we get practical. It is my sincere hope that here you will experience healing and then bring restoration to the lives of those around you. Maybe you feel constantly discouraged by the Enemy and want to fight back. Perhaps you struggle to live differently, even as a child of God. When you learn, pray, and perhaps cry, and when hope is rebirthed in your heart, maybe you will see the need to forgive someone for hurting you. This section addresses all of these issues, and more, giving you all the tools you need to do better than you have before.

Following part 3 is a study guide to help you work through the fears that distort your view of God. That will be the opportunity for you to pray, read the Bible, and allow God to speak healing into your heart.

I pray that you will, by the end of these pages, see God more clearly and understand His unconditional love and acceptance of you, right as you are today.
Bestsellers in Christian Living