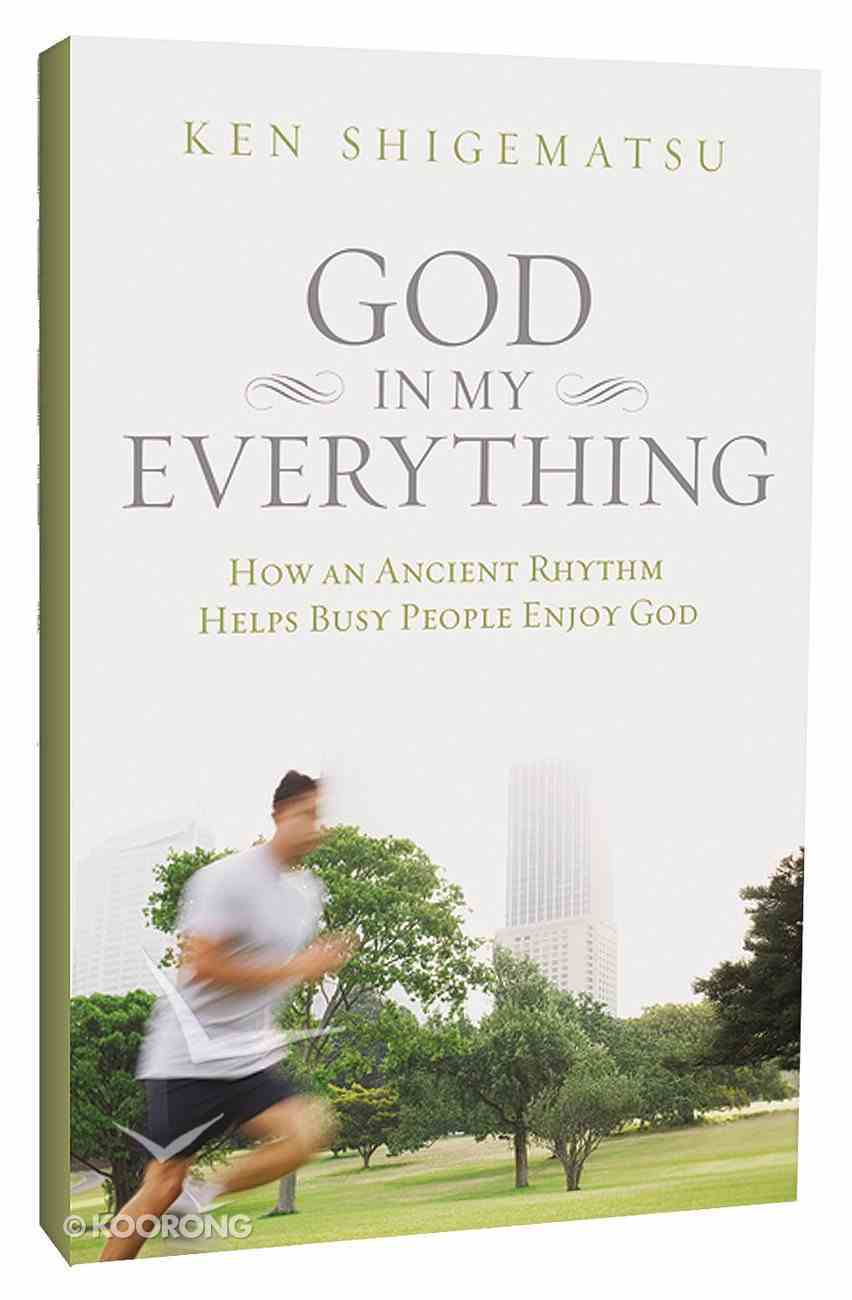 Ken Shigematsu shows that spiritual formation is more than just solitude and contemplative reflections. Spiritual formation happens in the everyday, in each and every moment of life. For those caught up in the busyness of work, family, and church, it...
Out of Stock
Available to Order
---
Expected to ship in 5 to 6 weeks from Australia.
---
Free Shipping
for orders over $99.
Ken Shigematsu shows that spiritual formation is more than just solitude and contemplative reflections. Spiritual formation happens in the everyday, in each and every moment of life. For those caught up in the busyness of work, family, and church, it often feels like time with God is just another thing on a crowded 'to-do' list. Ken explains how the time-tested spiritual practice of the 'rule of life' can help bring busy people into a closer relationship with God. He shows how a personal rule of life can fit almost any vocation or life situation. In God in My Everything, you will discover how to create and practice a life-giving, sustainable rhythm in the midst of your demanding life. If you long for a deeper spirituality but often feel that the busyness of life makes a close relationship with God challenging---and, at times, seemingly impossible---this book is for you.
-Publisher
PRODUCT DETAIL
Catalogue Code 

371522

Product Code 

9780310499251

ISBN 

0310499259

EAN 

9780310499251

UPC 

025986499259

Pages 

256

Department General Books
Category Christian Living
Sub-Category General
Publisher Zondervan
Publication Date 

Aug 2013

Sales Rank 

49172

Dimensions 

215 x 139 x 19

mm

Weight 

0.254

kg
Ken Shigematsu serves as the Senior Pastor of Tenth Avenue Alliance Church in Vancouver, Canada. Since 1996, Tenth Avenue has grown from 175 people to over 2,000 in weekly attendance. Before entering full-time ministry, Ken worked for the Sony Corporation in Tokyo, and he frequently draws on both eastern and western leadership philosophies in his writing and speaking. In January 2013, Ken received the Queen Elizabeth Diamond Jubilee Medal, given by the Governor General of Canada to Canadians in recognition for outstanding contribution to the country. Ken also serves as a trustee for World VisiA
Beginnings
I Tell The Story Of My Conversion To Christ As An Adolescent And Subsequent Transition From A Shop-lifting, Drug-using Juvenile Delinquent To A Young Adult Struggling To Follow Christ, But Lacking Any Knowledge Of Spiritual Practices And Tools. I Set The Stage For The Reader By Discussing The Events That Led To My Taking A Pilgrimage To Ireland, Which Introduced Me To The Concept Of A Rule Or Rhythm Of Life.
Part One: Invitation To A Pilgrimage
Chapter 1
Discovering The Treasure Of An Ancient Path
This Chapter Explains How, As An Urban Pastor Spiritually Treading Water In My Early Thirties, I Trav-eled To Ireland And Visited Many Of The Important Sites Of Celtic Christianity And At The Same Time Discovered The Work And Spiritual Disciplines Of Saint Benedict. Connecting This Experience With The Practices Of My Samurai-scholar Ancestors In Japan, I Describe How My Pilgrimage To Ireland Prompted Me To Explore The Idea Of A Rule Of Life, Its Importance, And Its Application In My Own Life And The Lives Of Others.
Chapter 2
Creating A Spiritual Ecosystem
This Chapter Uses The Image Of A Trellis To Show How A Rule Or Rhythm Provides A Framework For Our Becoming More Like Jesus. Drawing On My Experiences As A Sailing Enthusiast, I Illustrate How A Rhythm Of Life Enables Us To Grow: Raising And Trimming Sails, An Image For Our Participation In God's Work Of Purification, Works In Tandem With The Wind, A Symbol For God's Grace. Using The Careers Of Michael Jordan And Yo-yo Ma As Illustrations, I Show How Deliberate Practice, Rather Than Sheer Talent Or Giftedness Alone, Fosters A Person's Spiritual Development. In Order To Guide This Deliberate Practice, I Explain The Importance Of Finding A Coach, A Spiritual Friend, And A Supportive Community To Help Us Build Our Spiritual Ecosystem.
Chapter 3
A Rule That Bends But Doesn't Break
This Chapter Opens By Flashing Back To A Time In My Twenties In Tokyo, Japan, When, At The Very Time Others Considered Me To Be A Rising Star In The Sony Corporation, I Felt Like I Was Losing My Soul. I Describe How, As A Result, I Unconsciously Began To Engage In Practices That Restored Spiritual Health To My Life---i Began Living By A Rule Of Life. Then, In Order To Provide A Biblical Foundation For Living By A Rule, I Explore The Life Of Daniel As A Model In Scripture Of Someone Who Lived By A Rhythm. Finally, I Move To The Practical. I Outline The Different Potential Categories Of A Rule: Sab-bath, Prayer, Lectio, Spiritual Friendship, Sexuality, Family, Care For The Body, Recreation, Play, Mon-ey, Work, And Mission. I Close By Giving A Series Of Practical Suggestions On How To Craft The Rhythm: Start Simply, Build Slowly, And Prune.
Part Two: The Core Practices
Chapter 4
Oasis For Body And Soul
This Chapter Explores How Setting Aside One Day Of Sabbath Rest In Seven Creates A Sanctuary For Us In Time. I Show How This Day Of Rest Not Only Gifts Our Bodies With Rest But Also Offers Peace For Our Soul As We Are Freed From Our Compulsive Need To Define Ourselves By What We Achieve. Citing Examples From Traditional Monastics And Illustrating This Theme With The Experiences Of A Student, An Engineer, And A Parent, I Demonstrate How Pilgrims Of Christ Can Establish Periods Of Rest In Their Lives. This Chapter Connects These Ideas About Sabbath With Creative Ways Readers Can Keep Sabbath, Namely By Worshiping In Community, Enjoying Loved Ones, And Recreating In Creation.
Chapter 5
Deepening Our Friendship With God
This Chapter Describes Prayer As A Way Of Growing A Friendship With God. I Show How The Analogy Of Prayer As A Friendship With God Helps Us Form Realistic Expectations For The Difficult Seasons Of Our Spiritual Life, Whether That Season Is Parenting Young Children Or A Long Season Of Drought. Drawing On The Example Of Benedictine Monks, I Offer Ways Of Creating A Rhythm For Spending Time With God In Our Lives---even For Those Unable To Set Aside Long Periods For Private Prayer. Some Of These Explorations Include Practicing The Presence Of God In The Spirit Of Brother Lawrence, Using Breath Prayers, Praying The Psalms, The Daily Office, And The Lord's Prayer.
Chapter 6
Nourishing Our Soul Through Sacred Reading
This Chapter Demonstrates How The Practice Of Lectio Divina, Which I Define As A Prayerful Reading Of Scripture, Can Transform Us. Drawing On The Ancient Wisdom Of Saint Benedict And John Chrysostom And The Modern Example Of Dietrich Bonhoeffer, I Show How Lectio, Or A Prayerful Reading Of Scripture, Feeds Our Soul So That Scripture Becomes Part Of Our Bloodstream. I Provide Examples Of How Members Of Our Church---including An Actor, A Homemaker, And A Business Executive---have Been Nourished By Their Meditative Reading Of Scripture. I Also Clarify How The Goal Of Lectio Is Not To Read The Bible As An End In And Of Itself But To Taste And Know The Sweetness Of God And To Be Made New Through Christ.
Part Three: The Rhythm Of Life And The Rest Of Life
Relate
Chapter 7
Companions For The Journey
This Chapter Explores The Crucial Practice Of Cultivating Spiritual Friendships As Part Of A Healthy Rhythm Of Life, Especially As Contemporary People Are Increasingly Networked And Yet Increasingly Lonely. I Define A Spiritual Friend As One Who Commits To You, Lifts You Up, Lets You In, Speaks The Truth, And Points You To God. These Relationships Help Us Grow In Our Love For One Another And For God. Drawing On The Writing Of Saint Aelred, As Well As The Examples Of Various Celtic Saints, Biblical Figures, And My Own Experience, I Discuss Practical Factors In Finding And Keeping A Spiritual Friend.
Chapter 8
Sex And Spirituality
This Chapter Shows How A Rhythm Of Life Can Establish A Basis For Sexual Boundaries That Channel Our Sexual Energy In Ways Honoring To God, Ourselves, And Other People. Drawing On Scripture, The Traditional Monastic Vow Of Chastity, And The Research Of Respected Contemporary Psychologist Dr. Gordon Neufeld, I Offer A Countercultural Yet Compelling Vision For Sexual Purity And Provide Candid Insights For Singles And Married Couples About The Need For Sexual Boundaries, Life-giving Friend-ships, And Authoring Life.
Chapter 9
Family Ties
This Chapter Demonstrates How A Rule Of Life Supports Both Our Family And Community Life, Asserting That The Goal Of A Rhythm In A Family Is Not To Position Ourselves And Our Children For Worldly Achievement, Nor For Comfort, But To Create A Kind Of Monastery In Which We Are Transformed And From Which We Serve The World. Citing Stories Of Our Family Life In Japan, England, Canada, And The United States, As Well As The Captivating Narratives Of People I Know, I Show How The Various Parts Of The Rule---sabbath Rest, Play, Friendship, Hospitality, Prayer, Work, And Mission---can Be Lived Through A Family Or Spiritual Community.
Restore
Chapter 10
Eat, Sleep, Swim [sample Chapter]
This Chapter Shows How The Practice Of Caring For Our Bodies Well, Through Proper Sleep, Nutrition, And Exercise, Enables Us To Offer Our Whole Self To God And To Others. These Reflections Are Woven In With A Consistent Affirmation Of The Good Gift Of Our Bodies, An Affirmation Grounded Deeply In The Reality And Mystery Of The Incarnation And Resurrection. I Develop And Illustrate These Points With Contemporary Medical Research, Personal Examples, And Stories Of Personal Acquaintances.
Chapter 11
Play Like A Child
This Chapter Discusses The Centrality Of Play To Being Human. It Demonstrates From Scripture How God Models Play For Us And Invites Us To Savor Play. The Chapter Also Explains How Play Offers Us Various Spiritual Gifts, Including Rest And Renewal, Deeper Intimacy With God, And Stronger Relation-ships With Other People.
Bestsellers in Christian Living