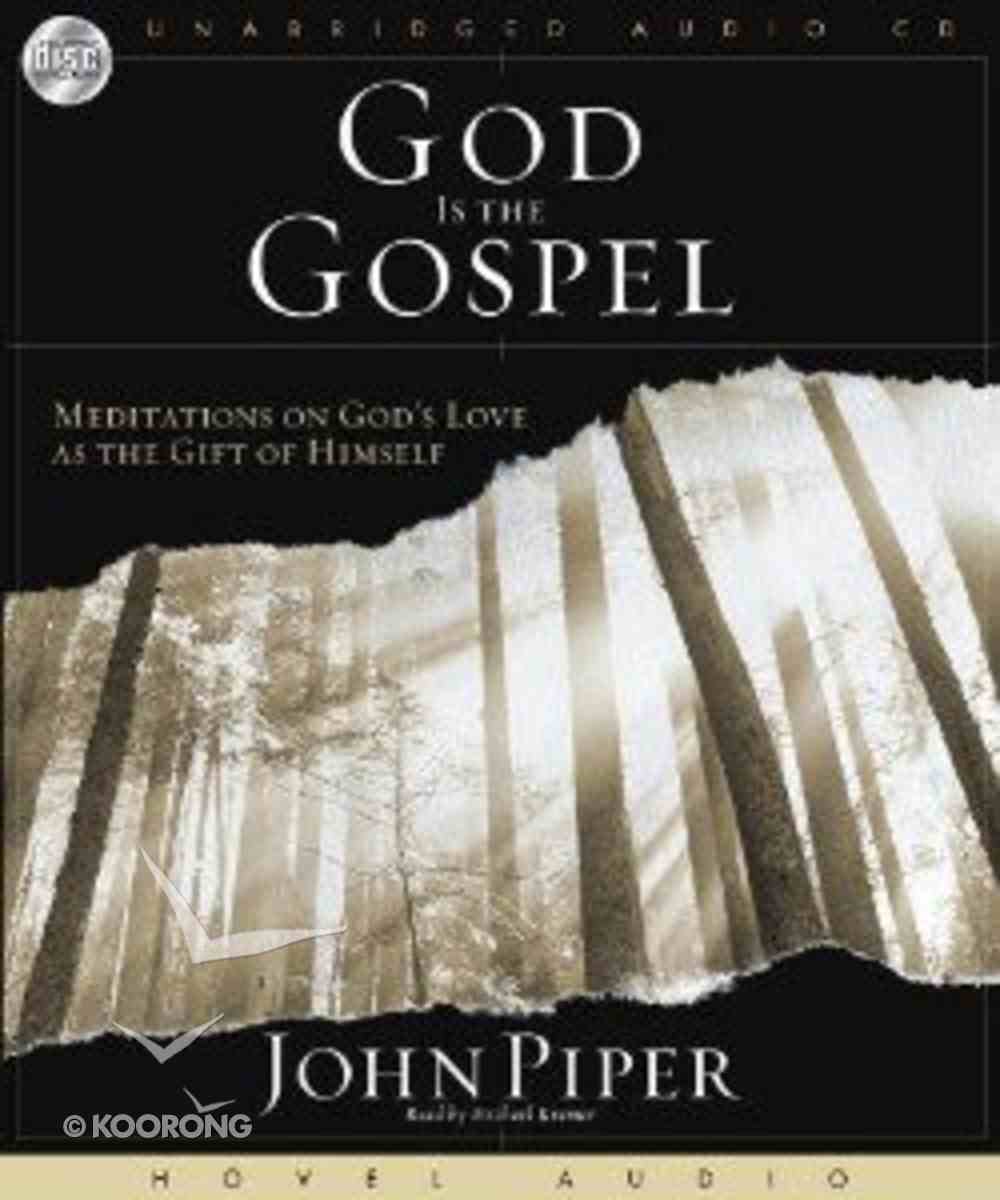 5 Hours And 36 Minutes On 5 CDs
---
Free Shipping
for orders over $99.
5 Hours And 36 Minutes On 5 CDs
-Publisher
John Piper writes, "I will tell you what a tragedy is. I will show you how to waste your life. Consider this story from the February 1998 Reader's Digest: A couple 'took early retirement from their jobs in the Northeast five years ago when he was 59 and she was 51. Now they live in Punta Gorda, Florida, where they cruise on their 30-foot trawler, play softball and collect shells. . . .' Picture them before Christ at the great day of judgment: 'Look, Lord. See my shells.' That is a tragedy. "God created us to live with a single passion: to joyfully display his supreme excellence in all the spheres of life. The wasted life is the life without this passion. God calls us to pray and think and dream and plan and work not to be made much of, but to make much of him in every part of our lives." This book is a passionate call for this generation to make their lives count for eternity. John Piper acknowledges that the risks for those who seek to accomplish something in life--risks in relationships for the sake of righteousness and authenticity, risks with money for the cause of the Gospel, and risks in witnessing to the truth and beauty of Christ. Readers will find their passion for the cross of Christ enlarged as a result of reading this book.
-Publisher
This book is a cry from the heart of John Piper. He is pleading that God himself, as revealed in Christ's death and resurrection, is the ultimate and greatest gift of the gospel. // None of Christ's gospel deeds and none of our gospel blessings are good news except as means of seeing and savoring the glory of Christ. Forgiveness is good news because it opens the way to the enjoyment of God himself. Justification is good news because it wins access to the presence and pleasures of God himself. Eternal life is good news because it becomes the everlasting enjoyment of Christ. // All God's gifts are loving only to the degree that they lead us to God himself. That is what God's love is: his commitment to do everything necessary (most painfully the death of his only Son) to enthrall us with what is most deeply and durably satisfying - namely, himself.
-Publisher
Michael Kramer has had the pleasure of narrating the works of many wonderful authors. He has received Audiofile magazine's Earphones Award for the Kent Family series by John Jakes and for Alan Fulsom's The Day After Tomorrow. He also narrates books for the Library of Congress's Talking Books Program for the blind and physically handicapped. Kramer also works as an actor in the many theatres of the Washington, D.C. area, where he lives with Kate and their two children, Henry and Vivian.
John Stephen Piper was born 11 January 1946 in Chattanooga, Tennessee, to Bill and Ruth Piper. The Pipers soon moved to Greenville, South Carolina, where John spent his growing-up years. His father was an itinerant evangelist who also ministered through international radio and Bible courses. John has written a tribute to his mother, who died in 1974, in the booklet, What's the Difference (Crossway Books, 1990) which is also chapter one of the book, Recovering Biblical Manhood and Womanhood (Crossway Books, 1991).

At Wheaton College (1964-68), John majored in Literature and minored in Philosophy. Studying Romantic Literature with Clyde Kilby stimulated the poetic side of his nature and today he regularly writes poems to celebrate special family occasions and rich, biblical truths. At Wheaton John also met Noel Henry whom he married in 1968.

Following college, John completed a Bachelor of Divinity degree at Fuller Theological Seminary in Pasadena, California (1968-71). While at Fuller, John discovered the writings of Jonathan Edwards.

John did his doctoral work in New Testament Studies at the University of Munich, Munich, West Germany (1971-74). His dissertation, Love Your Enemies, was published by Cambridge University Press and Baker Book House (and is now available through Crossway). Upon completion of his doctorate, he went on to teach Biblical Studies at Bethel College in St. Paul, Minnesota for six years (1974-80).

In 1980, sensing an irresistible call to preach, John became the senior pastor of Bethlehem Baptist Church in Minneapolis, Minnesota, where he ministered for 33 years, until 2013. Together with his people, John was dedicated to spreading a passion for the supremacy of God in all things for the joy of all peoples through Jesus Christ - a mission he continues now for the wider church through the ministry of desiringGod.org. John says of his ministry:
"The ministry of preaching is the central labor of my life. My prayer is that through that ministry and everything else I do the great glory of our God and Savior Jesus Christ would be magnified as more and more people come to live out the obedience of faith more and more deeply."

John is the author of over 50 books and now frequently travels to speak, and writes regularly, through Desiring God.

John and Noel have four sons, a daughter, and twelve grandchildren.
Bestsellers in Audio Book