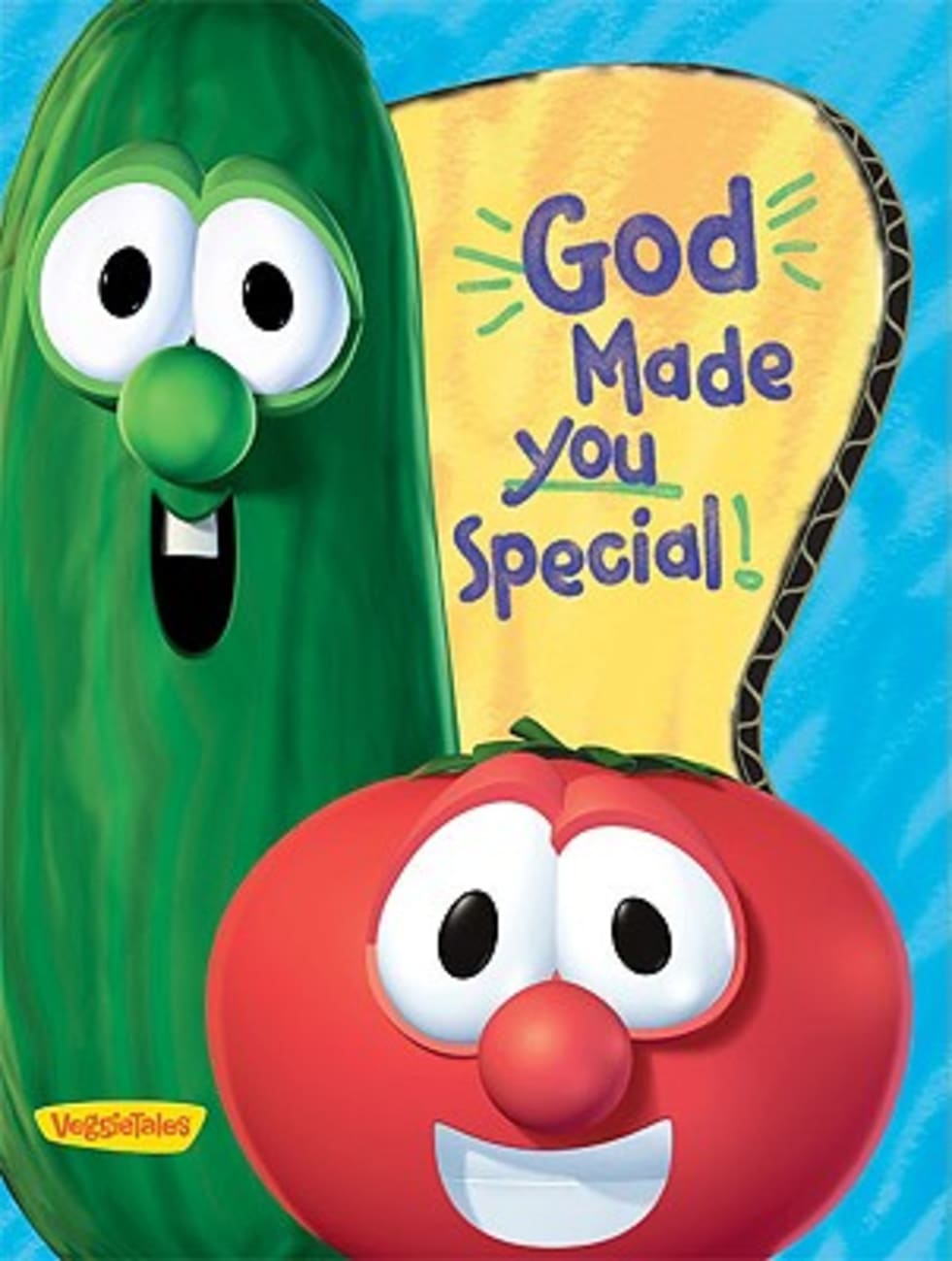 God Made You Special (Veggie Tales (Veggietales) Series)
This jumbo-sized, shaped VeggieTales board book teaches children 6 and under that God thinks they are unique and special and that they are very important to Him - just as He made them! Publisher Description Bob, Larry, and all your...
---
Expected to ship within 13 hours from Australia.
---
Free Shipping
for orders over $99.
This jumbo-sized, shaped VeggieTales board book teaches children 6 and under that God thinks they are unique and special and that they are very important to Him - just as He made them!

Publisher Description

Bob, Larry, and all your favorite VeggieTales friends would like to tell you how much God loves you. Because God made each of us special, different, and unique, this message can be a powerful reminder to little ones that they are special, too.;Bob's red and round, and he bounces 'cause he has no feet. Madame Blueberry lives in a tree. What makes her special? She's as blue as can be. What about those French Peas? They speak with zee accent. Tots will discover that it's okay to be different, because God made you special and he loves you very much. Through fun rhymes and humor, and some help from those lovable Veggies, little ones will realize that God makes everyone special!
Eric Metaxas is a truly versatile and prolific writer, whose works have ranged from popular apologetics to meticulously researched biographies, from cutting edge articles in top periodicals to children's storybooks. Whether it's essays, reviews, satire, or even poetry, Eric is a master communicator with the written word. He has even worked on Veggie Tales! His works have been translated into over twenty languages.

Eric is extensively involved in broadcasting, hosting his own syndicated radio program The Eric Metaxas Show since 2015, featuring in-depth interviews with high profile guests. He has also appeared on CNN, MSNBC and Fox News as a cultural commentator. He is an in-demand speaker internationally, and has delivered addresses at the White House, West Point, and many universities; he has also moderated public debates involving such high profile - and controversial - figures as Bishop John Spong, Peter Singer; and Bart Ehrman.

Eric's New York Times bestseller titles include the acclaimed Bonhoeffer: Pastor, Martyr, Prophet, Spy (2011 ECPA Book of the Year); as well as Miracles; Seven Women; Seven Men; Amazing Grace, and If You Can Keep It: The Forgotten Promise of American Liberty. He has written more than thirty children's books, including the bestsellers Squanto and the Miracle of Thanksgiving and It's Time to Sleep, My Love, illustrated by Nancy Tillman.

Eric's writing was first published in Atlantic Monthly, and has appeared in the New York Times, the Washington Post, Regeneration Quarterly, Christianity Today, National Review Online, Beliefnet and First Things. The American Booksellers Association chose Metaxas's The Birthday ABC as a 1995 Pick of the List and Amazon.com honored his Squanto and the Miracle of Thanksgiving with their Number One Bestseller Award for Thanksgiving 1999.

Eric is the founder and host of Socrates in the City: Conversations on the Examined Life, a monthly event in New York City featuring entertaining and thought provoking discussions involving such speakers as Sir John Polkinghorne, Dr Armand Nicholi, Os Guinness, Lauren F. Winner and Peter Kreeft.

Eric was born in Queens, New York City in 1963 and grew up in Danbury, Connecticut. His father is of Greek descent and his mother of German, and he was raised in a Greek Orthodox environment, though he now attends the evangelical St George's Episcopal Church in New York. He graduated from Yale University, where he edited the humour magazine and won prizes for fiction writing. Eric now lives in Manhattan with his wife Susanne and their daughter.
Bestsellers in Large Format Picture Books