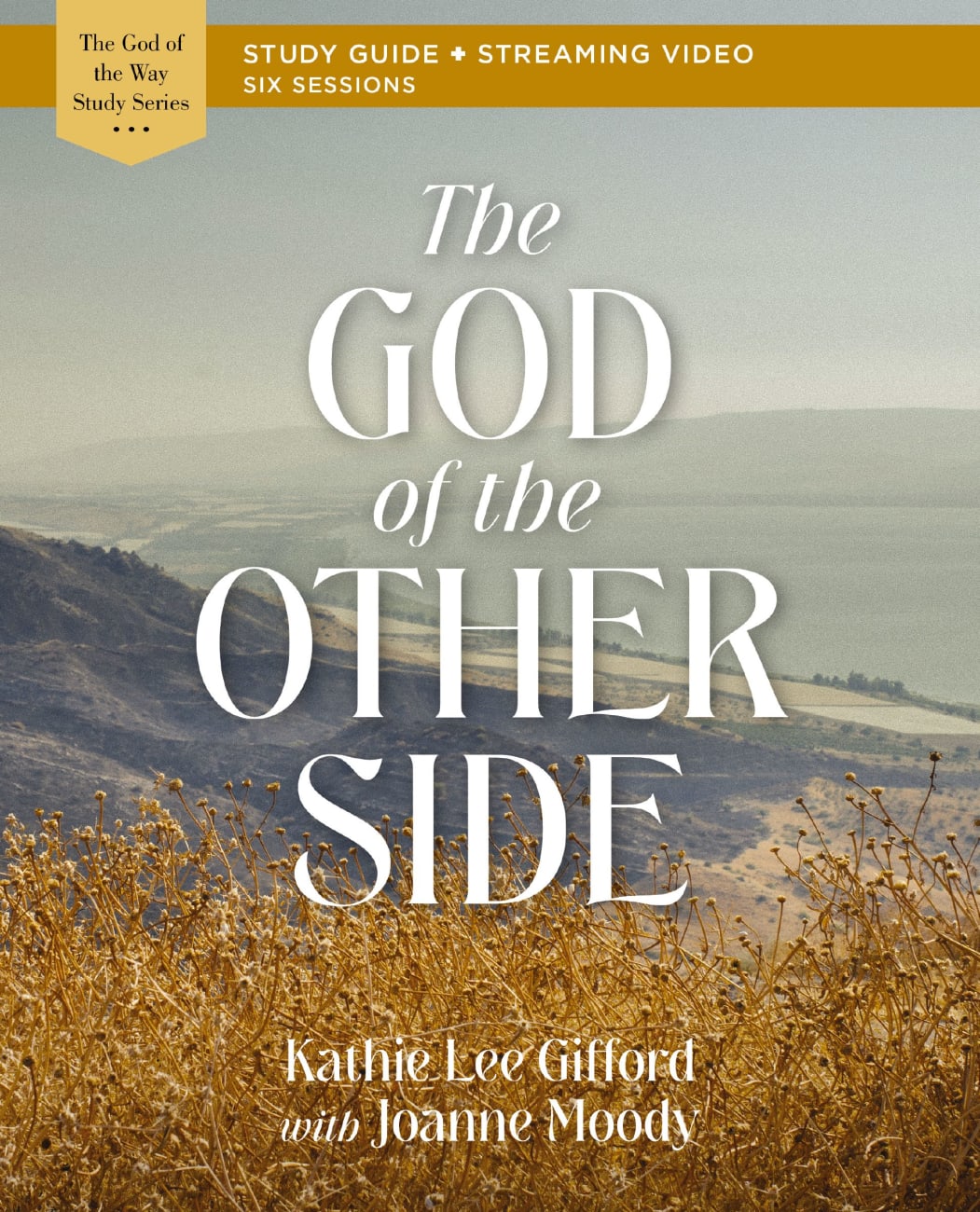 God of the Other Side Bible Study Guide Plus Streaming Video (God Of The Way Series)
:"They went across the lake to the region of the Gerasenes. When Jesus got out of the boat, a man with an impure spirit came from the tombs to meet him" (Mark 5:1-2).
In Jesus' day, a great
...
Pre-Order
---
Expected to ship January 2024 from Australia.
---
Free Shipping
for orders over $99.

Publisher Description



:"They went across the lake to the region of the Gerasenes. When Jesus got out of the boat, a man with an impure spirit came from the tombs to meet him" (Mark 5:1-2).



In Jesus' day, a great divide existed between the Jews and the Gentiles. The Jews considered themselves to be on one side-on God's side-and the Gentiles to be on the other. But time and again in Scripture, we find Yeshua Jesus traveling to the "other side" to meet with broken, lost, and desperate souls who needed God's grace. He crossed to other side when Peter, the disciple who promised to never forsake Him, did just that on the night that He was arrested. He literally crossed to the other side of the Sea of Galilee to find a man in the region of the Gerasenes, casting out a legion of demons from him and into a horde of pigs. Jesus went out of His way to meet with a woman from Samaria and told a parable of a Prodigal Son to demonstrate that no one is ever too far from God. Jesus then encouraged His faithful followers to take up the call to journey to the other side-as evidenced by Peter's willingness to meet with a Gentile named Cornelius and even stay in his home.



In this six-session video Bible study, bestselling author Kathie Lee Gifford explores the stories of these important figures in Scripture who were willing to take the gospel to "the other side" so that all might learn of God's plan of salvation. Participants will discover that they are never too far gone or too far out of reach for God to find them, minister to them, and heal them. They will also be encouraged to follow the example of Yeshua Jesus and meet with those who are hurting ... right where they are.



This study guide has everything you need for a full Bible study experience, including:


The study guide itself-with discussion and reflection questions, video notes, and a leader's guide.
An individual access code to stream all video sessions online. (You don't need to buy a DVD!)

Streaming video access code included. Access code subject to expiration after 12/31/2028. Code may be redeemed only by the recipient of this package. Code may not be transferred or sold separately from this package. Internet connection required. Void where prohibited, taxed, or restricted by law. Additional offer details inside.



Kathie Lee Gifford is the three time Emmy-winning cohost of the fourth hour of TODAY, alongside Hoda Kotb. The Gifford-Kotb hour has been hailed as 'appointment television' by Entertainment Weekly, and 'TODAY's happy hour' by USA Today. Gifford has authored three New York Times bestselling books, including Just When I Thought I'd Dropped My Last Egg and I Can't Believe I Said That.




Joanne Moody is an ordained minister through the Apostolic Network of Global Awakening and Certified as a Master Equipper through the Christian Healing Certification Program of Global Awakening. She is a Christian Life Coach through Western Seminary's Coaching Program and has a passion to see people walking in their true identity as sons and daughters of God. She leads healing teams, teaches, speaks, trains and equips leaders and laypeople nationally and internationally in all types of ministry venues through her ministry, Agape Freedom Fighters . www.agapefreedomfighters.org nbsp; Joanne resides is Rocklin, CA and is happily married to Mike. She loves being mom to son, Kian.



Bestsellers in Ministry Resources