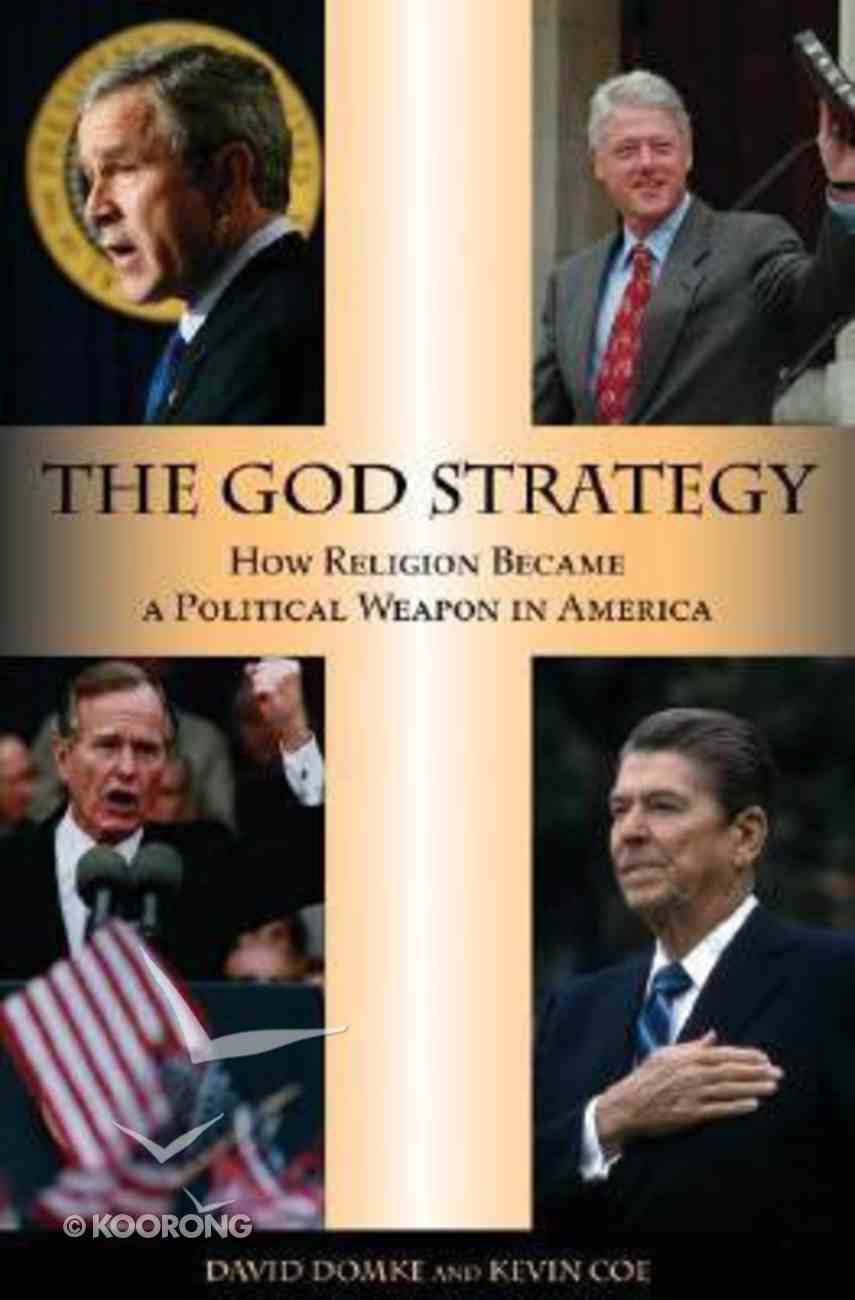 In The God Strategy, David Domke and Kevin Coe offer a timely and dynamic study of the rise of religion in American politics, examining the public messages of political leaders over the past seventy-five years--from the 1932 election of Franklin...
Order now to secure your copy when our stock arrives.
0 Available.
---
Free Shipping
for orders over $99.
In The God Strategy, David Domke and Kevin Coe offer a timely and dynamic study of the rise of religion in American politics, examining the public messages of political leaders over the past seventy-five years--from the 1932 election of Franklin Roosevelt to the early stages of the 2008 presidential race. They conclude that U.S. politics today is defined by a calculated, deliberate, and partisan use of faith that is unprecedented in modern politics. ^ Sectarian influences and expressions of faith have always been part of American politics, the authors observe, but a profound change occurred beginning with the election of Ronald Reagan in 1980. What has developed since is a no-holds-barred religious politics that seeks to attract voters, identify and attack enemies, and solidify power. Domke and Coe identify a set of religious signals sent by both Republicans and Democrats in speeches, party platforms, proclamations, visits to audiences of faith, and even celebrations of Christmas.
-Publisher
"The God Strategy is a sobering look at just how deeply imbedded religion has become in the contemporary American political psyche. Both the person of faith and the non-believer should fear what is revealed in this carefully crafted review of modern campaign strategies to 'get the God vote'. Domke and Coe demonstrate, with stunningly clear examples, just how the union of government and religion tends to degrade the integrity of both." --Rev. Barry Lynn, Executive director of Americans United for Separation of Church and State "Religion has become central to American politics. The God Strategy is a superb overview of what happened and how it has impacted our democracy. David Domke and Kevin Coe have done the nation a service." --George Lakoff, author of Don't Think of an Elephant! "Domke and Coe have done a masterful job of giving us insight into the mix of religion and politics. The God Strategy taught me much about a field I thought I knew. Anyone who wants to understand how the deeply religious character of America could be used to effect coming elections needs to read this book." --Joel Hunter, Pastor and Member, Board of Directors of the National Association of Evangelicals "The God Strategy offers an intriguing look at what has become one of the most powerful shaping forces in American political life. Like it or not, religion has for years been establishing the parameters of public debate. As Domke and Coe make clear, this is unlikely to change anytime soon." --Ron Reagan "The God Strategy tells the intriguing story of how God-talk has functioned in American political life in recent decades. Domke and Coe invite both Democrats and Republicans to take theplanks out of their own eyes before casting the first stone. This book could become a voter's bible, helping citizens (and media pundits) evaluate election-cycle rhetoric with critical scrutiny." --Brian McLaren, Pastor and author of A New Kind of Christian and The Secret Message of Jesus
-Publisher
Introduction A New Religious Politics
Chapter One One Nation Under God, Divisible
Chapter Two Political Priests
Chapter Three God And Country
Chapter Four Acts Of Communion
Chapter Five Morality Politics
Chapter Six Religious Politics And Democratic Vitality
Chapter Seven Act Ii
Appendixes A To E
Bestsellers in Christian Worldview