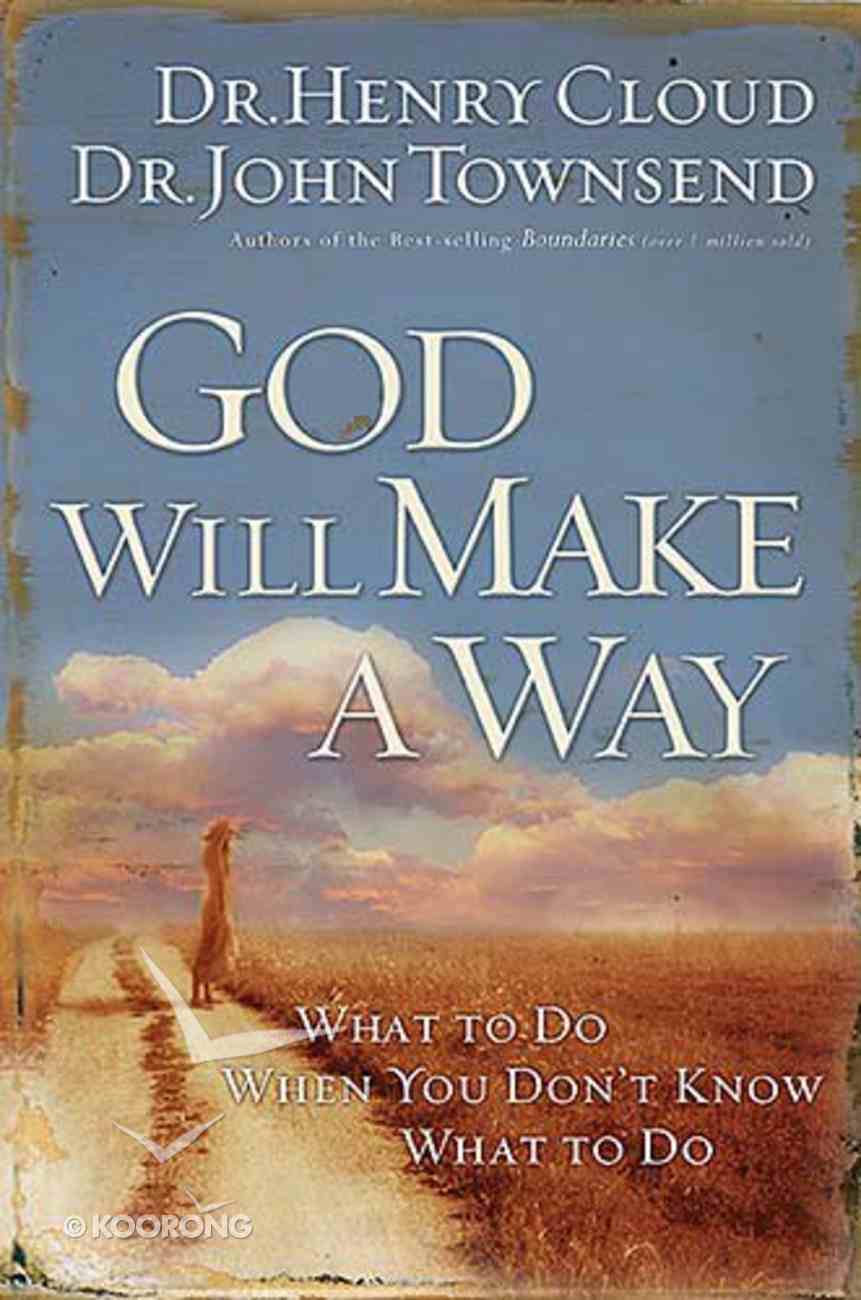 Sometimes on the Road of Life, Getting Lost is How You Find Your Way We all have times when we feel lost, we hurt and we find ourselves asking, "Where is God in all of this?" When the road gets...
---
Free Shipping
for orders over $99.
Sometimes on the Road of Life, Getting Lost is How You Find Your Way We all have times when we feel lost, we hurt and we find ourselves asking, "Where is God in all of this?" When the road gets rough and we don't know which way to turn, it can feel like God is so far away. Even when we are not in a crisis, there are times when it seems something is missing. There is an uncomfortable distance between where we are and where we want to be. When you find yourself in that place, you are in a window of opportunity where you can experience God like you never have before; where you can see His supernatural power at work more clearly than when things are going your way. In God Will Make a Way, Dr. Henry Cloud and Dr. John Townsend present eight fascinating and persuasive principles that demonstrate how God enters both the heart-breaking situation and the life looking for more. This book shows how you can apply these eight principles to key areas of your life. And when you do... * Your relationships will be better. Your dreams of growing closer to a loved one, a friend, and to God will materialize. * You'll have more control over your life. You'll have better success with setting boundaries, and emotionally, you'll begin to feel the way you really want to feel. * You'll satisfy your spiritual hunger. You'll rediscover the wonder of childlike faith and reconnect with the God you know as loving, accepting, and wanting the best for you. God Will Make a Way is about the often-surprising ways God shows up in our lives and how He addresses our problems in ways we never thought possible.
-Publisher
God has always made a way for mankind. It's His nature. But many times we think we have to make the way ourselves. It's not until we realize that we don't know what to do that we are able to hear God's voice. God Will Make a Way is an approach to specific problems in the Christian's life, but more than that, it's a new approach to solving life itself. Drs. Cloud and Townsend introduce ten "life principles" and then demonstrate how eighteen real-world dilemmas are solved by their application. The book concludes with a plan to encourage each reader to develop a personal strategy for using these principles to bring about life-changing healing.
-Publisher
Dr. Cloud is a clinical psychologist with a unique ability to connect with his audiences. Drawing upon his broad range of experiences in private practice, leadership consulting, and media, he simplifies life's issues and gives easy-to-understand, practical advice. It is Dr. Cloud's humour, compassion, and 'in the moment' confrontation that make his approach to psychology and spirituality such a success.

He has written or co-written 19 books, including the best-selling Boundaries. His most recent books are Integrity, Necessary Endings and The Law of Happiness. He has earned three Gold Medallion awards and was awarded the distinguished Retailers Choice award for God Will Make A Way.

Dr. Cloud has appeared on numerous radio and television broadcasts and has been featured in many publications. Millions of listeners have benefited from his wit and wisdom for over a decade.

As president of Cloud-Townsend Resources, he has produced and conducted hundreds of public seminars around the country. He speaks on relationships - marriage, parenting, dating, personal growth, and spirituality. His seminars are often broadcast live to over two thousand venues at a time.

In his consulting practice, he works with leaders of organisations and corporations, from family-held firms to Fortune 25 companies and non-profit organisations. With his extensive executive coaching background and experience as an organisational and leadership consultant, he speaks regularly at corporate and leadership events held across the United States and internationally.

Dr. Cloud co-founded a health-care company that operated treatment centres in 35 cities in the Western United States; he served as Clinical Co-Director for ten years. In that context of hands-on clinical experience, he researched and developed many of the treatment methods and principles he communicates to audiences today. Since then, he has devoted his time to spreading principles of hope and life change through speaking, writing, and the media. His books have sold over four million copies.

He is a graduate of Southern Methodist University, having earned a BS in psychology with honours. He completed his PhD in clinical psychology at Biola University and his clinical internship at Los Angeles County Department of Mental Health. His philanthropic interests lie in the area of homelessness and the inner city, as well as Third World missions and development. He serves on the board of the Los Angeles Mission, a rescue mission on Skid Row in downtown Los Angeles.

Dr. Cloud is an avid golfer and enjoys boating, deep sea fishing and scuba diving. He lives in Los Angeles.
Dr. John Townsend (Psy.D., Rosemead Graduate School of Psychology) is a psychologist, popular speaker, radio host and the bestselling author and co-author of numerous books, including the Gold Medallion award-winning Boundaries and God Will Make a Way. He is co-founder of the Cloud-Townsend Clinic in Southern California.
Bestsellers in Christian Living