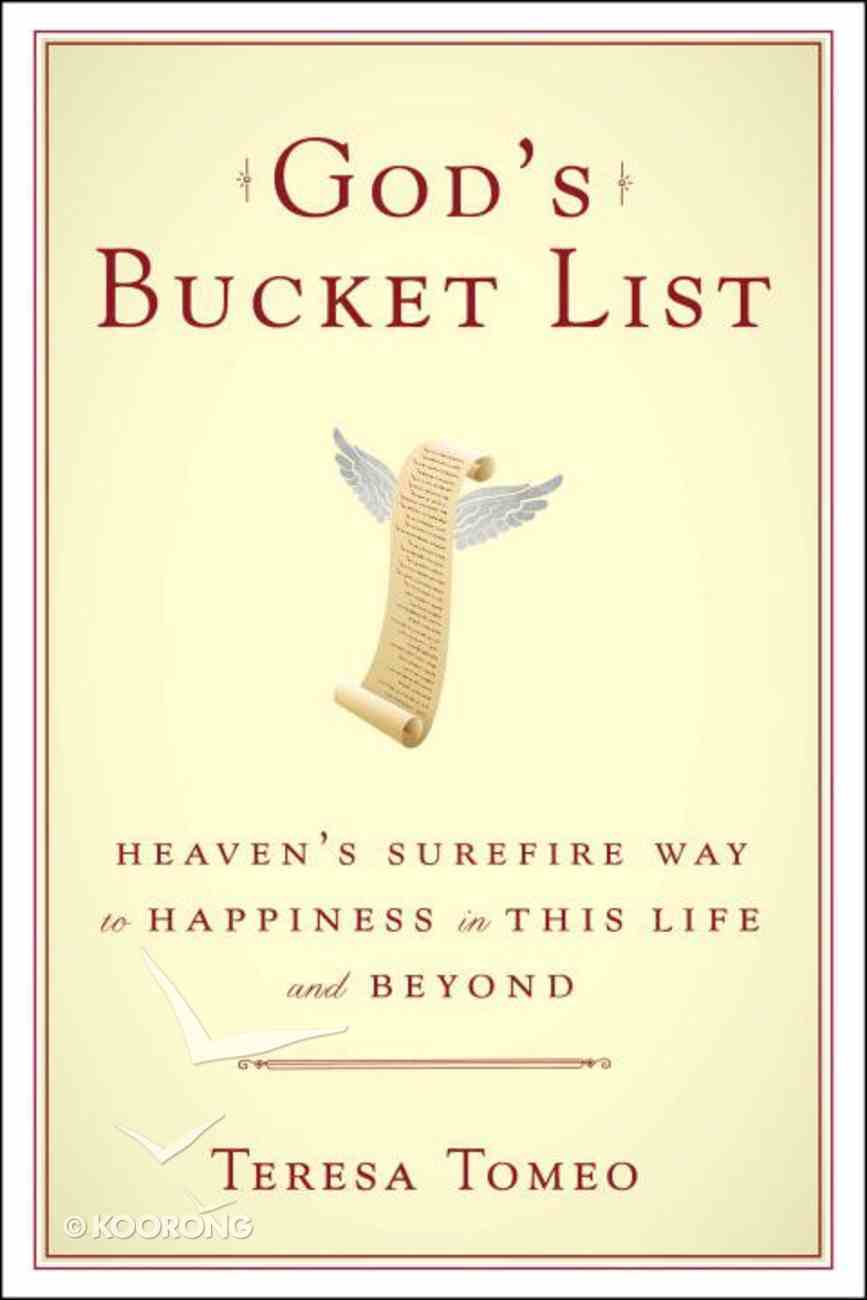 From the popular EWTN TV and radio personality comes a to-do list that's just divine. Scripture tells us only God knows the desires of our hearts. It was, after all, God who placed them there because they are designed...
Order now to secure your copy when our stock arrives.
0 Available. Expected to ship in 5 to 6 weeks from Australia.
---
Expected to ship in 5 to 6 weeks from Australia.
---
Free Shipping
for orders over $99.
From the popular EWTN TV and radio personality comes a to-do list that's just divine.

Scripture tells us only God knows the desires of our hearts. It was, after all, God who placed them there because they are designed to lead us to His will for our lives. Why, then, is it so challenging at times to figure out if we are on the right track when it comes to what we believe we want or need? God's Bucket List will examine what God wants for each of us: mercy,  fruitfulness, fellowship, and peace, just to name a few, and will explain what the Christian faith teaches about these gifts and how we can begin to achieve and cross out, one by one, the items on that heavenly list.
-Publisher
PRODUCT DETAIL
Catalogue Code 

396018

Product Code 

9780385346900

ISBN 

0385346905

EAN 

9780385346900

Pages 

176

Department General Books
Category Christian Living
Sub-Category General
Publisher Image
Publication Date 

Nov 2013

Dimensions 

198 x 134 x 20

mm

Weight 

0.258

kg
John Acquaviva, PhD, is a professor in the School of Sports Sciences at Wingate University in North Carolina. He has taught at the college level for 20 years and has been witness to the devastating impact of a negative body image perception on young men and women. He teaches courses in anatomy & physiology, strength and conditioning, exercise physiology and is the instructor and creator of the class Weight Loss, Weight Gain and Body image. Dr. Acquaviva is certified by the American College of Sports Medicine as a Health and Fitness Specialist. John, his wife Alecia and their three young childr
:1.

Live with Stillness

Be still and know that I am God

--Psalm 46:10

Ever have one of those days when you feel like that proverbial gerbil on the wheel? You're running like crazy and getting nowhere fast. Even after plowing through every item on my daily to-do list, there are plenty of nights when I finally crawl into bed exhausted but still feeling as if I've accomplished practically nothing. I've scratched the dry cleaner and grocery store off the list, but I haven't done much in terms of life's big-picture items. If this describes a typical day in your life, the good news is that we're not alone.

A 2013 study by Northwestern Mutual Life Insurance found that our fast-paced lifestyle is connected to our inability to make, or stick to, long-term goals. The study showed that a quarter of Americans say they are "often" or "always" too busy to think about their future. Our media-saturated culture isn't exactly helping matters either. Thirty-six percent mentioned their usage of electronic devices. Thirty-one percent of those surveyed said the immediacy of communication through social media and texting was "distracting"--a percentage that increased with each generation. The bad news is that not enough of us are slowing down enough to really reflect on how we want to live our lives. We just seem to be going from one task, one assignment, one errand to the next.

It's crazy, busy times like these that make me think of my grandpa. Pasquale Tomeo was very good at a lot of things. Most important, he was a good father and husband. He was also a great fix-it man and could tweak any runny faucet or broken-down stove or engine and have you back in business in a heartbeat. His tune-up talents were a godsend as he and my grandmother were raising their ten children in a crowded upper flat in Jersey City. When families faced numerous challenges during the depression and then again during World War II, my grandfather was able to turn those talents into real work. Although it was sporadic at times, it helped him take care of his large family.

I was born in Jersey City. So my roots, and in many ways my heart, are still somewhere along the East Coast. But with a growing family, my parents had dreams of raising their children in an area where housing and Catholic school were more affordable and accessible. That dream began to develop into reality when my father was offered a new job opportunity through his older brother, who had settled in at a small engineering firm in the Midwest. So my parents packed up their three daughters and headed to Michigan a few months before my fifth birthday. Every year without fail, we would pile back in the car for the thirteen-hour drive to the East Coast to visit the aunts, uncles, cousins, and Grandma and Grandpa.

While I was growing up in the Detroit area, many children spent summer vacations at cottages along Lakes Huron and Michigan. Or they would take a road trip to Mackinac Island at the tip of the Lower Peninsula and spend the hot summer days munching on the famous Mackinaw Island fudge. When my friends would tell me about what they did for their summer vacations, I don't remember ever feeling at all envious. My parents always turned our road trips into somewhat of an adventure, as much of an adventure as they could be, given that our trips took place in the 1960s and '70s, when DVD players, satellite radio, iPods, and iPhones were not even a blip on the technological horizon. How we survived only the good Lord knows. My nieces and nephews, who can still recall when MTV came into being, look at me as if I'm on drugs when I explain that their mothers and I managed to make it all the way to New Jersey and back again without much more than an AM car radio and actually had fun in the process.



After thinking about my nieces' and nephews' need for gadgets and distractions, I came to understand one of my grandfather's gifts. It's something that in our current frenetic times is frowned upon, dismissed, or in some circles even despised. My grandfather had mastered what the Italians refer to as l'arte di non fare niente--"the art of doing nothing," or, more simply put, learning to be still. I can remember arriving in Jersey City and running up the long, dark staircase to my grandparents' apartment. Often I would be greeted by Grandma Tomeo, but not Grandpa. When that was the case, I knew where to look. He would either be down the hall, sitting in his favorite chair, smoking his pipe, and, yes, doing pretty much nothing, or he would be sitting on a bench in the park across the street, where he might be feeding the pigeons or chatting with his friends. For the most part, he was just relaxing and doing nothing other than enjoying the bit of greenery available in the heart of a then very gritty Jersey City.

I wish I could say that being around my grandfather when I was young meant I was soaking up some of his talent for doing nothing. Although I treasured those times, my true appreciation for l'arte di non fare niente didn't happen until much later in my life. And when it did, I realized it was a gift not only from my grandfather, but from God. God was working through my grandfather to try and show me that, yes, there really is a need to stop and take a bit of a breather. Or, as one friend of mine often says, "Don't just do something: sit there." Or, as Psalm 46:10 says:

Be still and know that I am God.

When was the last time you actually allowed yourself to just be still, with no distractions from the TV, radio, iPhone, or laptop? There's a beautiful quote from Pope Emeritus Benedict XVI regarding the importance of eliminating the noise and the busyness of our lives in order to hear from God. Benedict made this comment while speaking to young people in his native Germany in 2006, years before the Northwestern Mutual Life study and many other reports on busyness were released:



Put simply, we are no longer able to hear God--there are too many frequencies filling our ears.



If we say we want to hear from God, we need to slow down enough to listen. We are not going to hear God while moving from task to task attached to the cell phone or planting ourselves in front of the TV for the latest episode of The Voice or Dancing with the Stars. In the Old Testament, God comes to the Prophet Elijah not in the way one might expect. Since God is all-powerful and knowing, we might assume He would always make a major entrance with thunder and lightning or something else very dramatic and eye catching. Think again:



Then the Lord said, "Go outside and stand on the mountain before the Lord; the Lord will be passing by." A strong and heavy wind was rending the mountains and crushing rocks before the Lord--but the Lord was not in the wind. After the wind there was an earthquake--but the Lord was not in the earthquake.

After the earthquake there was fire--but the Lord was not in the fire. After the fire there was a tiny whispering sound.

When he heard this, Elijah hid his face in his cloak and went and stood at the entrance of the cave. A voice said to him, "Elijah, why are you here?" (1 Kings 19:11-13)



Blessed Mother Teresa of Calcutta also reminded the world many times that God comes to us in silence:



We cannot find God in noise and agitation. In nature we find silence--the trees, flowers, and grass grow in silence. The stars, the moon, and the sun move in silence. . . . What is essential is not what we say but what God tells us and what He tells others through us. In silence He listens to us. In silence He speaks to our souls. In silence we are granted the privilege of listening to His voice.



I finally began to get the hang of this slowing-down thing when in the summer of 2001 my husband and I took our first pilgrimage to Europe--a trip organized through my parish church. The pilgrimage began in beautiful Salzburg, Austria, and then took us to Venice, Florence, Assisi, and Rome. It involved the church choir, of which my father was an active participant, and meant going back to the land of our ancestors. My husband, who is also Italian American, thought it a great idea to share the trip, especially the Italian portion, with my parents, to learn more about our heritage and to see my father sing in Saint Peter's. Viva Italia! Off we went.

It was a very busy time for me. I was working at a local Christian radio station, hosting my very first talk show, Christian Talk with Teresa Tomeo; my communications company was just getting off the ground, and my speaking ministry was beginning to take off. I was very much looking forward to the trip, but at the same time I was a little worried about the workload I would face when I returned. Little did I know how much my attitude would slowly but eventually change.

It's hard not to fall in love with Italy--it's just so incredibly beautiful. Italy is God showing off and saying "See, lookie what I can do." I honestly don't know how one country not that much bigger than the state of Florida can contain so much stunning scenery. No matter what city or town you're in, there's something new and old to discover around every corner. The churches and buildings date back, in many cases, not just hundreds, but thousands of years and contain incredible mosaics, paintings, and statues. Even in the larger cities, such as Rome and Florence, the apartment balconies are decorated with plants and flowers. Sure, the big cities in Italy have their share of graffiti, garbage issues, and tourist traps, but the good definitely outweighs the bad, and when you have nothing but Italian blood running through your veins, there's an extra connection making the country so attractive. We felt a level of comfort there that we didn't even feel at home.

We're not fluent in Italian by any means. Actually, it was pretty darn embarrassing. We both look very Italian with the dark hair and all the other trimmings common to folks with our heritage, so Italians just started talking to us in Italian. We nodded, smiled, and mumbled a few pregos and grazies and tried not to look like total idiots. But what's so great about the Italian people is that they're extremely warm and friendly; once we'd explain that we were Italian American but that our command of their beautiful language was small enough to fit in an espresso cup, they would laugh and do their best to communicate.

Beyond the language issue and the jet lag, no adjusting was needed. We fit right in. And then we realized why. We began to examine the habits of the Italians. In them we saw our own grandparents, especially Grandpa Tomeo. There they were sitting outside, maybe on a small balcony or on a bench by a lovely fountain. The older men were often sitting together in the piazza. It wasn't just the elderly. It seemed that the art of doing nothing was engrained in Italians of all ages.

It's interesting to watch Americans in foreign countries, particularly in Italy, where the pace of life, compared with ours, is in slow motion. Granted, Italians tend to take things to a level of excess. I have several friends who now live and work in Rome. Most of the time they would never trade places, except when they have to go to the bank, pay a utility bill, or hire a repairman. Sometimes the downtime or the art of doing nothing in Italy can be round-the-clock. Nevertheless, we can learn a lot from the Italian way of life. We are so used to flying through the day and not waiting for anything or anyone. We want what we want, and we want it now.

Many of the travelers on that first Italian trip were frustrated with what they perceived to be poor or slow service. Heaven forbid they should have to wait more than ten minutes for a meal. Oh, the injustice of being forced to relax in an outdoor café and having nothing to do but stare at colorful frescoes on the outside of a little church or at some other remarkable structure while you wait for your homemade pasta. What is this world coming to? Someone grab the cell phone and call the Italian version of the Better Business Bureau!

At first my husband and I were admittedly also a bit annoyed with the lackadaisical attitude of most Romans, but eventually we happily settled into the slower pace there. Thankfully, our attitude changed, and now the slower pace is not only something we look forward to on our vacations, whether overseas or at the local beach, but something we have gradually managed to incorporate into our everyday lives.

We realized on that first trip to Italy that slowing down helped us appreciate everything we were experiencing--the food, the wine, the art, the history--that much more. We savored the moment. Most important, the slower pace not only caused us to spend more time looking outward--examining the world around us more closely and appreciating its beauty--it also led to more inward reflection. We gave a lot of thought and prayer to where we were--in the heart of the Catholic Church. We also came away with a better understanding of who we were--Christians tracing our spiritual roots and ancestral roots. As Pope Francis explains it in his book On Heaven and Earth, being able to look inward can help us heal an interior fracture--a fracture caused by all the distractions in the world:



What every person must be told is to look inside himself. Distraction is an interior fracture. It will never lead the person to encounter himself for it impedes him from looking into the mirror of his heart. Collecting oneself is the beginning. That is where the dialogue begins. At times, one believes he has the only answer, but that's not the case. I would tell the people of today to seek the experience of entering into the intimacy of their hearts to know the experience, the face of God. That is why I love what Job says after his difficult experience and the dialogues that did not help him in any way: "By hearsay I had heard of you. But now my eyes have seen you." [Job 42:5] What I tell people is not to know God only by hearing. The Living God is He that you may see with your eyes within your heart.
Bestsellers in Christian Living