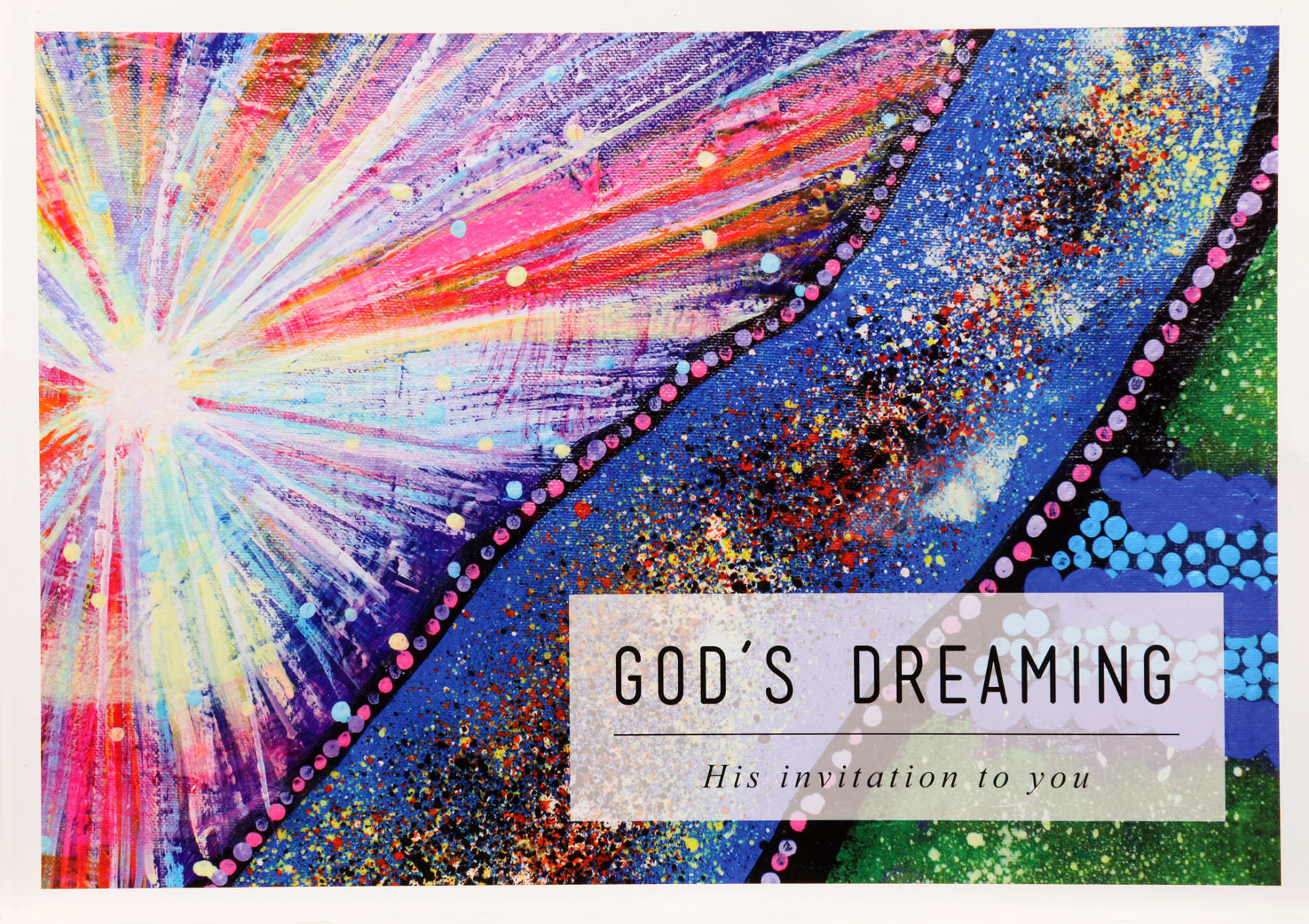 God's Dreaming: His Invitation to You
This large format (A4-sized 21 x 30cm) paperback explains the grand narrative of Scripture - from Genesis to Revelation - with the help of sixteen beautiful acrylic paintings, along with a key to the symbols used. Also included are Scripture...
Out of Stock
Available to Order
---
Expected to ship in 7 to 8 weeks from Australia.
---
Free Shipping
for orders over $99.
This large format (A4-sized 21 x 30cm) paperback explains the grand narrative of Scripture - from Genesis to Revelation - with the help of sixteen beautiful acrylic paintings, along with a key to the symbols used. Also included are Scripture references for further study. This book makes a unique and beautiful gift and is a great way to share God's love!

Publisher Description

God's Dreaming--His invitation to you (A4 paperback landscape book) is a pictorial account of how much God loves us and wants us as part of His eternal family. It is the redemptive story of the Holy Bible from Genesis to Revelation; God's plan for humanity, how that plan has been interrupted and the opportunity for us to reinstate that plan for ourselves.The paintings in this book are a unique collaborative work by indigenous and non-indigenous Australian artists working together, comprising sixteen beautiful acrylic works (originals 1.1 metre x 1.6 metres) and a Legend of symbols by which the narrative can be understood. Some of the indigenous symbols used were pre-existing; others have been invented for the purpose of this story. The paintings took two and a half years to complete.The wording has been vetted by theologians to ensure it remains true to the Biblical story without bias. Scriptures are included to support the text and for people who wish to use them as a Bible Study.The God's Dreaming concept originated with Roger Latham, a missionary working with indigenous peoples in the Northern Territory, Australia, as a means for those groups to share the Gospel of Jesus Christ with their own people and others. Through God's Dreaming collaborations, we realized that sharing God's love is more effective when we do it together. This is now happening across Australia and beyond through the God's Dreaming story in various formats, uniting people and releasing them not just to realise His love for them but to fully love God in return.God's Dreaming--His invitation to you is also available in A4 and A3 hard cover books and as an A6 booklet. For more information, see www.godsdreaming.org